Out of sour cream? I use this homemade sour cream recipe at home whenever I need some sour cream and don't have any in the fridge — it's so easy! Learn how to make sour cream at home with this simple two-ingredient recipe.
About this recipe
It's very easy to make sour cream at home. Add buttermilk to heavy cream or half-and-half. Let it rest for about 24 hours until it thickens to the consistency you like.
The mixing process takes about 30 seconds, while the resting process takes 24 hours. I typically mix up my homemade sour cream the night before I intend to use it.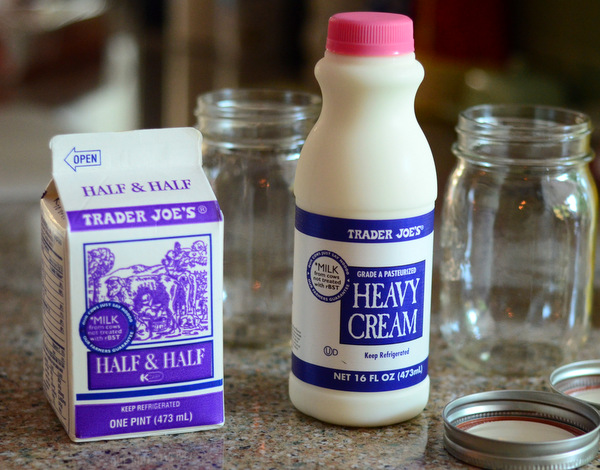 Heavy cream vs. half-and-half for sour cream
Heavy cream and half-and-half produce slightly different types of sour cream.
Heavy cream
The heavy cream variation (pictured above) is rich and buttery, but it still retains the tang that makes sour cream so delicious. It has the consistency of thick yogurt and makes a wonderful topping for everything from soups to nachos.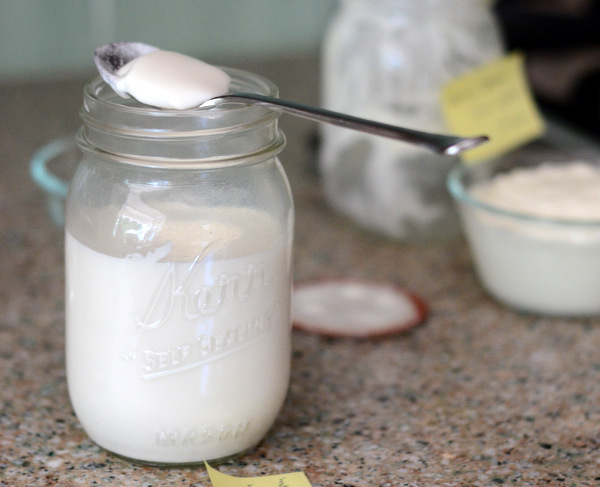 Half-and-half
The flavor of the sour cream made with half-and-half (pictured above) is also excellent, but it tends to be slightly thinner than a batch made with heavy cream. Still, it can be used in dips and in baking exactly the same way as store-bought sour cream.
Which is better?
I prefer the heavy cream variation of this recipe. It feels rich and decadent on your tongue, almost like eating a good ice cream. It is so rich that I actually use less of it with my dishes (and feel much more satisfied) than I would with a store-bought "low-fat" sour cream product. It is worth the splurge!
It also happens to be quite convenient for me, as I tend to have heavy cream in my refrigerator on a regular basis, since I make homemade ice cream frequently. 
Recipe for homemade sour cream
Makes about 1 cup
Ingredients:
1/4 cup buttermilk
1 cup heavy cream or 1 cup half-and-half
Step 1:
In a sealable container, such as a mason jar, combine buttermilk and heavy cream or half-and-half. Seal the container and shake well to combine. Keep out at room temperature, out of direct sunlight, for 24 hours.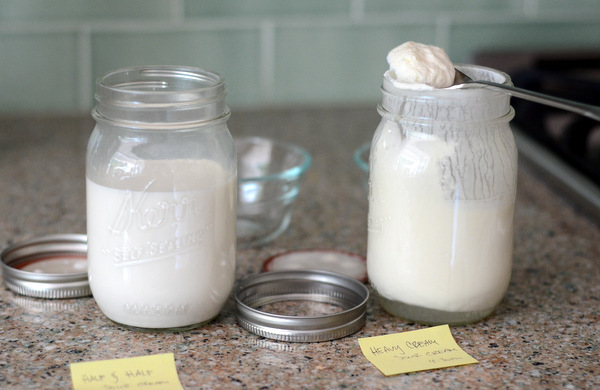 Step 2:
Open your container and scoop out the sour cream. If using heavy cream, a layer of clear whey may form at the bottom of the container and should be drained off. Transfer sour cream to a clean, sealable container and refrigerate until ready to use.
After the sour cream has thickened, transfer it to the refrigerator and keep it chilled until you are ready to use it. Both varieties of sour cream will thicken slightly as they chill. I typically use mine within 1-2 days of making it, but it will keep in an airtight container for at least 5 days.