Are you ready for an easy recipe for three-bean chili? It takes about 15 minutes of simple prep work and then just a few stirs during the 45 minute cook time. If you can chop an onion, you can make this chili.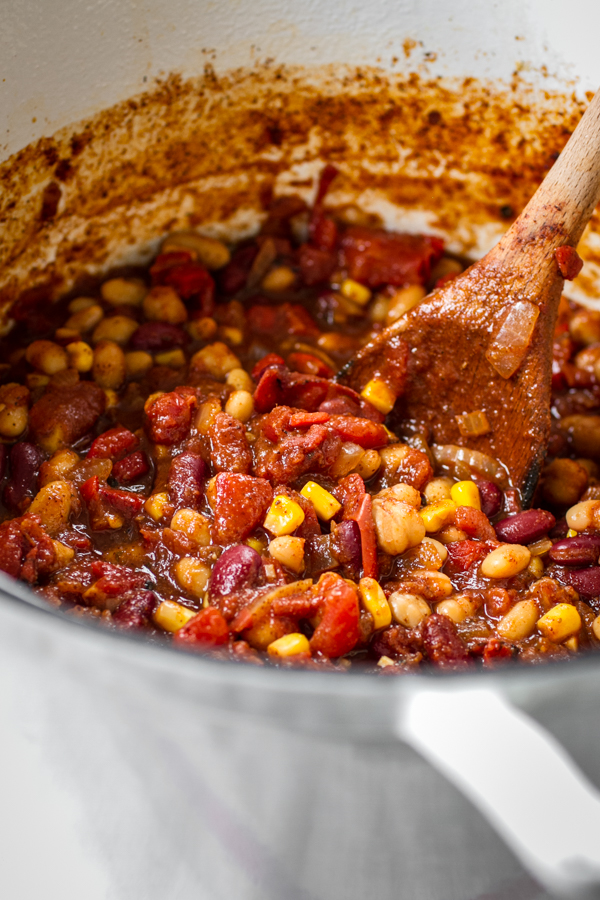 Photos via Edible Perspective
This recipe for three-bean chili is not only easy to make, it's delicious and perfect for fall!
What's not to love about a piping hot bowl of chili? It's pretty much the most comforting lunch or dinner to warm you up on a crisp and chilly (no pun intended) day. You can top it however you  please or eat it as is. You can also add as much spice as you'd like or keep it on the mild side.
Throwing a football party or need to take a potluck dish to a friend's house? This chili works great for either occasion and will please all eating styles. It's incredibly hearty (thank you, beans) and packed with flavor, while maintaining a fairly simple ingredient list.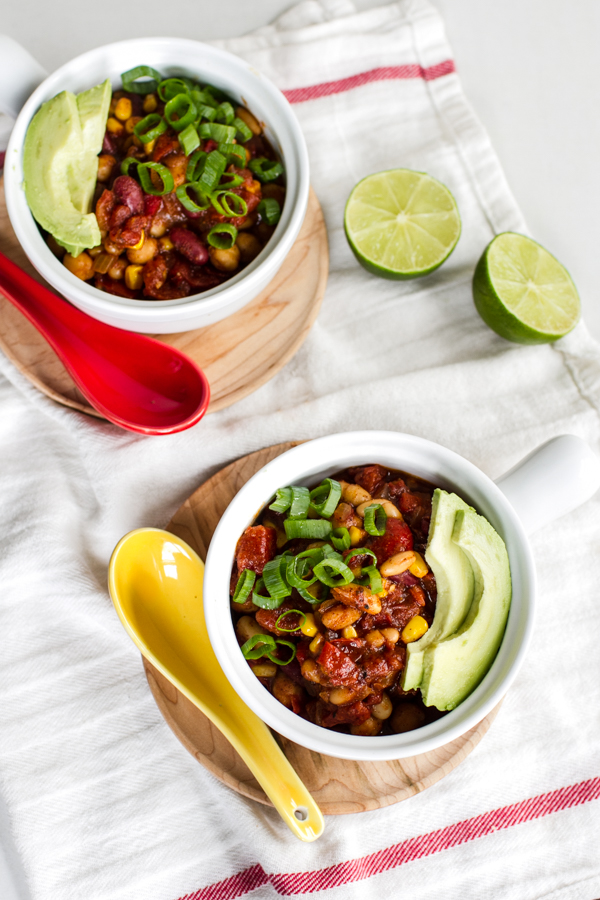 If you plan to feed a crowd doubling the recipe is a cinch. Although, no matter how many people you're serving I recommend doubling the recipe. It's extremely easy to freeze so you have on hand whenever the chili craving strikes.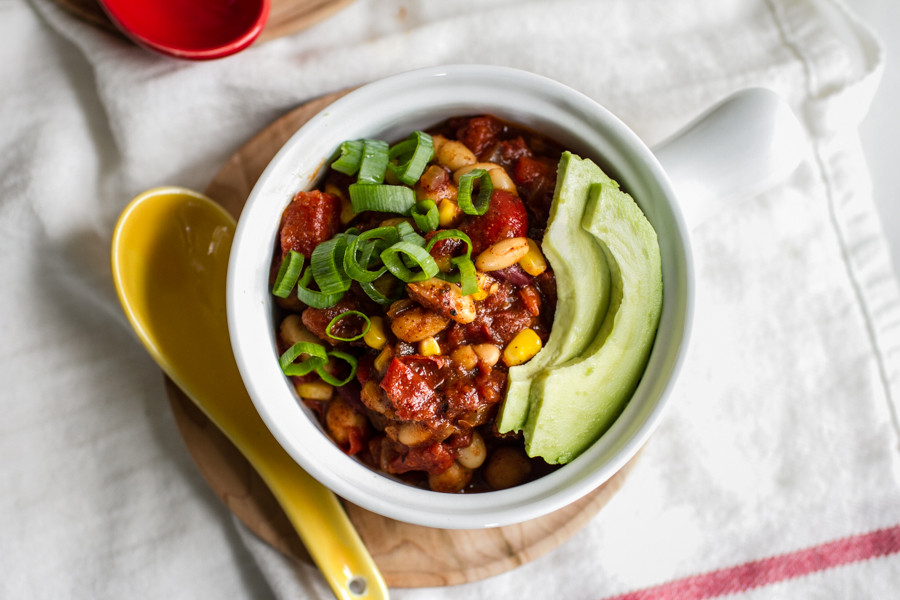 Easy, Vegetarian Three-Bean Chili
Yields: 4-6 servings
Ingredients:
1 1/2 tablespoons safflower oil (or other cooking oil)
1 medium yellow onion, diced
1 tablespoon minced garlic
2 1/2 tablespoons mild chili powder
1 teaspoon cumin
1 teaspoon oregano
3/4 cup chopped fire-roasted peppers (jarred)
1 1/2 cup frozen corn
3, 15 oz cans beans* (drained, not rinsed)
2 tablespoons corn flour
28 oz fire-roasted diced tomatoes (with liquid — or, plain diced tomatoes)
2-3 cups low-sodium vegetable broth
salt and pepper (to taste)
Step 1:
In a large, heavy-bottomed pot heat the oil over medium. Once hot, add the onion and generously salt. Stir every minute or so for about 6-8 minutes until translucent and softened.
Step 2:
Stir in the chili powder, cumin and oregano and let cook for about 30 seconds.
Step 3:
Add the peppers, corn, beans, flour and diced tomatoes. Stir well. Pour in 2 cups vegetable broth and add about 1/2 teaspoon salt and pepper. Stir together and bring to a simmer.
Step 4:
Once simmering, cover the pot and reduce heat to keep at a constant simmer for 45 minutes. Stir occasionally and place the lid back on, keeping at a constant simmer. Taste and adjust salt as needed after about 30 minutes and add more broth if desired.
Step 5:
Turn the heat off, serve into bowls and top as desired. Let cool to room temperature before storing in the fridge. Or, place in a large freezer bag (or smaller for individual portions), squeeze the excess air out, then flatten the bag. Place on a flat shelf in the freezer and freeze for up to 4 months. Thaw in the fridge the night before and reheat in a pot the next day.
Recipe notes:
*Feel free to use whatever beans you like. I used chickpeas, cannellini and kidney beans. Black beans would also work well here.
Topping ideas: plain Greek yogurt, avocado, cheddar cheese, green onions, etc.
I added around 1 teaspoon of added salt. Depending on the sodium content of your broth and your specific salt tastes, you may want to add less or more. Start with 1/2 teaspoon and add from there.
For spiciness, add 1/4 – 1/2 teaspoon cayenne or 1-3 tablespoons of chipotle adobo sauce.
This recipe easily doubles to feed a crowd!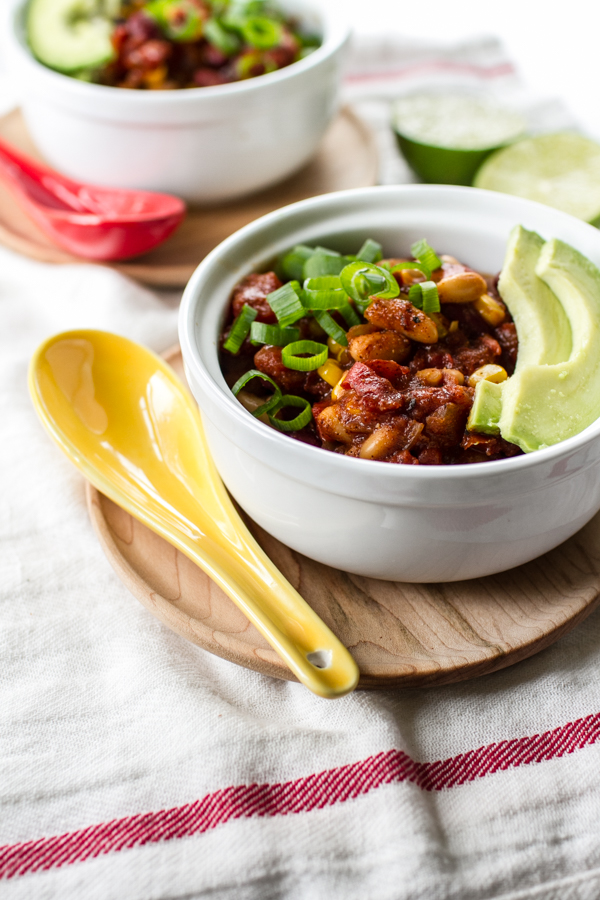 I highly recommend cornbread on the side for dipping. It's a necessity!