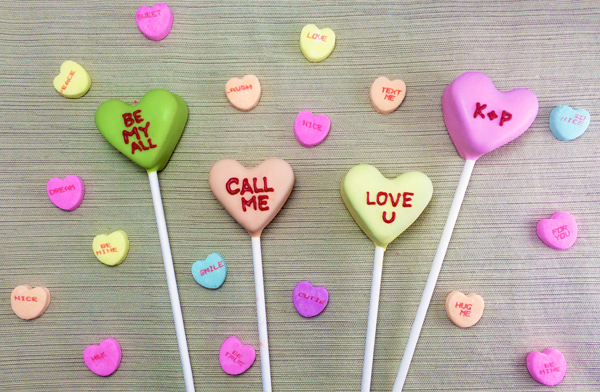 Spill your heart with cute cake pops that look like conversation hearts but taste way better. These Valentine's Day treats can be made with any cake batter and don't require any shaping, so they're a simple make — even if you've never baked cake pops before.
Conversation Heart Cake Pops
Level: Easy
What You Need
Cake pop dough
Candy melts (white and colorful)
1½" heart-shaped cookie cutter
Piping bag
Rolling pin
Lollipop sticks
Plastic wrap
Toothpicks
Wax paper
Scissors
Cake pop stand or styrofoam block
Instructions
1. Prep the Dough
Mash up a baked cake (you can use any recipe you love) and combine with buttercream. For every 2 cups of cake, use 1 tablespoon buttercream. Adjust this ratio as needed until you have a doughy consistency.
Once the dough is mixed, line your work surface with wax paper. Roll the dough until it's 1″ thick.
Pro Tip: Use two upside down cookie sheets as a guide for your rolling pin — they're usually exactly 1″ high.
2. Cut the Hearts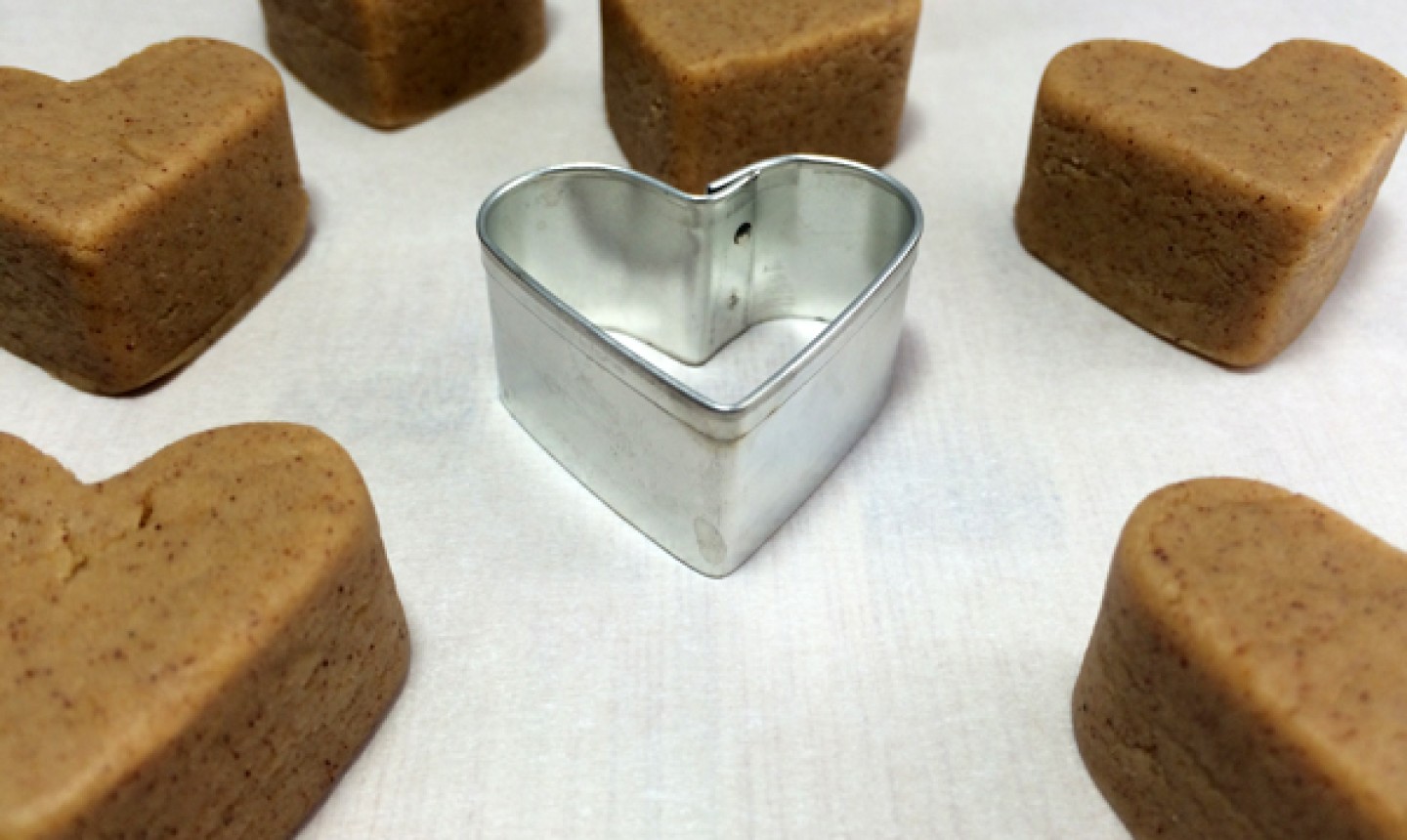 Cut out the hearts using a small 1½" heart-shaped cookie cutter. Place the hearts on a cookie sheet lined with wax paper and chill in the fridge.
3. Melt the Candy Coating
While the hearts are chilling, melt the candy melts and separate them into small bowls.
Pro Tip: Pastel colors can be made by mixing white candy melts into the regular bold colors. The ratio should be 3 parts white to 1 part color.
4. Dip the Pops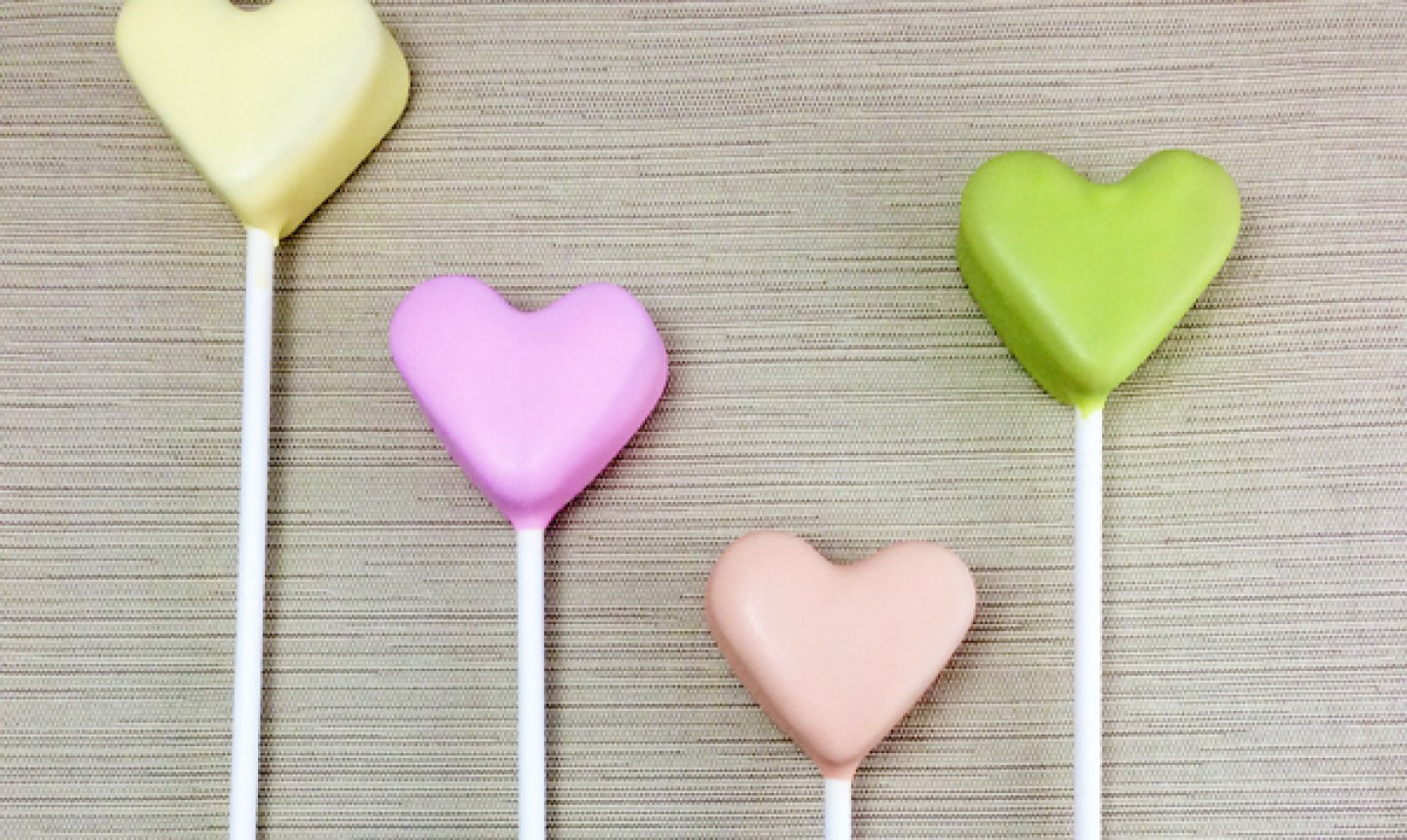 Remove the hearts from the refrigerator and let them rest at room temperature for 5 minutes.
Dip one end of a lollipop stick ⅓" into the candy coating and push it through the bottom of a heart. Submerge the cake pop into the candy coating until the coating meets the stick, and pull it out in one swift motion.
While still upside down, gently shake the cake pop to allow the excess to drip off. If you notice any air bubbles, gently pierce them using a toothpick. Place the cake pop in the styrofoam block or cake pop stand so it dries completely. Repeat this step for all hearts.
5. Add a Message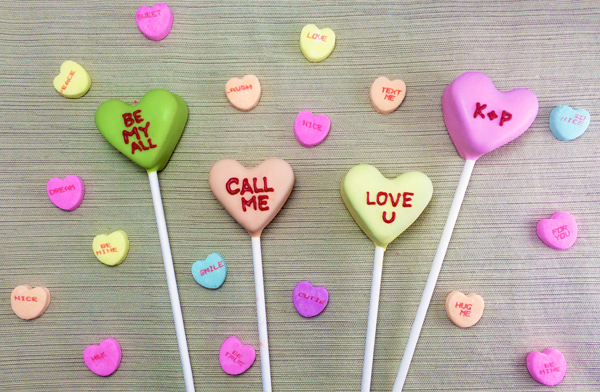 Melt a handful of red candy melts and pour into a piping bag. Cut a small hole in the tip and carefully pipe a message on each heart. Make sure your candy coating isn't too hot when you pipe, or it could cause cracks in your cake pop. It should be warm, but not hot.
Pro Tip: Before you pipe, use a toothpick to etch your message into each cake pop to make sure it fits and you don't accidentally make your letters too large.