How's your inner cupid doing these days? Valentine's day is closing in and if you're in need of an original idea, I've got the perfect one. Send your special messages in a special way! These conversation heart cake pops are an especially thoughtful way to convey a special custom message to those you admire this Valentine's day.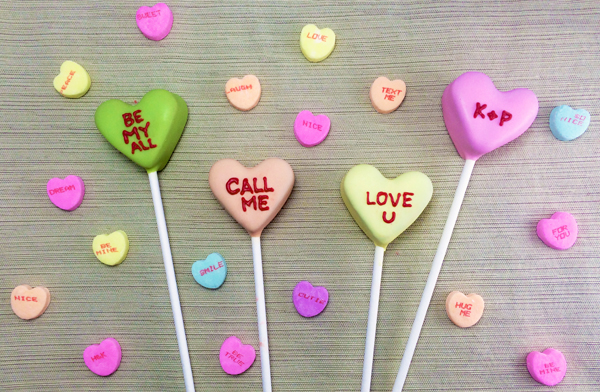 This conversation hearts cake pop tutorial is easy. It doesn't involve shaping by hand, instead we'll be rolling out the cake pop dough with a rolling pin and using a cookie cutter to cut out the heart shapes. Since we're using a small cookie cutter, these cake pops will be about 2/3 the size of a regular cake pop.
You'll need:
Candy coating for dipping in a variety of pastel colors
Red candy coating for piping message
Paramount crystals
Small 1½ inch heart cookie cutter
Lollipop sticks
Plastic wrap
Toothpicks
Ziplock bag
Wax paper
Cake pop stand or styrofoam block
Step 1:
Line your work surface with wax paper. Use this tutorial to make cake pop dough. Roll dough into 1-inch thickness.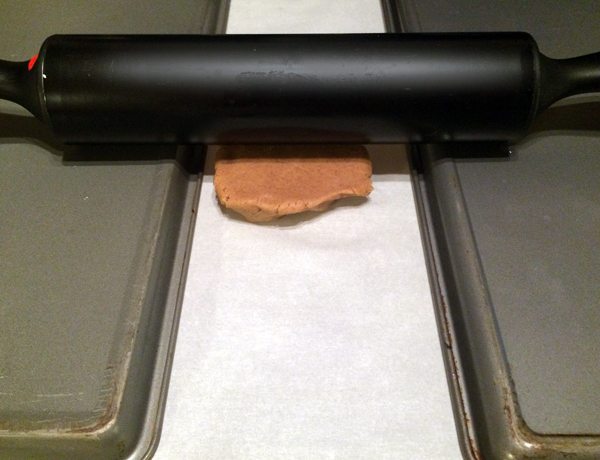 Tip: Use two upside down cookie sheets as a guide for your rolling pin. They are exactly 1 inch high. Make sure to place wax paper in the space between. Roll out small amounts of dough at a time.
Step 2:
Use a small 1.5″ heart-cookie cutter to cut out hearts. Place hearts on a wax paper-lined cookie sheet.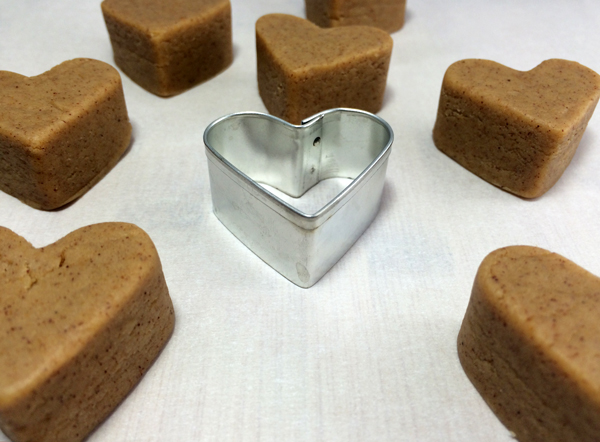 Gather scraps, ball up and repeat steps 1 and 2. Refrigerate the hearts.
Step 3:
While the hearts are chilling, melt each pastel-colored candy coating color in a different bowl. Read through this melting and dipping tutorial to properly melt coating and tips for the next step– dipping!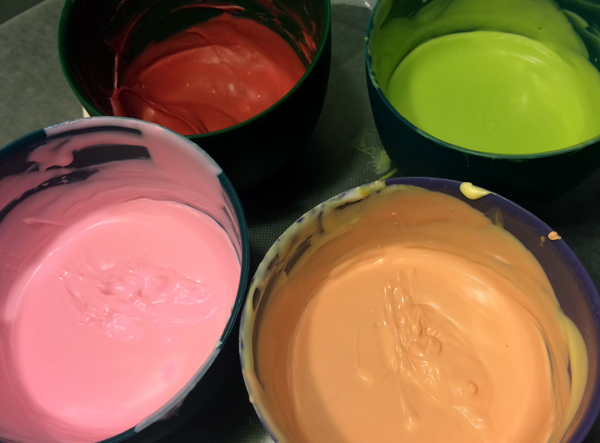 Tip: pastel colors can be made by mixing white coating into regular bold colors. The ratio should be 3-to-1; 3 parts white to 1 part regular bold color. For example, 3 parts white to 1 part red to make pink.
Step 4:
Remove hearts from refrigerator and let rest at room temperature for 5 minutes. In the mean time, gather your sticks, coatings and stand.
Dip ⅓ inch of a cake pop stick into candy coating and push in through the point of the hearts until it's about halfway through the heart. Do this for the remaining pieces.
Step 5:
Dip each cake pop into the candy coating by submerging it completely until the coating meets the stick. Then, pull it out in one motion. While still upside down, gently shake the cake pop side to side to allow the excess to drip off.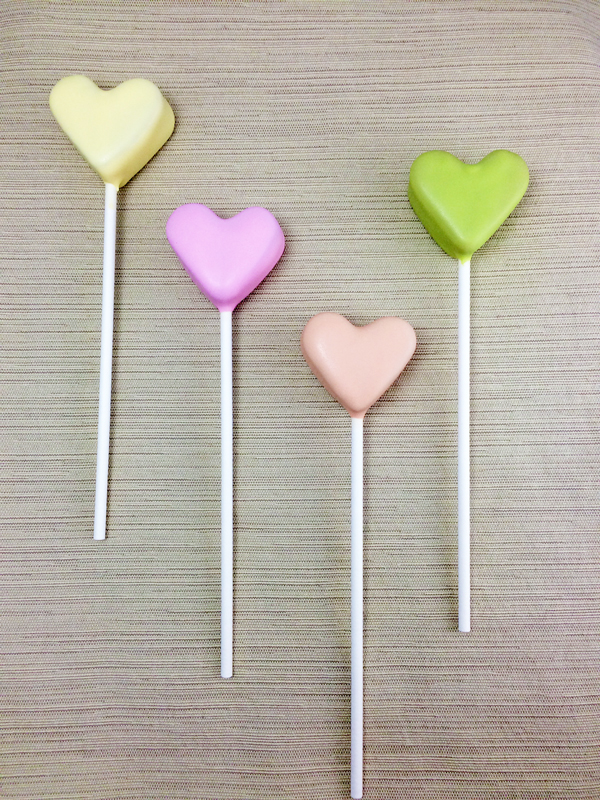 Tip: If you notice any air bubbles, gently pierce them using a toothpick.
Place on the stand to dry completely.
Step 6:
Melt a handful of red candy coating and transfer, pouring into a corner of a ziplock bag. We'll be using this to pipe your desired message to complete each conversation heart cake pop.
Snip the very tip of the bag with scissors and carefully pipe your message on each side of the heart. Make sure that the candy coating is not too hot otherwise it may cause cracks on your coated cake pop. It should be about body temperature.
Tip: Use a toothpick to etch your message into the cake pop coating first to make sure it fits and use that etch as a guide for piping.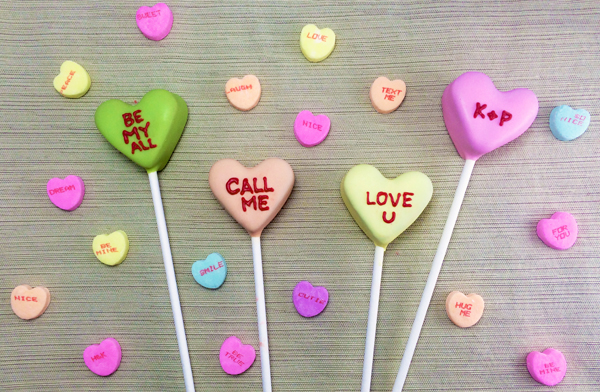 Happy Valentines day!
Free Online Cake Pops Class