When you frequently start and stop a free-motion quilting pattern, you'll often end up with a mess of carried threads across the quilt back. A continuous line quilting design, on the other hand, allows quilters to avoid starts and stops.
As the name suggests, continuous line quilting patterns flow from one element into the next, such as a flower surrounded by blades of stitched grass. Nature patterns like wildlife and foliage make up many continuous quilting patterns, but other designs may be abstract shapes or even household objects.
With this technique, you'll be able to avoid lots of carried threads on a quilt back (or inside the quilt, for hand quilters). Continuous line quilting designs are also helpful for quilting an entire block or large area of white space, by adding visual interest and texture to a quilt.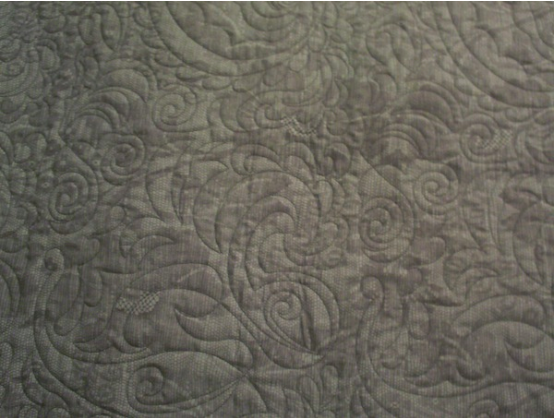 Continuous line quilting designs are especially common on longarm machines, where they often appear in repeat. When used across an entire quilt top, these are called all over quilting designs. This quilting sample, for example, was finished on a longarm machine by Quilting by the Stitch. Although the quilting lines meet and cross over, the machine never stops flowing.
You don't have to work on a long-arm machine, however, to practice continuous line quilting designs! Many motifs can be recreated using home sewing machines or quilted by hand. Here are some helpful tips for continuous line quilting your projects.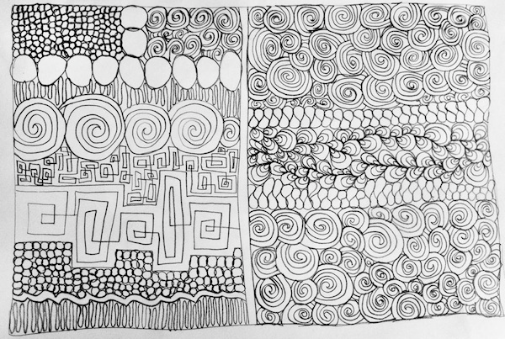 Sketching Quilt Patterns
Whether you are designing your own continuous line quilting patterns or working from the sketches of others, it's a good idea to practice your quilting. This sketch by Pesca Presents is a pen-and-paper version of several continuous line quilting designs.
In her Craftsy course Machine Quilting Negative Space, Angela Walters suggests practicing your motifs on paper before trying them out on the sewing machine. When you can successfully draw these designs in a fluid motion without backtracking or stopping, you'll be one step closer to mastering continuous line quilting.

Sizing and Transferring a Quilting Design
Did you know you can use a photocopier to enlarge or shrink a continuous line quilting pattern? When your design is the size you want, transfer the sketch onto tear-away stabilizer paper. Then, you can machine quilt the design right through the paper onto the quilt, like this motif, blogged at Sewing with Treadles.
Alternately, you may choose to draw the design in permanent marker onto a piece of tulle or template plastic, cutting out the design of the plastic. You can then trace the quilting pattern from the tulle or template onto the quilt top using a chalk pencil or disappearing ink pen. The transferred design can then be traced with your sewing machine.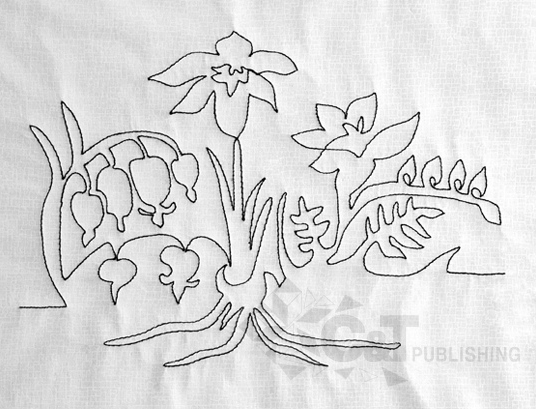 Quilt with Nature Motifs
This floral motif from the book 250 New Continuous-Line Quilting Designs by Laura Lee Fritz is a great resource for quilters looking to branch out into new design territory. Notice how the design elements rarely cross over each other, even to create complex shapes like leaves and roots.
Patterns from nature are a great place to find inspiration when choosing continuous line quilting designs. The next time you are out for a walk, take a photo of something outside that inspires you, and try sketching that pattern without lifting your pen from the paper.
Do you sketch continuous line quilting designs on paper first? Or, do you prefer to sew free-motion designs directly onto quilts?
In case you missed it yesterday, explore quilting with flowers further. Then come back to the Craftsy blog tomorrow to learn about quilting bees and how you can get involved.