While some quilts look gorgeous when each block or border inspires its own unique quilting pattern, all-over quilting designs can be a very beautiful and efficient means of finishing a quilt.
Sometimes called edge-to-edge quilting, all-over patterns can be completed on a longarm machine, with a home sewing machine or by hand quilting. With each method, there are some unique ways to play with repetition, echoing, pivoting, stacking and overlapping shapes to achieve an all-over quilting design!
Many quilters use simple designs to quilt busy patchwork and more elaborate all over designs on simple patchwork. For longarm quilters, all over quilting designs can often be purchased in the form of pantographs, or small sections of a quilting design that repeat from one end of the quilt to the next, similar to a tiled background image on your computer screen. All over quilting on a long arm machine is a quicker approach to custom quilting, which takes into account the block design. Kathy K. Wylie shares some tips for selecting the right allover quilting design for your quilt top, including simple and complex patchwork designs.
For quilters using a home sewing machine, here are several resources for all over quilting designs to complement your quilt top!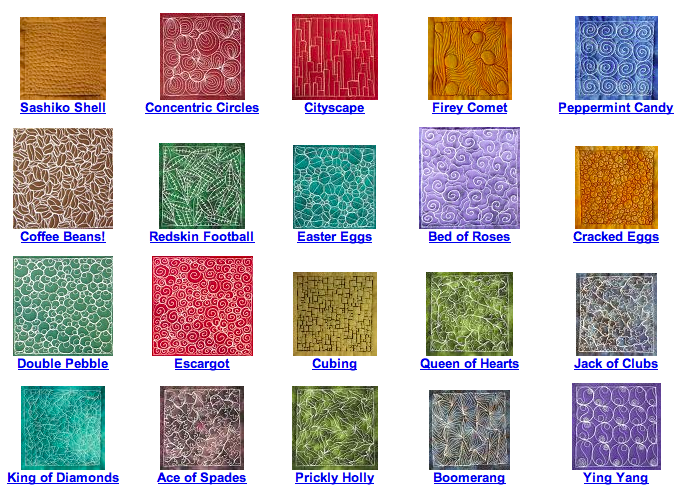 Leah Day Style Designs offers a wonderful pictorial glossary of hundreds of free-motion patterns that are suitable for all over quilting. The screenshot above shows several continuous line quilting designs featured on the site that are quilted from edge to edge over the entire quilt top.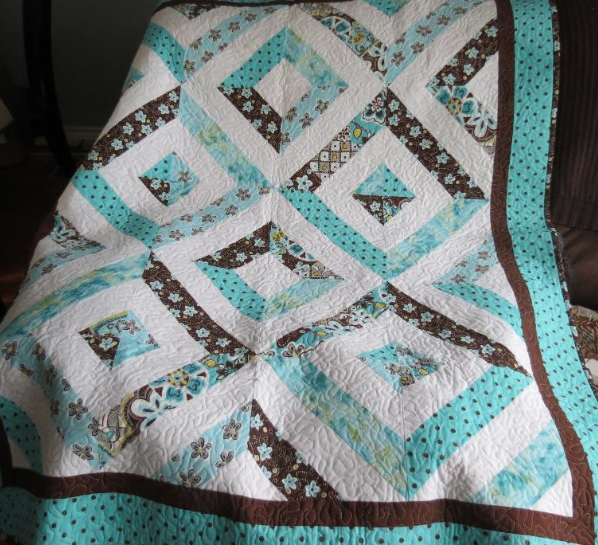 Summer in the Park by Karen Fyfe uses an all over stipple quilting design. The meandering stitch or stipple pattern is a great choice for entire quilt tops, including sashing and borders.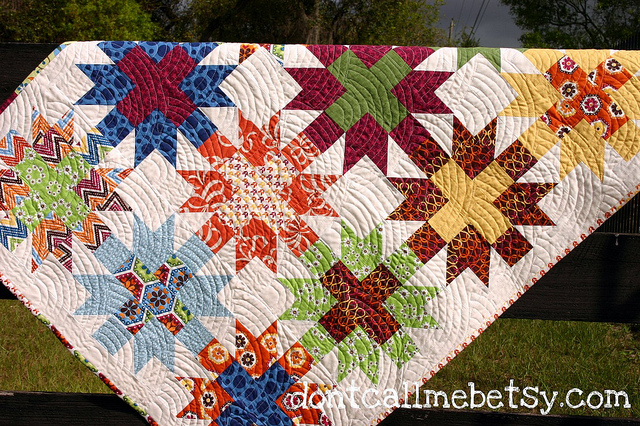 Elizabeth Dackson shares a tutorial for quilting baptist fans on a home sewing machine at her blog Don't Call Me Betsy. This is a great example of an echoing design, in which one curve is quilted and then echoed several times.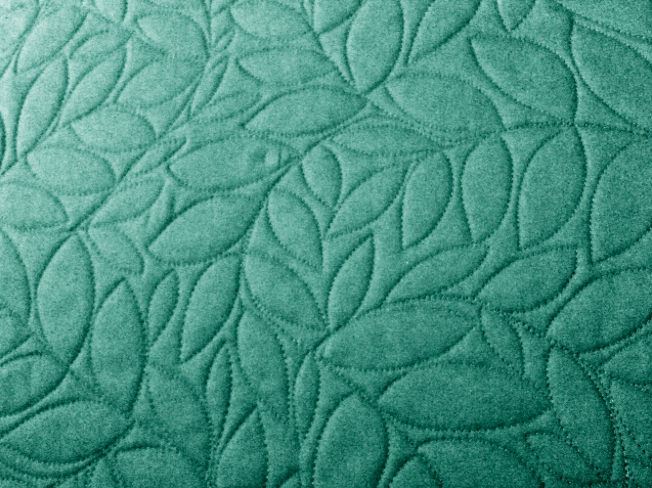 Christina at A Few Scraps shares a tutorial for a leafy branch free-motion quilting pattern that makes a pretty all over design. In this pattern, the original image is rotated to cover the surface of the quilt.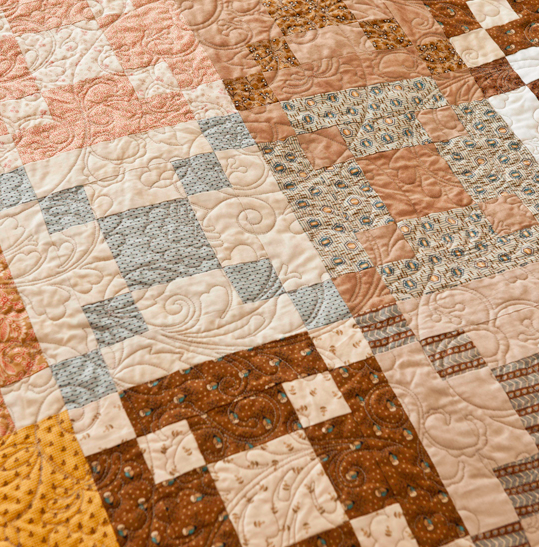 Photo via All People Quilt
The Canyon Trail Quilt was quilted with an all over flower-and-leaf design by Connie Gresham. Notice how the scale of the quilting design is larger than the all over patterns above.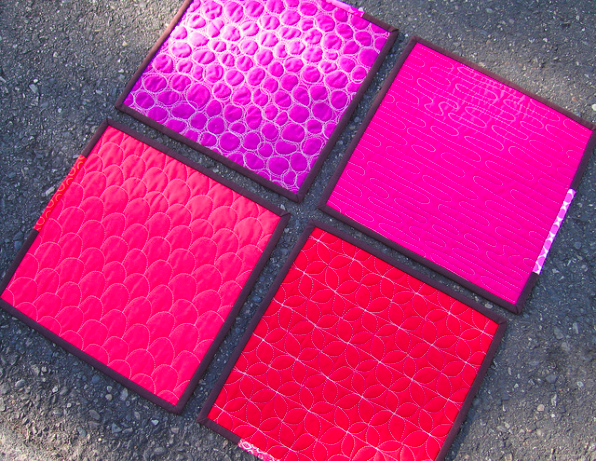 Elizabeth Hartman shares 16 examples of all free-motion quilting designs you can replicate on your home machine at her blog, Oh, Fransson. Each of these designs, including bubbles, ripples, dogwood, and clamshell, would make a great all over quilting pattern. These free-motion designs complement Elizabeth's modern quilts and the projects in her online Bluprint class, Inspired Modern Quilting: 7 Small Projects with Big Style.
When choosing an all over quilting pattern, there are a few questions to consider:
How large or small will you quilt the all over design? Is it in proportion to the size of the quilt and also the patchwork blocks and pieces? Oftentimes, quilting an all over design on a smaller scale is a great way to hide piecing that's not quite square or fabric that's off grain.
Will you choose just one scale or size for your design and repeat over the entire quilting surface? For instance, quilting pebbles in various sizes can be a good way to add interest to an all-over quilting design. This also helps create areas of negative space, where the quilting is less dense.
What color of thread will blend well with the entire quilt top? Often, choosing a color that works well with the sashing and borders is a good way to go. A variegated thread also works well.
What is your favorite all over quilting design?
In case you missed it, check out these fun quilts! Then come back to the Bluprint blog tomorrow to learn the frog tape trick for half-square triangles.