Beth Ferrier, instructor of the online quilting class Machine-Finished Hand Appliqué has some wisdom to share with anyone who's even thinking about buying a sewing machine. They are not one-size-fits-all, and they are definitely not the kind of thing you should buy without forethought. When it comes to quilting, a sewing machine can be the right tool for the job. So you'll definitely want to make sure it's the right sewing machine! With Beth's advice, you'll be sure to get just what you need.
Hi, I'm Beth Ferrier quilting instructor for Bluprint.com. I do all my quilting by machine so it's important to me to have the right tool for the job. Beginning quilters and sewists are often intimidated when looking for a machine and there's a lot to consider. One of the things newbies to the craft often don't think about is that instead of just going into your chain store and pulling a sewing machine in a box off the shelf, you might want to consider visiting your local machine dealership.
Dealers have all kinds of ranges of sewing machines from totally entry level simple machines to the most ridiculous machines costing more than my first car, that practically do the laundry for you. You need to know when you go looking at a dealership, keep in mind what kind of sewing that you do. Take the kind of fabrics that you like to use and thread and ask to be able to sit down at the machine and actually sew. In truth the dealer will take you more seriously if you come prepared to actually audition those sewing machines.
Don't be afraid to ask lots of questions and never be embarrassed to make multiple trips before the decision is made. Your relationship with a dealer is going to make all the difference about whether or not you enjoy working with your machine. So you want to have a place where you're comfortable asking questions. A dealership will also give you back up if the machine goes crazy, and it's a take to place it once a year for a well-baby visit to get it all checked up and make sure everything's working at top speed. Don't be afraid to consider buying a used machine from a reputable dealership as well. It's a great way to get the most sewing machine for your money.
Take your time, think about what you want, and then go get it. I'm Beth Ferrier for Bluprint.com.
Join Beth and learn how to hang a quilt on a wall without push pins and make bobbin work easy. Then sign up for her online quilting class Machine-Finished Hand Appliqué.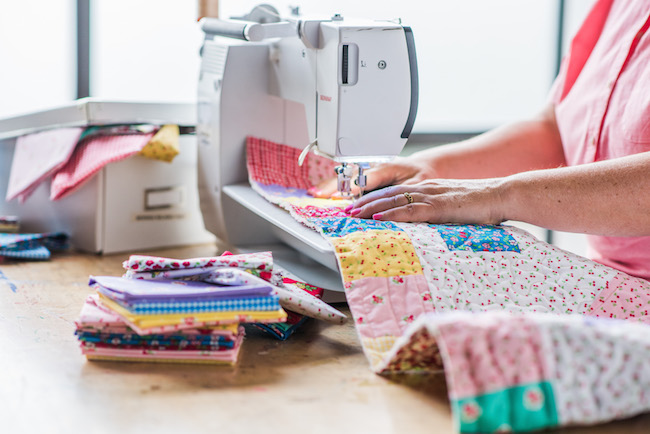 Learn How to Quilt
See the entire quilting process, step by step. Plus, you'll find patterns, projects, and our comprehensive beginner's quilting class.See the Tutorial