Fried latkes are the food of Hanukkah — and they just so happen to be super easy to cook. This recipe uses only a handful of ingredients and a few simple steps. Cook 'em fast and serve 'em warm before digging into some cute dreidel cupcakes.
Good to Know: The most time consuming part of making latkes is shredding up all those potatoes. You can do this by hand using a cheese grater. However, if you have a food processor with a grater blade, you can have all your prep work done in less than two minutes.
Potato Latkes
Yield: 20-24 latkes, or 4-6 servings
Ingredients
1½-2 pounds baking potatoes
1 small, sweet onion
1 large egg
1 teaspoon baking powder
Salt and pepper, to taste (approx. ½ teaspoon salt)
3 tablespoon all purpose flour or matzoh
Canola or vegetable oil, for frying
Instructions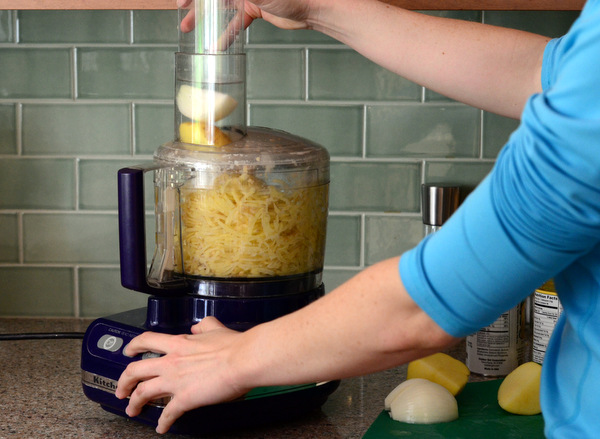 1. With a cheese grater or with a food processor fitted with a grater attachment, shred the potatoes and onions into fine strands. Place in a colander and press down with a spatula to squeeze out some of the excess moisture. Allow mixture to sit for 5-10 minutes.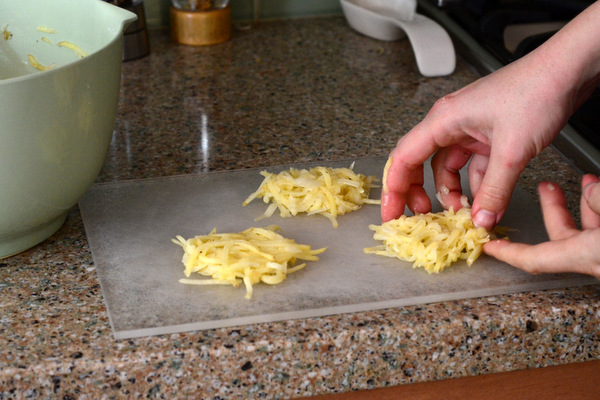 2. Add egg, baking powder, flour, salt and pepper to the shredded potato mixture and form into small, flat pancakes about 3″ across and no more than ½" thick. Thicker pancakes may not cook evenly.
3. Fill a frying pan with about ½" of oil and turn the heat to medium-high. Drop a strand of the potato mixture into the oil to test it. When the potato sizzles and begins to turn brown, the oil is hot enough. Transfer the latkes into the pan 2 or 3 at a time. Cook until pancakes are dark golden, about 4 minutes, then flip and cook the second side until it is also a dark golden brown.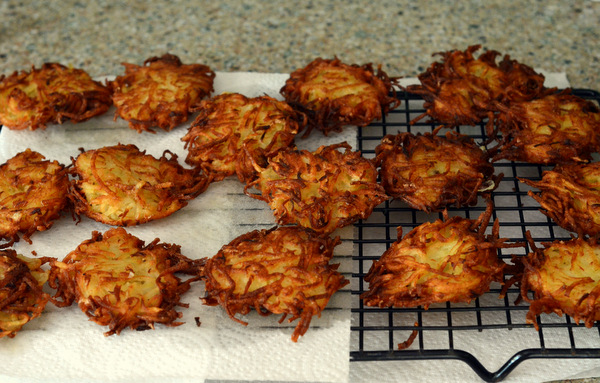 4. Place finished latkes on a paper towel-lined plate or cooling rack to drain any excess oil. Serve immediately, with applesauce and sour cream.