The Christmas season just isn't complete without delicious holiday sweets and decorated treats! From gift exchanges to office parties to family and friend get-togethers, the opportunities for baking are abundant. This year, forgo the traditional pudding and yule log and put your decorating skills to work in creating Christmas cupcakes for every festivity.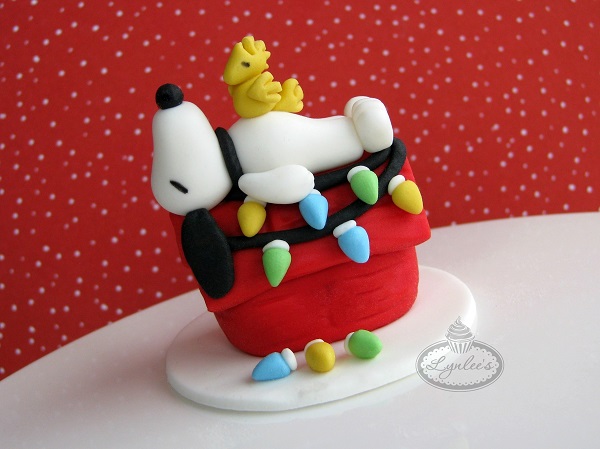 Photo via Lynlee's Petite Cakes
We've rounded up some joyous Christmas cupcakes and fondant toppers.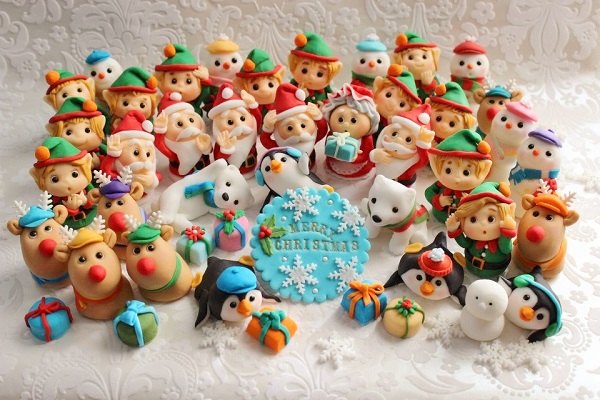 Photo via Mimicafe Union 
Christmas winter cupcakes
For those living in the northern hemisphere, the celebration of Christmas also welcomes the winter season. These absolutely adorable three-dimensional fondant toppers include Santa and his elves and reindeer, along with precious wintertime characters, including snowmen, penguins and polar bears. Mimicafe Union is amazing at captivating different personalities in her hand-molded figures. By differing their expressions and body positions, no characters is alike, much like a snowflake!
[box type="shadow"]Practice your own Christmas character modeling skills in Sharon Wee's Cake Topper Techniques: Fondant Animals.[/box]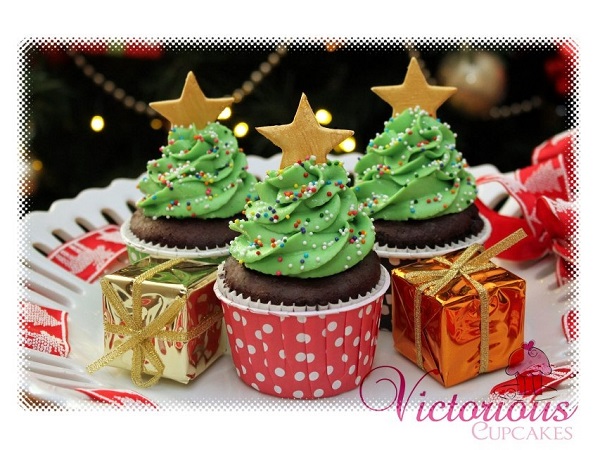 Photo via Victorious Cupcakes
Christmas tree cupcakes
One of the most recognized symbols of Christmas is the iconic tree and these festive Christmas tree cupcakes by Victorious Cupcakes are simple and especially sweet! By perfectly piping your icing high, you can create the visual of a tree, adorned with sprinkles and topped with a fondant star. Get the full tutorial, including the recipe for a mint buttercream icing at Goodtoknow Recipes to re-create these delightful Christmas trees.
Photo via Buttercream Bakery
Cozy Christmas cupcake
It may be a challenge to learn how to make cupcake decorations, but creating a detailed topper like this makes it worth it! When it's snowing outside, there's nothing better than keeping warm and cozy on the couch next to the Christmas tree. Buttercream Bakery re-created this very scene in this captivating and detailed cupcake topper! The miniature fondant pieces are so intricately modeled and embellished, creating a show-stopping edible work of art. A cupcake like this would make the perfect gift on its own, or accentuate it with simpler cupcakes to build a beautiful assortment.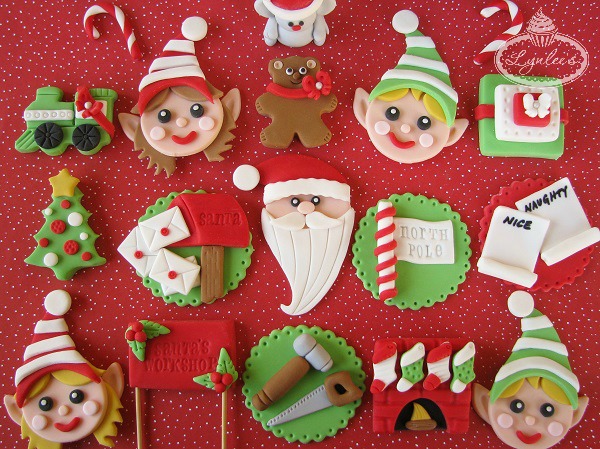 Photo via Lynlee's Petite Cakes
Santa's workshop cupcake toppers
While the rest of us are working away, decorating our confections, Santa and his elves are hard at work at his toy shop, preparing for the big day! These fondant cupcake toppers not only depict the big guy and his helpers, but also the many components of the North Pole's factory, including letters to Santa, the Naughty or Nice list, toys, and tools. The color palette was limited to the traditional red, green and white, with slight accents of yellow, brown and black sprinkled throughout, ensuring they tied together for a cohesive collection.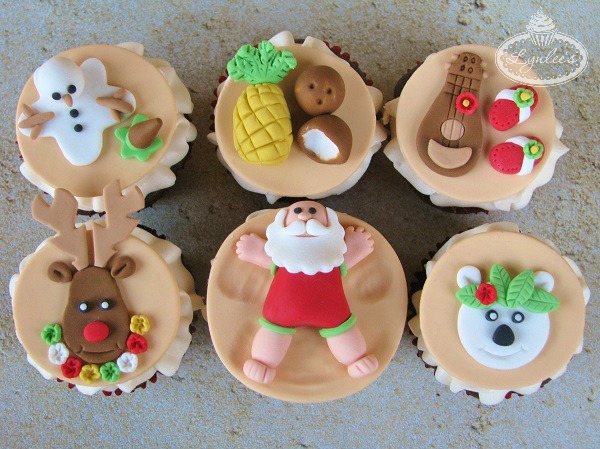 Photo via Lynlee's Petite Cakes
Mele Kalikimaka cupcakes
Though many of the holiday movies and stories depict Christmas occurring solely in cold weather environments, half of the world celebrates the holiday during the summer or in warmer climates. These holiday cupcakes depict how the other half lives! Replacing snow with sand, Rudolph wears his tropical lei, Santa makes a sand angel in his bathing suit, and unfortunately, a snowman melts in the hot sun. This fondant collection combines both flat and figure components, allowing for a more dimensional design.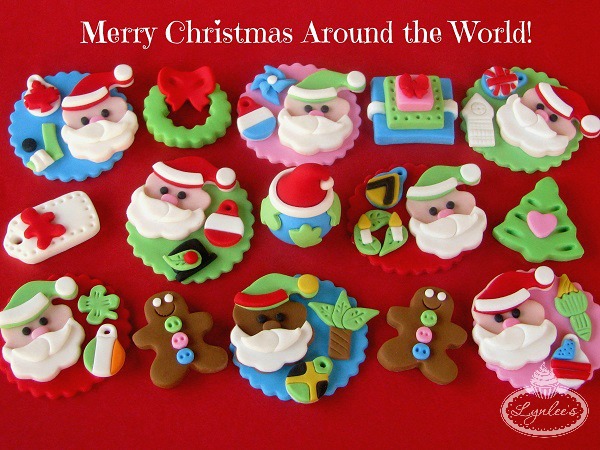 Photo via Lynlee's Petite Cakes
Christmas around the world cupcake toppers
Just as Christmas is celebrated in different climates, there are also different traditions for the holiday around the world! These fondant toppers encompass a variety of Santas with ornaments representing the flags of different countries and elements representing some quintessential icons or landmarks. Simpler designs, such as gingerbread men, wreaths and tags, accentuate the collection, allowing for a more balanced and time-effective assortment.
[box type="shadow"]Want to try your hand at culturally-inspired cupcake designs? Take a look at Sheryl Bito's Global Cupcake Design and pick up tips for artful cupcake decoration that draw on cultures from around the world.[/box]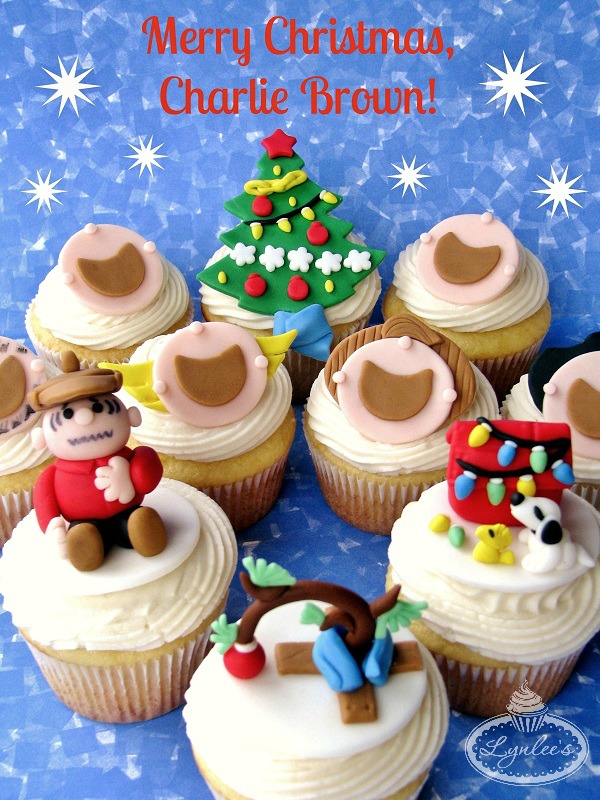 Photo via Lynlee's Petite Cakes
Charlie Brown Christmas cupcakes
Along with the holidays also comes time-honored and classic films. This collection of cupcakes portrays a highly recognizable scene from the animated cartoon A Charlie Brown Christmas. The flat singing characters and Christmas tree are created with simply shaped cutters, while the main characters and Charlie Brown's tree are modeled by hand, using advanced fondant techniques. Again, the variety in designs balances out the assortment visually and practically.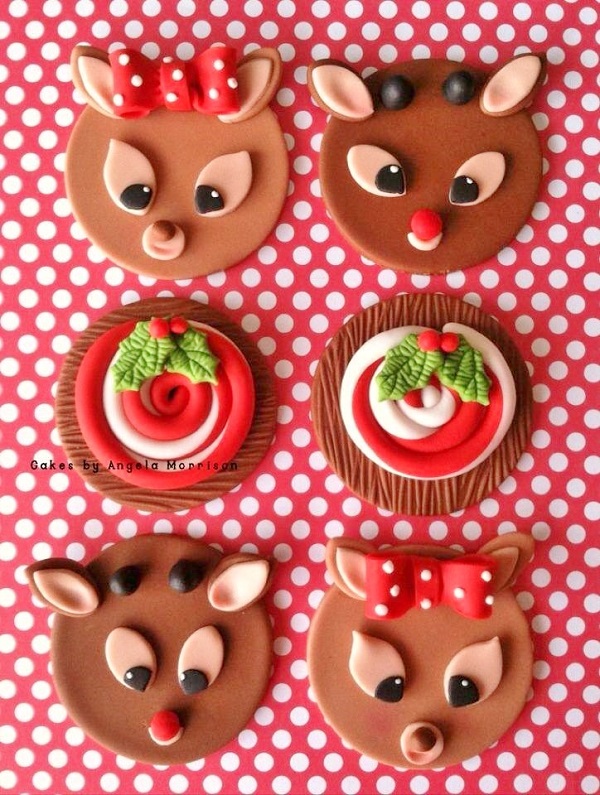 Photo via Cakes by Angela Morrison
Reindeer cupcake toppers
Another classic story and animated film is Rudolph, the Red-Nosed Reindeer. Cakes by Angela Morrison captures the iconic characters in these adorable and sweet fondant toppers, adding dimension with their facial features and accents. The woodland feel and colors are carried through the coordinating pieces, with the additional use of texture achieved with embossing mats.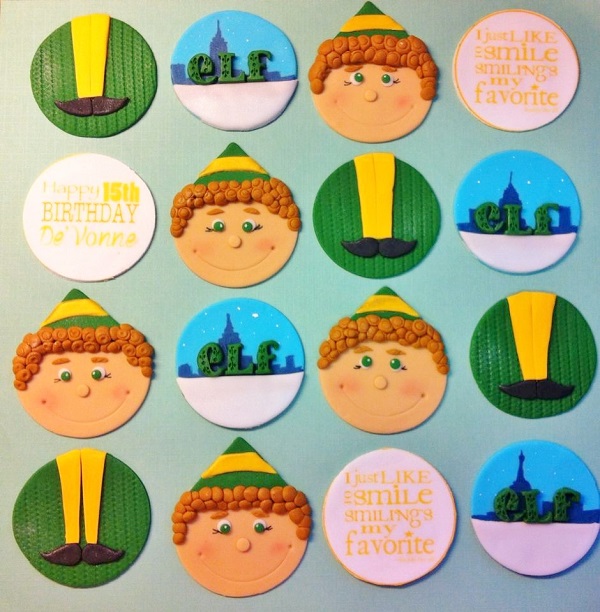 Photo via Hot Mama's Cakes
Buddy the Elf cupcake toppers
A more recent film that has instantly become a holiday classic is Elf, and Hot Mama's Cakes perfectly depicts the main character of Buddy the Elf in these charming fondant toppers. The inclusion of different textures and painting techniques adds interest to the designs, while the movie's title is added with the use of letter molds over the New York skyline.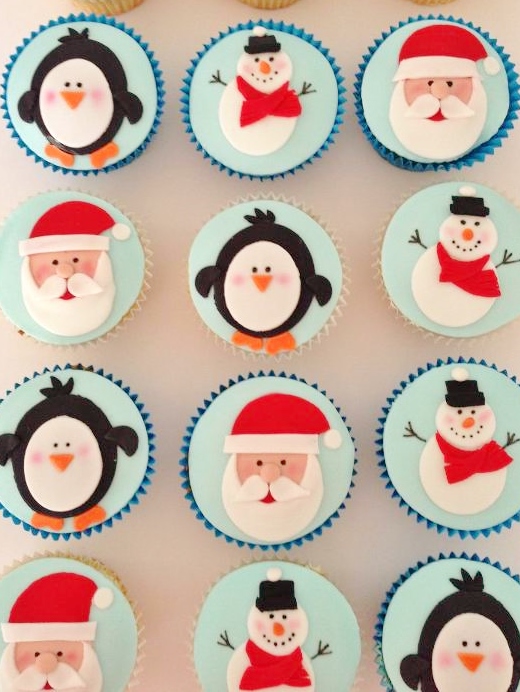 Photo via Bluprint member Bronn
Christmas cupcakes
These adorable Christmas cupcakes created by Bluprint member Bronn portray Santa, sweet penguins and snowmen meticulously hand-cut from fondant and grounded with a soft, light blue background.
[box type="shadow"]You might also enjoy our roundup of Candy Land and gingerbread themed cupcakes![/box]
What are your favorite Christmas characters and how will you transform them into a holiday treat?