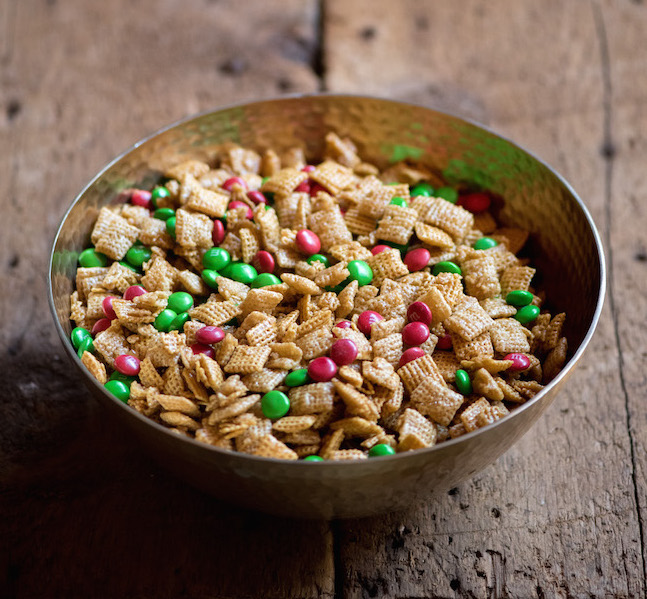 Some treats are actually too good not to eat and this addictive Christmas caramel mix is one of them. Just ask our blog editor Kristin. After her first batch of Christmas caramel mix vanished, she had to resort to hiding her now signature holiday sweet from hungry hands.
"We typically keep all our cookies and treats in aluminum cookie tins on the kitchen counter, but the giant plastic bowl of this stuff has to be stored in the laundry room so that it doesn't get eaten up before Christmas," she says.
Kristin first tasted this gooey, caramel-coated creation about five years back, when a co-worker brought it to the office. She knew right away that this mix was something that her family would love, so she asked for the recipe, and brought it home.
"My whole family was a little skeptical at first," she says, "when they saw me making it in a brown paper bag. But after that first year, we haven't gone a single Christmas without making a batch."
Christmas Caramel Mix Recipe
Level: Easy
Ingredients
12-ounce box of crispy rice-and-corn cereal (like Crispix)
1 cup butter
½ cup light corn syrup
2 cups brown sugar
½ teaspoon baking soda
12-ounce bag of red and green chocolate candies (like M&Ms)
Instructions
1. Pour cereal into a large brown paper grocery bag. You may want to double up the grocery bags to prevent messes.
2. In a medium pot over low temperature, bring butter, corn syrup and brown sugar to a slow boil. Boil for 30 seconds.
3. Add baking soda and stir. Caramel mixture will become foamy and lighter in color.
4. Pour caramel mixture over the cereal in the bag. Stir with a wooden spoon. Fold the bag closed.
5. Microwave bag on high for 90 seconds, then shake bag. Microwave and shake three additional times to fully coat cereal with caramel.
6. Pour cereal into a large bowl (be careful, as the cereal will be very hot). Let cool, stirring often to prevent sticking.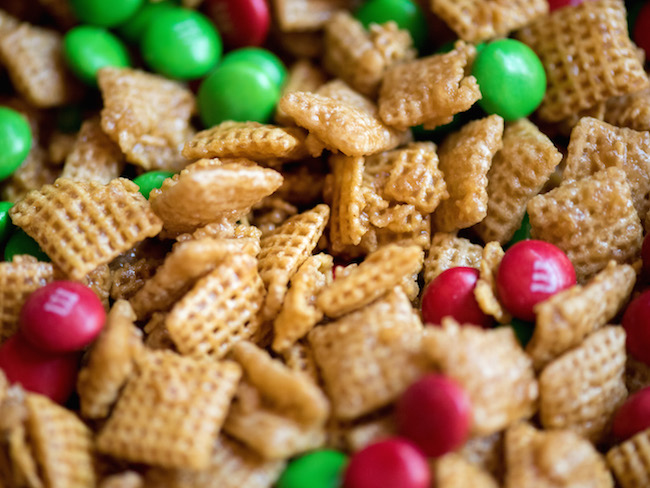 When completely cooled, add the chocolate candies and stir. Then dig in!