I don't think you should have to hunt down a completely different recipe for similar cookies — after all, the only real difference between, say, chocolate chip and raisin cookies is the mix-ins! This foolproof cookie recipe is a all-purpose, basic cookie recipe that you can easily put your own twist on.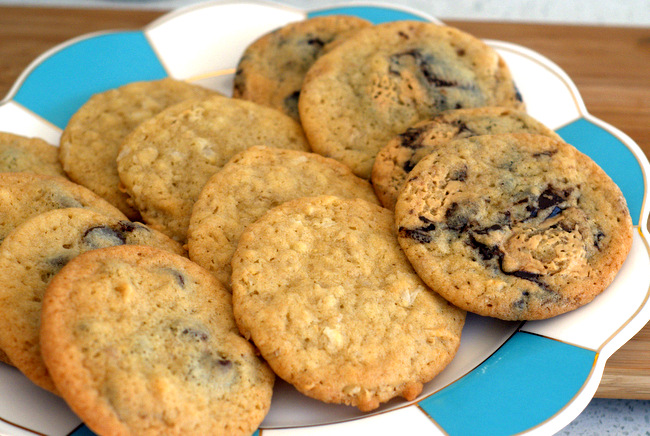 This basic cookie dough recipe is very easy and very versatile.
It mixes up just like any other cookie dough, with a nice blend of white and brown sugars, a generous dose of vanilla extract and just the right amount of salt.
If you didn't mix any additional ingredients in to the dough, you would end up with thin, buttery cookies with a hint of butterscotch to them. If you add some mix-ins, you'll get cookies that really pack a punch.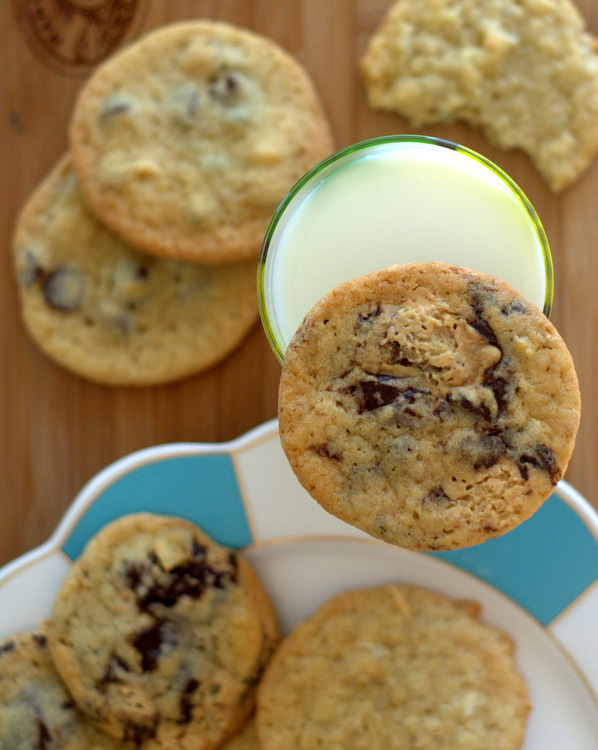 The fun of this recipe is that you can mix in almost anything to the cookie dough.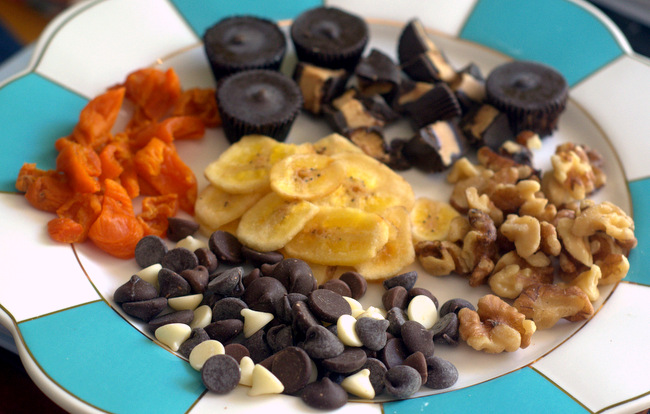 You can easily mix in chocolate chips, nuts, dried fruits, oatmeal and more to fulfill your cravings. The only thing to avoid is fresh fruit — the fruits will leak too much liquid during baking. But everything else is fair game, including dried fruit.
The recipe can take two cups of mix ins. I'm offering a few suggestions below to give you a place to start:
Chocolate chip with nuts: Add 1¼ cups chocolate chips (any kind) + ¾ cup chopped, toasted walnuts
Coconut oatmeal: Add 1 cup shredded coconut + quick-cooking oatmeal
Chocolate, peanut butter and banana: 1½ cups chopped peanut butter cup candies +½ cup chopped banana chips
Oatmeal raisin: 1 cup quick-cooking oatmeal + 1 cup raisins
Triple berry: 2/3 cup dried cherries + 2/3 cup dried blueberries + 2/3 cup dried cranberries
Flavoring the cookie dough
If you want to add more flavor to the cookie base itself, you can also mix in up to a teaspoon of spice or citrus zest with your extra ingredients. Ground cinnamon is a good choice to add to the oatmeal options above, and lemon zest goes well with many dried fruits.
This may not be the perfect recipe for every occasion, as there are times when you might want a cakey, crispy or jumbo cookie and need a more specialized recipe. But it is the perfect recipe for any occasion when you just want a great cookie to pair with a big glass of milk.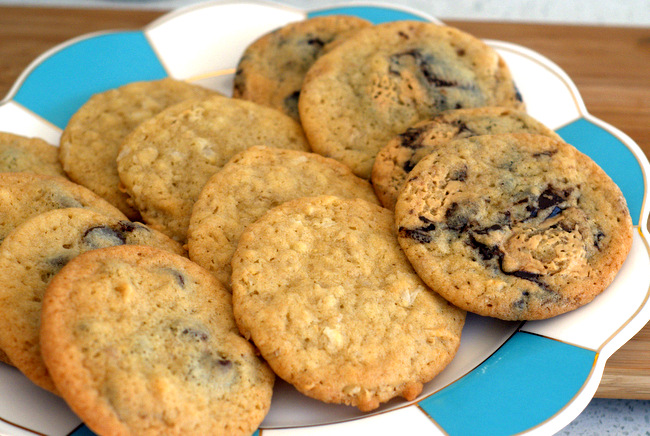 Basic cookie dough recipe
Makes about 3½ dozen cookies
Ingredients
2¼ cups all-purpose flour
½ teaspoon baking soda
¾ teaspoon salt
1 cup butter, room temperature
1 cup sugar
½ cup brown sugar
2 large eggs
1 teaspoon vanilla extract
2 cups mix-ins (chocolate chips, nuts, etc.)
Step 1:
Preheat oven to 350 F. Line a baking sheet with parchment paper. In a medium bowl, whisk together flour, baking soda and salt.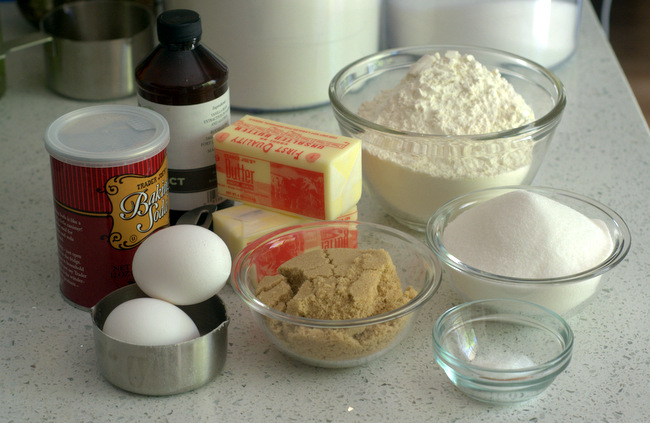 Step 2:
In a large bowl, cream together butter and sugars until light and fluffy.
Beat in eggs, one at a time, followed by vanilla extract. Blend in the flour mixture until no streaks of dry ingredients remain, then stir in your mix-ins.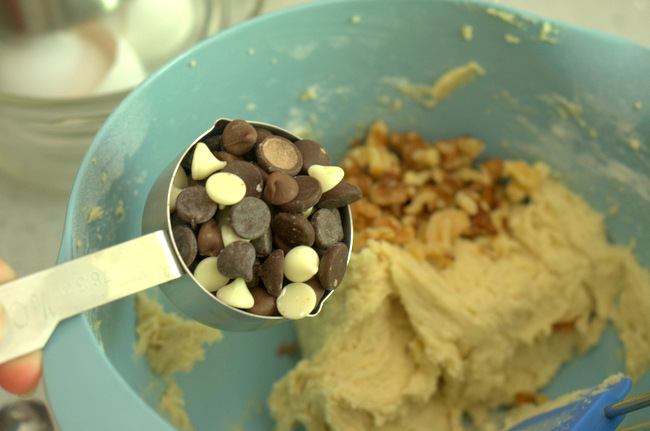 Step 3:
Shape cookies into 1″ balls and arrange on baking sheet, leaving about 3″ between the cookies to allow for spread.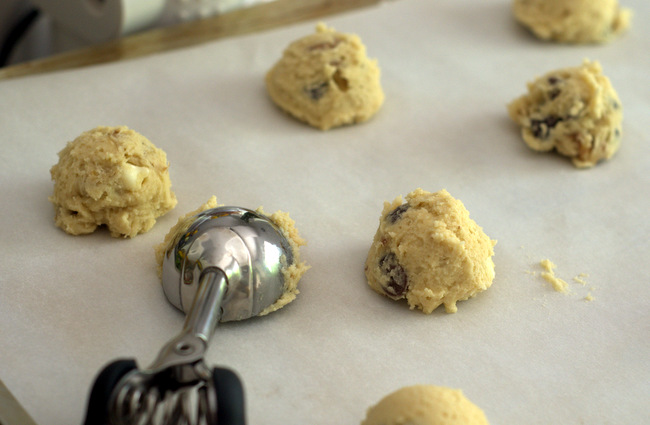 Bake for 10-12 minutes, or until cookies are golden around the outside edge. Allow cookies to cool on the pan for 4-5 minutes, then transfer to a wire rack to cool completely.