Smooth, silky chocolate ganache tastes like magic and comes together quickly with just three simple ingredients. Like any recipe with few ingredients, quality is key. Use the best chocolate you can find, or the chocolate that you like the most. Skip the baking chips and buy the good stuff – chocolate with a high cocoa percentage (60% or higher) and few added ingredients. 

All photos via Erin Bakes
Chocolate ganache recipe
Ingredients:
4 ounces chocolate (60% cocoa or higher)
Pinch of kosher salt
1/2 cup heavy cream
Instructions:
1. If your chocolate is in block form, finely chop the chocolate. The largest pieces should be about the size of a marble. Place the chocolate and salt in a medium heatproof bowl.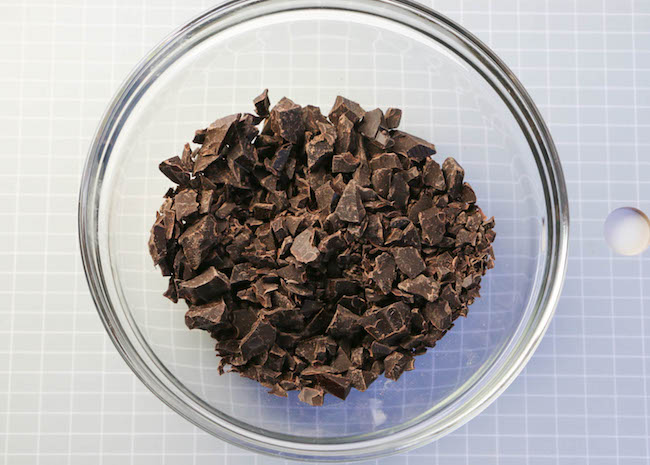 2. In a small sauce pan, bring the heavy cream to a boil. Immediately remove the pan from the heat.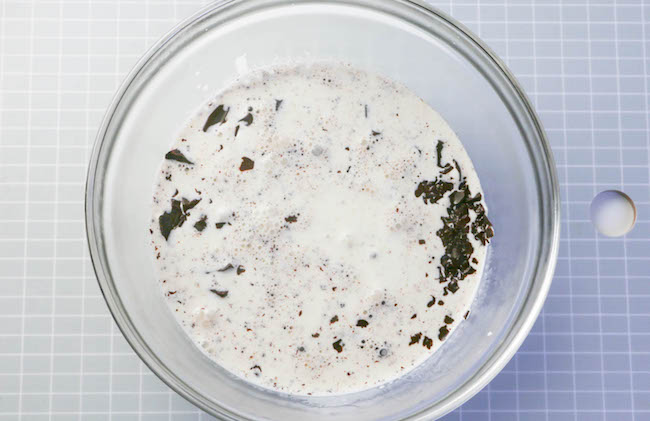 3. Pour the hot cream over the chopped chocolate and salt. Slowly whisk the mixture, stopping to scrape down the sides of the bowl with a rubber spatula as needed, until it's smooth and glossy.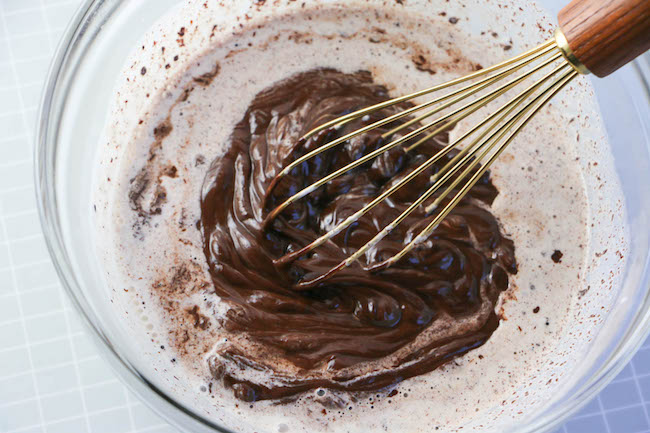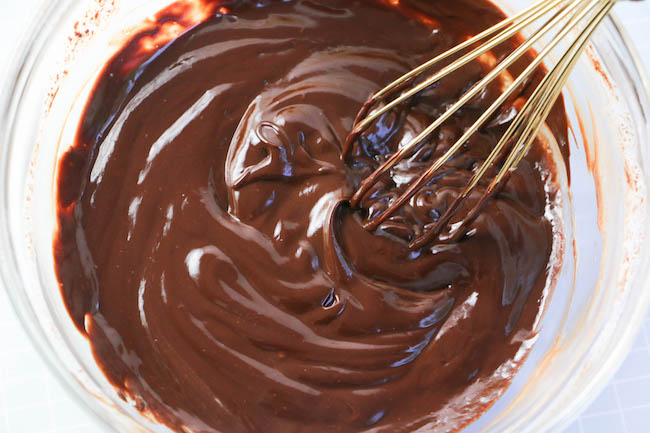 4. Use the warm ganache immediately or set it aside to cool and thicken, depending on what you plan to do with it. 
5. Store ganache in an airtight container in the fridge for up to a week. Re-warm ganache over a double boiler or in the microwave. Microwave the ganache in short intervals (15-20 seconds at a time), stopping to stir the ganache each time. Be careful to not overheat the ganache. 
Ganache troubleshooting: 
Broken: If your ganache "breaks," meaning the fat and liquids have separated, the mixture will appear chunky and oily. To remedy this situation, whisk a tablespoon of cold heavy cream at a time into the ganache until it comes back together. 
Too cold: If you're kitchen is cold and your ganache sets up before you're done working with it, re-warm the ganache in the microwave at 15-20 second intervals. Or keep your ganache over a double boiler set to low heat while you work. 
Too thin: If your ganache is too runny, try re-warming it then whisking a few pieces of chocolate into the mixture until you achieve your desired consistency. 
Too thick: Whisk in a tablespoon of warm cream at a time until you achieve your desired consistency.  
Uses for ganache: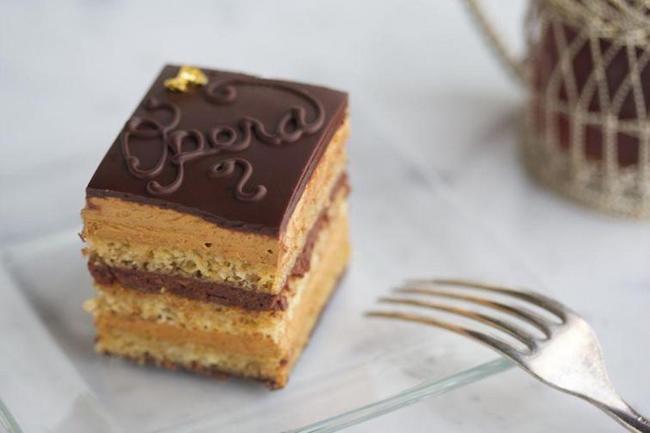 Cake filling
Ganache that has cooled and thickened makes for a decadent cake filling, like in the Opera Cake shown above made by Bluprint instructor Colette Christian. 
Photo via Bluprint member tmat51
Sauce
Warm ganache can be used as a sauce pooled on a plate, drizzled over pastries, or poured over ice cream.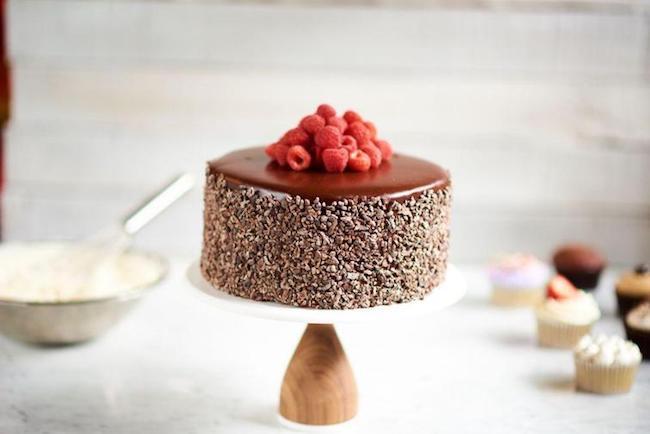 Photo via Bluprint Instructor Jenny McCoy
Poured icing
Warm ganache can be poured over a chilled cake, frozen mousse, or other chilled pastries as a smooth, shiny glaze.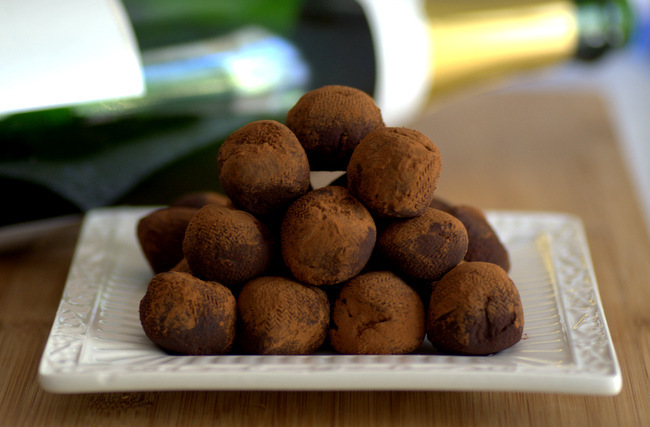 Truffles
Plain ganache or ganache that's been flavored and cooled can be scooped and rolled into balls to create truffles like these champagne truffles made by Bluprint blogger Nicole Weston.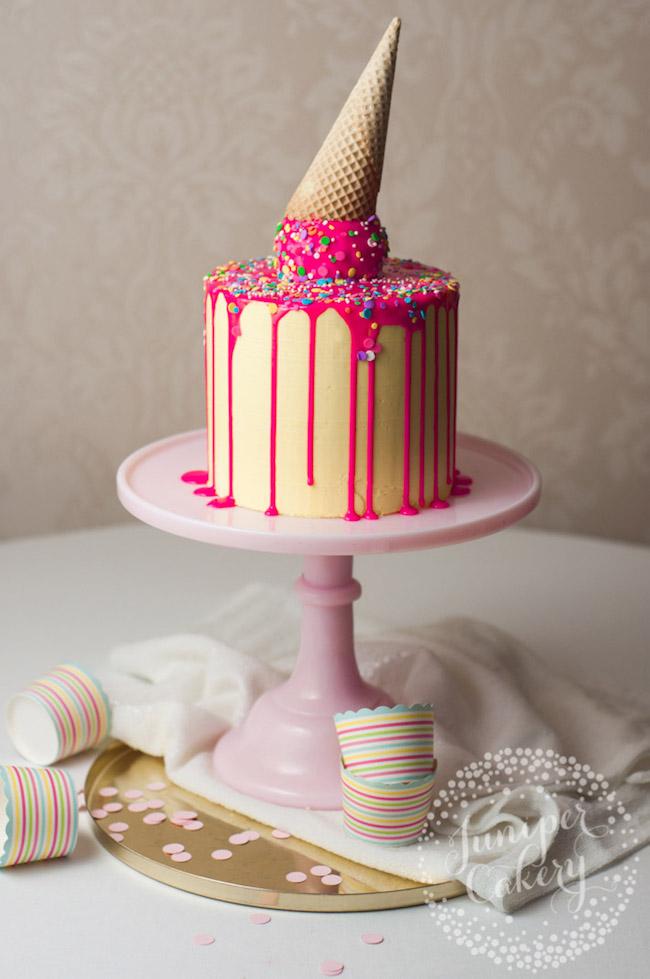 Drip effects
Cool and current cake drips are done with warm ganache made with real chocolate or colored coating chocolate, like on the cake seen here.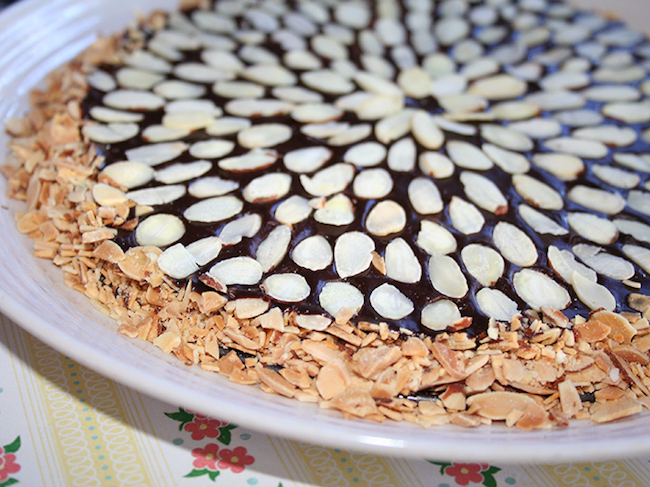 Pastry filling
Besides being a luscious cake filling, ganache also works as a filling for other pastries like tarts, napoleons, eclairs, and more.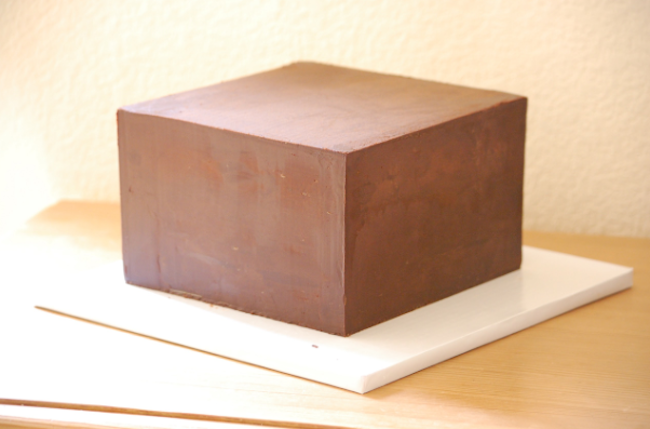 Photo via Bluprint Instructor Jessica Harris
Cake finish 
Sharp edges are king when it comes to fondant cake design. Achieve the look by starting out with a crisp ganache base under your fondant finished cakes.