Chocolate ganache petit fours are the perfect reason to think outside the chocolate box this Valentine's Day. Petit fours are a more substantial food than chocolates, yet daintier and easier to eat than a whole chocolate cake. They're fancy without being too showy, and their lilliputian size makes for an awfully adorable assemblage on a plate or tray, ideal for sharing with someone sweet.
Photos via CakeSpy
While petite in size, these petit fours are a chocolate force to be reckoned with. Light chocolate cake layers are filled and covered with a rich homemade ganache, which is finished with a drizzle of yet more dark chocolate, and an optional chocolate garnish. These chocolatey morsels are the stuff of sweet memories.
Chocolate ganache petit fours
Makes about 16
For the cake
2 cups all-purpose flour
1/4 teaspoon salt
8 ounces almond paste
2 ounces melted chocolate
1 1/2 sticks unsalted butter, softened
1 cup sugar
4 eggs, lightly beaten
1 teaspoon vanilla
For the ganache
12 ounces heavy whipping cream
12 ounces semisweet chocolate
For finishing (optional)
4 ounces semisweet or dark chocolate
Step 1:
Preheat the oven to 350 degrees F. Grease and line with parchment paper the bottom of two 8-inch square baking pans. Set to the side.
Step 2:
In a medium-sized bowl, stir together the flour and salt. Set to the side.
Step 3:
Place the almond paste in the bowl of a stand mixer, and break it up with a fork. Starting on low speed, cream the broken-up almond paste with chocolate, butter, and sugar, increasing the speed to medium as the ingredients combine. Mix until light, fluffy and smooth.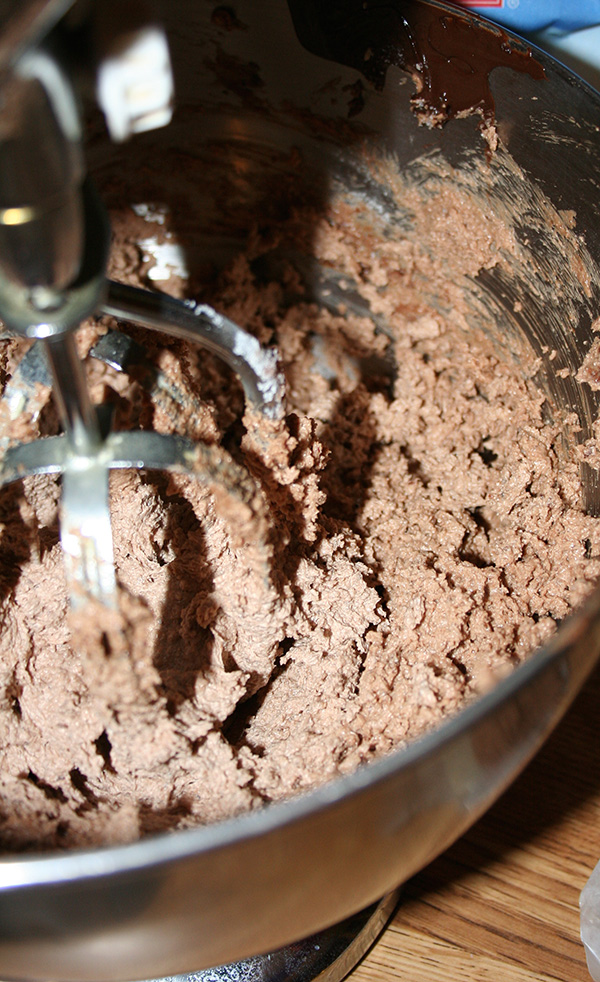 Step 4:
Stop the mixer and stir in the eggs and vanilla, gently mixing until combined.
Step 5:
Stir in the flour, mixing only until combined and mostly lump-free (there may be a slight texture from the almond paste, but it shouldn't have large lumps).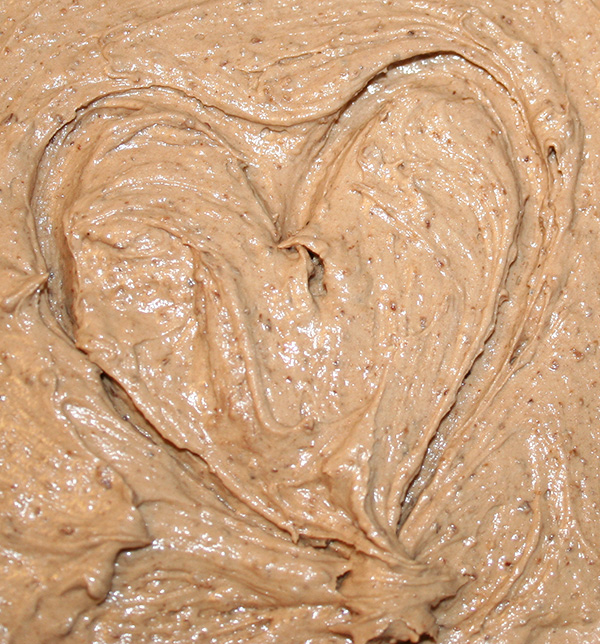 Step 6:
Divide the batter evenly between the two pans. Bake for 25 to 30 minutes, or until edges are light golden brown, rotating the pans about 12-15 minutes into the baking process. You don't want the tops to be completely browned, just matte in color.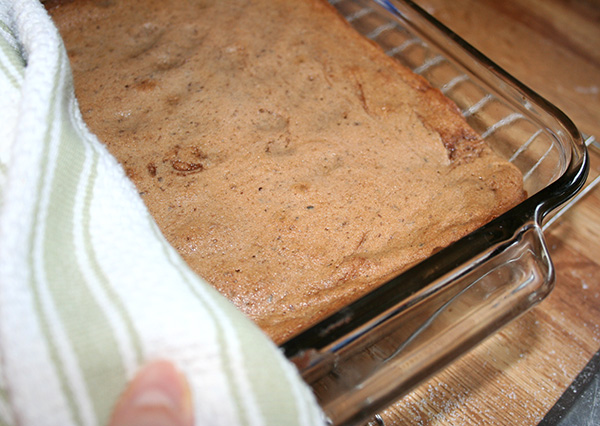 Step 7:
While you wait for the cakes to cool, make the ganache. Place the chocolate in a large, heatproof bowl. Heat the cream in a medium saucepan until it is lightly simmering. Once simmering, remove from heat and pour on top of the chocolate, into the heatproof bowl. Stir until the mixture has become combined, smooth, and lump-free.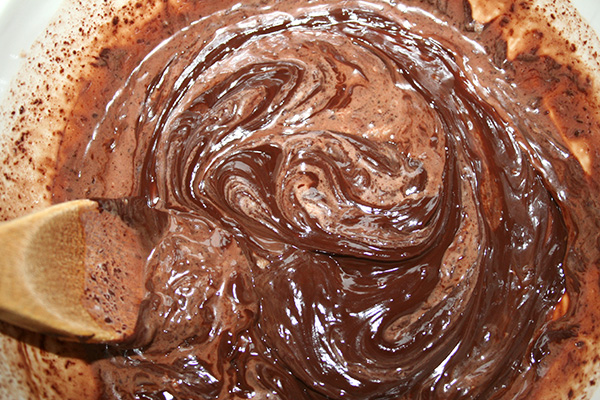 Step 8:
Once the cakes are fully cooled, slice the first cake into two equal halves. Don't worry about trimming off any toasty edges just yet. Spread ganache on top of one of the halves, then sandwich the other half on top to create a large rectangular ganache sandwich, measuring approximately 4 by 8 inches. Once again, don't worry about any messy or crispy edges–you'll trim them later.
Repeat with the second cake, so you will have what looks like two large ganache sandwiches.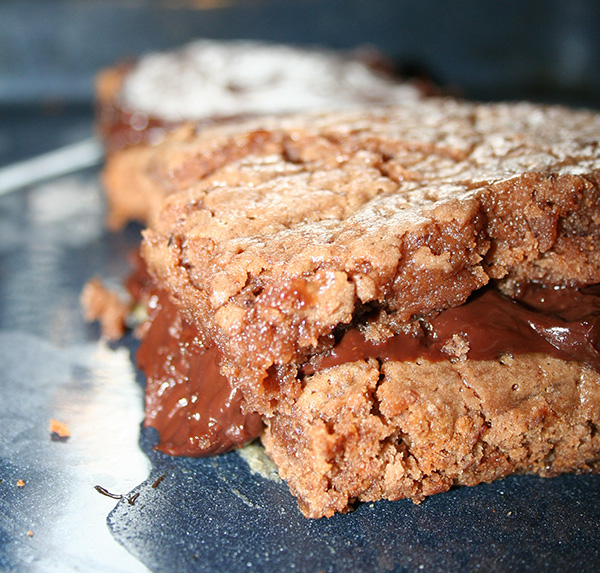 Step 9:
Place the cakes in the refrigerator for 30-45 minutes, or in the freezer for about 20 minutes. This will help the cakes and ganache set, which will make slicing them easier and much less messy.
Step 10:
Remove the cakes from chilling and slice off any crispy ends. Slice the cakes into 1 or 1 1/2-inch square portions. If things get messy or the ganache does not seem to have set, place the cakes back in the refrigerator for several minutes; slicing them is much easier with the ganache firm.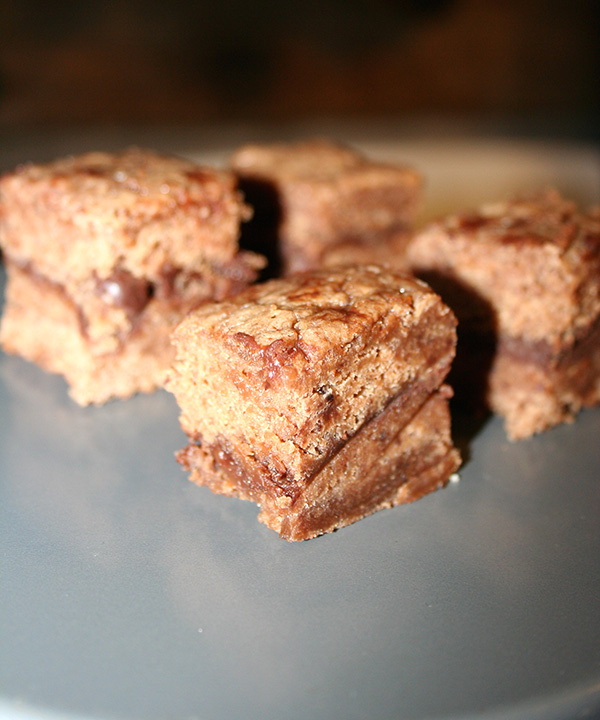 Step 11:
Place the cut cake squares back in the refrigerator for about 20 minutes, or in the freezer for about 10 minutes. If your remaining ganache has become firm, place it over a pot of hot water for several minutes to make it easily spreadable again, like the texture of soft peanut butter: easily spreadable yet not too liquid-y. If your ganache becomes too liquid when heated, let it sit at room temperature again until it has reached the desired consistency.
Step 12:
Cover each cake with ganache. The ganache will set quite quickly on the chilled cakes, so work confidently.
Step 13:
Melt the remaining 4 ounces of chocolate, and use it to drizzle on top of the petit fours, or to create edible chocolate garnishes for topping, or both.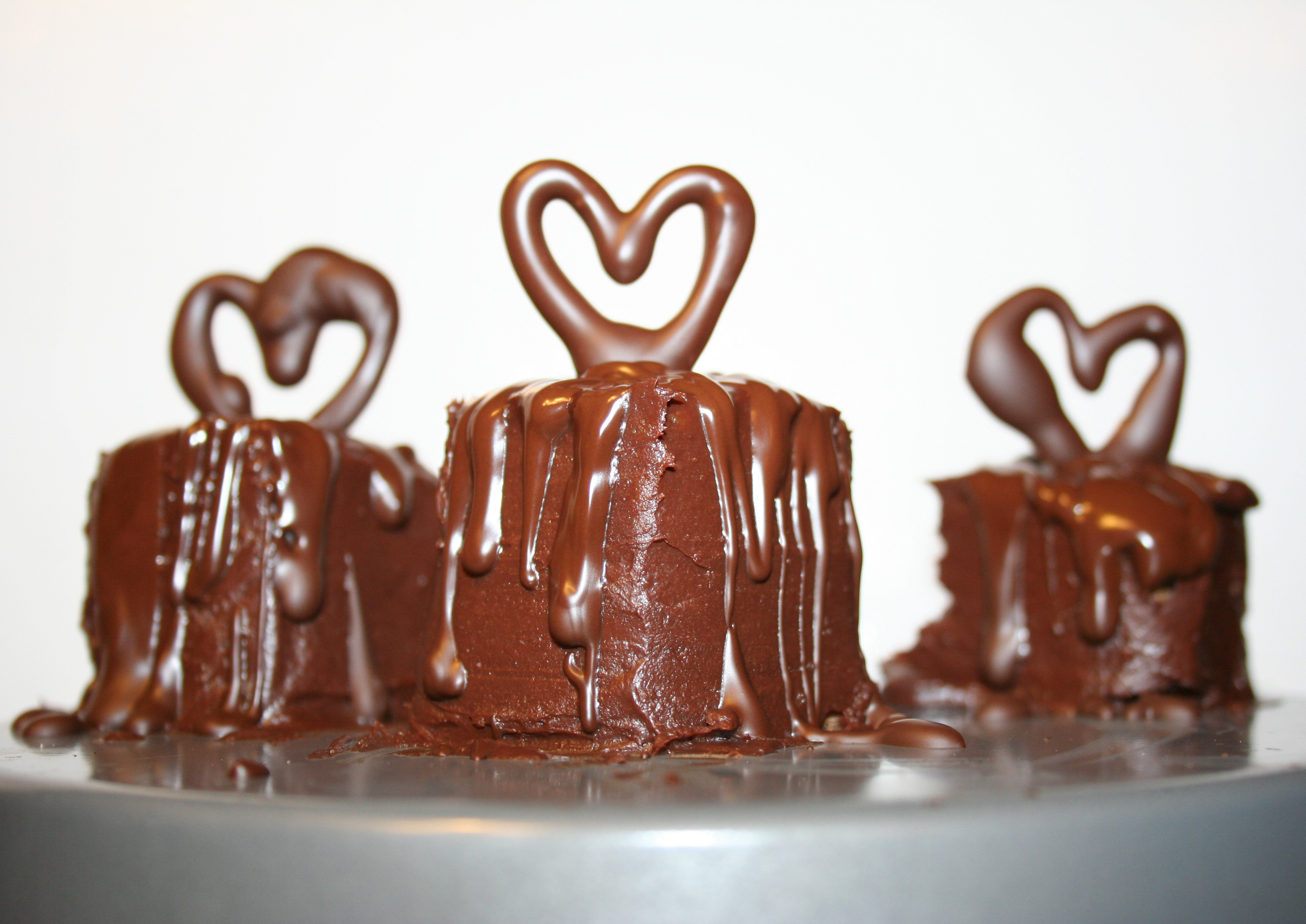 Let the chocolate set before serving. Store finished ganache petit fours in the refrigerator, but remove from the refrigerator 20 minutes before serving.
Make decadent chocolate candy at home!
Master key techniques, including melting, tempering, dipping, enrobing & molding to make your favorite sweets. Enroll here now »
 What is your favorite Valentine's Day treat?