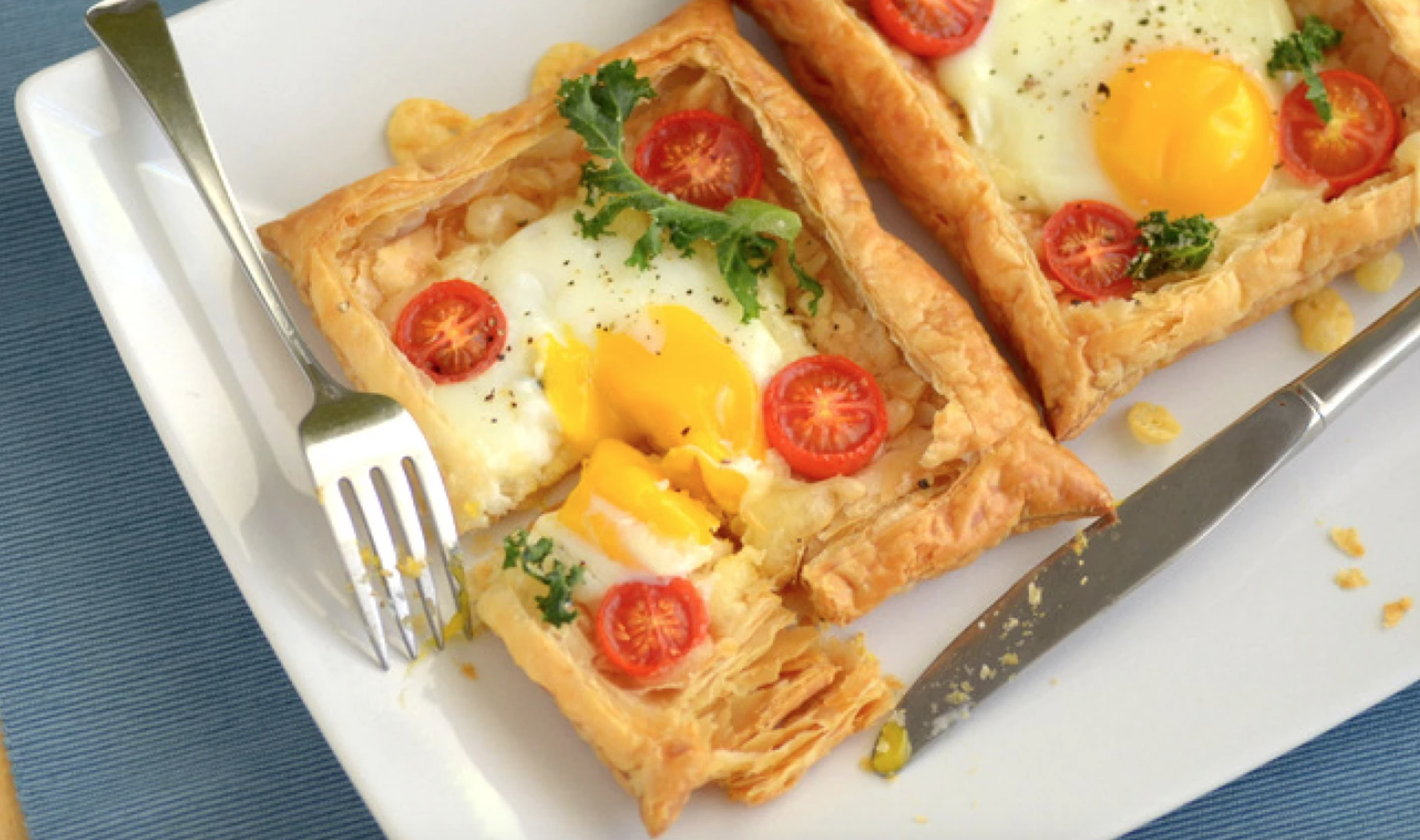 Talk about a dynamic duo: this brunch dish combines flaky, buttery puff pastry with deliciously runny eggs. Plus, the recipe is easy enough to scale up for a crowd at your Easter or Mother's Day celebrations.
Puff Pastry Cheesy Egg Tarts
Time: 45 minutes
Yield: 4 tarts
Ingredients
1 sheet or ½ pound of puff pastry, chilled (not frozen)*
½ cup shredded Swiss cheese
4 large eggs
8 cherry tomatoes, halved
Salt and pepper
Instructions
1. Preheat oven to 400 F. Line a baking sheet with parchment paper.
2. On a lightly floured surface, roll out puff pastry (bonus points if you whip up a homemade version ) until it's about a ¼" thick.
3. Cut the rectangle into quarters, creating four rectangles. Using a sharp knife, score a shallow line around each rectangle about ½" from the edge, creating a "frame" for your tart.
4. Bake the pastry on your prepared pan for 20 minutes, or until crisp and golden.
5. Once the puff pastry is baked, use a spoon to press down the inside of the pastry "frame," leaving a raised edge. Sprinkle cheese inside the tart shell, then crack an egg on top of the cheese and add a cherry tomato half in each corner.
6. Return your tarts to the oven and bake for about 15 minutes, or until the eggs are fully cooked and the whites are completely set. Top with salt and pepper before serving.