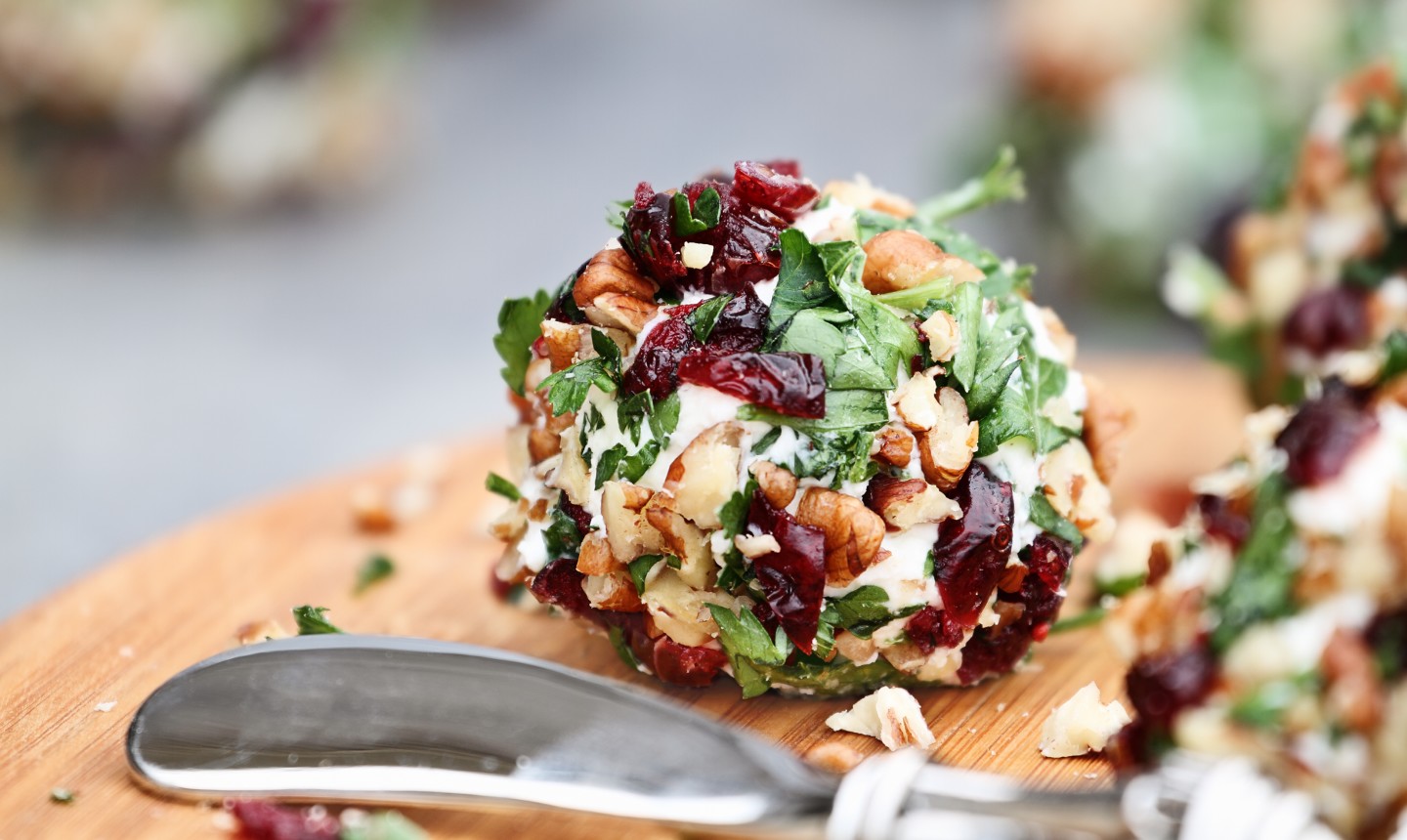 A massive ball of cheese on the table makes a big, "welcome to our party!" statement. How could it not? It's lovably retro, easy to make in advance and a cinch to customize. So go on and choose your own cheese ball adventure below — just don't forget the crackers.
1. Choose Your Cheeses
For your main cheese, you'll need one brick (8 ounces) of full-fat cream cheese. In a large bowl, beat the cream cheese with ½- to 1 cup of grated or crumbled semi-firm cheese until smooth. A few options we love: blue cheese, goat cheese, cheddar, mozzarella and gouda.
2. Add Some Flavor
Use a splash, dash or shake of one of these, and fold into your cheese mixture.
Sriracha
Hot pepper flakes
Dried herbs
Spices or spice blends (such as Herbes de Provence)
Garlic
Pepper flakes
3. Mix in the Goodies
Fold ½- to 1 cup of one of these tasty mix-ins to your cheese mixture until evenly distributed.
Chopped nuts
Chopped dried fruit
Capers
Sliced olives
Chopped cured meats
4. Form the Ball
Line a small bowl with plastic wrap. Spoon the cheese mixture on top of the plastic wrap, then gather it around the cheese to make a rounded shape.
Place the bowl with the wrapped cheese in your refrigerator to firm up for at least an hour (overnight works too).
5. Top It All Off
Remove the ball from the refrigerator and use slightly wet hands to mold it into a ball.
Place ½- to 1 cup of one of the following toppings into a shallow pan:
Chopped nuts
Chopped parsley
Bread crumbs
Crumbled potato chips
Toasted coconut
Bacon crumbles
Shredded cheese
Coat the cheese ball with the topping, patting it back into a ball shape if the sides get flat. Place the cheese ball in the refrigerator until just before serving.
Serve with crackers or toast triangles — enjoy!