While I enjoy carrot cake year round, I think it is particularly delicious during the spring. The spiced cake is the perfect dessert to bridge the gap between hearty winter baked goods and springtime treats.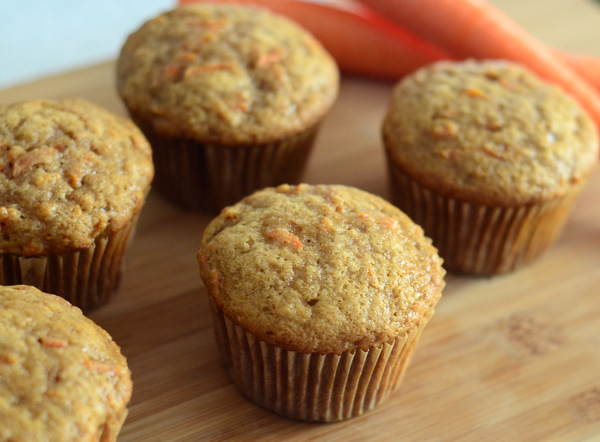 During the spring, however, I do a lot of brunch entertaining, and that means making muffins more often than layer cakes. These carrot cake muffins are inspired by carrot cake, but since they don't have any cream cheese frosting piled on top, offer a lighter option that is a great fit for any spring brunch.
FREE Download: Our Best Brunch Recipes
Cook your best breakfasts and brunches with these popular recipes, available exclusively on Bluprint.Get My FREE Guide »
About the recipe
Want to save or print this recipe? Get the free PDF version here.
The muffins start out with plenty of shredded carrots. You can use regular orange carrots or opt for the yellow and purple rainbow carrots for a slightly more colorful muffin. Both types of carrot will give you the same flavor in your finished cake. I shred my carrots using a regular cheese grater, which produces medium-coarse shreds of carrot that are visible in the muffins. 
The carrots are added to a batter that is sweetened with both white and brown sugars and spiced with a mixture of cinnamon, nutmeg and allspice. The spices, which are used in many carrot cakes, complement the natural sweetness of the carrots well. Some recipes, however, are overly aggressive with their spices and dominate the other flavors. These muffins have a better balance to them so that they taste like carrot cake — and not just like a spice cake! 
These muffins are not as sweet as the cupcakes that inspired them, though you can taste the warm brown sugar flavor in each bite. You'll also taste plenty of spice and even get a hint of carrot! I enjoy serving these with a generous smear of butter, but they're also excellent with cream cheese, which really hints at traditional carrot cake. 
The muffins keep well for several days after baking stored in an airtight container. If you don't think you'll eat all the muffins right away, you can wrap them and freeze them, then simply defrost them on the countertop when needed.
Carrot cake muffins
Makes 12 muffins
Want to save or print this recipe? Get the free PDF version here.
Ingredients
1 1/2 cups all purpose flour
1 teaspoon baking soda
1 teaspoon ground cinnamon
1/4 teaspoon ground nutmeg
1/4 teaspoon ground allspice
1/2 cup sugar
1/2 cup brown sugar
1 large egg
1/4 cup vegetable oil
1/4 cup buttermilk
1 teaspoon vanilla extract
1 1/2 cup shredded carrots (approx. 3-4 medium carrots)
Step 1:
Preheat the oven to 375 F and line a 12-cup muffin tin with paper liners.
In a large bowl, whisk together flour, baking soda, salt, spices and sugars. Make a well in the center of the dry ingredients and add in egg, vegetable oil, buttermilk and vanilla. Whisk until combined.
Step 2: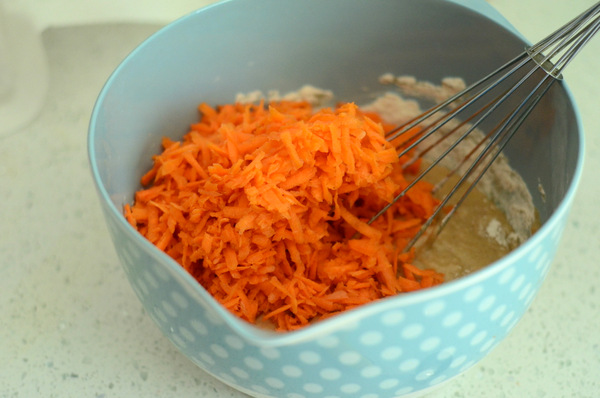 Fold in shredded carrots and stir just until the batter comes together and no streaks of dry ingredients remain. Divide mixture evenly into prepared muffin pan.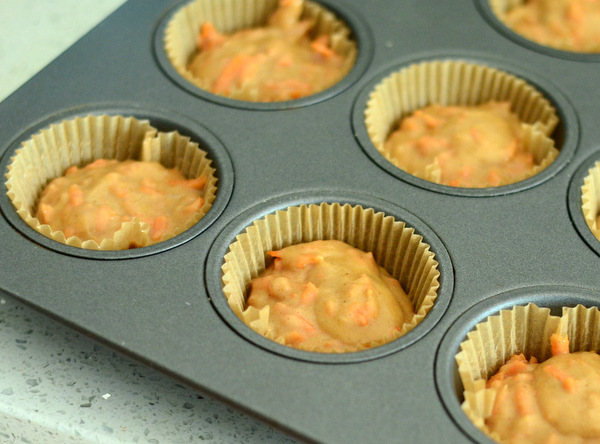 Step 3:
Bake for 18-20 minutes or until a toothpick inserted into the center of a muffin comes out clean and the tops of the muffins spring back when lightly pressed. Allow muffins to cool completely before serving. 
FREE Download: Our Best Brunch Recipes
Cook your best breakfasts and brunches ever with these popular recipes, available exclusively on Bluprint.Get My FREE Guide »