If you're anything like the majority of us Craftsy cake fanatics, it's safe to say you are likely obsessed with cakes! We'll spend hours and hours designing, baking and decorating our works of edible beauty.
Don't you wish you could keep those cakes forever sometimes? Well you certainly can — by documenting your masterpiece with artful cake photography!
Here are our top cake photography tips for making perfect prints of your best cake creations!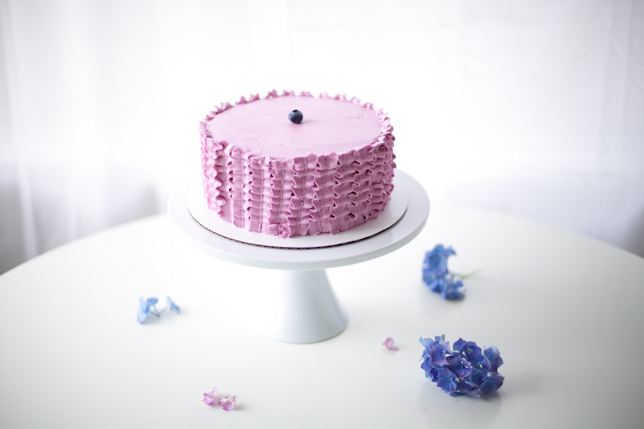 Cakes and photographs all via Lyndsay Sung // Coco Cake Land
Not only does photographing your cakes give you the opportunity to look back at your incredible creations in a brag-book like style, but it also gives you the chance to have a visual document to share with potential future clients.  It also gives you endless content for any social media platforms you might share your work on, and content for your website or blog, plus, if the photo is gorgeous, it will be more likely to be shared by many other users whether it be Pinterest, Facebook or Twitter.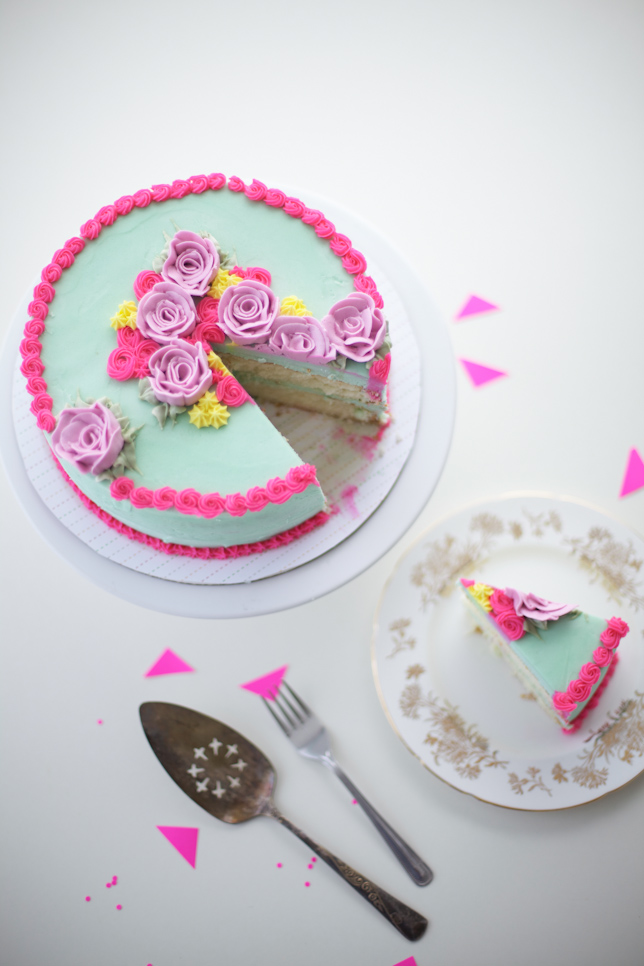 So yes, a photograph has the ability to make or break a cake: there's utmost importance in documenting your cakes in a way that highlights instead of deters. Whether you have the fanciest digital SLR camera or you're using your smart phone, here's some cake photography tips to get you going!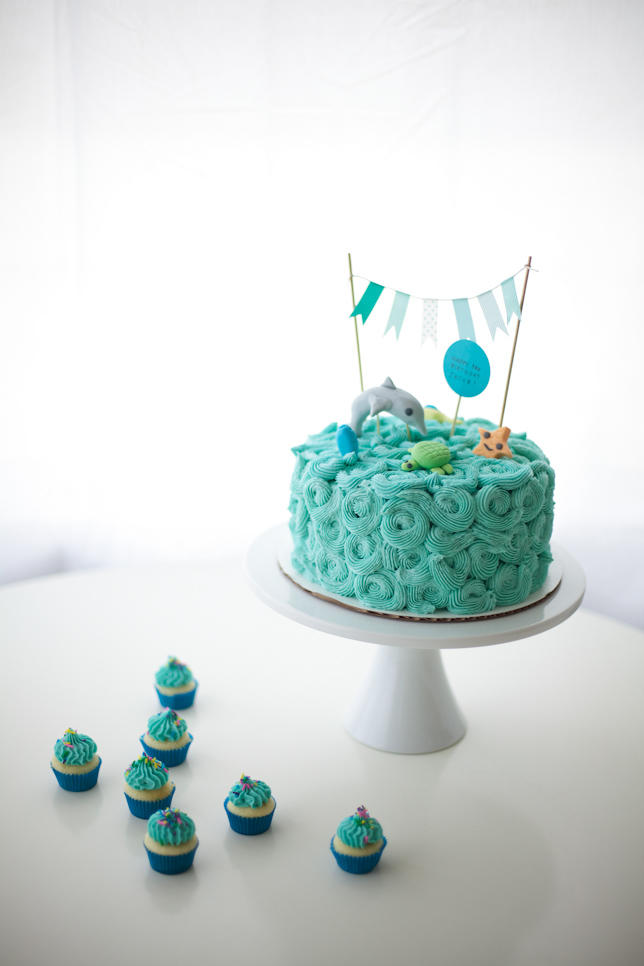 1. Set the scene.
Have you been photographing your cakes on the kitchen counter, surrounded by the mess of the day, piles of dirty dishes and clutter in the background? With cake photography, we're creating an illusion of perfection. To start off, you'll want a clean, empty surface, such as your kitchen table.
2. Lighting
Natural light is your friend when it comes to cake photography, and it's easy to come by – just look to the nearest window, or even take your cake outside to photograph! Flashes have the ugly habit of throwing an unnatural and unflattering light on your cake, so turn that flash right off. In fact, shoot during the daylight hours whenever possible.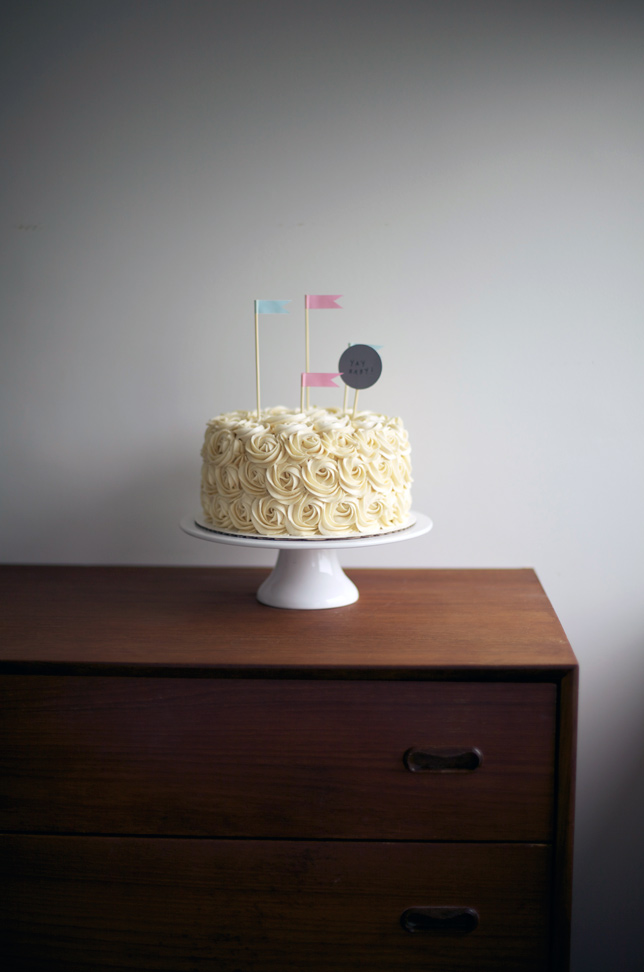 3. Background
I often use a plain, almost sheer white curtain as my backdrop, but a large matte board will do the trick, too – and if you wanted to get really crazy you could buy a roll of paper backdrop (it comes in a myriad of colors) to set your cake against. Remember, just because you made the cake in the kitchen, doesn't mean you have to photograph it in the kitchen – perhaps your living room or bedroom has better light?
Set up a table in one of those rooms, or find a surface that works.For this buttercream rosette cake, I noticed some pretty light coming in from our tiny bedroom, so I brought the cake upstairs and placed it on our vintage teak dresser. I loved how the orangey brown tone from the dresser created a nice contrast to the creamy white vanilla buttercream rosettes.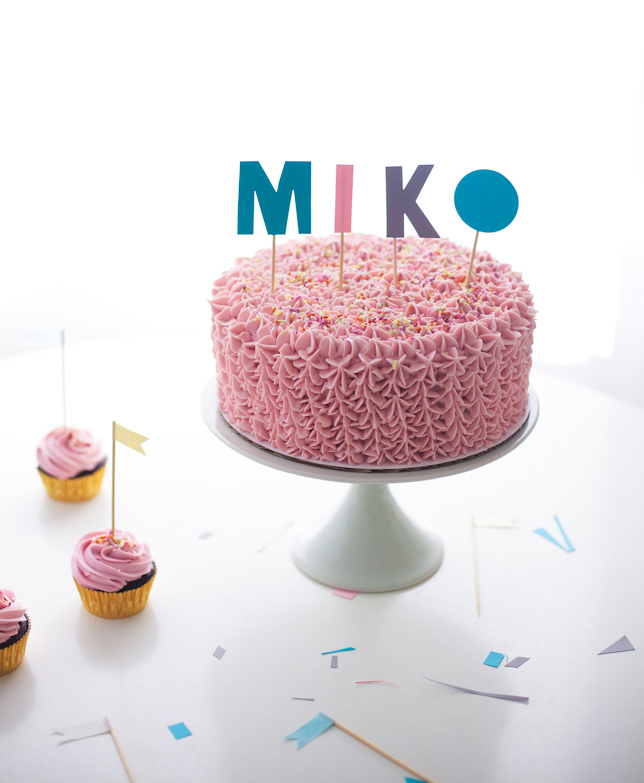 4. Photo styling.
For this buttercream ruffle piped birthday cake, I hand cut letters out of craft paper for a custom cake topper, and I loved the look of the colored bits of paper leftover so I used them as some extra visual interest for my photo, scattering them on the table for a confetti-look.
I made cupcakes on the side for the order, but instead of including all of them in the photo I just added a few. Again, I made cake flags for each cupcake so I tossed a few onto the table to tie it together.
5. Angles.
What part of the cake do you want to highlight? For this heart cake slice, I wanted to shoot from above looking down – called a bird's eye view – to capture the cute pattern the buttercream piping made.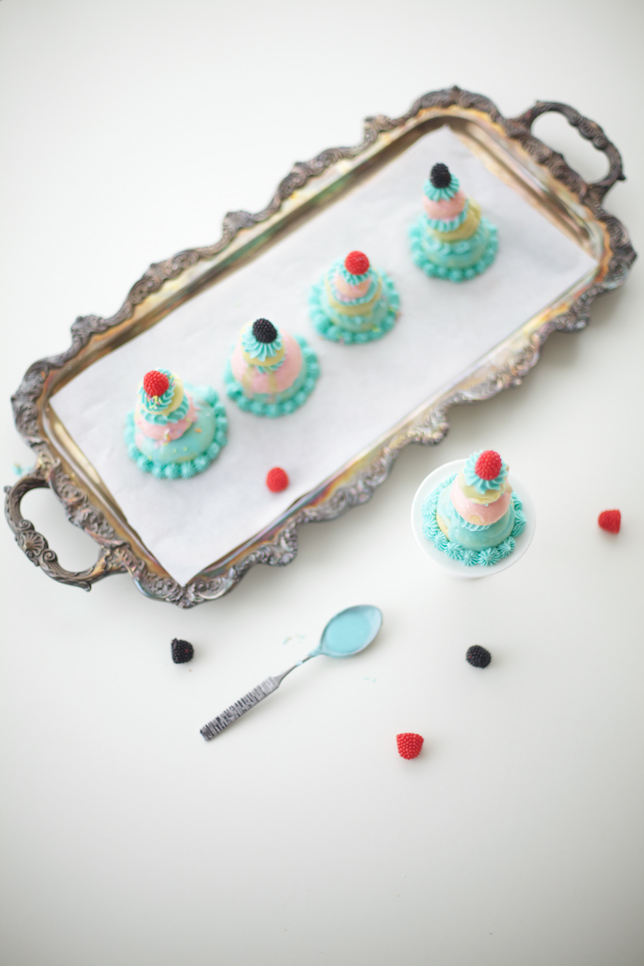 5. Props.
What sort of cake stands, utensils, napkins or other dishware might you have that could complement your cake? When I made these royal looking vintage courtesan au chocolat, I rummaged through my platters and found this tarnished vintage silver platter. I thought the ornate design worked well with the ruffles and vintage look of the dessert. If you don't have anything that you think works, go with a plain white cake stand or plate.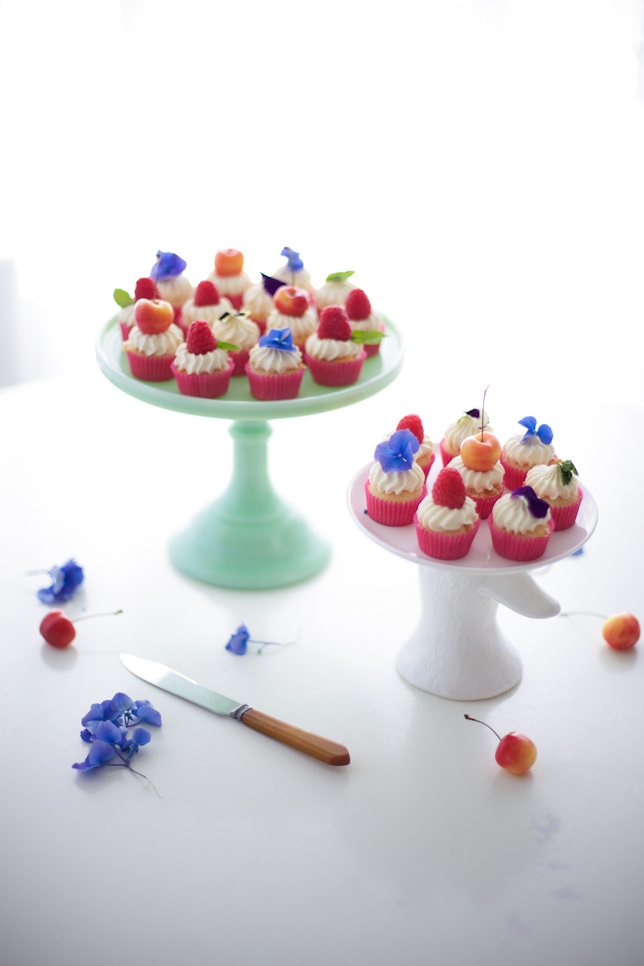 6. Continuity.
Do you have trouble thinking about composing your cake photos? For these fresh fruit and flower topped cupcakes, I kept the "fresh" feel going by adding a few extra cherries and flowers to the table for continuity of design and concept. My approach to adding a few props here and there is to keep it fairly minimal – you can literally throw down a few cherries and see where they land, and then adjust slightly to balance an image by spacing out the props a little.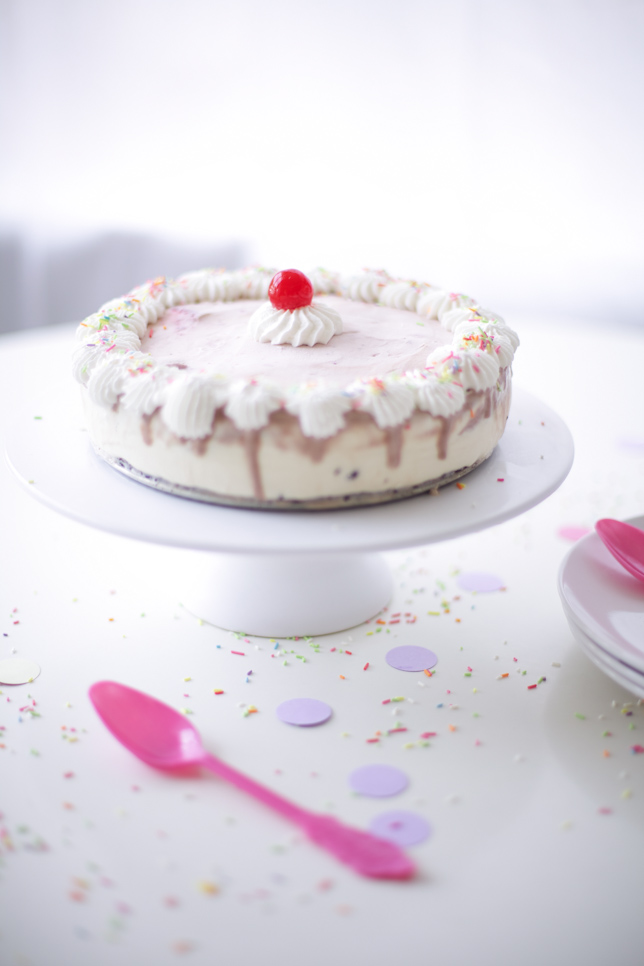 7. Composition.
I used to always be stuck on photographing my cake in the very middle of the shot. Now I like to mix it up and highlight my cake in different ways, like this vintage-look ice cream cake. Learn more about the optimal sweet spots for photography here. Adding a stack of plates and a spoon to the scene also gives it a very party-like feel. I literally took my sprinkles and sprinkled directly onto the table, too – as if some exciting sprinkles explosion just happened! Can't you just hear the party going on in the background?
To learn more about how cake photography can truly make your cakes stand out and help your business grow, you must check out Carrie Sellman's new Bluprint class. Building Your Business: Beautiful Cake Photography.
Not only will she walk you through step-by-step how to take a gorgeous photograph of your cake in layman's terms, but she'll show you how learning cake photography and help your cake business grow in ways you didn't expect or imagine.
Sign me up! >>
What's your best cake photography tip?