You have been practicing, you are gaining confidence, you have made a few cakes for friends and family, and you are feeling ready to stretch your wings and learn to fly into new cake decorating techniques and take your cakes to the next level.
So which direction do you turn and what should you learn next? We're glad you asked! We have put together a few cake designs for intermediate designers to inspire your desire to reach for the stars. These techniques will help progress your cake decorating from beginner to far beyond.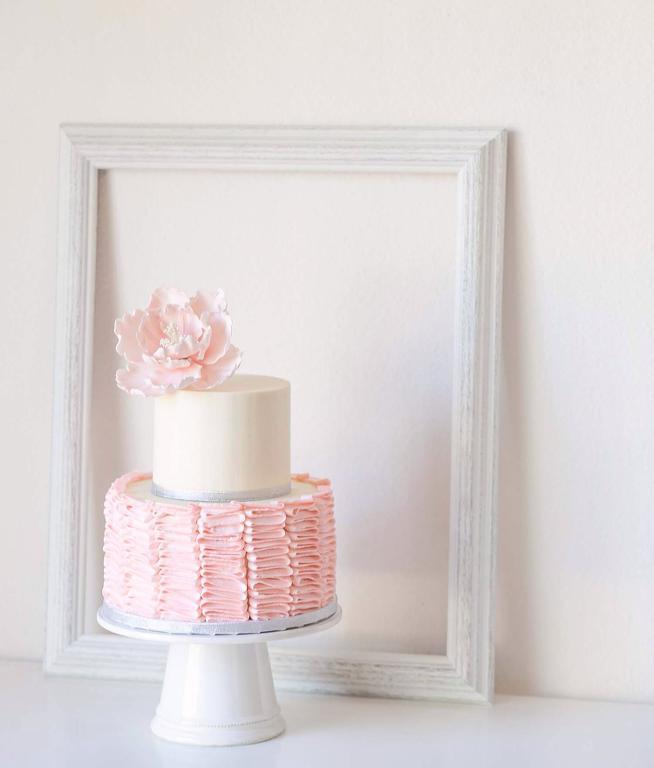 Photo via Cyovero
Buttercream ruffles
Let's start with this beautiful buttercream ruffle cake by Craftsy member Cyovero. This vintage style, rose-pink cake combines delicious buttercream ruffles with a clean and smooth buttercream tier on top. The subtle silver ribbon accents  the cake while the large sugar flower brings everything together in a cohesive elegant look. See our post on how to make ruffled buttercream cakes to try this technique out for yourself!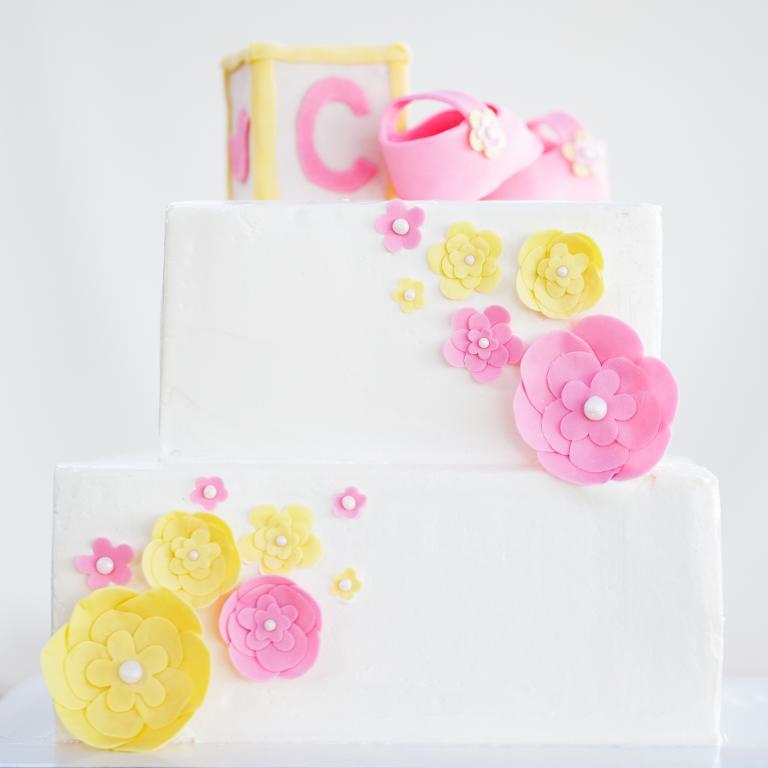 Photo via LAtkinson
Smooth buttercream and sugar flowers
This adorable buttercream cake shows that less can be more. The fun various sized sugar flowers that graduate diagonally up each tier are a beautiful way to draw the eye up to the cute sugar booties and baby block. Learn to frost a perfectly square buttercream or ganache cake just like this one in Jessica Harris' Craftsy class Clean & Simple Cake Design.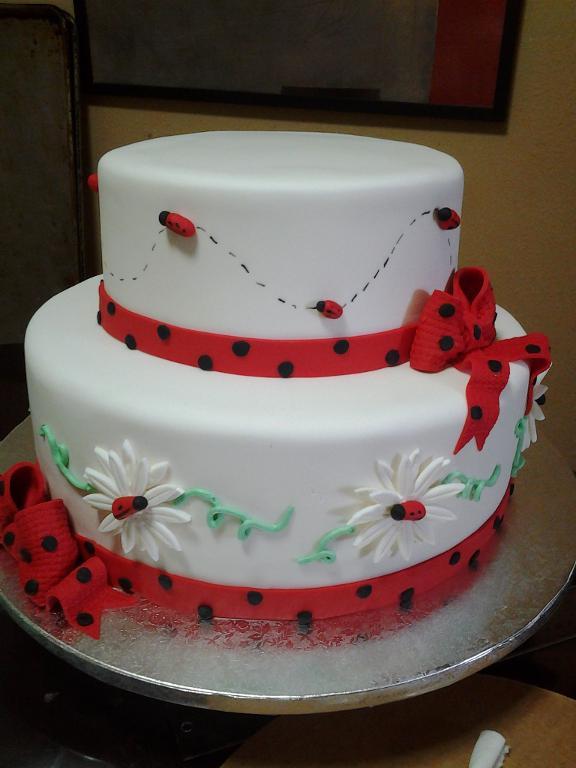 Photo via CakesbyRosa
Ladybugs and bows
Bringing good luck is this fun and simple ladybug cake by Craftsy member CakesbyRosa. Learn to cover and stack fondant cakes like this in Elisa Strauss' FREE mini- class Basic Fondant Techniques. The addition of the fondant bows, piped leaves and sugar flowers make this cake pop!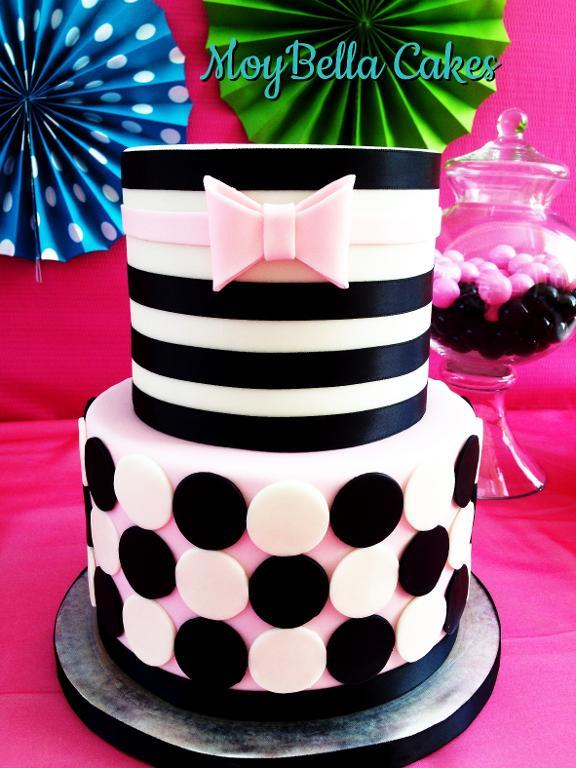 Photo via GabrielaAguilar
Super cute stripes and dots
You may look at this cake by Craftsy member GabrielaAguilar and think that it is too hard to even attempt, but with help from Jessica Harris in her Craftsy class Clean & Simple Cake Design, this cake is completely doable for those with even a little experience. In the class, Jessica reveals a surprisingly simple wax-paper transfer method that will help you create picture perfect geometric shapes and designs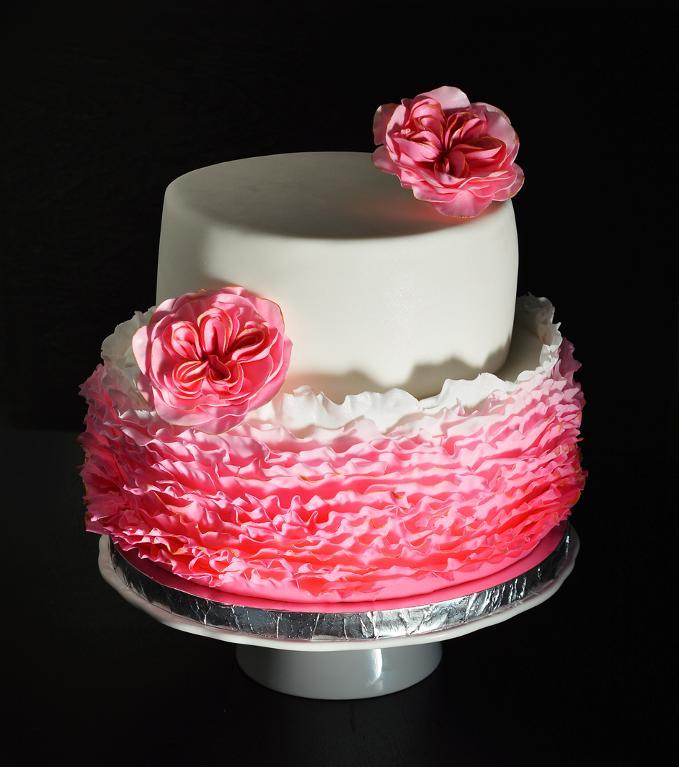 Photo via bakingmy<3out
Ombré ruffles
This beautiful and simple design is the perfect place to start if you are interested in learning to make fondant frills or ruffles. The process of making these delicate ruffles is explained in detail by Maggie Austin in her Craftsy class Fondant Frills. Maggie details how to create an ombré effect, and as an added bonus, she also teaches how to make these full, beautiful cabbage roses.
Which of these cake designs for intermediate designers are you most excited to try?