Since the first time cake and buttercream were combined, getting a beautiful, smooth coat on a cake has frustrated, annoyed and down-right irritated countless cake decorators. But the good news is: it's truly possible. Here is a great step-by-step tutorial on how to make buttercream icing smooth.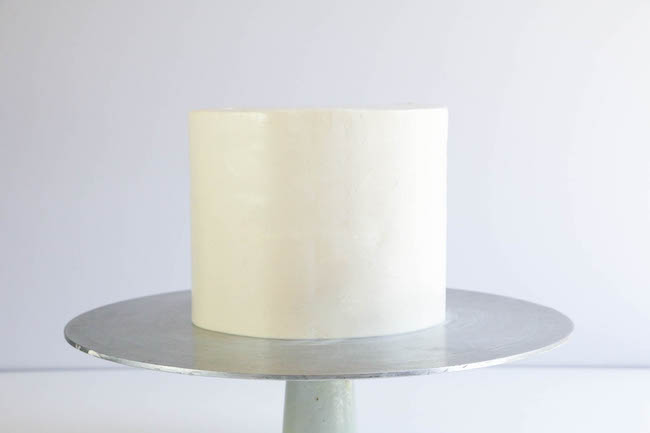 Everything you need to start decorating.
In this comprehensive beginner's class, you'll learn how to bake an construct beautiful and delicious cakes form start to finish.Get the Class
Here is what you will need:
A cake that is crumb coated and chilled for at least 20-30 minutes
A bench scraper with a 90-degree angle edge
A cake board that's 4″ – 6″ larger than your cake
A spray bottle filled with clean water
Let's talk about bench scrapers for a moment.
Bench scrapers can be found at craft stores, some grocery stores or anywhere kitchen supplies are sold. There are flimsy plastic ones and heavier metal ones, which both are useful for different purposes.
Generally, a metal bench scraper like this one that nice straight corners will help you get the straightest edges on your cake. However, some can be a bit flimsy and may bend a bit.
Another option I like to use is a triangular quilting ruler. This is a quilting tool that can be found at most craft and quilting stores. Choose one that's made of sturdy plastic with a right angle, which works well for evening out your frosting and smoothing the top.
Directions
Once you have a well chilled, crumb coated cake, you're ready to start!
It is always best to work with a chilled cake so you can work on a solid surface; it cuts down on a lot of headaches!
Note: You may want to put your cake on a cake board that's a little larger than your cake. A larger board gives you a base to hold the scraper against to give me a nice smooth edge.
Step 1:

Using an offset spatula, add another layer of buttercream on top of your cake. Use your offset spatula to spread the frosting over the top of the cake, even slightly pushing the excess over the edges. To do this, hold your spatula steady and turn your turntable. This will give you a more even coat.
Step 2: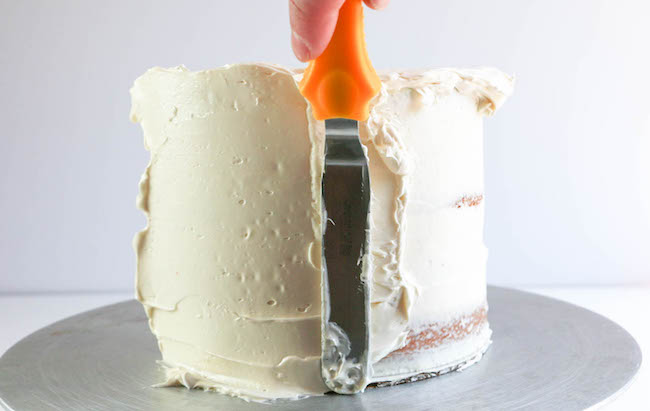 Add a second coat of buttercream around the sides of the cake as well. At this point, don't worry too much about the icing being smooth — just make sure it is evenly applied all the way around the cake.
Step 3: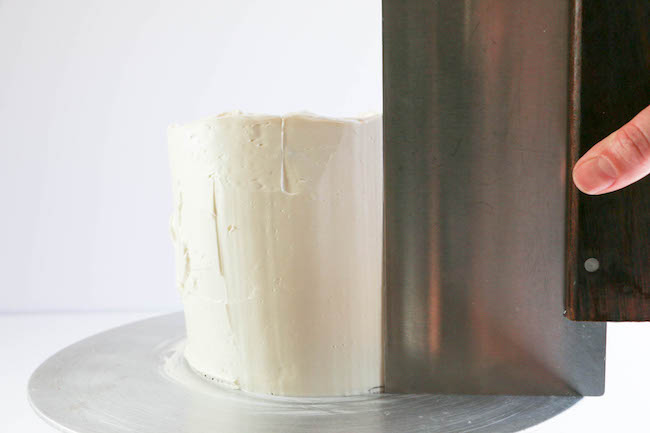 Once you have a nice thick second coat of buttercream, hold a bench scraper up against the side of the cake. Lightly rest the edge on your turntable. Rotate your turntable while holding the bench scraper flat against the cake.
Frequently wipe off your bench scraper to remove excess buttercream.
Step 4:
When your edges are mostly smooth, you'll likely have a bit of excess buttercream rising above the top of the cake. Use the scraper or an offset spatula to draw the buttercream in toward the center of the cake.
Step 5:
You may need to smooth the cake a couple of times until you get the perfect finish. If you get buttercream building up on your scraper, just wipe it off to help get that nice smooth finish.
Once you have a smooth buttercream iced cake, place it back in the fridge to chill. That way if you bump into it, you won't have to start all over again.
Step 6:
Once it is chilled, remove it from the cake board or turntable by running an offset spatula under the cake, then transfer it to its final placement.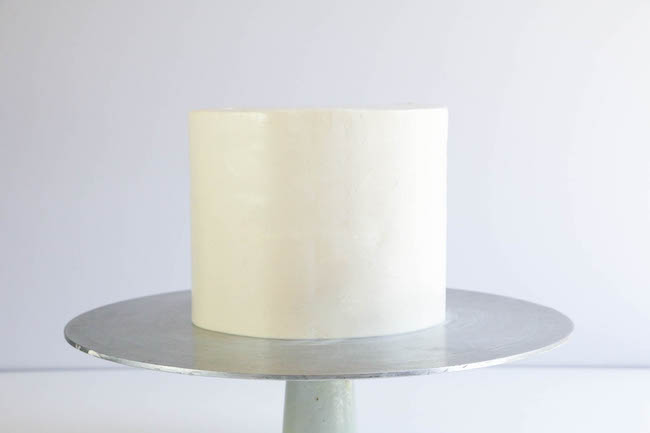 You now have a beautifully smooth buttercream iced cake. From here you can decorate it, or cover the cake in fondant to for a fabulous fondant finish.
Everything you need to start decorating.
In this comprehensive beginner's class, you'll learn how to bake an construct beautiful and delicious cakes form start to finish.Get the Class