I'm always on the hunt for new appetizer recipes to take to parties, or even for those nights when we want an assortment of appetizers for dinner. Appetizers are commonly categorized in the unhealthy column, being deep fried, grease-laden and covered in cheese. While these types of apps are great on occasion, I think we need to make more room at the table for delicious AND healthy recipes for appetizers.
These buffalo cauliflower bites fit the bill: They're spicy, crispy, comforting and drenched in sauce. While they may not be chicken wings, they're a delicious, healthy option.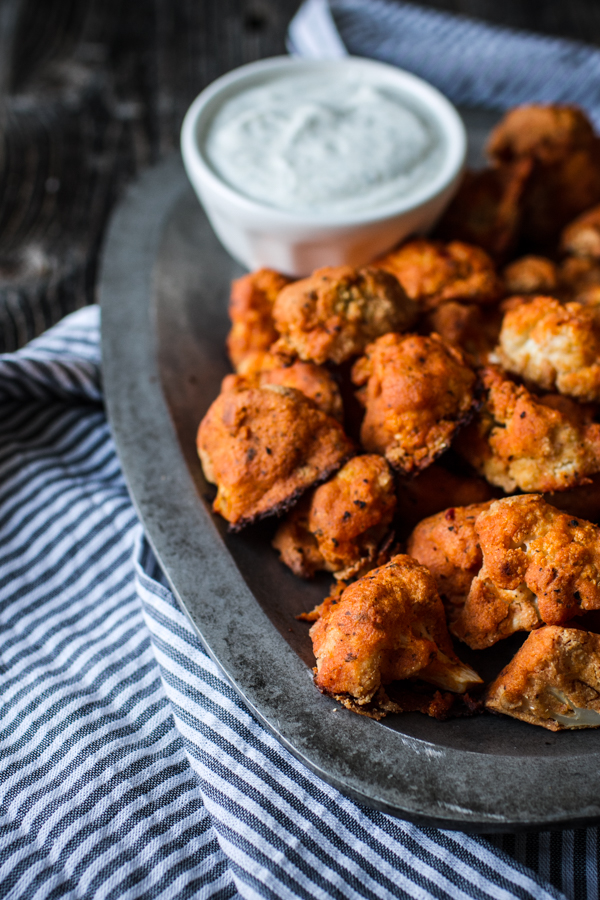 Photos via Edible Perspective
I love coming up with fun vegetable cooking methods. And today, we're taking a classic recipe for buffalo wings and putting a healthy, vegetarian spin on them!
Cauliflower has really started to become popular in the past few years. Steaming and roasting cauliflower are the ways of the past. There are a million other ways it can be used.
For instance:
Cauliflower mashed "potatoes" — (steam cauliflower and puree in your food process with oil/butter, garlic, and milk – just add the milk slowly so they're thick) These are incredibly delicious!
Cauliflower "rice" — grate your cauliflower or pulse in a food processor, then saute in a pan with oil and whatever spices you like
Cauliflower pizza crust — you'll want to follow a recipe closely for this one
And I'm sure the list doesn't stop there.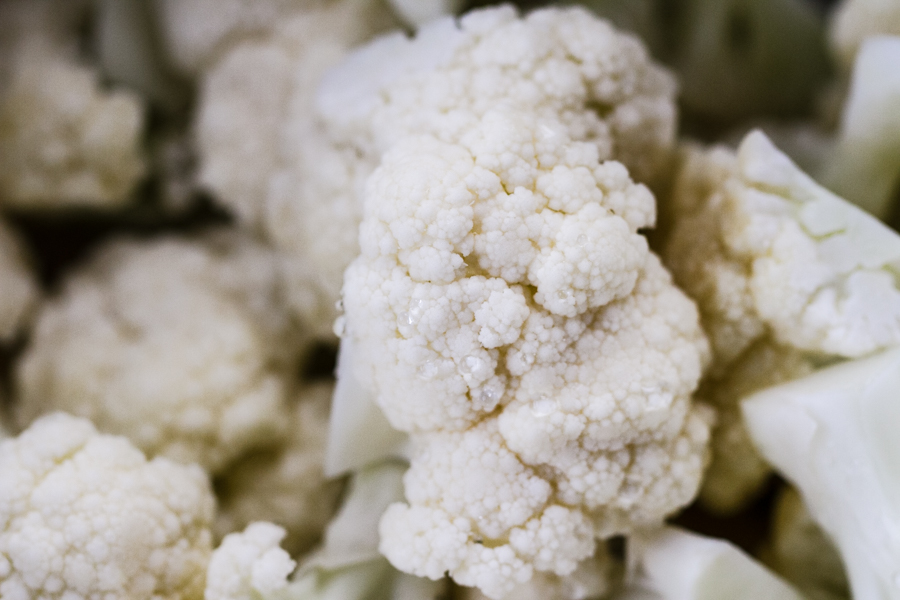 To get a crispy coating without frying, we're coating the cauliflower in a simple batter and then roasting them at high heat. The batter is made up of millet flour, corn flour, milk, water and spices.
You could probably use almost any flour for this (although I would definitely stay away from nut flours because of the high heat baking). I've seen others use garbanzo flour, rice flour and plain white flour. I chose millet and corn for their mild flavor. To me, garbanzo flour is too pronounced.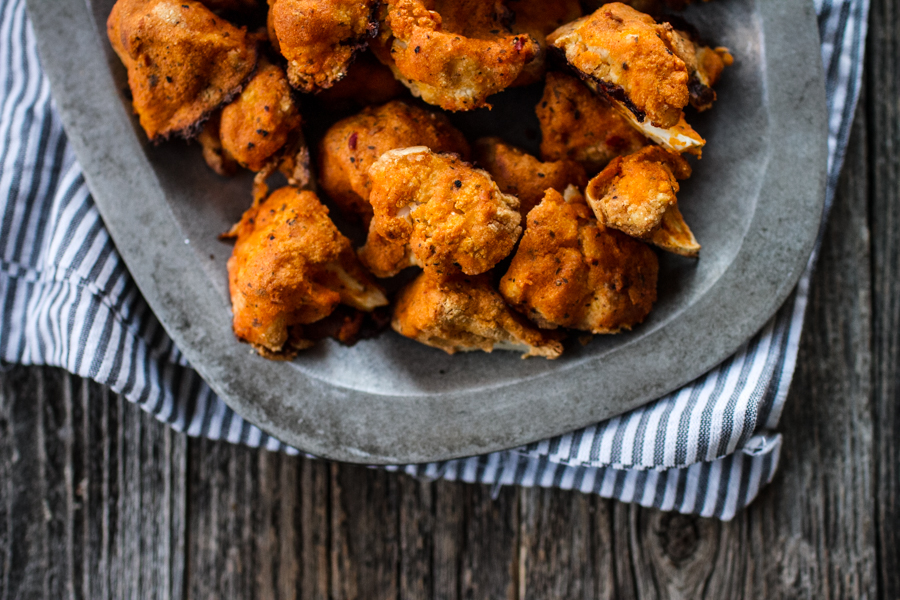 If you can't find millet flour, it's extremely easy to grind in your blender at home. All you need is whole millet (uncooked and dry) and then whirl it around until it turns into flour. Easy!
But you can also feel free to sub in oat flour, buckwheat flour, rice flour, etc.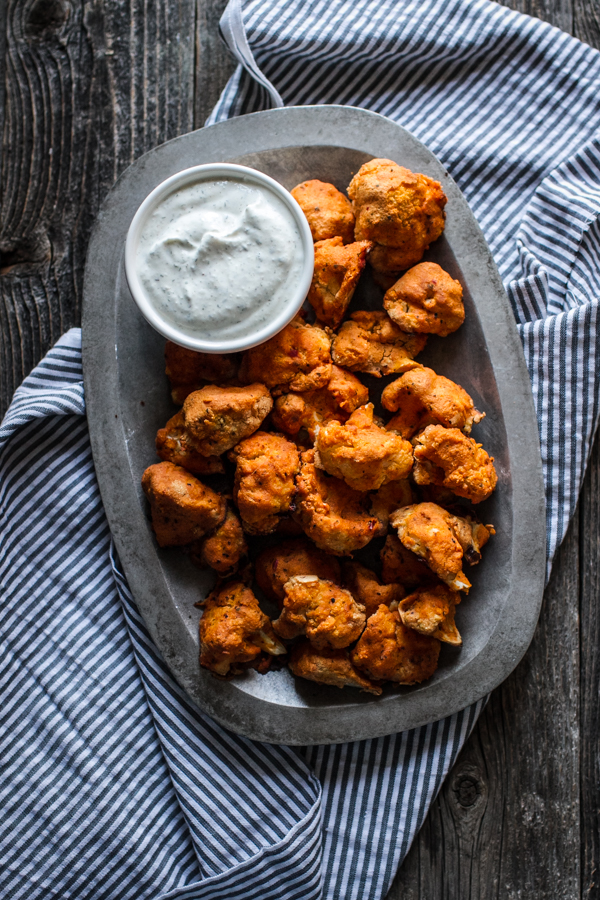 The Greek yogurt dipping sauce is a cinch to throw together. I highly recommend using full-fat Greek yogurt for the best texture and flavor. Feel free to add 2 tablespoons of freshly chopped chives as well. I forgot to pick some up at the store but meant to mix them in!
Buffalo Cauliflower Bites with Greek Yogurt Ranch Dip
Yields: 6-8 appetizer portions
Adapted from: Crispy Cauliflower Buffalo Wings
Ingredients:
For the cauliflower bites:
1 medium head cauliflower
1 cup millet flour
1 cup corn flour
1/2 cup milk
1/2 cup water
1 teaspoon paprika
1/4 teaspoon salt
1/4 teaspoon pepper
2/3 cup buffalo style hot sauce (or BBQ sauce)
1 1/2 teaspoons melted butter
For the Greek yogurt ranch dip:
1 cup plain full-fat Greek yogurt
1 1/2 tablespoons fresh lemon juice
1 teaspoon honey mustard
scant 1 teaspoon dill
1/2 teaspoon onion powder granules
1/2 teaspoon garlic powder granules
1/2 teaspoon salt
Step 1:
Preheat your oven to 450 F. Line a large rimmed baking sheet (or 2 medium) with parchment.
Step 2:
Wash and trim cauliflower into bite-size florets.
Step 3:
Place the millet flour, corn flour, milk, water, paprika, salt, and pepper in a bowl and whisk together until thoroughly combined.
Step 4:
Dredge each cauliflower floret into the batter making sure to fully coat. Place on the parchment and repeat with all cauliflower florets.
Step 5:
Roast for 10 minutes. Flip and roast for another 5 minutes. While baking, stir together the buffalo sauce and melted butter in a bowl.
Step 6:
After 15 minutes remove cauliflower from the oven and flip back over. Generously brush the top of each floret with the buffalo mixture. Place back in the oven for 12-17 minutes until a deep, golden orange color and crispy.
Step 7:
While roasting, combine all ranch dip ingredients into a bowl and stir well. Store in the fridge until ready to serve.
Step 7:
Allow to cool for 10 minutes. Then serve with ranch dip.