Creating a beautiful embroidered or quilted piece is truly the work of an artist. In this art form, threads are the palate with which beautiful machine embroidery and thread art are created. And, just as with paint, there are many types of thread, each one with a particular use and effect. Not sure what thread types and weights you should use? Read on!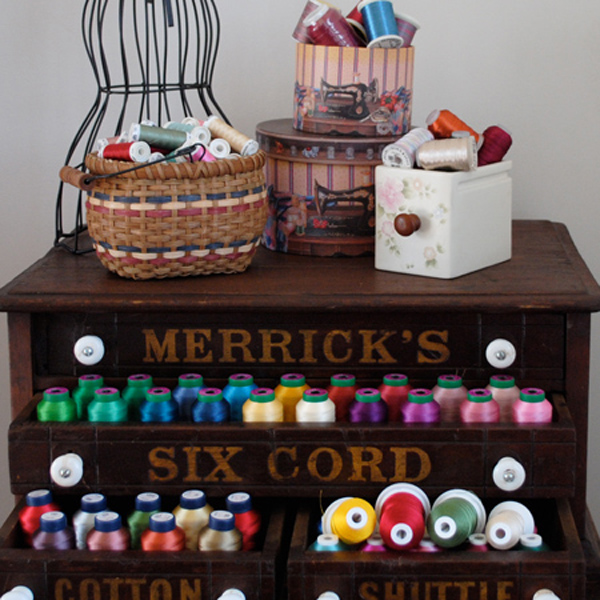 When deciding the best machine embroidery thread to use, two main characteristics must be considered: weight and type.
Considering thread weight
Thread weight works just the opposite of how it sounds. The higher the thread weight number, the finer and thinner the thread. Alternately, a low thread weight number means a thicker, heavier thread.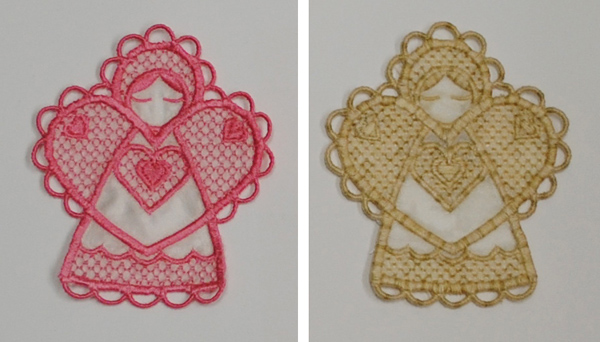 40 wt. rayon (left) and 30 wt. cotton variegated (right) via Debbie Henry
To compare, typical sewing thread measures in at 50 wt. Standard embroidery threads are somewhat finer, most often 40 wt., although 30 wt. is not uncommon. Unless specified, nearly all embroidery designs are digitized for 40 wt. thread.
While 80 wt. or 100 wt. threads are ideal for fine heirloom embroidery, redwork with a 30 wt. thread or blanket stitching with a 12 wt. thread makes it appear almost as if it was done by hand.
Types of machine embroidery threads
Rayon
Rayon is the most popular and affordable machine embroidery thread. It is easy to find, simple to use and available in hundreds of vibrant colors.
Made of organic cellulose, rayon fibers have a luxurious sheen and soft touch, but, despite their beautiful presentation, they can fade over time.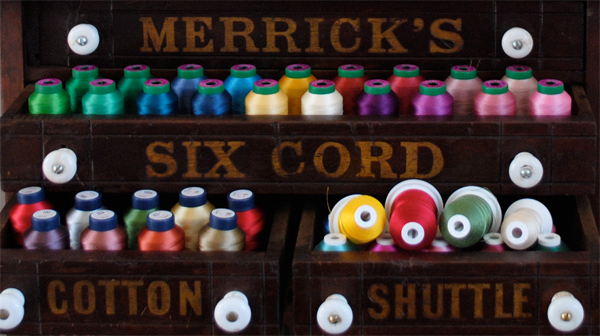 Polyester thread (top row) and rayon thread (bottom row)
Polyester
Due to their strength and vibrancy, polyester threads are becoming a new favorite for machine embroiderers and quilters. Shiny and easy to use, like rayon, these synthetics have the added advantage of being fade- and bleach-resistant. That makes polyester a good choice for embroidering on items that will be laundered frequently and could possibly be bleached, like children's clothing, towels and linens.
Trilobal polyester threads are very strong because they are created from multiple filaments. Their triangular shape helps them reflect even more light than standard polyester and rayon threads.
Cotton
The ultimate natural fiber, cotton thread is an age-old standby and a favorite in heirloom and traditional embroidery. The absolute best cotton threads are made from long-staple Egyptian cotton that, in addition to being strong, are nearly free of lint.
Most cotton threads have more of a matte finish when compared to polyester or rayon. Machine embroidery with cotton thread mimics hand-embroidery, making it ideal for quilting, redwork, bean stitch and cross-stitch designs.
Silk
Just the mention of silk denotes the idea of luxury. Silk threads are unmatched in their appearance and function. Another natural fiber, silk has the stability of cotton and the strength of polyester but a shine that is unlike any of its counterparts.
Extremely fine at 100 wt., silk is a favorite of hand and machine-embroidered appliqué enthusiasts. Stitches nearly disappear when silk thread is used.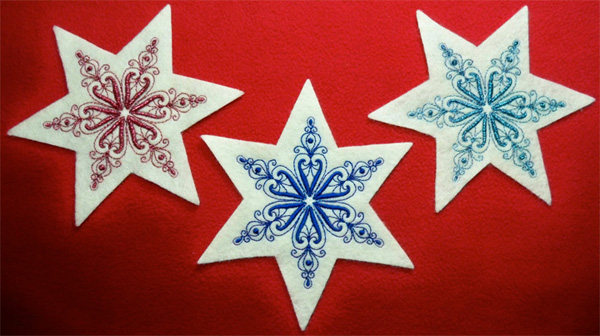 Machine embroidery thread: Metallic, rayon, metallic (from left to right)
Specialty threads
Embroidery is easily embellished with a variety of specialty threads. They are particularly useful when stitch painting, quilting or creating textile art.
Metallic thread is one of the most popular specialty threads. The attribute that makes metallic threads most desirable is, perhaps, also its biggest challenge. Depending upon how the thread is manufactured, metallic thread can be quite finicky: some thread is flat rather than round, others include holographic fibers wound around an inner core. Slowing down the stitching speed, lowering the tension and using a larger topstitch needle all help alleviate problems the typically occur when using metallic thread.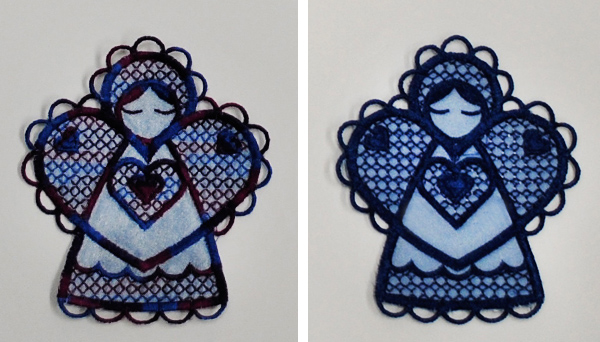 40 wt. rayon embroidery thread: variegated (left) and regular (right)
Variegated threads are available in hundreds of color combinations. With these threads, the colors change incrementally. Some are dyed in subtle repeats while others are bold and distinct. Variegated thread is ideal for patterns and designs where tone-on-tone is desirable.
Clear nylon monofilament threads are useful for invisible quilting and appliqué.
Light sensitive or solar activated threads are perfect for Halloween patterns or astrological designs. It looks white under ordinary conditions but then glows when placed in the dark. Kids love the magical effect, and the intrigue it adds to specialty designs is priceless.
With the variety of threads on the market, the possibilities are endless. Let the machine embroidery experiments begin!
What's your favorite type of embroidery thread?