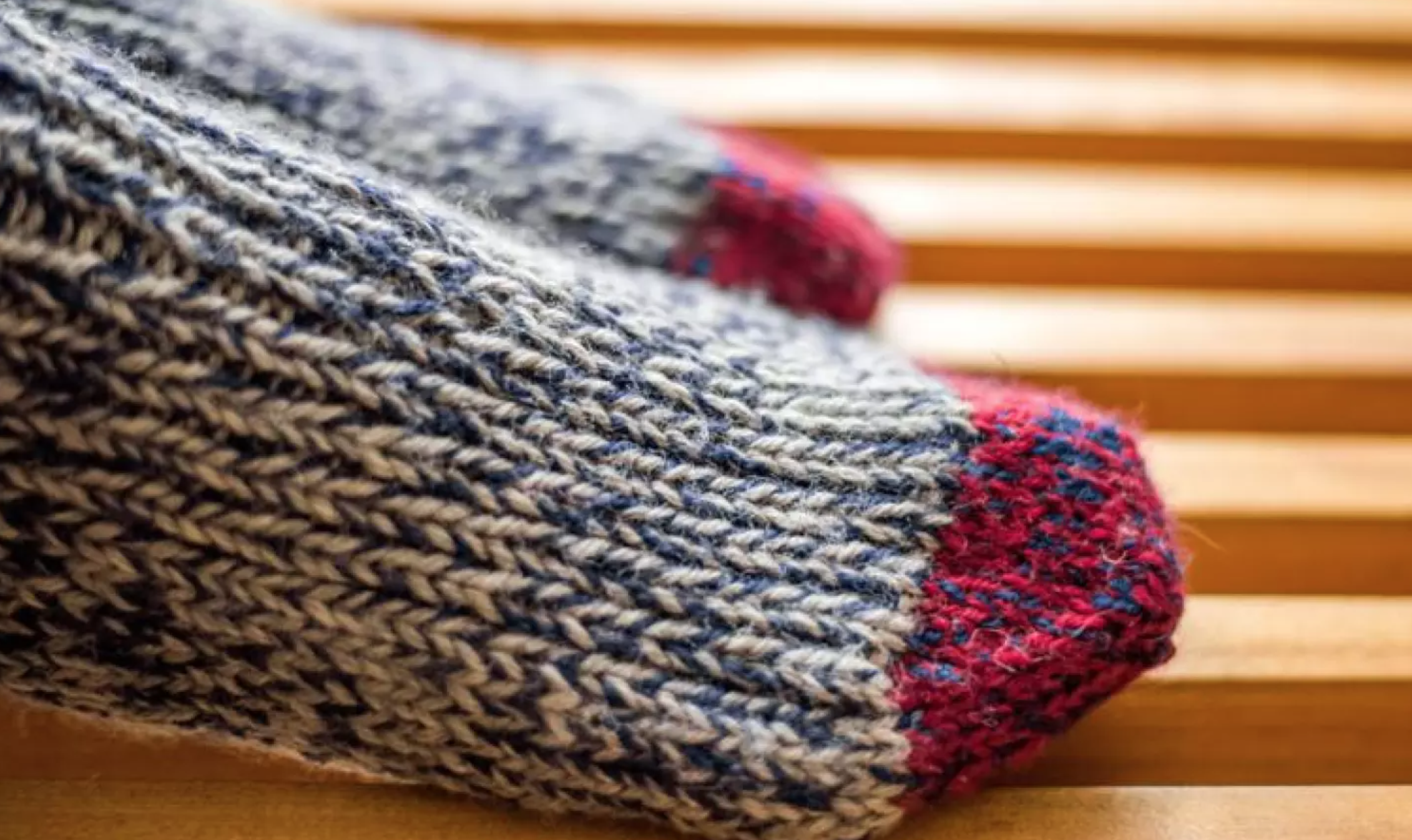 The difference between a pair of hand-knit socks and the ones from the store is sort of like the difference between cotton and cashmere. (No offense to cotton! Cashmere is just extra.) If you've ever put on a pair, you know that hand-knit equals exceptional warm and cozy foot happiness. So even if you're a beginner knitter, they're totally worth the effort. Here's how you can set yourself up for sock-knitting success.
1. Choose a Heavier Weight Yarn
If you're not yet confident using sock-weight yarn, get started with heavier yarn and then graduate to sock yarn for your next project. When you don't have to worry about the yarn, you can focus more on the techniques.
Just remember that if you knit socks with worsted weight yarn or a heavier weight, you might end up with something closer to a bootie or slipper than a traditional under-your-shoes sock. That's OK — think of your new cozy footwear as an excuse to stay in with your cocoa and more knitting.
2. Consider Your Fiber Choice, Too
Choose a yarn that has a good amount of elasticity so that your socks don't end up all droopy in some places. Wool yarns with a bit of nylon in them are always a solid choice for elasticity. If you don't want to hand-wash your socks — and who does? — make sure you look for a superwash wool.
3. Try Out Different Types of Needles
If your stitches are slipping right off your plastic needles, try a pair of bamboo needles instead. They tend to have a little more grip.
4. Start With a Simple Pattern
You can find all kinds of beautiful sock knitting patterns that feature cables, lace, decorative stitches and more. Those patterns definitely deserve a spot on your "to-knit" list, but they might not be the best choice for newbies. Instead, opt for a simple pattern (think: stockinette or ribbing) that lets you focus on the construction.
Pro Tip: You can find a beginner-friendly pattern and step-by-step tutorial in our class My First Socks.
6. Use a Gauge Swatch for Practice (and for Fit!)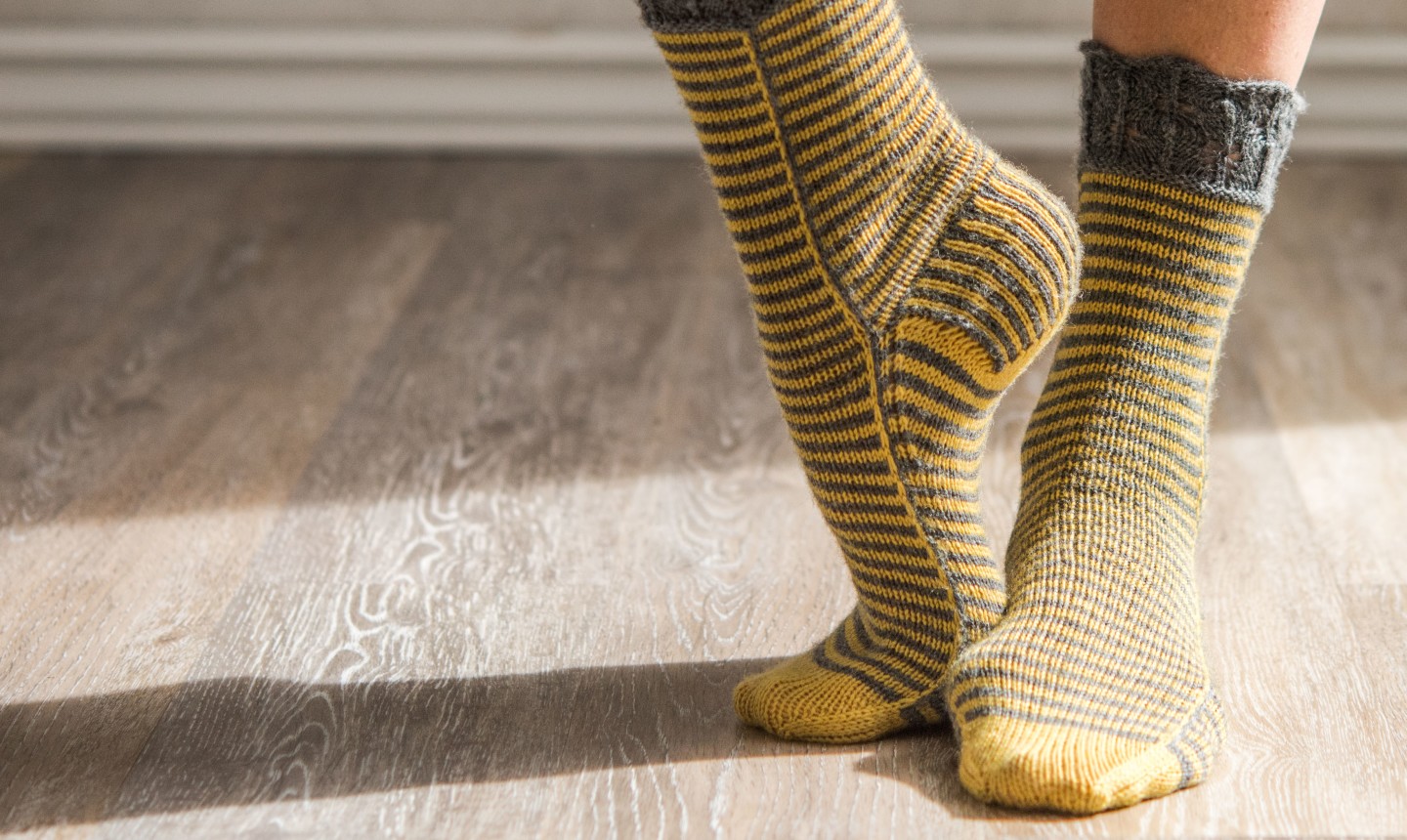 You really can't skip doing a gauge swatch when knitting socks (sorry). Checking your gauge is essential for making sure your finished socks actually fit your feet. Use your gauge swatch as an opportunity to practice with sock yarn and smaller needles as well.
Since socks are knit in the round, your gauge swatch should be knit in the round, too. Seasoned knitters will dive right into their sock and measure gauge as they go. And this method works just fine — assuming you're both experienced AND prepared to rip out your work if the gauge isn't right.
6. Trust the Pattern
Real talk: wacky things may happen when you get to the heel. It might even look like you're knitting a sock for an alien who has toes at odd angles. You might freak out when you're knitting in the round and suddenly the pattern asks you to knit flat. It's okay, though. Breathe, and trust that the pattern is guiding you to where you need to be. If you're feeling a little uneasy about it, cast on a swatch and test out knitting the heel before you work on the actual sock.
7. When in Doubt, Go With a Kit
If you're uneasy about choosing a pattern, yarn and needles, make life simple and buy a sock knitting kit! Knitting kits include a designer pattern, plus the yarn you'll need to make the socks. All you have to buy is your own set of double-pointed or circular needles — and you might already have those!