As a beginner knitter, I didn't understand the allure of socks. Why would I want to knit a pair of socks when I could just buy them? Clearly I had never felt the cozy quality of a hand-knit sock on my freezing toes. Not long after I started knitting, a friend gifted me a pair of knitted gray socks that felt warm and soft, like sliding my feet into a tub of butter. I quickly became a convert– a convert in need of some serious beginner sock knitting tips!
It make take a few attempts for beginners to get their knitted socks just right, but a couple pointers can help speed up that process. If you're new to sock knitting, take these tips into consideration before you start knitting your toasty-toe masterpiece.
8 Tips for new sock knitters

Ladies Lace Knit Knee Socks via Bluprint instructor Donna Druchunas
Choosing the perfect sock knitting pattern
Like to show off your knitted projects? Don't just bury the socks in your boots. Choose a pattern for socks that will be visible. These knee-high lace socks pictured above from Knit Sock Workshop with Donna Druchunas are meant to be seen!
If you're not thrilled about using sock-weight yarn, there are plenty of cozy sock patterns out there that you can knit up in a worsted-weight yarn. Slowly break yourself in with yarn you're more familiar with, and then brave the big guns — i.e., sock yarn — for your next sock knitting project. Try this Simple Socks in Worsted Weight pattern from Bluprint member Live.Knit.Love to start.
And speaking of yarn, be careful with your yarn choice. Choose a yarn that has a good amount of elasticity so that your socks don't end up all droopy in some places. Wool yarns with a bit of nylon in them are always a solid choice for elasticity, but if you don't want to handwash your socks, make sure it's a superwash wool. Lorna's Laces Solemate Yarn is a great option, and there are plenty of colors to choose from!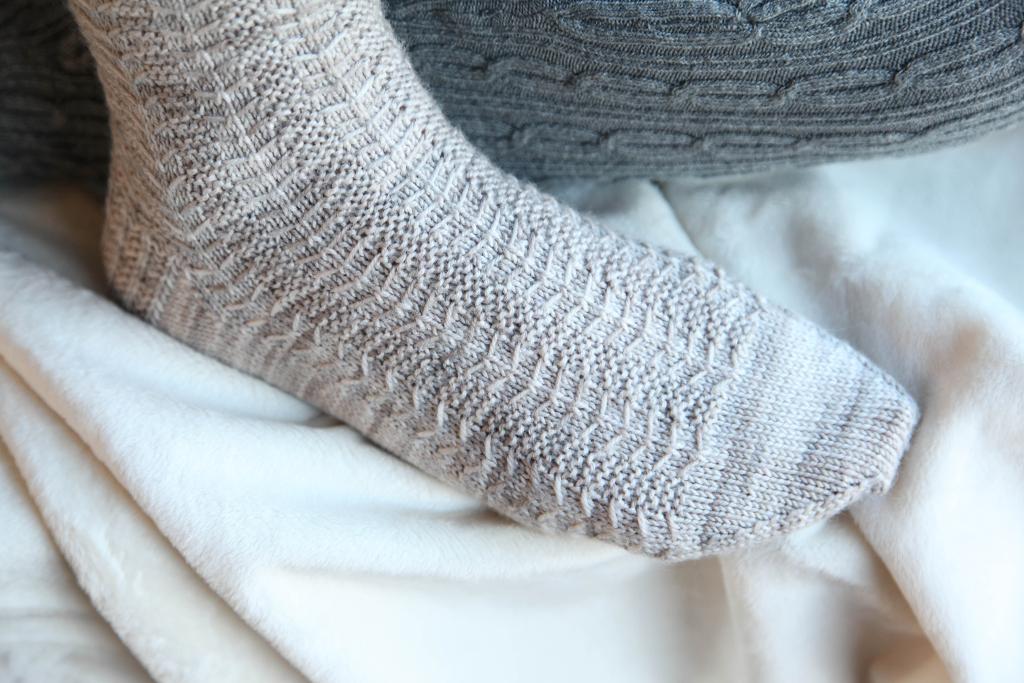 The Oh So Beautiful Knitted Sock Kit comes with the pattern and yarn to make these socks.
When in doubt about choosing patterns, yarn, and needles, make life simple and just buy a sock knitting kit! The Oh So Beautiful Knitted Sock Kit pictured above includes a pattern, plus the yarn you'll need to make the socks. All you have to buy is your own set of double-pointed needles — and you might already have those! You can also check out the Side Swipe Sock Kit and the She Sells Sea Shells Sock Kit for even more design options.
Knitting your socks
Use your gauge swatch as an opportunity to practice with sock yarn and smaller needles. Keep swatching until you feel like you've reached a natural gauge that you will keep up while knitting the sock.
Test different types of knitting needles. If your stitches are slipping right off those plastic double-pointed needles, try a pair of bamboo needles instead. If you detest double-pointed needles, give the Magic Loop method a try.
Trust the pattern. Wacky things will happen when you get to the heel. It might even look like you're knitting a sock for an alien with toes that go out in all directions. You might freak out when you're knitting in the round and suddenly the pattern is asking you to turn the work. Breathe, and trust that the pattern is guiding you to where you need to be. If you're feeling a little uneasy about it, cast on a swatch and test out knitting the heel before you work on the actual sock.
Remember that there are plenty of patterns and ways to knit socks. Maybe you'll find a favorite, and maybe you'll be ambivalent. Bluprint has you covered either way. If you've been inspired by Knit Sock Workshop, check out more of Donna Druchunas's sock-knitting expertise in both the Knit Original Cuff-Down Socks class and the Knit Original Toe-Up Socks class. Who knew there were so many ways to make a knitted sock?
What's a tip you'd share with a beginner sock knitter?
FREE Guide: Need-to-Knows for Knitting Socks
Knit cozy treats for any feet with a pair of custom socks! This guide covers the essential tips and techniques that will help you get started.Get my free guide »