There's nothing else quite like baklava, an old world, layered dessert with simple ingredients.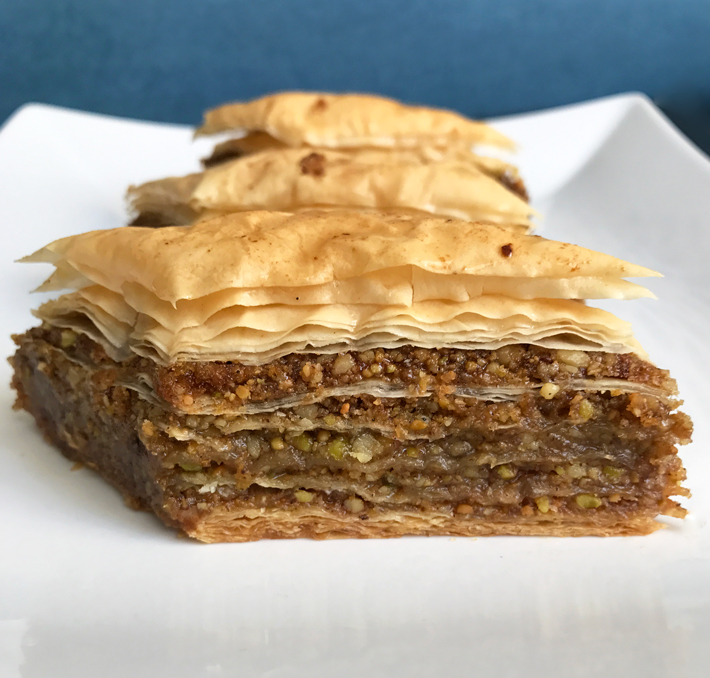 In this post, I'll tell you all about the history and making of this timeless dessert. I've also included two authentic baklava recipes for you to try: a fancy and more involved recipe as well as a simple, straightforward one. Both are derived from a hybrid of Greek and Turkish versions.
What is baklava?
Baklava is a dessert made with layers of thin phyllo dough brushed with butter and a flavorful nut mixture. It's baked and then drenched in a honey syrup.
It's not clear exactly where the dessert is originally from, but baklava dates back to the 8th century with it's roots from Mesopotamia (that's in the Middle East) — perhaps within Greece, Turkey or Mongolia. 
What kind of nuts are used in baklava?
The most typical nuts used are walnuts. In fact, basic baklava  recipes can contain only walnuts.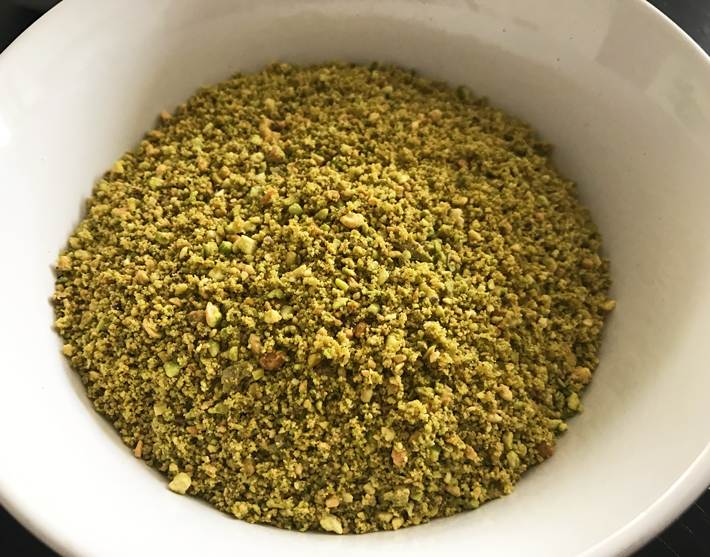 But because you can find different varieties of nuts depending on your location, the nut mixture in baklava recipes differ. There are four possible nuts to include:
Walnuts (Greek)
Pistachios (Turkish)
Hazelnuts
Almonds
Walnuts are less expensive compared to other nuts, so recipes typically use a combination of walnuts and another nut listed above. Walnuts and pistachios is a very popular combination.
What are the baklava layers made of?
Baklava is traditionally made with phyllo dough, but I've seen very crafty adaptations of the dessert!
Since the distinct baklava flavor comes from the crushed nuts and honey syrup, unique versions are limitless. I've seen baklava donuts, baklava pancakes, baklava macarons, baklava cheesecake and baklava cinnamon rolls — just to name a few! Phyllo dough definitely not required with these delicious spins.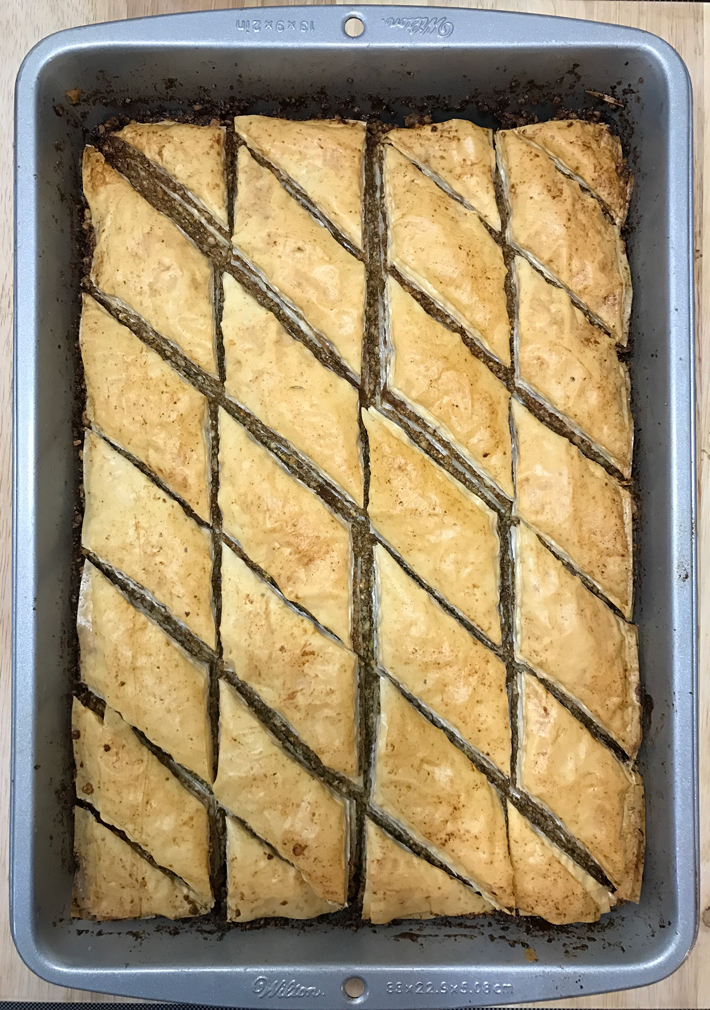 How long does baklava keep?
Baklava has a really lengthy shelf life, lasting about 2+ weeks. It should be stored in an airtight container, either in room temperature or in the fridge. Storing in room temperature will preserve the crispness. If you like your baklava chewy and a bit harder, store it in the refrigerator. Baklava has a unique moistness to it, so you'll know it's nearing the end of its shelf life when it starts to dry out.
Can baklava be frozen?
Yes! Baklava can be frozen before baking or after it's baked and cooled.
Freezing before baking
Make sure to line your baking pan with parchment paper or foil before constructing the dessert. Once your baklava is made, place the pan in the freezer for several hours to freeze it completely. Lift it out of the pan using the foil or parchment lining. Then, wrap the entire dessert in at least four layers of plastic wrap. Place back into the pan and into the freezer.
To thaw, remove the plastic wrap, place the baklava back in the pan, and cover the pan with foil. Place in the refrigerator for one day and then let rest at room temperature for an hour before cutting and baking.
Freezing baked baklava
Baked, completely cooled baklava can be wrapped and frozen for up to four months. I like to wrap it in small batches (about half a dozen pieces) so I don't have to thaw out the entire pan when I want a treat. Wrap tightly in at least four layers of plastic wrap and place in a zip-top freezer bag. Thaw by placing in the refrigerator for 4-6 hours or overnight.
Let's make some delicious baklava!
I mentioned above that I've included two baklava recipes. The first one is my go-to recipe for holidays and special occasions. This version of traditional baklava includes deeper flavors like cardamom and citrus.
The second recipe is a more simple traditional baklava recipe — it's still delicious and calls for fewer ingredients.
Gourmet traditional baklava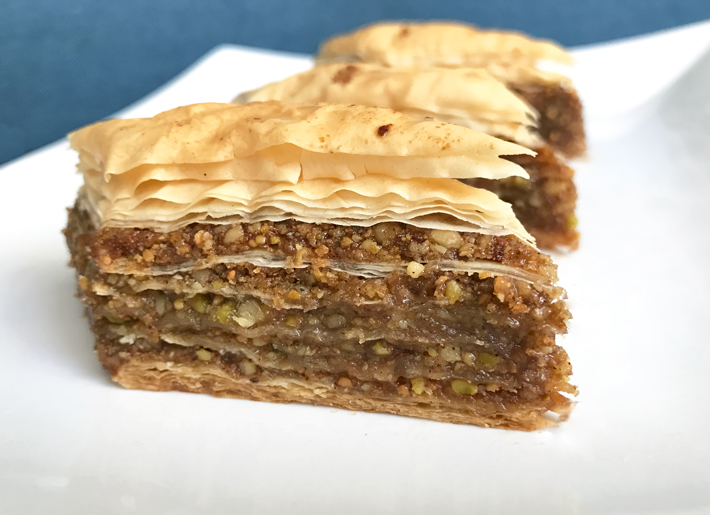 Ingredients:
One 16-ounce box of phyllo dough
2 sticks unsalted butter, melted
¾ lb (12 ounces) walnuts
½ lb (8 ounces) shelled pistachios
1 cup brown sugar
Zest of one lemon
Zest of one orange
2 teaspoons cinnamon
1 teaspoon cardamom

For the syrup

Juice from the zested lemon
Juice from the zested orange
Water
1 cup sugar
¾ cup honey

Step 1:

Preheat oven to 350 F. Phyllo dough should be defrosted over a few hours in the fridge, then placed in room temperature for an hour before unwrapping and using.

Step 2:

Using a food processor, pulse nuts about a dozen times to process nuts to desired size. Alternatively, you can use a knife to chop the nuts to bits. I like the nut mixture on the finer side, though some people prefer larger pieces for a bigger crunch.

Step 3:

In a large bowl, zest one lemon and one orange. Stir together nuts, brown sugar, zests, cinnamon and cardamon.

Step 4:

Since phyllo dough usually comes in 14″ x 18″ sheets, use a knife to cut sheets in half and trim them fit a 9″ x 13″ pan. After cutting, you should have about forty 9″ x 13″ sheets. Cover the stack of phyllo sheets with a kitchen towel so it doesn't dry out.

Step 5:

Using a pastry brush, butter the bottom and sides of your pan. If you're freezing the baklava before baking it, don't forget to line your pan with foil or parchment before buttering.

Count out 10 phyllo sheets, place towel over remaining sheets. Place a sheet into the pan, then brush butter over the top. Repeat with all 10 sheets.

Step 6:

Spread a heaping cup of nut mixture over the stack of phyllo dough. Repeat the phyllo stacking and buttering process with five more sheets. Spread another cup of nut mixture over the top. Repeat twice more, and finish off with a layer of 10 buttered phyllo sheets

Your layering should look like this:

10 buttered sheets
1 cup nuts
5 buttered sheets
1 cup nuts
5 buttered sheets
1 cup nuts
5 buttered sheets
1 cup nuts
10 buttered sheets

Step 7:

>Once you've assembled all your layers, brush the top with butter. Cut the baklava to your desired serving size. I like to make three cuts lengthwise and then cut at a diagonal.

Place in the oven and bake for 1 hour. 

Step 8:

Now we make the syrup! It's important to start on the syrup as soon as you place the baklava into the oven so it has enough time to cool.

Juice the lemon and orange you zested earlier into a measuring cup. Pour water in with the juices until you have ½ cup of liquid.

Step 9:

Pour water, juices and sugar into a saucepan and place over medium heat. Do not stir. Wait for it to simmer and for the the sugar to dissolve. Then add the honey.

Continue to simmer for 15 minutes. Remove from the heat and let cool completely. I like to pour the syrup in a really wide bowl and place it in the fridge to speed up the cooling process.

Step 10:

Once the baklava is done, remove it from the oven and ladle the syrup over it right away. It should sizzle as your pour. It might seem like a lot, but the baklava will absorb all of the syrup. Let it sit for several hours for all the flavors to meld together.

Simple baklava recipe

This easier option is just as tasty, but simpler when you're in a hurry.

Ingredients:

One 16-ounce box of phyllo dough
2 sticks unsalted butter, melted
1 lb (16 ounces) walnuts
1 cup brown sugar
2 teaspoons cinnamon

For the syrup

⅓ cup water
Juice from one lemon
1 cup sugar
¾ cup honey

Step 1:

Preheat oven to 350 F. Phyllo dough should be defrosted over a few hours in the fridge, then placed in room temperature for an hour before unwrapping and using.

Step 2:

Using a food processor, pulse walnuts about a dozen times to process nuts to desired size. Alternatively, you can use a knife to chop the walnuts to bits.

In a large bowl, stir together walnuts, brown sugar and cinnamon.

Step 3:

Cut the phyllo dough sheets in half and trim to fit a 9″ x 13″ pan. After cutting, you should have about 40 sheets. Cover the stack of phyllo sheets with a kitchen towel so it doesn't dry out.

Using a pastry brush, butter the bottom and sides of your pan. If you're freezing before baking, don't forget to line your pan with foil or parchment before buttering.

Step 4:

Count out 10 sheets, Place one sheet into the pan then brush butter over the top. Repeat with all 10 sheets.

Spread 1 cup of nut mixture over the stack. Repeat the phyllo stacking and buttering process with 5 sheets. Spread another cup of nut mixture over the top. Repeat twice more and finish with a layer of 10 pyllo sheets.

Step 5:

Once you've assembled all your layers, brush the top with butter. Cut the baklava to your desired serving sizes. Bake for 1 hour.

Step 6:

Pour water, lemon juice and sugar into a saucepan and place over medium heat. Do not stir. Wait for it to simmer and for the sugar to dissolve, then add the honey. Simmer for 15 more minutes. Remove from the heat and let cool.

Step 7:

Once the baklava is done, remove it from the oven and ladle the syrup over it right away. It should sizzle as your pour. Let it sit for several hours for all the flavors to meld together.

Reinvent Timeless Desserts

Reimagine apple pie, strawberry shortcake, luscious baklava and more in this online class! In just a few simple lessons, you'll learn how to breathe new life and creativity into your standby desserts. Enroll Today