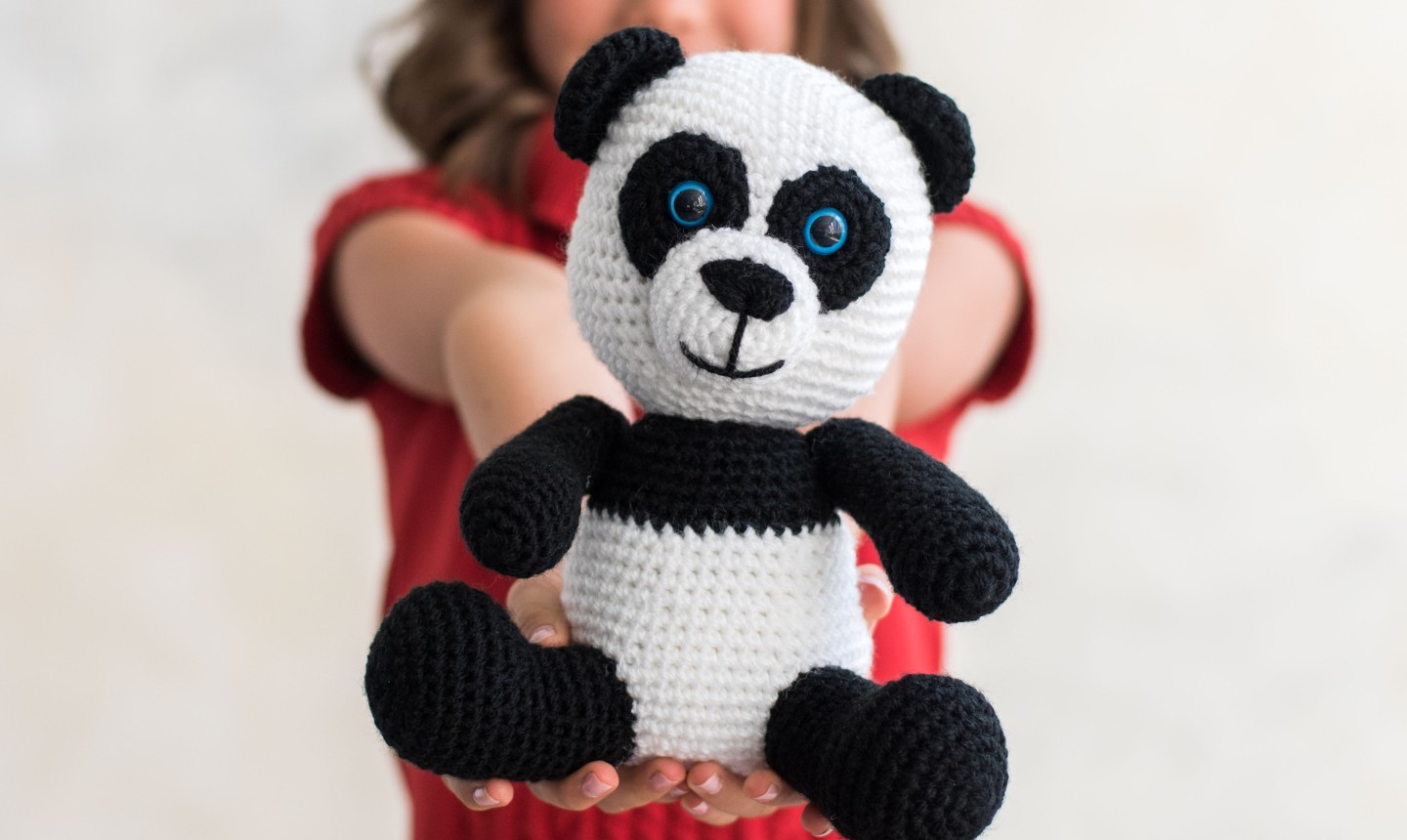 You can't see the adorable knit and crochet creatures known as amigurumi, and NOT want to make one. But even if you're an experienced maker, picking materials for these guys isn't totally straightforward. After all, you've got to think about serious use cases like cuddle-ability and the best way to make the world's cutest face.
First, Pick Your Yarn
There are no hard-and-fast rules here, but a few pointers can help:
Durability and Care
Are you gifting your amigurumi to a kiddo? That means it's going to get LOTS of love, and by love we mean getting tugged, stretched and possibly dragged through a mud puddle or two. So it's key to choose a yarn that can really hold its own. Sprightly's Cotton Worsted Yarn is durable enough for kitchen accessories like dish scrubbies, so it can also stand up to anything little monsters dish out. Plus, it comes in plenty of pretty colors.
The downside, of course, is that cotton stretches out over time, so if the amigurumi is washed repeatedly it may start to lose its shape. If frequent washing is a big priority, consider an acrylic like Sprightly Acrylic Worsted Yarn which can be washed in the machine and dried on low heat.
Coziness
Will this toy be cuddled? Or only admired on a shelf? Of course if it's just a decoration there's no need to worry about the feel of the yarn. But a true stuffie made for hugging MUST be soft — and it's worth making a swatch to be sure. Crochet a swatch, then rub it against the inside of your wrist to see if it passes the snuggle test.
Yarn Weight
Here's a neat trick about amigurumi patterns: you can use them with almost any yarn weight with no modifications. The finished creature will just be larger or smaller, depending on your choice. For example, if you purchase an amigurumi pattern that suggests worsted weight yarn, you can easily make the finished project larger by using a super bulky weight yarn and a larger hook.
The only yarn weight you'll want to avoid when crocheting amigurumi is lace weight. It's great for elegant shawls and gloves, but the drape doesn't work well for amigurumi that needs to keep its shape.
And Now for the Finishing Touches
Putting the final features on amigurumi is at least half the fun! But first, a quick note on safety: If you're giving the project to a child or pet, do not use ready-made plastic safety eyes or buttons. Despite their confusing name, safety eyes can actually be chewed off and pose a very real choking hazard.
If the pattern you're using calls for safety eyes, don't sweat it. There are plenty of alternatives like crochet circles and felt, which can be stitched on securely to create an adorable face. If those options don't have the look you're going for, embroidery is your friend. A simple back stitch makes a smiling mouth, and a French knot can become an eye or even a freckle.
Stuffing Time!
You've got lots of choices here – just go for something that's fluffy and doesn't clump. The only type of stuffing to avoid is one that might rot or encourage crawling critters (ew!). Food stuffings like beans and rice are infamous for this, so avoid them.
Polyester
Polyester is the most popular and most widely available type of stuffing. Most poly stuffings are washable and non-allergenic, making them great picks for well-loved toys.
Pellets
Pellets are heavier than stuffing, so go this route for amigurumi that needs a little extra weight. (Think: a doll that's going to sit on a shelf and needs some heft to stay put.) You can also combine pellets with fluffy stuffing to add weight if it's needed.
Cotton
Cotton's a favorite for those who prefer natural fibers, but watch out: cotton is prone to clumping over time, which could make your project get a little droopy.
Upcycled Stuffing
It's possible you won't even need to go out and buy stuffing. Look around your home for old pillows or cushions that you no longer want, rip 'em open and steal the stuffing right out of there. You can also use remainders from old stuffed animals that have lost their charm (sorry, Fuzzy). Some crocheters even use bits of stash yarn they can't find another use for!
Safety First
A quick reminder to use caution when gifting homemade cuddlies to babies and toddlers: Unless you've thoroughly researched all of your materials (stuffing too!) for baby-safety, we recommend keeping your amigurumi out of reach of curious mouths. That little bear will look great on the nursery shelf until junior gets a little older.