Amigurumi is tons of fun, from choosing your pattern to finding just the right colors for your little creation. But choosing the amigurumi materials? Not so fun if you're feeling overwhelmed by all the choices.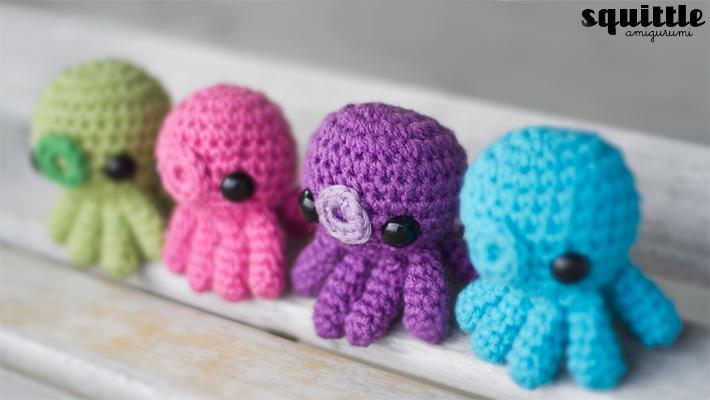 Baby Octopus Amigurumi via Adorably Kawaii
You need more than just yarn and your favorite crochet hook to create amigurumi. There are cute facial features to think about, as well as stuffing to complete your fluffy friend.
Use this guide to choose the right yarn, facial features and stuffing for your friend. If you're gifting the amigurumi, keep the recipient in mind as you think about your options!
Yarn
There's no perfect yarn for amigurumi. The yarn you choose depends on the recipient and whether the amigurumi will be used as a toy or for decoration. Keep these characteristics in mind when you're choosing amigurumi yarn.
Care
Are you gifting your amigurumi to a little one? If so, consider a yarn that can tolerate being washed over and over again. Try an acrylic yarn like Bernat Satin that can be washed in the machine and dried on low heat.
Durability
Speaking of kiddos, if your amigurumi will likely get tossed around and maybe even chewed, a sturdy yarn that will stand up to playtime is a good choice. Lion Brand Kitchen Cotton yarn is durable enough for kitchen accessories like dish scrubbies, so it can also hold up to curious hands and drooling mouths. Plus, it comes in plenty of bright colors. The downside, of course, is that cotton stretches out over time, so if the amigurumi is washed too frequently, it may begin to stretch and sag.
Fiber
Will this toy be cuddled and placed against the skin? Or will the toy simply sit on the shelf as a decoration? If it's just a decoration, don't worry about finding a yarn that's soft. However, if you're gifting the toy with the intention of cuddles, then you'll want to find a yarn that is soft and smooth against the skin.
If you're not sure how the yarn will feel just by touching the skein, crochet a swatch and then rub it against the inside of your wrist. If it feels soft and doesn't irritate your skin, it's probably a good choice.
Weight
The yarn weight you choose can help determine the size of your amigurumi. For example, if you purchase an amigurumi pattern that suggests worsted weight yarn, you can easily make the finished project larger by using a super bulky weight yarn and a larger hook — no changes to the pattern necessary.
The only yarn weight you'll want to avoid when crocheting amigurumi is lace weight. Lace weight yarn is great for elegant shawls and gloves, but the drape doesn't work well for amigurumi that needs to keep its shape.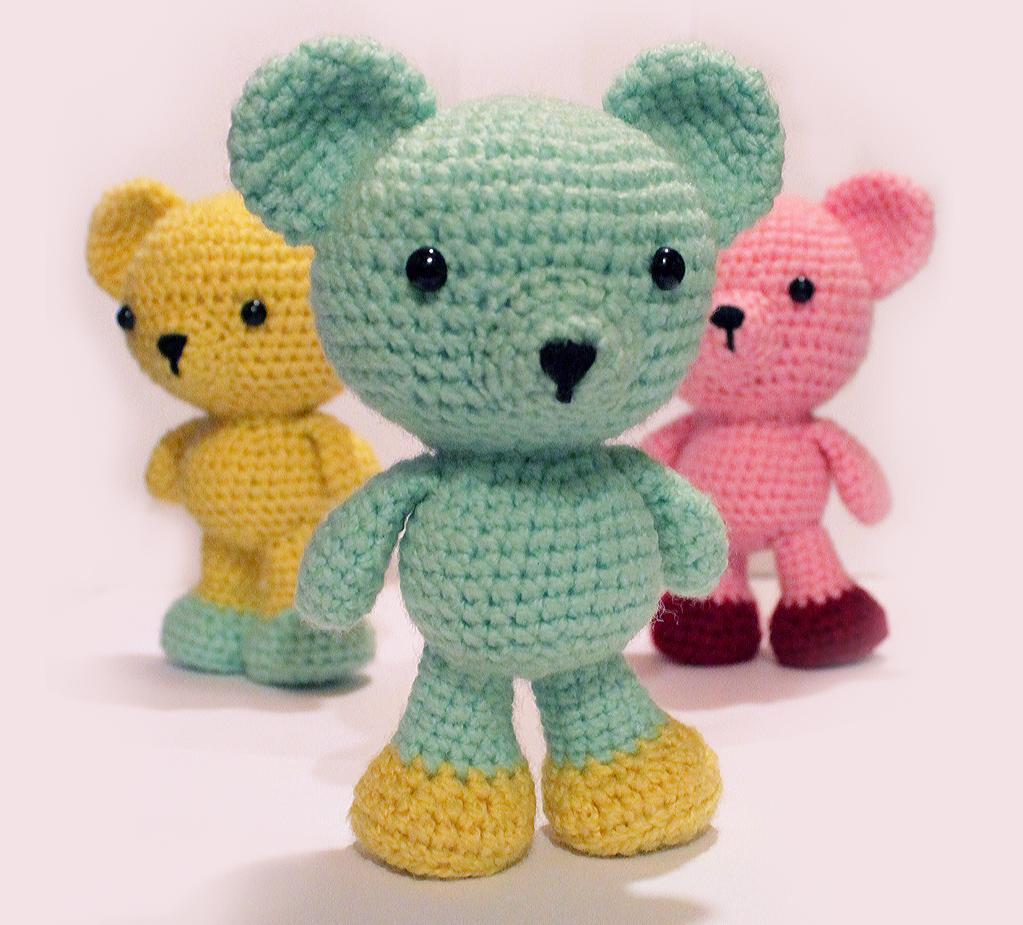 Amigurumi Bear via Anat Tzach
Eyes and other features
Amigurumi may have facial features like eyes, a nose, a mouth and sometimes even freckles. The options for facial feature materials can be overwhelming!
First and most importantly, a note on safety if you're giving the project to a young child or pet: Do not use safety eyes or buttons. They can be chewed off the toy, becoming a choking hazard for young children.
If the amigurumi pattern you're using calls for safety eyes, don't sweat it. There are plenty of alternatives like crochet circles and felt.
When crochet circles or felt just don't seem to fit your project, embroidery is your best friend. A simple back stitch, for instance, can help you create a mouth. A French knot can become an eye or even a freckle.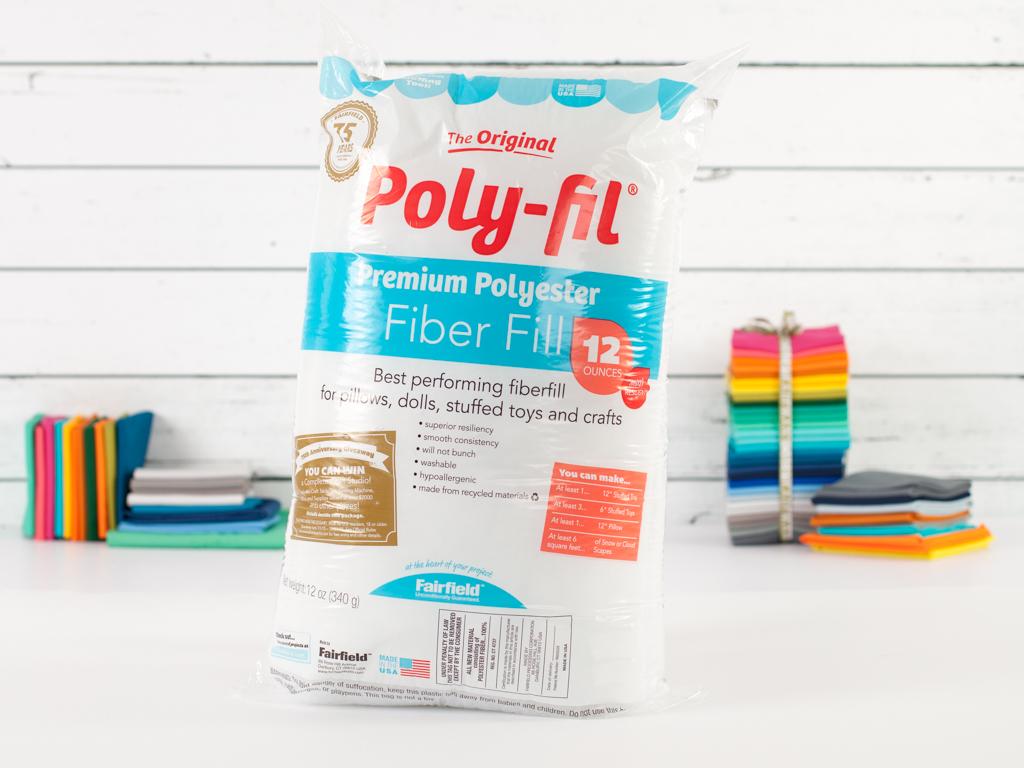 Stuffing
There are plenty of stuffing options out there. The only type of stuffing to avoid is something that might rot or encourage crawling critters (ew!). Food stuffing like beans and rice are infamous for this, so avoid them.
The bottom line, no matter what type of stuffing you choose: look for something that's fluffy and doesn't clump. Here are a few options:
Polyester
Polyester is the most popular and most widely available type of stuffing. Products like the Fairfield Poly-fill Stuffing pictured above are washable and non-allergenic, making them excellent options for well-loved toys.
Pellets
Pellets are heavier than stuffing, so they're great for amigurumi that needs a little extra weight. An amigurumi that's going to sit on a shelf, for example, might need a little extra weight to make sure it stays put. You can also combine pellets with stuffing to add weight if it's needed.
Cotton
If you prefer a more natural option, cotton stuffing is also available. However, be careful when stuffing amigurumis with cotton, as it can sometimes clump together over time. This makes your project lose its shape and start to look very sad and droopy.
Upcycled stuffing
It's possible you won't even need to go out and buy stuffing. Look around your home for old pillows or cushions that you no longer want. Rip 'em open and steal the stuffing right out of there. You can also use stuffing from old stuffed animals that you no longer want. Some crocheters even use bits of stash yarn they can't find another use for!
Amigurumi fans, do you have any materials to recommend to our newbie amigurumi stitchers? We'd love to hear what some of your favorites are!