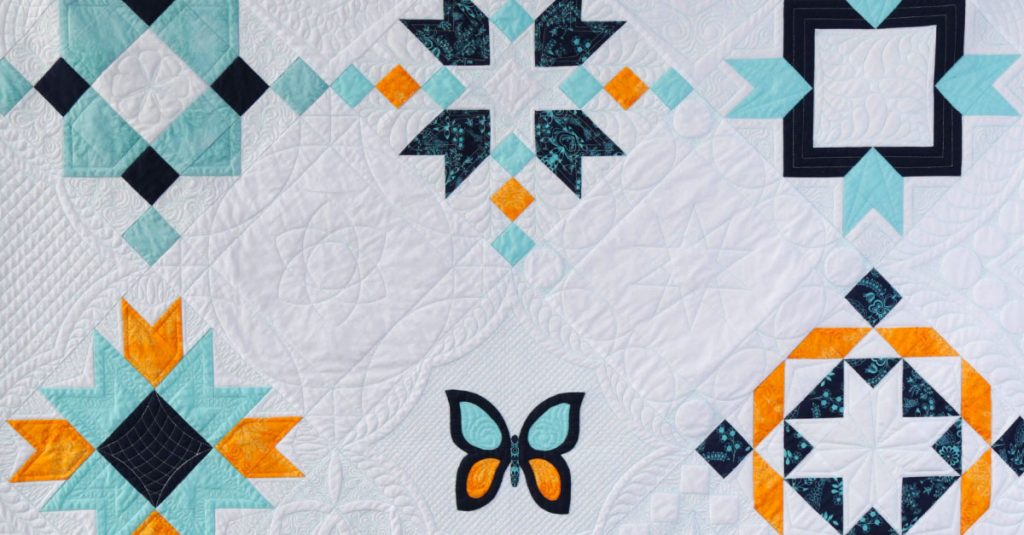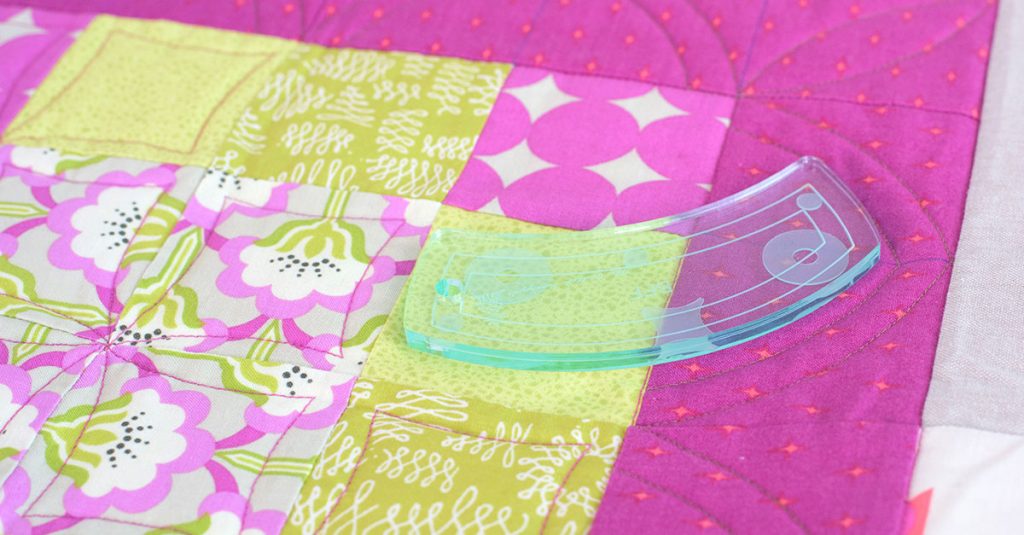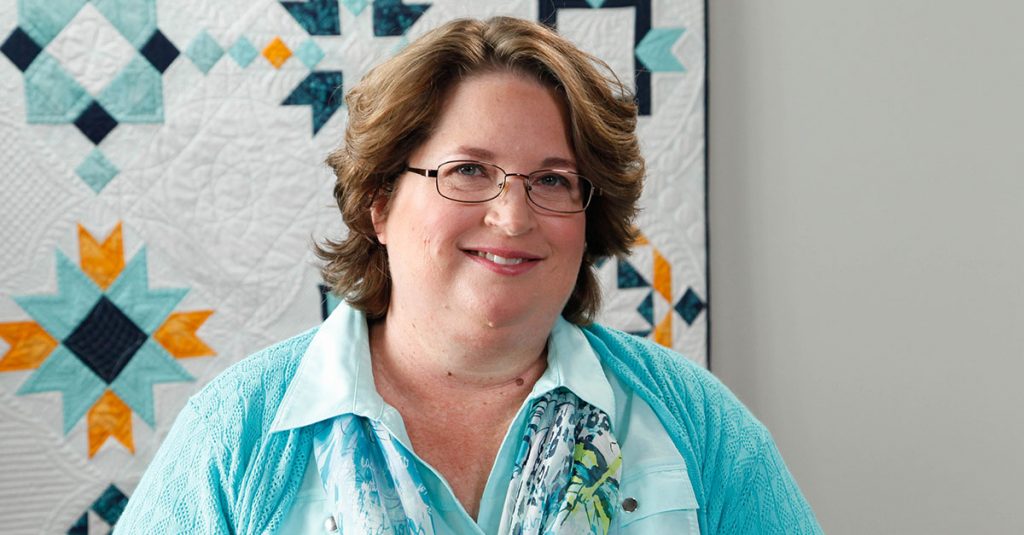 DVD
Creative Quilting With Rulers: More Techniques & Motifs DVD
$29.99
W0008R
Description
Join popular instructor Amy Johnson and find out how quilting with rulers makes it easy to achieve beautiful results on your home machine.
You'll begin class with an overview of essential techniques before Amy helps you quickly stabilize your quilt top by stitching in the ditch with straight rulers. Next, discover how to showcase your piecing with echoing motifs, and delve into foolproof tips for sashings. Using various rulers, Amy will guide you through dividing and stitching straight and curved sashings, as well as creating secondary designs. You'll also discover eye-catching, versatile motifs to add interest to negative space, and gain confidence marking and quilting sophisticated herringbone and triangle borders. Finally, find out how to use your new skills to create custom motifs and enlarge them to suit any space. Learn how to make the most of simple rulers and enjoy stunning results!
NOTE: Any PDF materials associated with this class are not provided with the DVD-only purchase. You must have streaming access to download those materials. To purchase the combination DVD + Streaming form of this class, click here.
Class Sessions
Ruler Rules & Stabilization (23:11)
Instructor Amy Johnson begins class with a helpful overview of ruler essentials, safety tips and quilting design strategies. And, she shows you how to quickly stabilize your quilt top by stitching in the ditch with straight rulers.
In the Box: Echoes & Block Designs (23:46)
Amy shows you how to emphasize piecing with echo quilting. Find out how to mark designs using a bigger ruler. And, work across an entire block with smaller rulers for results with big impact.
Take It Outside! (25:30)
Think outside the block with Amy's professional tips for sashings. Use rulers to stitch straight-line designs, create easy curved variations and work between blocks for beautiful secondary designs.
Wide Open Spaces (19:32)
Find out how ruler techniques can make working in large, blank areas fun! Amy shows you how to create visual interest with geometric designs such as ghost blocks. And, add themes like scrolls to your modern or traditional quilts.
Headed for the Border (21:44)
Avoid dense, stiff quilting with versatile border designs. Amy shares an adaptation of the popular Baptist Fan design. Then, she shares tips for marking and quilting herringbone and triangle borders.
Getting Fancy With Ruler-Based Motifs (19:23)
Put your new ruler skills to the test as you tackle motifs without using points or pieced seams. And, find out how to enlarge a motif for any space, before exploring variations of these techniques to add interest to wholecloth quilts.
Your Instructor
Amy Johnson
Amy Johnson is a passionate instructor of free-motion quilting, and specializes in using rulers to translate longarm quilting techniques to a domestic machine. You can find out more about her on her blog, Amy's Free-Motion Quilting Adventures.
FAQ
How will I receive my DVD class?
Your class DVD will be shipped in the mail using the address you provide at checkout. You will not have streaming access to this class in your Craftsy Account unless you purchase(d) it separately. If you'd like to own this class in BOTH on-demand streaming form and DVD, we recommend you purchase that combination item on Craftsy.com.
Will the companion materials come with my DVD class?
Any downloadable class PDF materials are not included on the DVD, so you will not have access to those materials. While the video instruction on your DVD is complete, you must have streaming access to download the PDF materials associated with the class. You can purchase streaming access or a combination DVD + Streaming access on Craftsy.com.
Do I have to purchase a Craftsy Membership to get my class?
No, you do not. Every DVD-only class purchased on Craftsy.com includes the physical DVD in the mail. The physical disc(s) are yours to keep forever, with or without a Craftsy membership.
Are DVDs included in a Craftsy Membership?
No, they are not. DVDs can only be purchased on an individual basis and are not included in Craftsy memberships. For non-members, DVDs are a flexible way to purchase only the classes you love best. For members, DVDs are a great choice to build an at-home library you can keep forever and enjoy any time, with or without Internet access.
Do you ship internationally?
Yes, we do ship most physical products, including DVDs, to several International destinations. In addition to the USA and Canada, we ship to Australia, Brazil, India, Israel, Mexico, New Zealand, South Africa, and most Western European countries. If you live outside these countries, you can still purchase digital items including memberships, individual streaming classes, and pattern downloads.
Do your DVDs work on international players?
Yes, our DVDs should be compatible with any DVD player in use today. All our videos have been created with all current Region Codes (1, 2, 3, 4, 5, 6, and 8). If you have trouble viewing a DVD purchased from Craftsy.com, please contact Customer Service.
What is your return policy?
We want to be sure you're satisfied. If you have trouble playing your DVD, if the content is not correctly presented on the DVD, or you are dissatisfied with the content of your class, we will work with you. Contact Craftsy Customer Service via email or phone. Upon your request, and upon your return of the DVD to us, we will refund your purchase price or send you another DVD to replace a damaged or incorrect DVD, whichever is your preference.