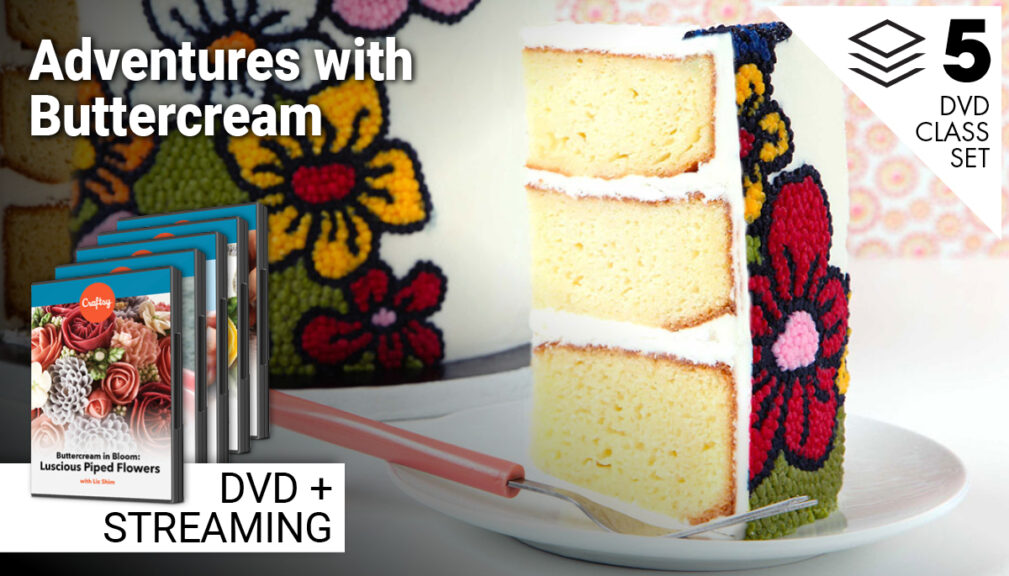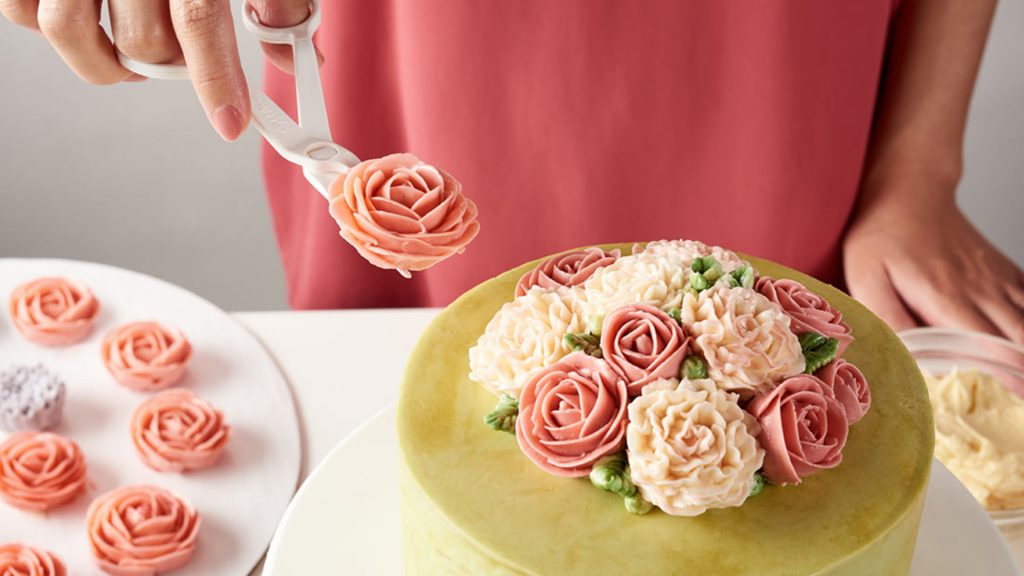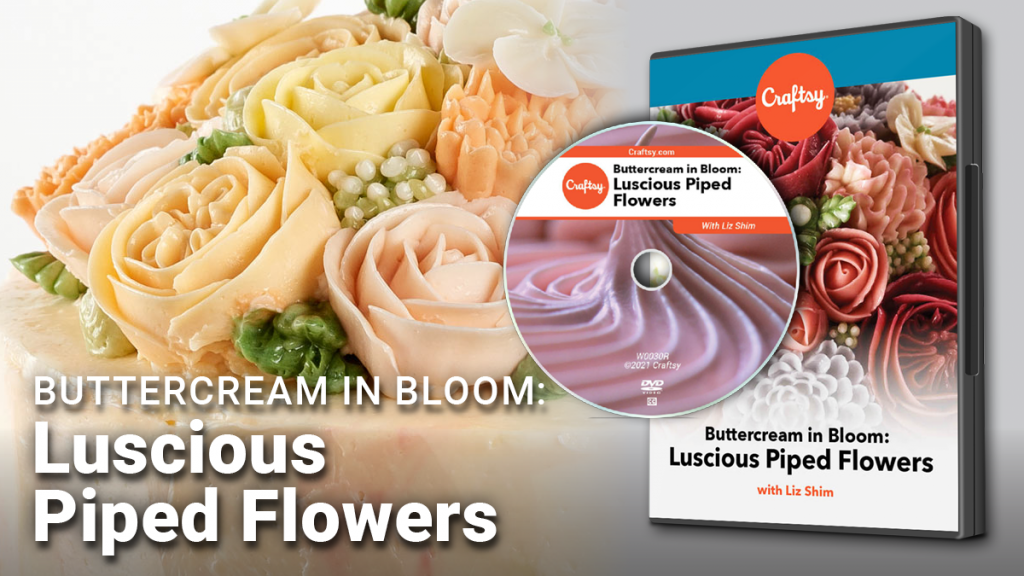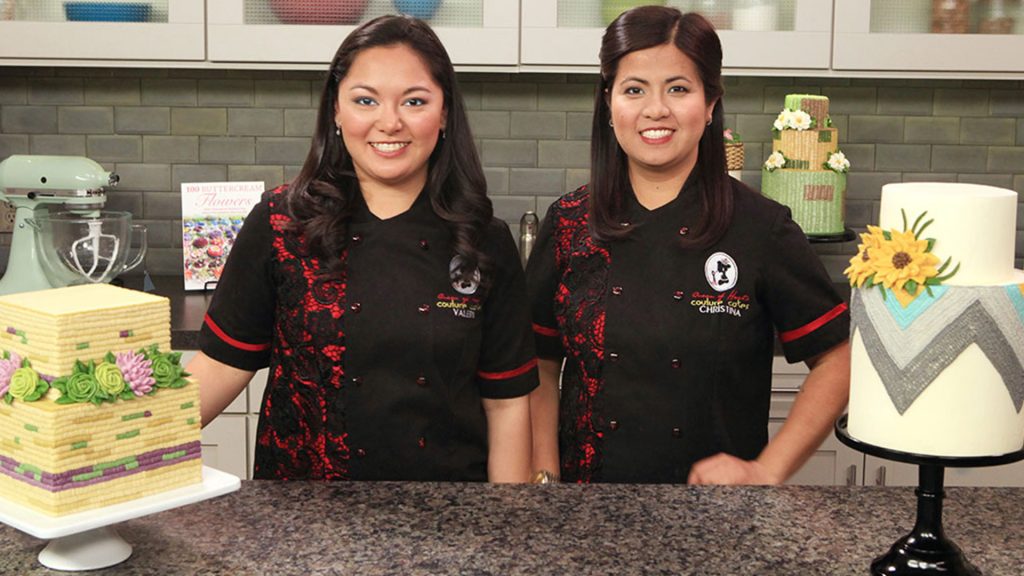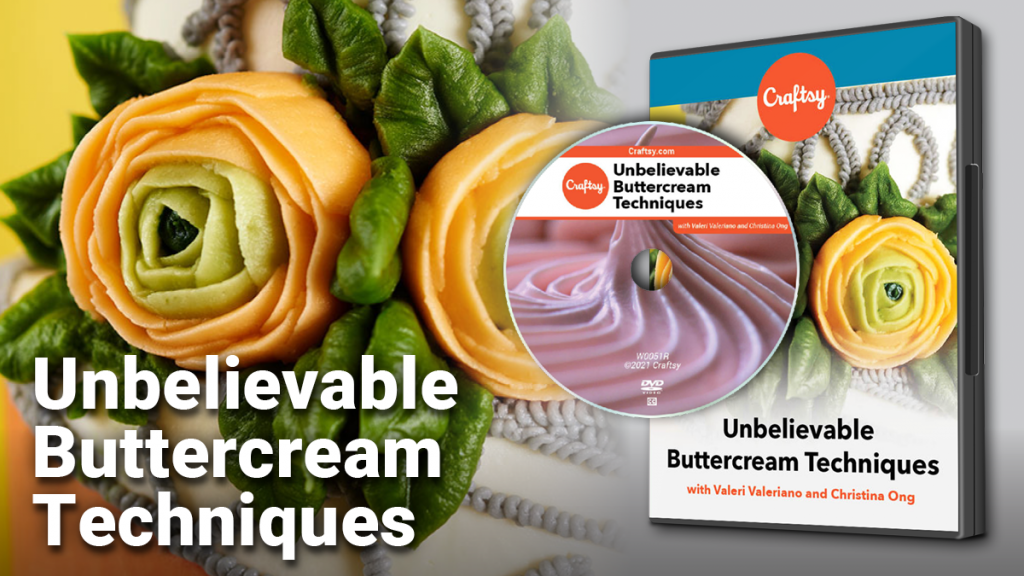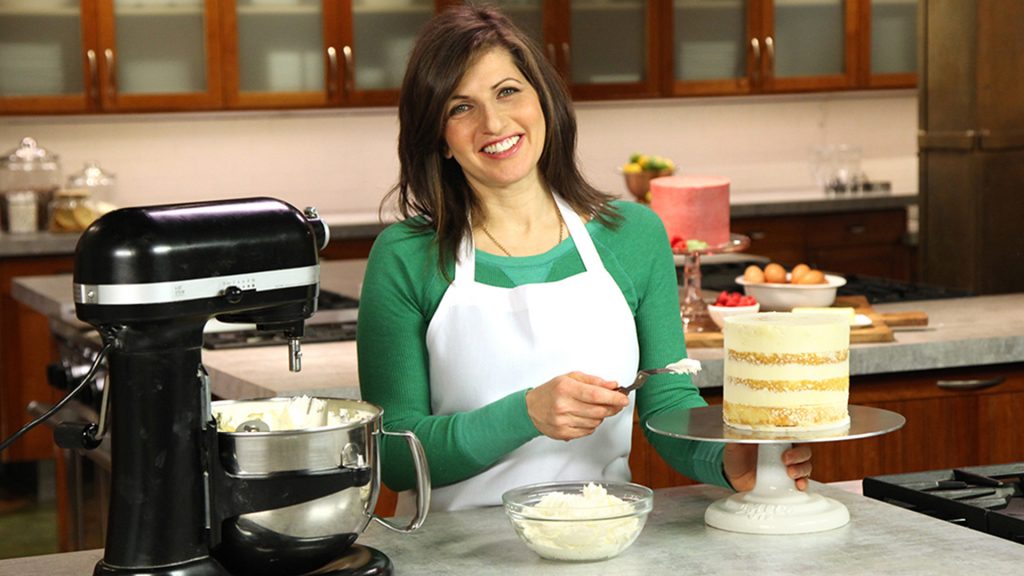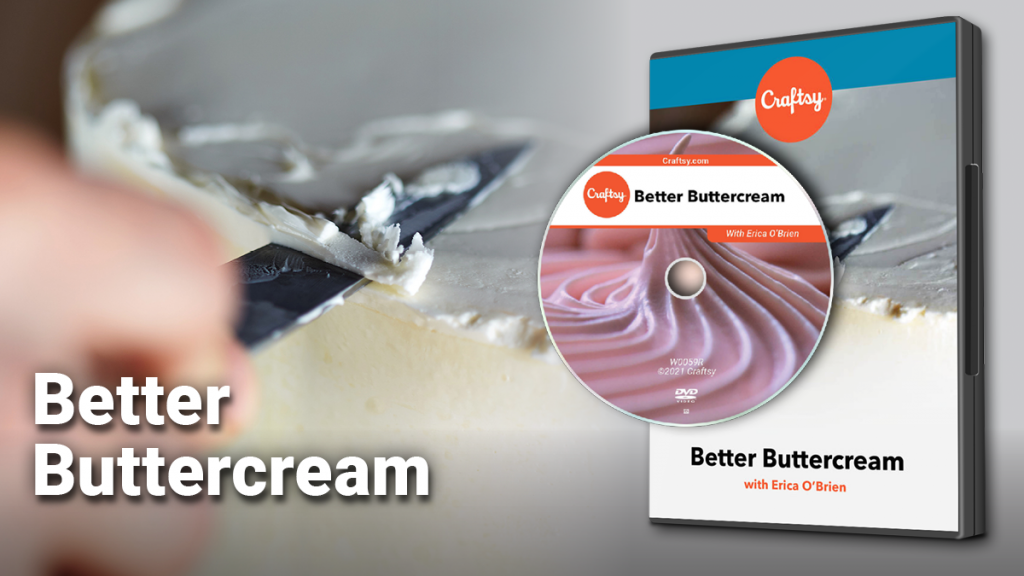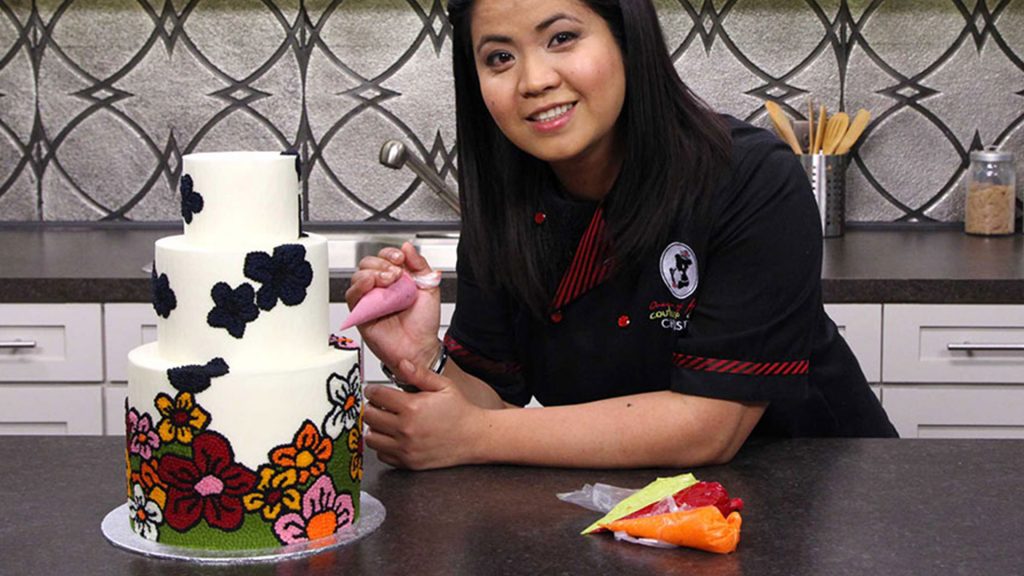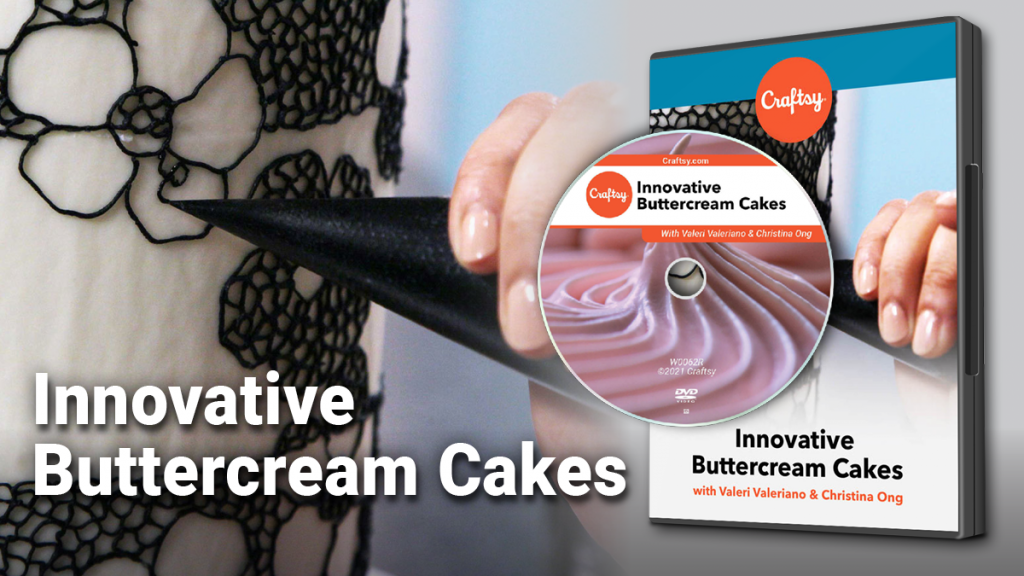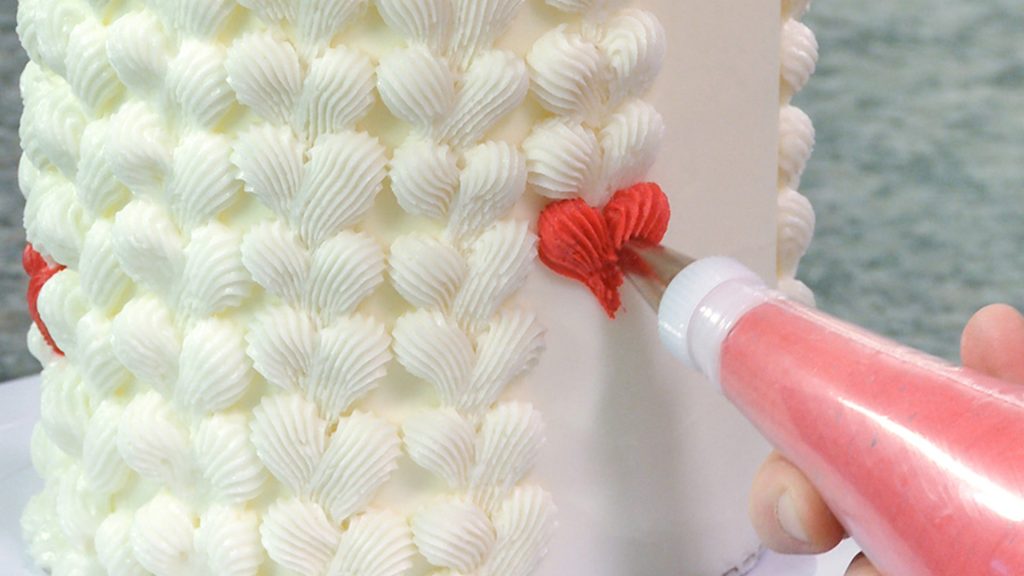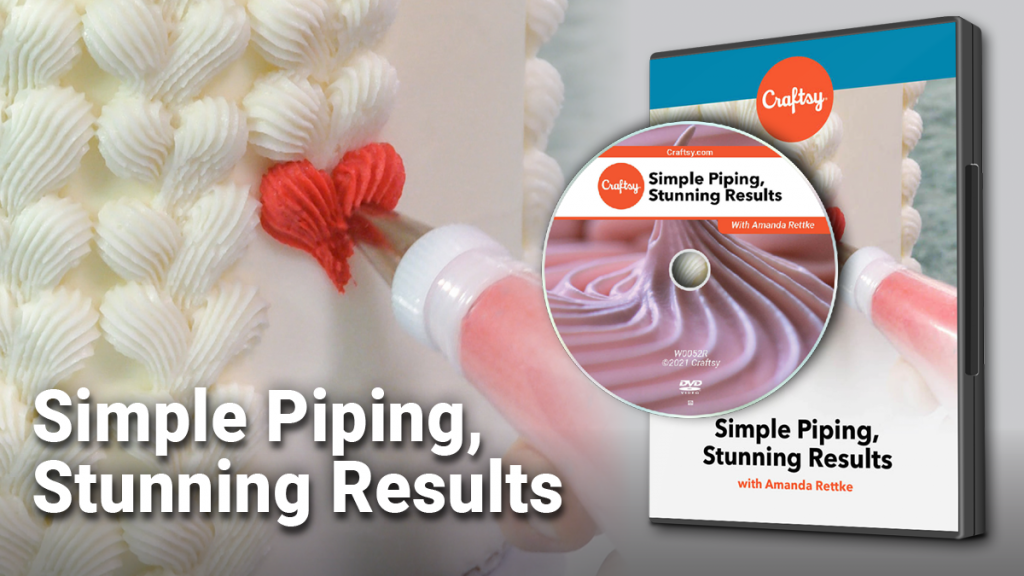 Adventures with Buttercream 5-Class Set (DVD + Streaming)
$189.99
At a Glance:
Includes 5 Streaming Classes + 5 DVDs
Save with bundled price
Bonus downloadable materials available after purchase
Total Runtime: 11h 57m
W0341Q
Description
What could be better than buttercream? Don your apron and get ready for this 5-class set to learn all about the art of buttercream with our expert instructors! Award-winning cake designer Liz Shim will reveal her secrets, empowering you to master a variety of delicate blooms and create a bouquet that delights both the eyes and the taste buds. Then, elevate your cake decorating skills with guidance from renowned experts Christina Ong and Valeri Valeriano, who will help you craft buttercream cakes that are not only beautiful but also delicious. Cake decorator Erica O'Brien will show you how to create the most delectable Swiss, Italian, and French buttercreams, and cake decorator Amanda Rettke will make intricate piping a breeze as she shares techniques like round tip piping for pushed petals, Chantilly lace, lettering, and more!
For a more detailed summary of each class included in this set, see the "Classes Included" tab below.
NOTE: After purchase, all streaming classes within this set will be made available in your Craftsy account. You will be able to enjoy your purchased classes within your library anytime without losing access. The DVDs will be shipped to you.
Classes Included
Buttercream in Bloom: Luscious Piped Flowers (2h 02m)

Amaze your guests with intricate, elegant buttercream bouquets. Design jaw-dropping cakes with beautifully piped buttercream flowers. Award-winning cake designer Liz Shim shares her secrets to help you master a variety of delicate blooms and create a bouquet that's as appealing to the eye as it is to the taste buds.
Unbelievable Buttercream Techniques (2h 13m)
Make buttercream cakes that are as beautiful as they are delicious, with guidance from award-winning cake experts Christina Ong and Valeri Valeriano! First, learn how to mix color into your buttercream for natural-looking and two-toned effects. Then, pipe ravishing roses, stylish succulents and gorgeous ranunculuses, and get Christina's expert tips for confidently piping directly on your cake. Up next, learn the secrets to creating realistic flowers, from hydrangeas to sunflowers. And explore the world of woven texture as you create a raffia basketweave, an intricate woven design and a simple flat weave. Plus, take your texture to a whole new level with knitting effects and a three-colored chevron pattern you truly can't miss! Finally, bring the look of delicate lace to your cakes and prepare for the "oohs" and "ahhs" your results will receive.
Better Buttercream (2h 57m)
Create the most delicious Swiss, Italian, and French buttercreams with step-by-step guidance from cake decorator Erica O'Brien. Start with how to make pillowy meringue as you whip up simple Swiss and dreamy Italian meringue buttercreams. Next, create a super-rich French buttercream that's perfect as a filling. You'll also discover the secrets for coloring your buttercream with confidence and creating mouthwatering flavors from everyday ingredients. Then, you'll see how to level, tort, dam, fill, and crumb coat your cakes. With your cake prepared, Erica will teach you how to smooth buttercream, for flawless icing that creates beautiful sides and a super-sharp top edge. Plus, find out how to show off your cakes with a beautiful pinstripe buttercream technique, fun rustic textures, or gorgeous metallic finishes.
Innovative Buttercream Cakes (2h 30m)
Use melt-in-your-mouth buttercream and innovative methods to create inspired cake designs alongside Valeri Valeriano and Christina Ong, the owners of London's famous Queen of Hearts Couture Cakes. Find out how to make their signature buttercream recipe, tint it to any color – even tricky hues like black and red – and pipe it with confidence. Transfer gorgeous patterns onto your cakes and fill them with dots of buttercream bursting with color and dimension. Learn to mark and pipe an elegant web of delicate lace. Uncover the secrets of using palette knives to blend colors beautifully and create textured backgrounds abloom with vibrant flowers. Achieve the ultimate in irresistible cakes as you create alluring designs with heavenly buttercream.
Simple Piping, Stunning Results (2h 15m)
Make impressive piping simple as you learn how to decorate a cake with icing alongside cake decorator Amanda Rettke. Start by creating luscious American-style buttercream, and use it to coat your cake in super smooth icing. With your cake prepared, it's time to start piping! Discover how to use a round tip to pipe pushed petals, Chantilly lace and lettering. Next, bring lovely rosettes, all-over shells and fabulous fan textures to life with star tips. Then, switch to petal tips, and create breathtaking ruffled designs such as curved rainbows, tempting tapered patterns and more. Plus, use grass and leaf tips to pipe multicolored pom-pom decorations and enticing holiday designs. Along the way, you'll get plenty of inspiration for using these techniques to create dazzling finished cakes of your own.
Your Instructors
Liz Shim
Liz Shim discovered her love of edible art as a teenager and went on to graduate from the prestigious Le Cordon Bleu program at the California Culinary Academy in San Francisco. Today, Liz is the owner and head designer of Eat Cake Be Merry, a cake studio serving the New York City area. Her work has been featured in magazines such as Brides, The Knot, People and Martha Stewart Weddings. Liz's cakes also have been named America's Most Beautiful Cakes by Brides magazine on multiple occasions, and she's been named one of Martha Stewart Weddings' Top Pastry Pros in America.
Valeri Valeriano & Christina Ong
Valeri Valeriano and Christina Ong are the owners of Queen of Hearts Couture Cakes, a multi-award-winning cake company based in London. They are the authors of The Contemporary Buttercream Bible, and their cakes have been featured both in print and on TV. They have demonstrated at exhibitions in the U.K. including The National Wedding Show, The Cake International Show, The Cake & Bake Show, Squires Kitchen's annual sugarcraft exhibition and more. Valeri and Christina teach classes in Europe, the U.S, Asia and on Craftsy.
Erica O'Brien
Erica discovered cake decorating quite by accident in 1995 and quickly fell in love with the art. After moving to California in 2006, Erica began designing cakes full time and quickly gained national recognition. In 2011, she moved to Connecticut where her business, Erica O'Brien Cake Design, continues to grow. Today, Erica's designs have been featured in Brides Magazine, The Knot and many others as well as on many noteworthy blogs. She lives with her husband and two spunky, cake-loving daughters.
Amanda Rettke
Amanda Rettke is a baker, cake decorator and stay-at-home mom. Ever since she created her now immensely popular blog, iambaker, Amanda's passion for baking, decorating and photographing her delicious creations has only grown. Amanda's sweet treats can be found in 1,000 Ideas for Decorating Cupcakes, Cookies, and Cakes and her own book, Surprise-Inside Cakes. Her desserts also have been featured on The Martha Stewart Show and in the December 2010 issue of Brides Magazine.
Bonus Materials
Each class in this set comes with a helpful downloadable PDF that will add to the fun and success of each class. In total, you will gain access to 5 PDFs containing 19 pages of content, which you can view online anytime or print out to reference.
Bonus materials available after purchase
Buttercream in Bloom: Luscious Piped Flowers - Supplies and Templates
Bonus materials available after purchase
Unbelievable Buttercream Techniques - Supplies and Recipe
Bonus materials available after purchase
Better Buttercream - Supplies and Recipes
Bonus materials available after purchase
Innovative Buttercream Cakes - Supplies and Recipes
Bonus materials available after purchase
Simple Piping, Stunning Results - Supplies and Recipes