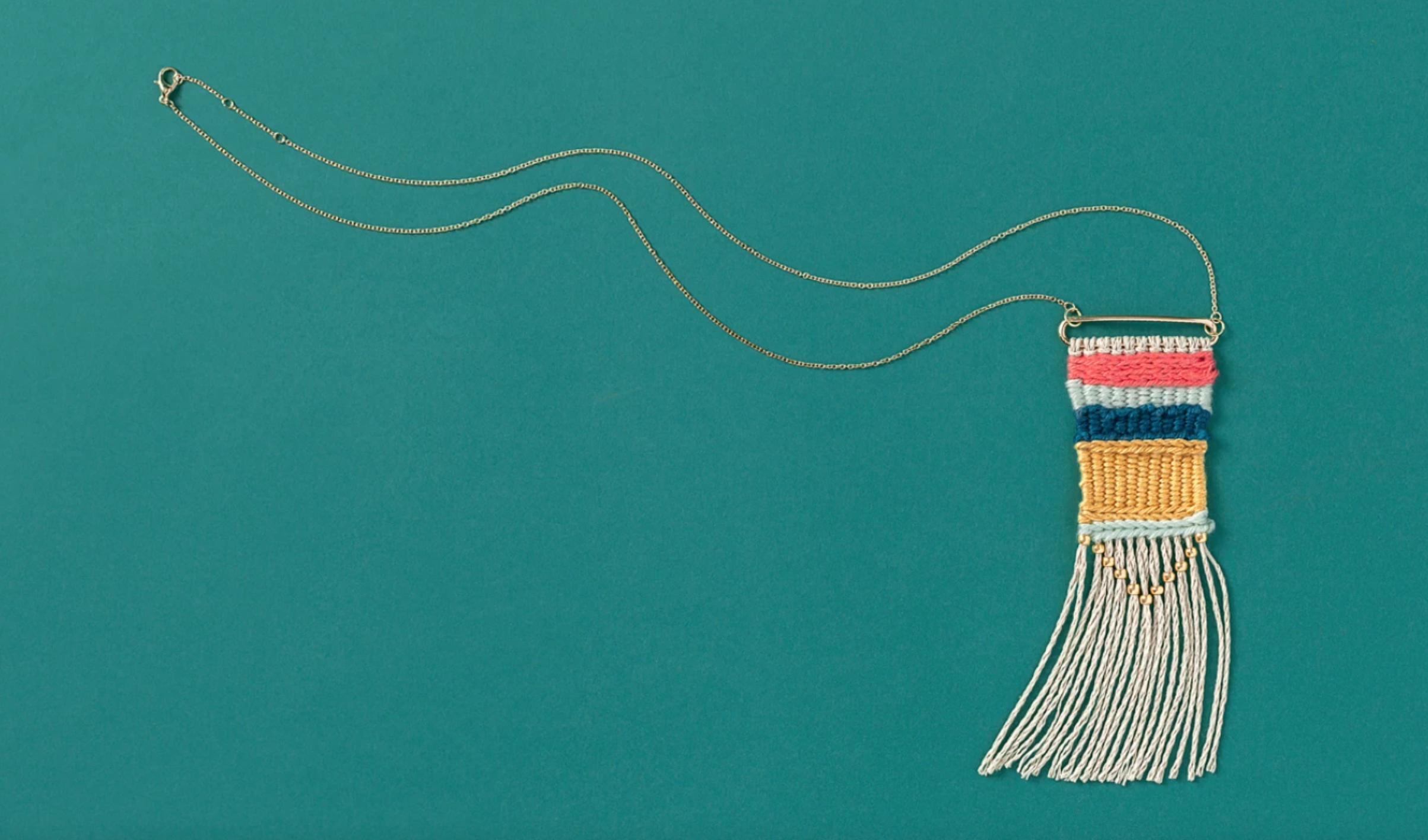 We're all heart eyes all the time for the woven art trend … especially when it comes in a form we can wear! That's why we absolutely love this necklace from crafter extraordinaire Jo Gick. Bonus: you don't even need a loom to weave it!
Woven Necklace
Level: Easy
What You Need
Two 6mm gold jump rings
Two 16″ gold chains with clasps
20lb hemp cord, cut into nine 16″ pieces
Gold "E" beads, size 6/0
Long, oval gold bracelet piece (see photo, available in craft stores with jewelry making supplies)
Cotton DK yarn in mint, goldenrod, coral, and teal
Instructions
1. Set It Up
Connect one length of your chain to each side of your gold bracelet piece using jump rings.
Fold one of your 16-inch lengths of cord in half, then connect it to your oval bracelet piece by looping the center fold over the metal and pulling the ends through.
Using tape, secure the chains to your table with tape. Then, pull the hemp cords tight and tape them down as well.
2. Get Weaving
Start with your coral yarn and knot it onto the hemp cord farthest to the left. (Work the short tail back through the hemp cord so that it will end up woven into your design.) To get a braided look, take the loose end of the coral yarn and skip over two hemp cords. Then loop your yarn over, down, and back around the next two strands of hemp cord.

Continue this pattern until you reach the end. Then work back from the other side skipping the opposite two hemp strands. You should now have a braided look. Repeat this pattern six times. Knot off the coral yarn and trim, tucking the short tail in between the hemp cords.

Knot your mint yarn on the first row of hemp, tucking in the short tail. Weave nine rows of mint yarn in a simple over under pattern. As you finish each row, push it up to keep the rows tight against each other. Knot it at the end.

Switch to teal yarn and do six more rows in an over/under pattern, again keeping the rows tight.

Weave another two rows of the braid pattern in goldenrod.

Finish with another two rows of the braid pattern in mint.
3. Add The Finishing Touches
Remove the tape holding down the bottom of your weave, then pair up your hemp cords hanging from the bottom and string 1 bead onto each pair. (If you're having trouble getting two cords in there at once, place the bead on one cord first and then hold it to the side as you guide the second cord through.) Adjust the beads so they're in a "V" pattern.
Trim hanging hemp to desired length, then wear your creation!