Wire is one of the most common and most useful of all jewelry-making materials, particularly if you are looking to stick to cold connections rather soldering, etc. It is probably one of the first materials you will reach for as a budding jewelry designer, and is one of the most useful and versatile materials you will work with. You can use it for looping, linking, wrapping, weaving, connecting, turning into handmade findings and jump rings…there are myriad possibilities.
If you're wondering how to make wirework jewelry, you've come to the right place!
Here's a quick primer on working with wire in jewelry: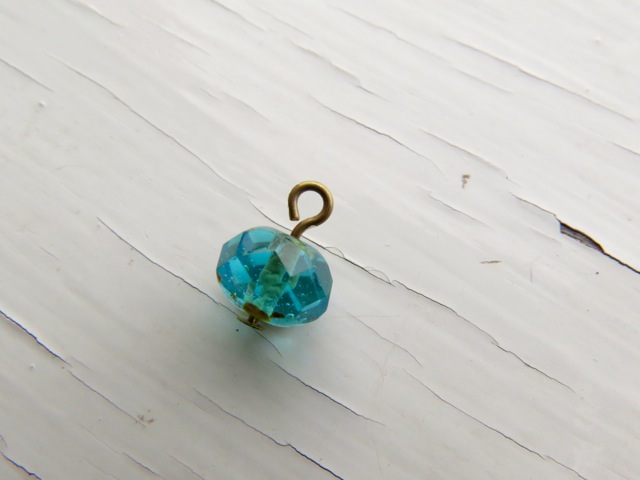 About working with wire
Wire is available in a number of different metals: silver, copper, bronze, brass, steel, anodized aluminum, even gold if you are feeling flush! If you are new to wire however, I would recommend starting out with copper. It is relatively cheap, not too hard (particularly important when you are first starting out) and behaves in a similar way to silver if that is what you are building up to. Copper is also very beautiful in its own right.
Wire also comes in a number of different gauges. Gauge refers to the diameter of the wire, and there are two main gauge systems that you will come across in craft wire: the American Wire Gauge (AWG), and the gauge/diameter given in mm (metric). Over in the UK where I am, and throughout Europe, we mainly use mm to measure wire, but in this day and age when you can peruse and purchase supplies from all over the world so easily, it is useful to know how these gauges correspond to each other.
Here are a few of the gauges you may use when starting out with wire:
| | | |
| --- | --- | --- |
| AWG | Closest metric | When to use |
| 16 (1.3mm) |    1.25 mm | A nice thick wire to work with. Perfect for sturdy clasps and heavy jump rings. |
| 18 (1.02mm) |    1 mm | As above, but can also be used for some ear wires (although they may be too thick for some. Useful for connecting chunkier beads with simple or wrapped loops. |
| 20 (0.81mm) |    0.8 mm | Perfect for ear wires. A good choice for making beaded chain. |
| 22 (0.64mm) |    0.6 mm | Good for making beaded chain with small-holed beads (such as freshwater pearls),and the thickest wire I would use for wire-wrapping. |
| 24 (0.5mm) |    0.5 mm | Useful for making bead chain small gemstones with tiny holes. Good for wire-wrapping or weaving. |
| 26 (0.405mm) |    0.4 mm | Great for intricate wire-wrapping or weaving. Perfect for wire-wrapping delicate gemstone briolettes. |
| 28 (0.32mm) |    0.3 mm | Good for delicate wire-wrapping and weaving. Good for binding ribbon if you are after a delicate yet rustic look. |
I have mentioned a few techniques in the "When to use" notes above, and you may be looking at these, feeling a little overwhelmed. Don't be! Give yourself a few months – even a few weeks – playing and experimenting with wire, and before you know it you will be reaching for the correct gauge for different techniques without even thinking.
The first technique I learned when starting working with wire in jewelry was how to create a simple or turned loop. Here is a quick flash tutorial on how to make one, to get you started. These loops can be used with wire to make bead chain, but we are going to make them using headpins (usually 0.8mm/22g). This will also get you started with the basic tools with wire, and is a great foundation for further wire-working skills.
How to make a turned loop
Tools required:
Wire
A bead
Round-nosed pliers (RNP)
Flush cutters (FC)
Flat-nosed pliers (FNP) (optional)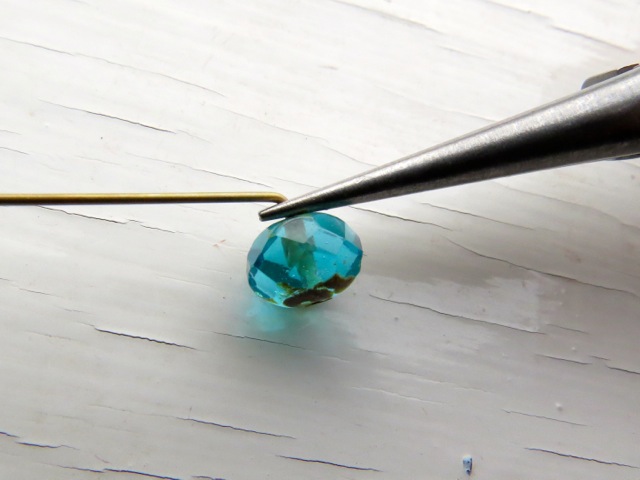 Step 1:
Slide a bead onto a headpin (these are usually 0.8mm/22g). Grasp the wire directly above the bead with the tips of your RNP and bend the wire down in a right-angle bend.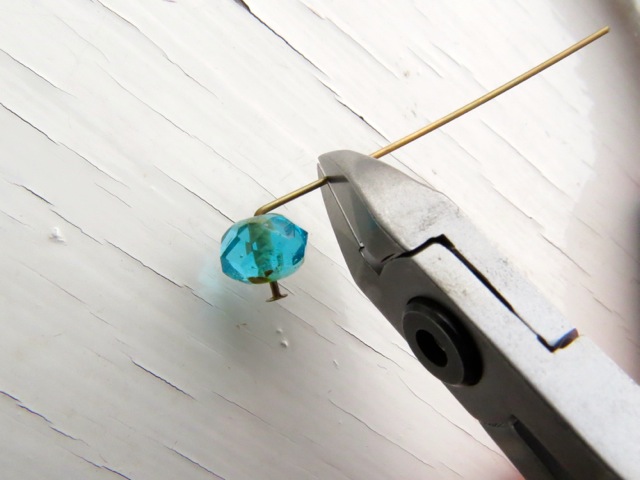 Step 2:
Trim the wire with your FC so that you have approx. 8mm (a "short cm") of wire.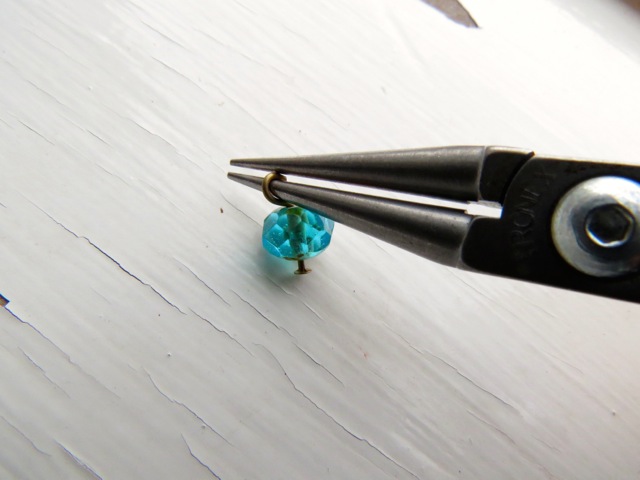 Step 3:
Move your RNP to the end of the wire, about 1/4 of the way along the pliers from tips to the joint. (This will depend on your RNP of course, but this is generally is a good width for making loops.) Grasp the wire firmly but gently, and turn as far as is comfortable with your wrist.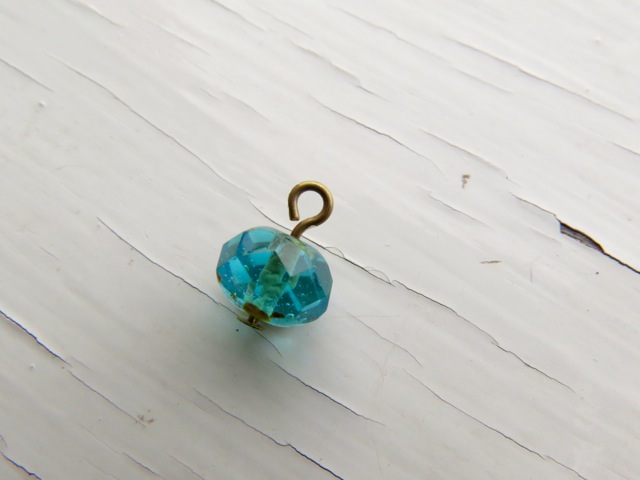 Step 4:
Open your RNP and reposition so that you can continue to turn the wire into a loop. Continue turning until the loop is closed. Flatten off with your FNP if needs be.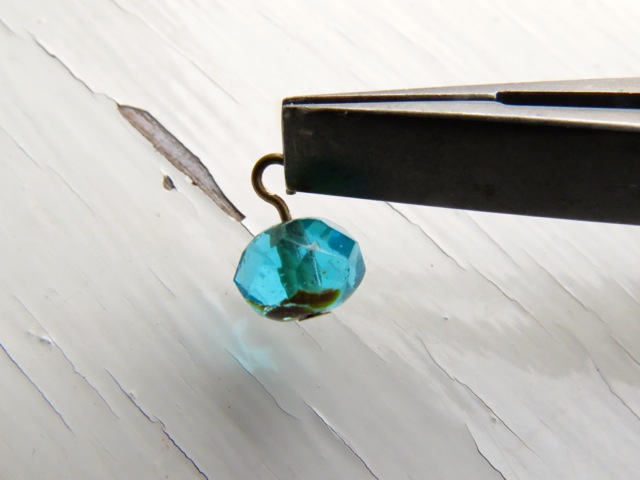 Step 5:
Open and close your loop using FNP by moving the wire forward and backward with your FNP – NEVER pull the loop open itself. This way you keep the shape of the loop nice and neat.
This may seem straightforward here, but it is tricky to perfect! Do not be disheartened if your first loop doesn't look like mine. I would suggest beading up several headpins (20+) and making turned loops over and over again until you are happy with your technique. It takes time and patience – but you will get there! This will not only give you the ability to make a bead chain but will also give you a good start on your wire-working journey.
Here are a few further tips when working with wire in jewelry:
Be firm with the wire but gentle with the pliers. You don't want to mar the wire by gripping too hard.
Don't be afraid to use your fingers as well as your tools, even when making some loops. They can be every bit as useful as your pliers.
When cutting with your FC, take care to let the flush side of them face the wire you wish to use. You don't want jagged wire ends snagging things in your finished jewelry.
Learn more about working with wire in the Craftsy class Wire-Wrapped Stones Crystals & Clusters. Designer Aga Kruk offers personalized guidance while showing you how to make beautiful wire-wrapped earrings, necklaces and pendants you'll love to wear and gift.
Do you have any tips for designers who just starting out in working with wire for jewelry?