If you're ever going to use up those little scraps of yarn — yes, including that three yards of luxurious silk you're saving in your stash — then you'll probably want to think about ways to mix yarn together in one project.
When we talk about mixing stash yarn, we're not just talking about using different colors. We're also talking about mixing different textures, fibers, brands, weights — there's no limit to what you can combine.
Here are a few tips to keep in mind when you mix yarn.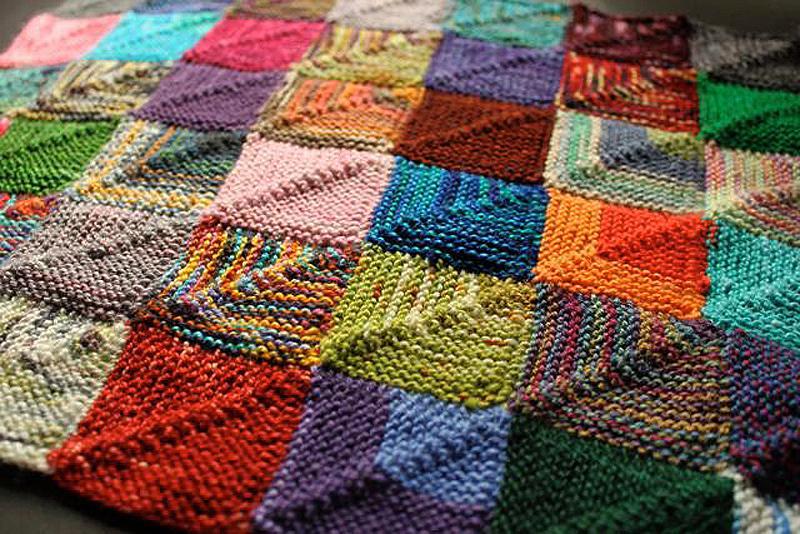 Photo via iMake
Yarn weights unite
The Knitted Patchwork Recipe was created using sock-weight yarn of various colors, fibers, and brands. If you want your mix of yarns to result in a similar gauge, then matching weights is a great place to start. This patchwork can be created using any weight of yarn you'd like, so dig in that stash and see what you can find.
Swatch until you're happy
The key to mixing yarns is to work up swatches. Trying out the combination is the only way you'll ever know if the mix makes you happy or has the effect you're going for. Sometimes I even pin my swatches to a bulletin board and consider the options for a few days before making a decision.
Try double stranded
Mixing yarns doesn't just mean alternating yarn every couple of rows. It can also mean that you knit two different types of yarn held together at the same time. Who needs a variegated yarn when you have two complementary yarns in your stash that would look amazing together?
Try double-stranded to make a cool color combo, or pair a bulky yarn with a beaded yarn to see what kind of texture results.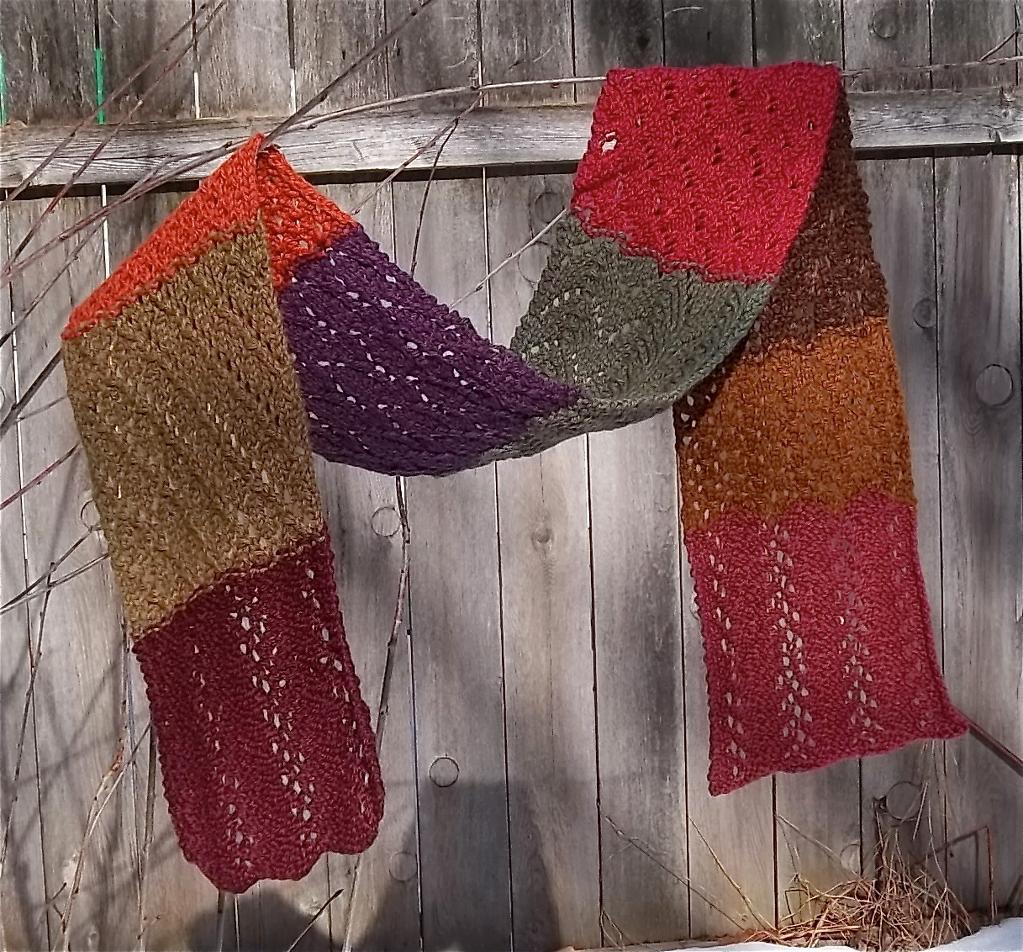 Stash Eater Sampler Scarf photo via Carolyn Doe
Color palettes matter
You can get as creative as you want when you're mixing yarns, but keep color in mind when you're playing around. Check out the Stash Eater Sampler Scarf. This scarf was created using several different yarns of the same weight, and the color palette has an autumn feel.
Not feeling confident about creating your own color palette? Learn about how a color wheel can help guide your choices.
Try multiple gauges
Knitting with yarns of different gauges can create gorgeous textures and colors. I especially love using multiple gauge yarns when I'm creating freeform wall art. Check out more tips and inspiration for knitting with multiple gauges in one project.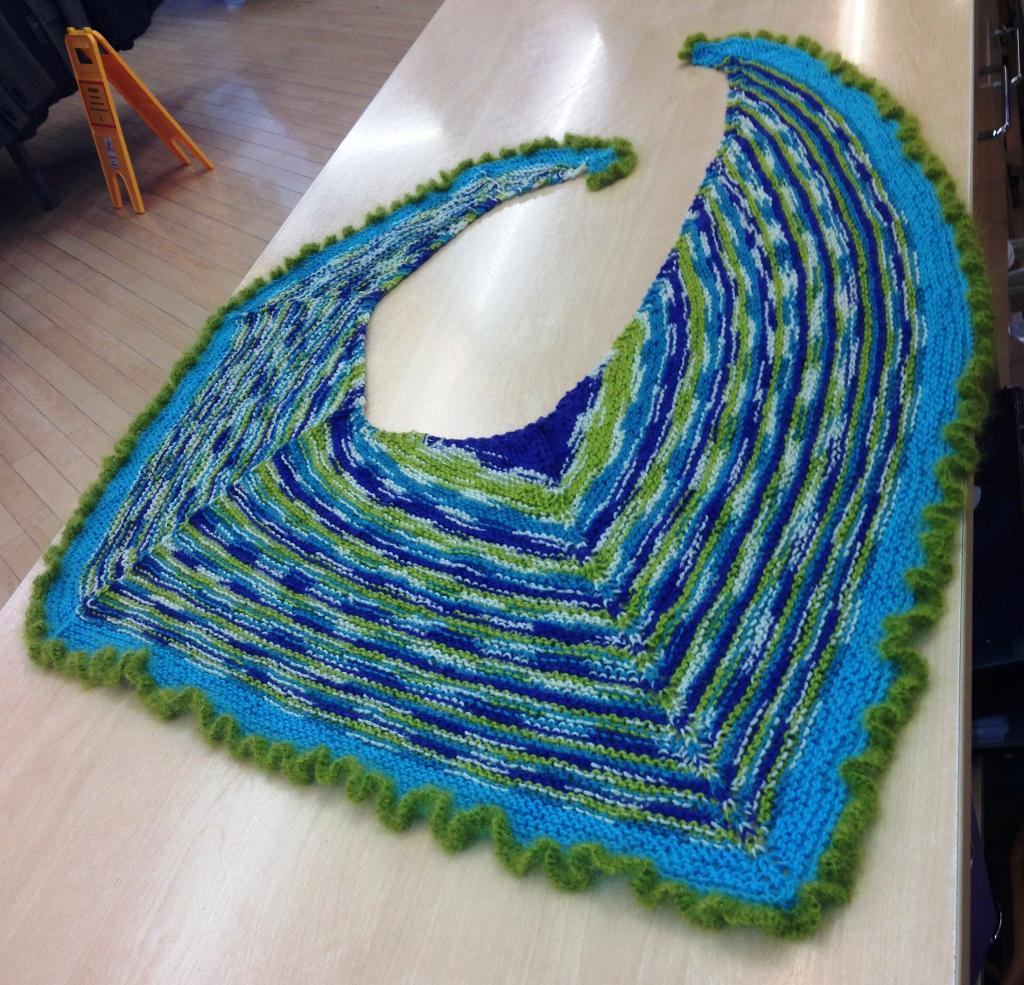 Photo via extremhaeklerin
Wool meets mohair
I love how Craftsy member extremhaeklerin combined sock yarn with mohair to create the shawl pictured above. The mohair ruffle gives the shawl a nice lofty edge that softens up the look of the entire piece.
Don't be afraid to combine different fibers. Using a different fiber as a border, like extremhaeklerin did in the shawl above, is a simple no-risk way to experiment. Once you're comfortable, think about alternating fibers in a striped project or even knitting with two fibers at the same time.
Caring for the finished project
Something else to keep in mind as you mix different fibers is care. For instance, are you mixing a superwash wool with a regular wool? If so, you won't be able to take advantage of the superwash yarn's easy care instructions.
No matter what you're blending together, you'll have to follow the care instructions for the most delicate yarn.
Need more advice on mixing yarns? This yarn on mixing different yarn gauges will give you some inspiration.