Watercolor sketching is a way to experience and rapidly capture the world around you in line and color. It helps improve your observation skills and provides the opportunity to exercise your drawing and painting abilities.
Since watercolor sketching doesn't require much time or equipment, it's an easy way to paint outdoors. And what is better than making art sitting in the picturesque place on a fine day?
Wow With Watercolors!
Learn how to paint your best watercolor works.Get My FREE Guide »
Choosing subject
It may be not easy to decide what to sketch, for there are almost always too many options to choose from, but you can always stick to your favorite subject. Think what theme is close to you and pick the right location for sketching. 
Will you take inspiration from Urban Sketchers, a global community of artists who practice drawing buildings, landmarks and people on location in areas they live in or travel to?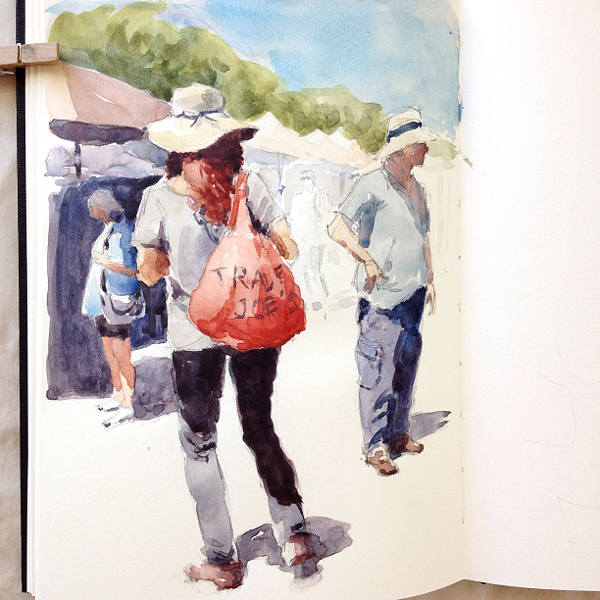 Or maybe you, like me, feel more comfortable on your own, sketching plants and flowers in the serene garden?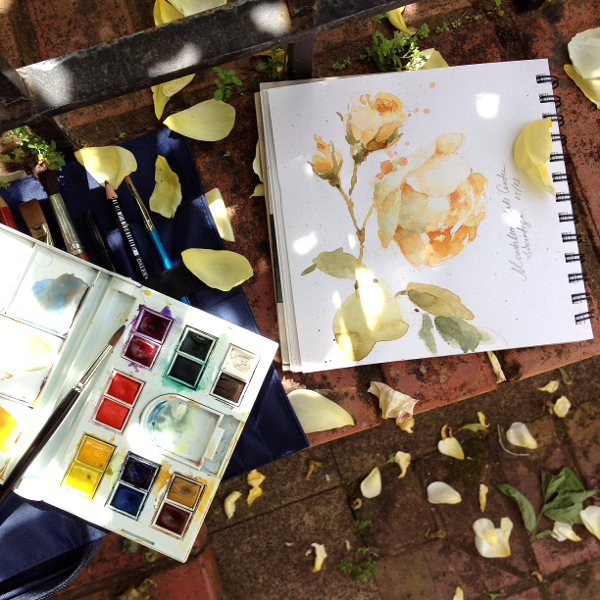 More ideas for sketching
It's not always necessary to go outside. You can sit back in your cozy armchair and sketch something from imagination.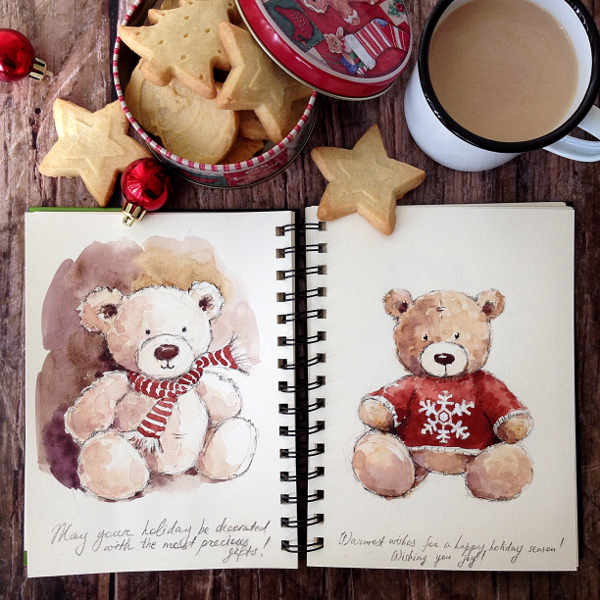 Or use a photograph as a reference.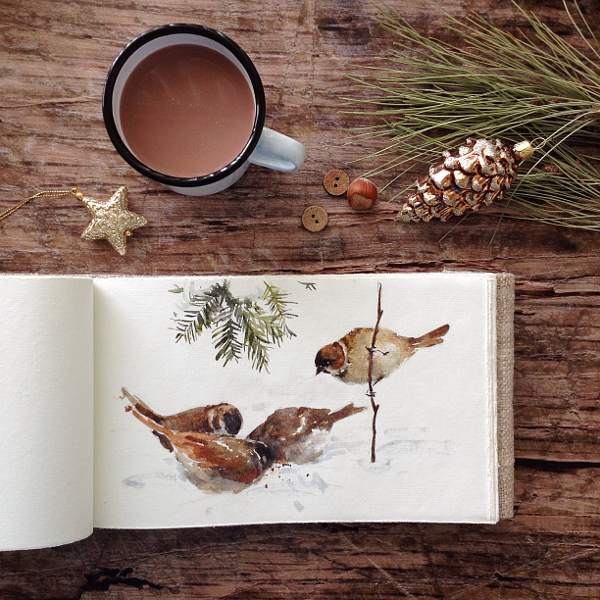 Spending some time at the farm can be a great opportunity to sketch animals from life.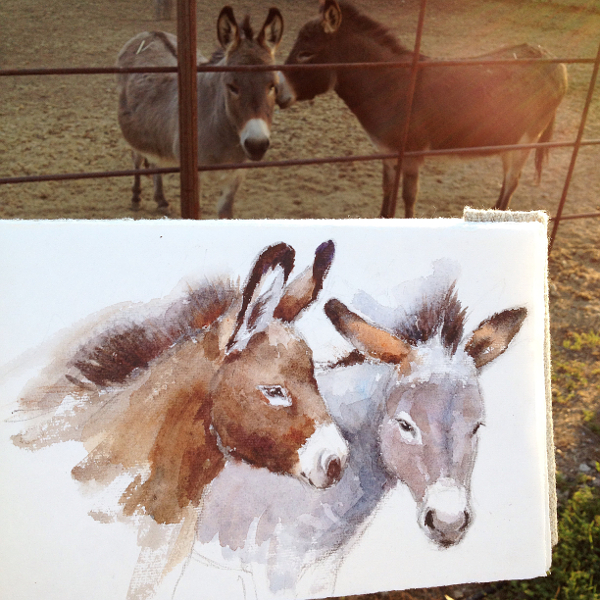 You can share your sketches or keep them personal like a diary. Sometimes they bring back memories better than photographs do.
Tools and materials
One of the best things about watercolor sketching is that there are few rules. The materials you use aren't always important. Honestly, I don't pay much attention to what paints and brushes I take to my watercolor sketching sessions. I usually grab these:

Two or three brushes of various size
Watercolor pans set (big or small, depending on the situation)
Pencil
Eraser
Small water container
Paper towel
What really matters to me, and what I always select very carefully, is a sketchbook.
Sketchbooks and journals
Personally, I classify all sketchbooks into two categories: ordinary and special. The second group is so much more fun to work with!
The "ordinary" are those made of traditional white paper, designed for drawing or watercolor painting. These sketchbooks come in different weights and various surface textures. Here's an example of a sketchbook that features heavyweight spiral-bound watercolor paper — a great choice if you plan to remove the page and frame your sketch.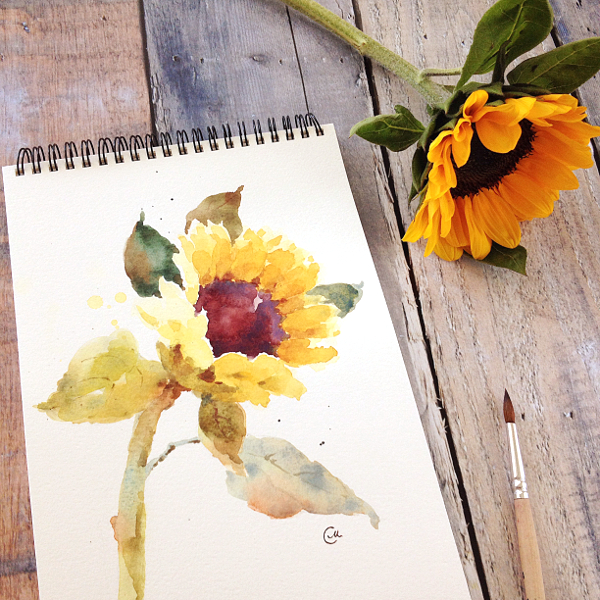 Special sketchbooks, in my classification, are those featuring some sort of exotic paper, that may or may not be designed for watercolor painting. Try to search online and you will be amazed at how many remarkable and unique journals are available! Handmade sketchbooks often have deckled edges and warm, rustic feel to them.
For example, this watercolor journal was handmade from 100 percent recycled material in the Punjab region of India. The paper in this journal is rough, heavyweight and beautifully textured.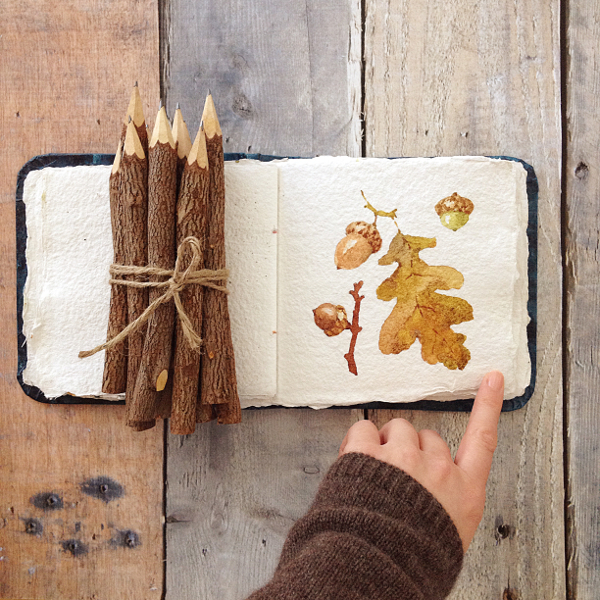 In the picture below, the bottom journal was handcrafted in Nepal from the bark of lokta plant. Even though the paper is thin, spongy and bleeds through, I tried making a sketch using wet-in-wet watercolor technique. Nothing is impossible when it comes to creative process!
The pages of the next journal are inlaid with rose petals and grass, which makes it a piece of art by itself. The little sketchbook at the top features a brown craft paper, which too, like any other paper, can be used for watercolor sketching. It may seem challenging at first, but once you find the right approach to the unusual paper, your efforts will be well paid off by the new expressive possibilities.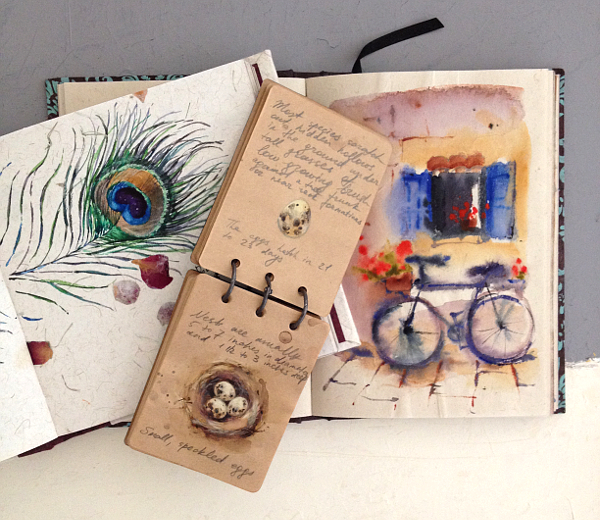 Wow With Watercolors!
Learn how to paint your best watercolor works.Get My FREE Guide »