Artists have comfort zones in terms of creativity, and mine has always been drawing with paper and pencil. In black and white. They are uncomplicated and recyclable. At the same time, oil paintings rendering texture and luminosity with rich color amaze and inspire me. But, mixing color, adding mediums and dealing with solvents loomed like a daunting, and environmentally unfriendly, science project. (Hazmat training, anyone?)

For me, water-soluble oil paints removed that concern about chemicals and felt doable.

I knew of no one who had used them and was hesitant to invest in more paints in case the result was uninspiring. But these new oils turned out to be the perfect introduction to oil painting. Water-soluble oil paint lines have been formulated by many of the most respected makers of traditional oils including: Grumbacher Max, Winsor & Newton, Lukas Berlin, Van Gogh, Holbein Duo and Royal Talens Cobra. As with traditional oils, artists will have personal preferences.
What are water-soluble oil paints?
Also known as "water-miscible" or "solvent-free" oils, these are real oil paints, formulated with the exact same pigments as traditional oils. They are not water-based, the oil itself is modified making it possible to clean up with soap and water. Really. No turpentine or other solvents are needed.
Do they perform the same?
In a word, YES. Water-soluble oils can be used on the same supports: stretched canvas or linen, hardboard, wood, etc. They offer the same consistency and finish as oils. There is no difference in gloss or texture as there can be for acrylic paints or gouache, since these literally are oil paints.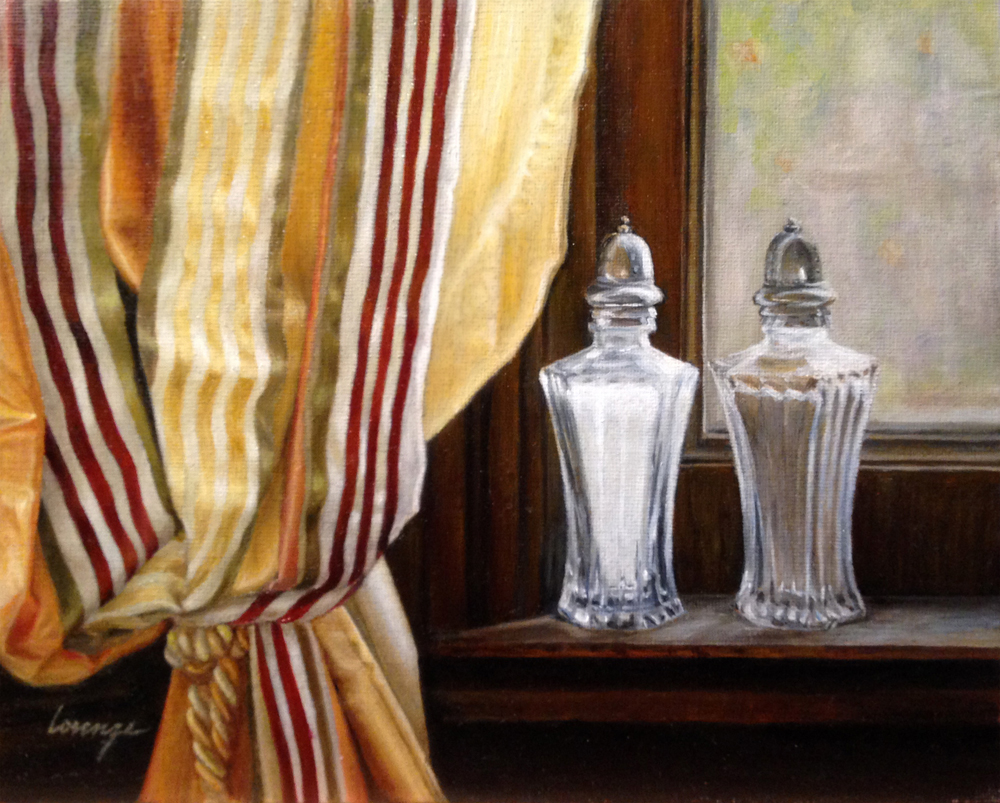 The Happy Couple by Dorothy Lorenze
For those who are used to water-based paints, it's tempting to treat these paints as watercolors, but they are not. They're oils. They just clean up easier. Liquid Dawn or a basic bar soap will clean brushes. That's it. Oil paints dry by oxidation rather than evaporation so these paints will remain flexible and workable for about 48 hours. When thoroughly dry, they are as permanent as any other dry oil paint.
Do's and don'ts of water-soluble oil paints
DO clean brushes with water and soap (basic bar soap, liquid or solvent-free brush cleaners)
DON'T leave brushes soaking in water — It's just bad for brushes under any circumstances.
DO use a medium to thin paint if you like. There are mediums specific to water-soluble oils but linseed and walnut oil work just fine.
DON'T thin oil paints with water for transparency. Paint thinned with water will become cloudy. Think of water as ONLY for clean-up.
DO use a wood or glass palette. After painting sessions, wipe mixed paint off your palette, lift and store squeezed out paint in an airtight container. Paint can be left on the palette if it's stored in an airtight palette box.
DON'T use a paper palette as it will tend to pull moisture from the paint.
DO expect paint to dry slightly faster than traditional oils. Only slightly.
DON'T have to wait for paint to dry. Like traditional oils, you can blend paint wet-into-wet.
DO recognize that, as with traditional oils, there are differences between drying time for some colors (cadmiums dry slower) and differences in consistency between brands. Find your favorites!
After working in mainly graphite for so long, I was totally overwhelmed by the array of colors available and bought almost everything offered. No need to do that! I paint with my favorites more often than not.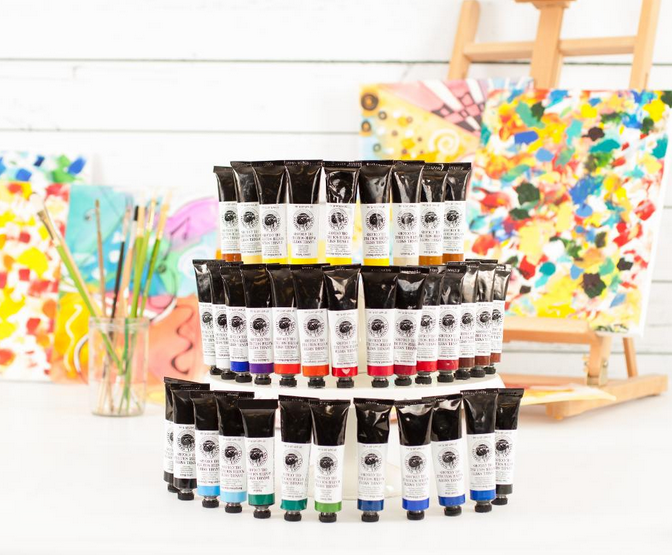 Daniel Smith Water Soluble Oils
This is a typical list of colors to consider:
Ivory black
Ultramarine blue
Raw umber
Burnt umber
Burnt sienna
Alizarin crimson
Cadmium red
Sap green
Permanent green light
Yellow ochre
Cadmium yellow
Naples yellow
Titanium white
Are there any negatives to using water soluble oils?
As with any new technique or materials, it takes time and practice to gain a level of familiarity, comfort and consistency. With oils, often wet paint is blended on the canvas for soft edges. Within the balance of wet and dry, there can be a slightly tacky stage where it's harder to add new paint. Using a bit of medium helps. This also happens with traditional oils, but perhaps slightly sooner with the new oils.
One other "negative" is worth mentioning because it should be quashed. Some established artists and teachers relegate these new oils to "beginner" quality, which is not accurate. Possibly that's because the paints are relatively new and those artists have never used them. Recently a successful blogger, workshop teacher and daily painter said she was surprised that my work was executed with water-soluble oils, saying my paintings were "so professional." I'll take that as a compliment! And proof that putting in the time to learn your craft and master new material makes all the difference.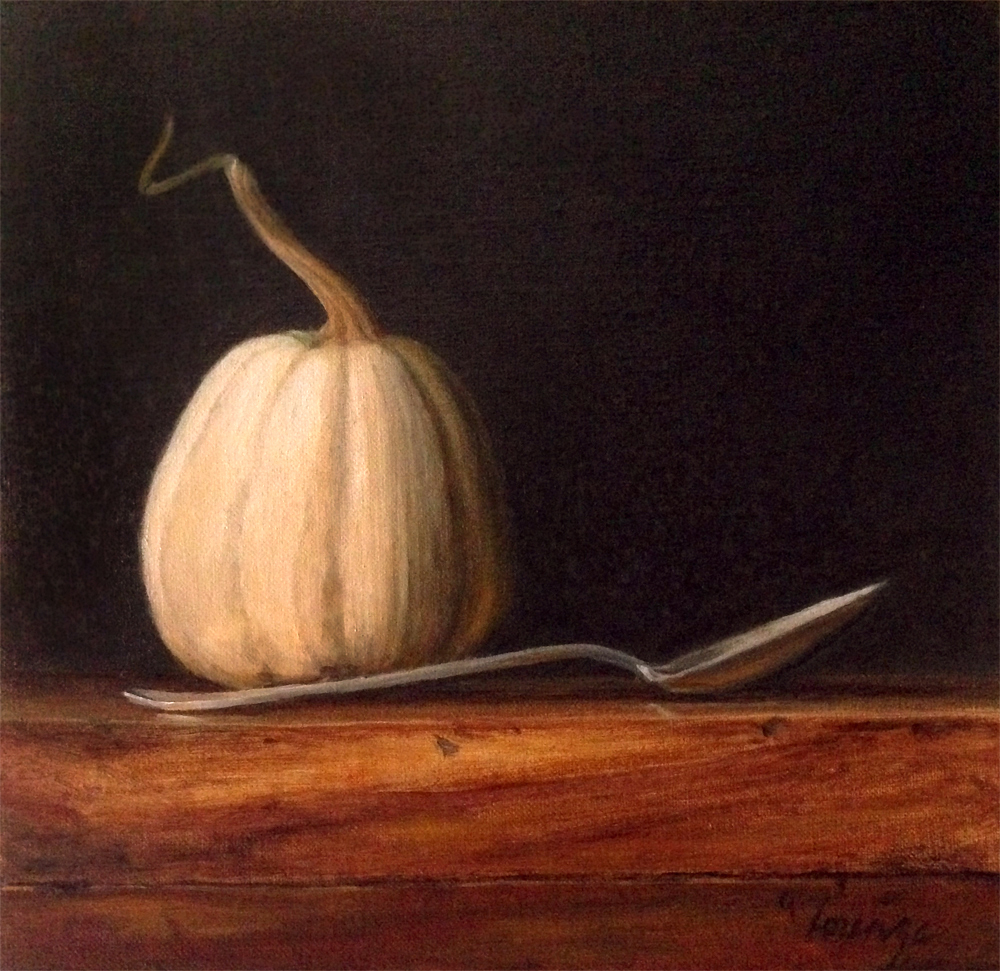 Munchkin Spoonful by Dorothy Lorenze
This painting, Almost Wine, was awarded Honorable Mention in an online contest using Lukas brand water-soluble paints. Professional results are possible.
What's holding you back from trying oil paints? With water-soluble oils, it IS easy being green!

Online Oil Painting Class
<!–
Get the guidance you need to create an oil painting with photo-like realism!Enroll Now »