We're getting a little sneaky in the kitchen today with this recipe for pink swirled vanilla bean baked donuts. What's the sneaky part, you ask? Good question. The sneaky part is how we're going to dye the frosting and swirl a deep, pink color into these fluffy baked donuts.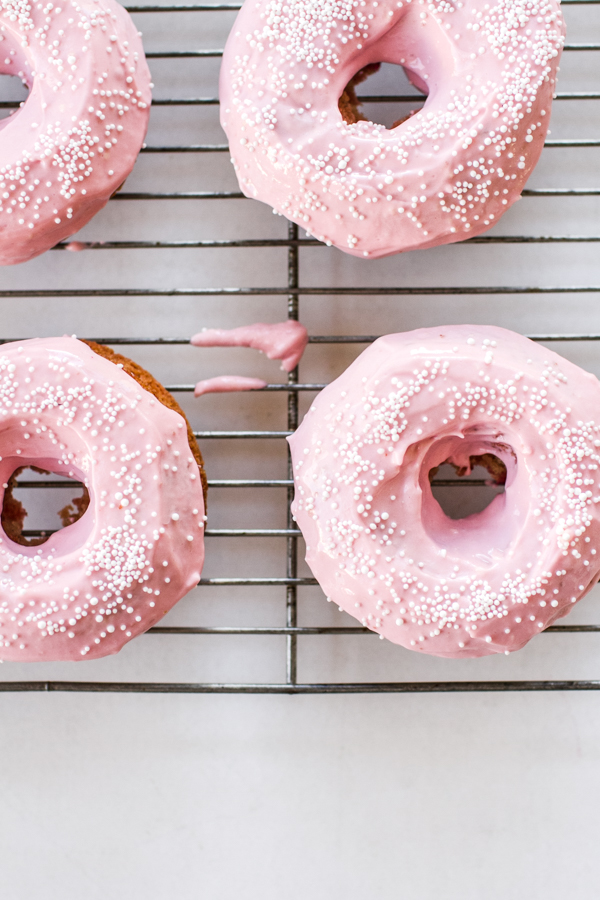 Photos via Edible Perspective
Today you're going to learn how to naturally dye these vanilla bean baked doughnuts with a hint of pink in both the donut and the cream cheese frosting. The doughnuts are also gluten-free and have a soft and cakey texture.
The natural dye comes from beets!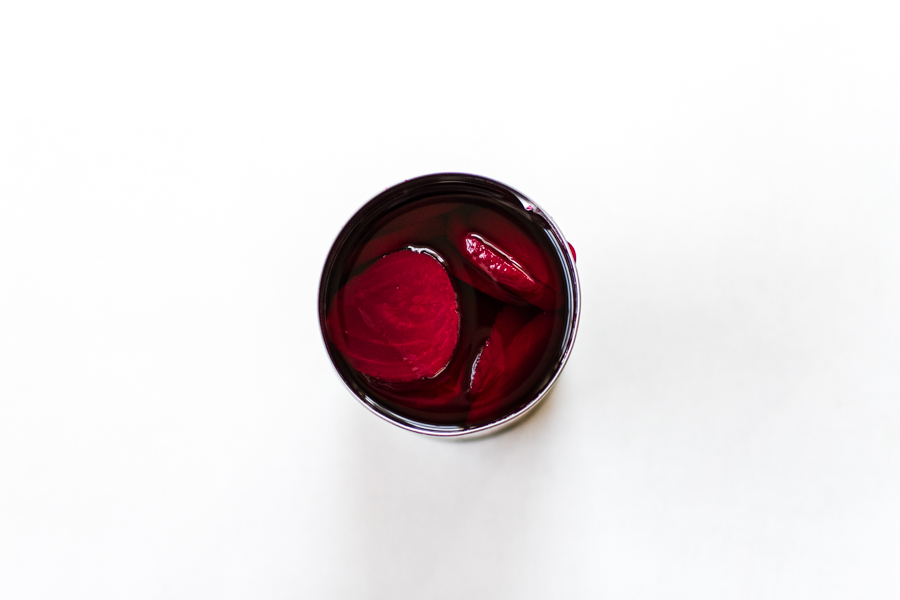 And actually, I am not a beet fan at all. The smell alone is enough to do me in. However, in these doughnuts the beet flavor is masked by the vanilla bean goodness and cream cheese frosting.
I've made this puree before by steaming fresh beets and peeling them but I wanted to try using canned beats to make the process easier. It was a cinch and worked perfectly.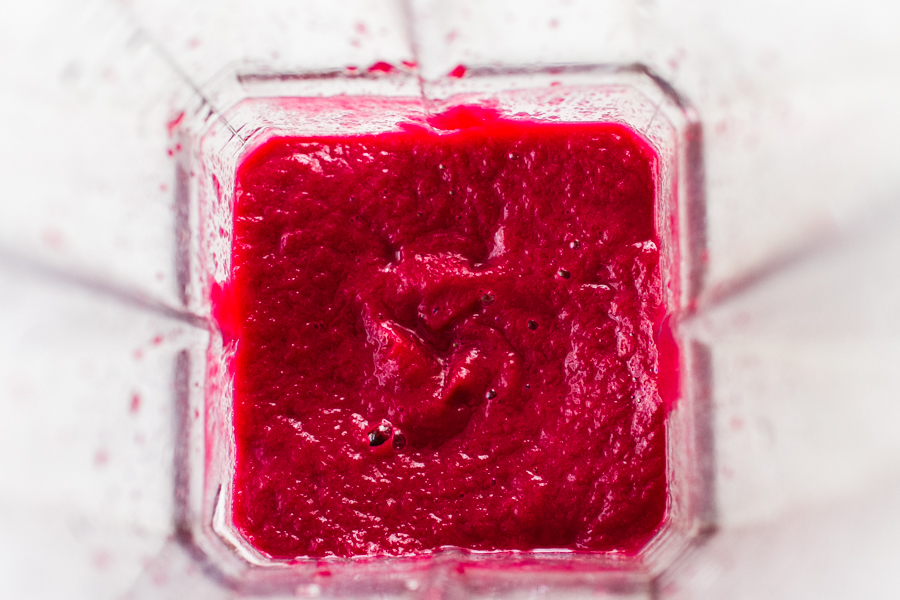 And now for the magic. Look at that hot pink swirl! Can you even believe your eyes? It's pretty amazing that you can get such intense color from vegetable. It almost makes me want to serve these beauties upside down!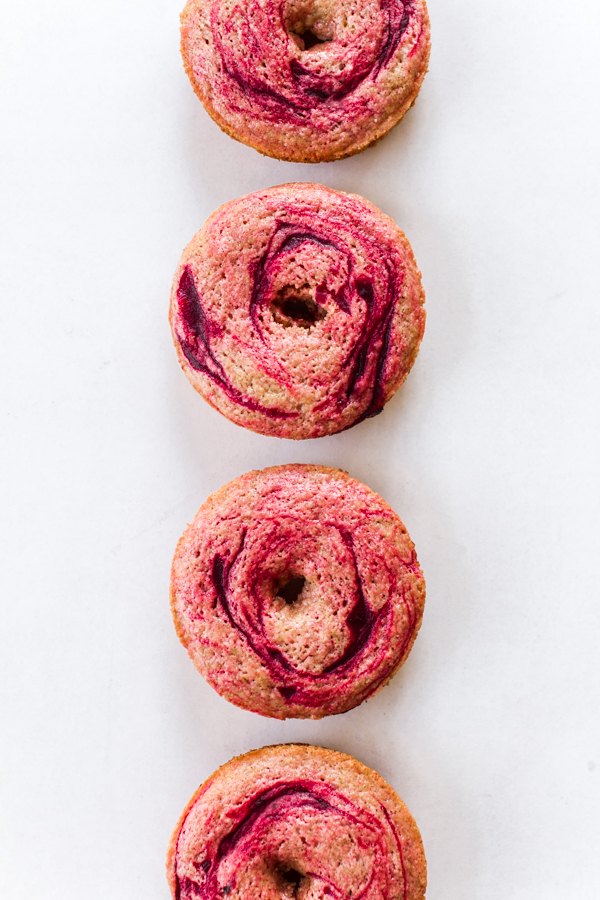 To take this whole pink theme one step further, I decided to add a little bit of the beet puree to the frosting. It turned a lovely shade of light pink and perfect to give to your loved one this Valentine's Day, or any day, really! I mean, who needs a holiday to celebrate love and life?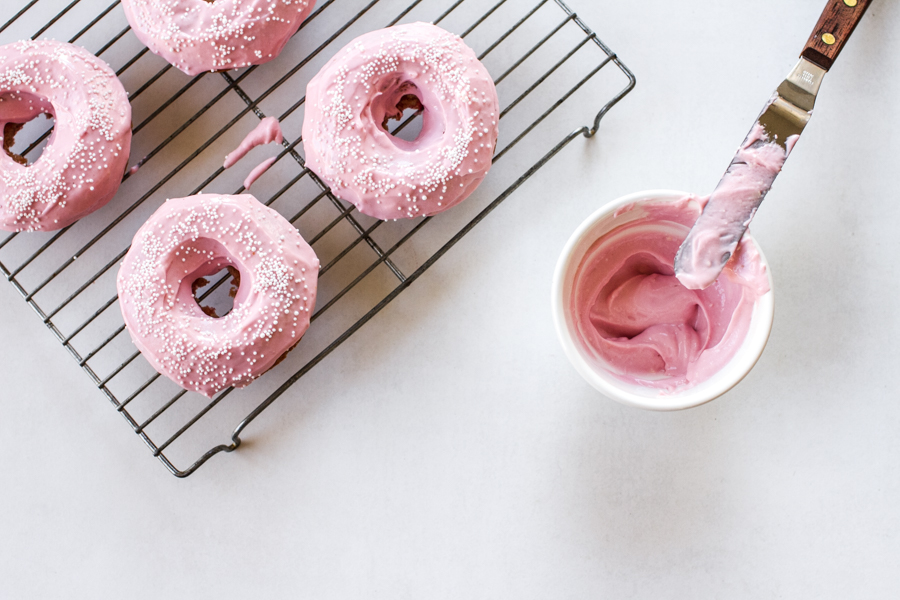 Pink Swirled Vanilla Bean Baked Doughnuts with Pink Cream Cheese Frosting
Yields: approx. 10 standard doughnuts (using a Wilton, 6-mold donut pan)
Ingredients:
For the doughnuts:
1/2 cup pure cane sugar
1/2 cup gluten-free oat flour
6 tablespoons blanched almond flour
6 tablespoons sweet rice flour
1 teaspoon baking powder
1/2 teaspoon salt
2 large eggs
1/2 cup beet puree (divided)
2 tablespoons whole milk
2 teaspoon vanilla extract
1/4 teaspoon vanilla beans (scraped from 1-2 pods)
2 tablespoons melted coconut oil (or other baking oil)
For the beet puree:
1 can beets (drained)
1 tablespoon lemon juice
1-2 tablespoons milk (if needed)
For the frosting: *let the cream cheese and butter come to room temp before making
8oz cream cheese
3 tablespoons butter
1 cup powdered sugar
1 1/2 teaspoons vanilla extract
1-2 tablespoons beet puree
Place beets and lemon juice in your blender or food processor and turn on until fully pureed. You want it to be about the texture of applesauce. If needed, add a small amount of milk to help it move in the blender. Set aside.
Preheat your oven to 350° F. Grease 2 donut pans heavily with softened butter or coconut oil.
In a large bowl, stir together the oat flour, almond flour, sweet rice flour, sugar, baking powder, and salt.
In another bowl whisk the eggs. Then whisk in the 3 tablespoons of beet puree, the milk, vanilla extract, and vanilla beans.
Whisk in the oil then pour into the dry ingredients and whisk until combined.
Pour evenly into the donut pan molds about 1/4-inch from the top.
Drizzle about 1 1/2 teaspoons of beet puree over each donut. Drag a knife lightly through each donut to swirl into the batter.
Place in the oven and bake for 18 – 22 minutes, until a toothpick comes out clean. Let cool for 10-15 minutes, then slide a knife or thin flexible spatula around each donut and remove from the pan. Place on a cooling rack and allow to fully cool.
While the doughnuts bake, beat the cream cheese and butter together in a mixing bowl until creamy. Add the sugar and beat until fluffy and smooth. Beat in the vanilla and beet puree, starting with 1 tablespoon. Add more for a darker pink color. Place in a bowl and refrigerate until ready to use.
Once doughnuts are fully cooled spread a thick layer of frosting on each. Serve once frosted.
Recipe notes:
The frosting is softer than a typical butter cream or cream cheese frosting. Frost just before serving.
Do not sub any of the flours and be sure you are using sweet rice flour and not white or brown rice flour, as they do vary. Check online, at health food stores, or in Asian markets to find sweet rice flour. It's easiest to find and cheapest at the Asian markets and is commonly labeled "glutinous rice flour."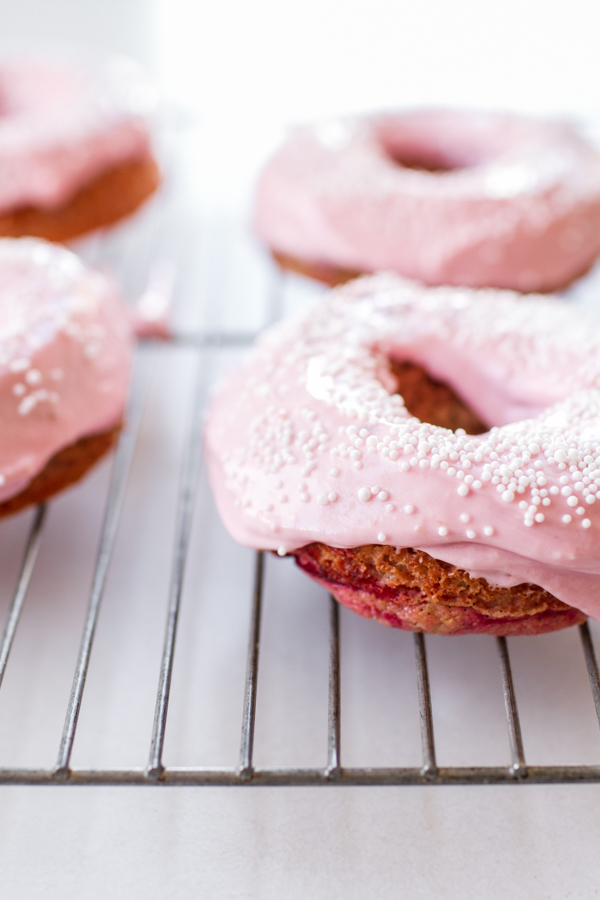 Make Delicious Doughnuts at Home