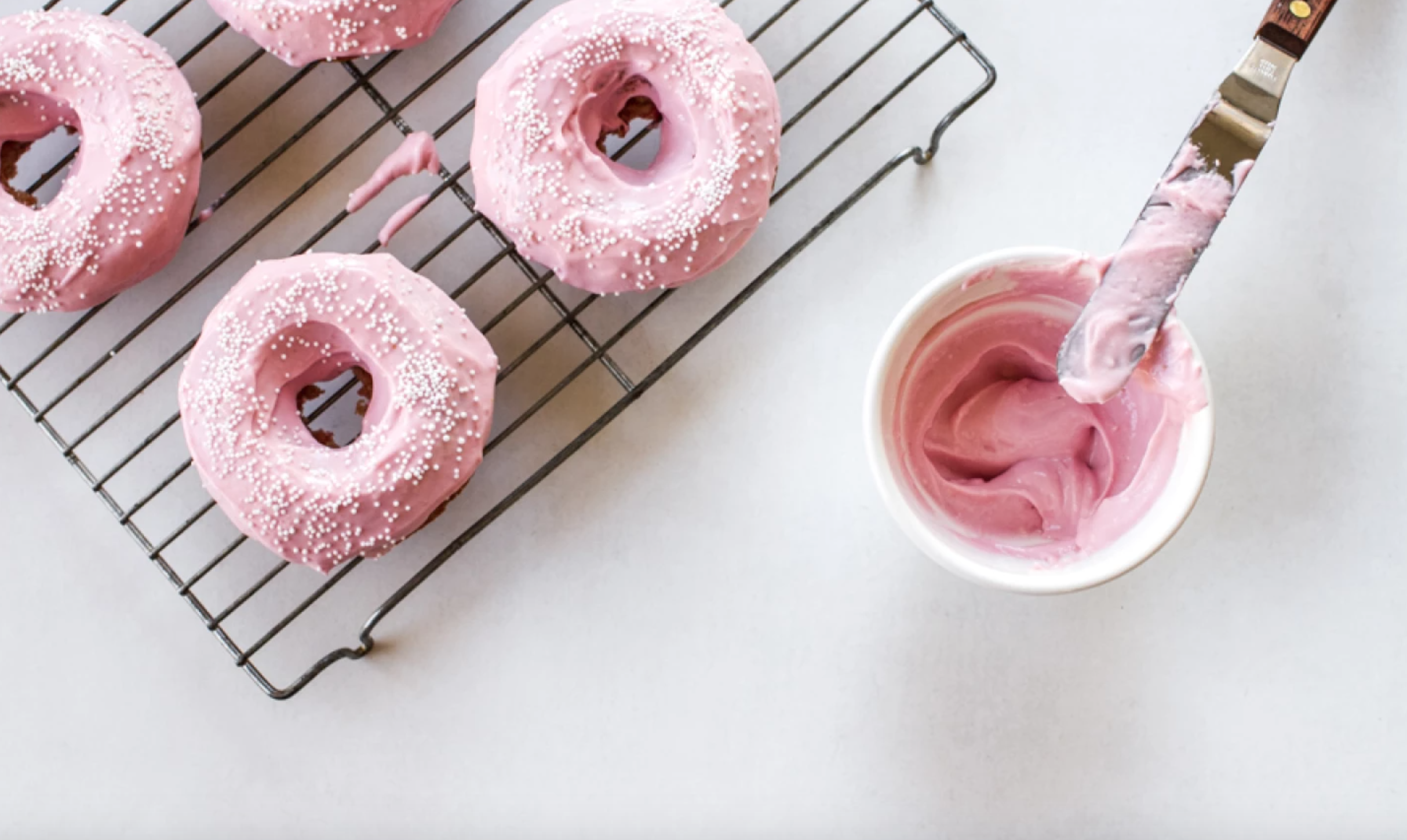 It's always a good time to bake a batch of donuts, but come spring you want them to have pretty pastel vibes. Enter this gluten-free version, which gets that pink color from beets (without any beet flavor). Serve 'em for Mother's Day, Easter or even Valentine's Day and your dessert will be totally on hue.
Gluten-Free Pink Donuts
Yield: 10 donuts
Ingredients
For the Beet Puree
1 can beets, drained
1 tablespoon lemon juice
1–2 tablespoons milk, if needed
For the Donuts
½ cup pure cane sugar
½ cup gluten-free oat flour
6 tablespoons blanched almond flour
6 tablespoons sweet rice flour
1 teaspoon baking powder
½ teaspoon salt
2 large eggs
½ cup beet purée, divided
2 tablespoons whole milk
2 teaspoon vanilla extract
¼ teaspoon vanilla beans (scraped from 1–2 pods)
2 tablespoons melted coconut oil (or other baking oil)
White sprinkles, if desired
For the Frosting
8 ounces cream cheese, room temperature
3 tablespoons butter, room temperature
1 cup powdered sugar
1½ teaspoons vanilla extract
1–2 tablespoons beet purée
Instructions
1. Place beets and lemon juice in a blender or food processor and fully purée until it's the texture of applesauce. If needed, add a small amount of milk to help the mixture move in the blender. Set aside.
2. Preheat your oven to 350º F. Heavily grease two donut pans with softened butter or coconut oil.
3. In a large bowl, stir together the oat flour, almond flour, sweet rice flour, sugar, baking powder and salt.
4. In another bowl, whisk the eggs. Then whisk in 3 tablespoons of beet purée, the milk, vanilla extract and vanilla beans. Whisk in the oil.
5. Pour the wet mixture into the dry mixture and whisk until combined.
6. Pour the batter evenly into the donut pan molds, filling each about ¼" from the top. Drizzle about 1½ teaspoons of beet purée over each donut. Drag a knife lightly through the batter to swirl it.
7. Bake for 18 to 22 minutes, until a toothpick inserted in the donut comes out clean. Let cool for 10 to 15 minutes, then slide a knife or thin flexible spatula around each donut and remove from the pan. Place on a cooling rack and allow to fully cool.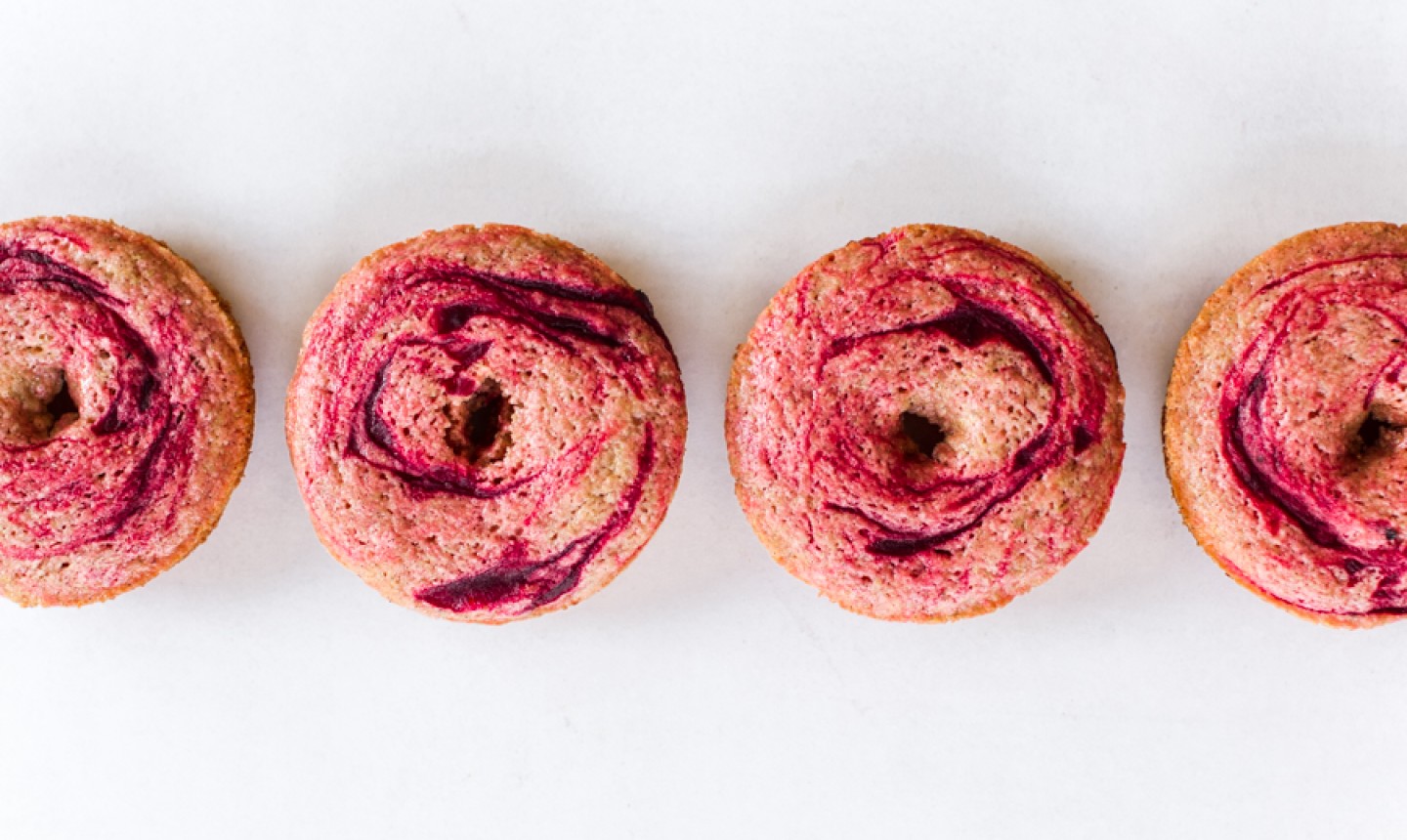 8. While the donuts cool, beat the cream cheese and butter in a mixing bowl until creamy. Add the sugar and beat until fluffy and smooth. Beat in the vanilla and 1 tablespoon of beet puree. Add more if you prefer a darker pink color. Refrigerate the frosting until ready to use.
9. Once donuts are fully cooled, spread a thick layer of frosting on each.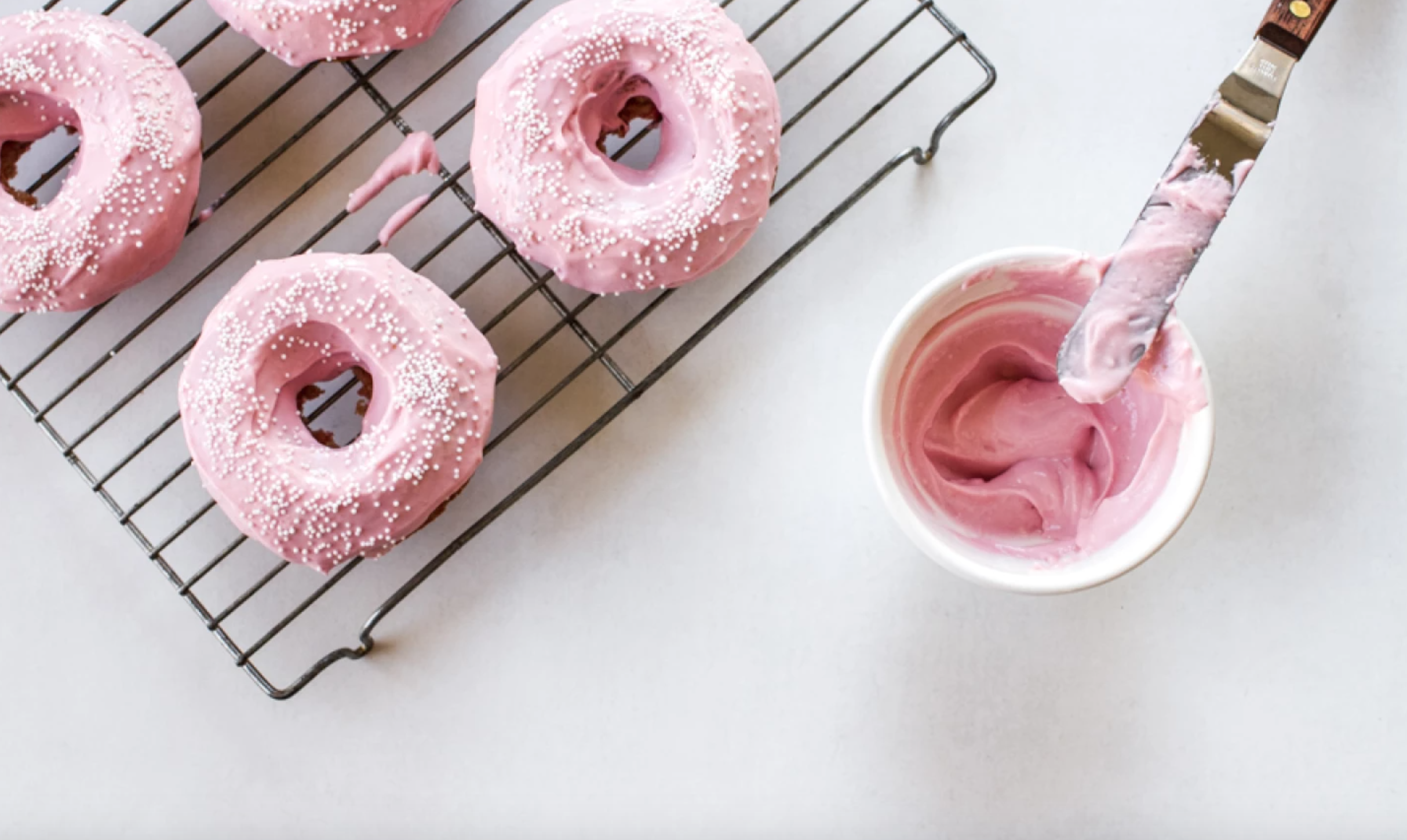 10. Finish with white sprinkles if preferred, then serve!
Photos courtesy of Edible Perspective