Just because you live in the city doesn't mean you can't enjoy a little "green space" of your own — even if you don't have a fortune to spend. Sometimes all you need is a little inspiration. Here are some easy and inexpensive urban garden design ideas that will get your creative juices flowing.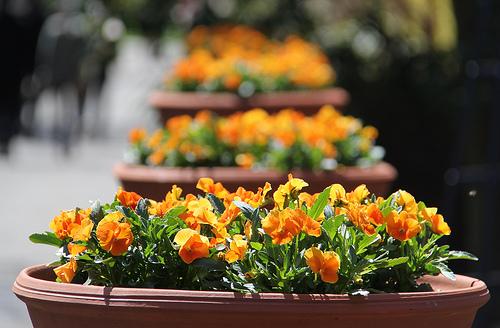 Pansies Photo by Andrew Dallos/Flickr Creative Commons
Small is beautiful
Even if you don't have a lot of space, you can still enjoy natural beauty on your little balcony or fire escape. Not only are these small, charming gardens attractive, but they also help attract more birds, butterflies and beneficial insects to your city neighborhood. That's a positive thing for us all.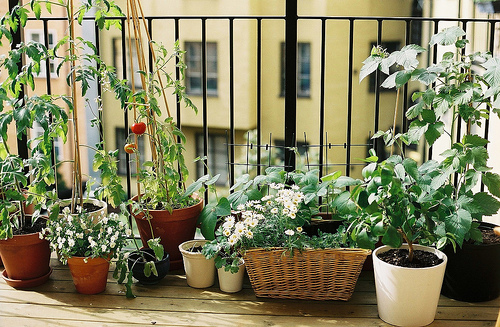 Balcony Garden Photo by Jorge Zapico/Flickr Creative Commons
With urban space at a premium, experiment with planting everything from cherry tomatoes to herbs in containers. You'll be surprised how much you can grow with proper potting soil (not ordinary garden soil) and the right climate conditions.
Make sure your containers have good drainage, so your plants don't get root rot. Be considerate of your neighbors below when watering. But if you keep saucers underneath your pots to collect the water, drain them right away so your plants don't sit in the water.
Depending on your balcony, you'll need to avoid very heavy containers that could cause a weight issue on the structure. When planting on fire escapes, make sure they are stable enough and that you allow plenty of space for residents to move around in case of an emergency.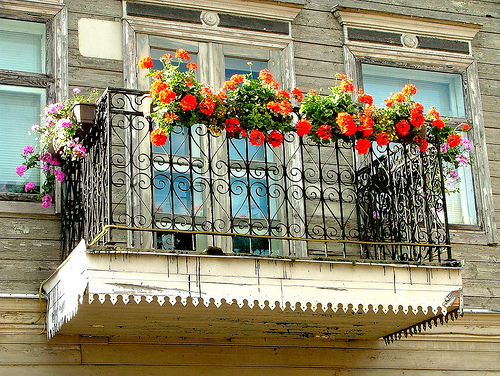 Hanging Geraniums Photo by Liga_Eglite/Flickr Creative Commons
Hang them up
Sometimes you don't have to spend a lot of money to make an impact in urban garden designs. A few brightly colored window boxes attached to a metal railing can enhance your outdoor space and provide a delightful view from your apartment window.
Select plants that grow well in your area. For instance, if you have six or more hours of direct sun in the location, pick "full sun" plants like geraniums that thrive in those conditions.
Do you only have a couple hours of direct sun? You still can experiment with shade-lovers such as colorful coleuses and heuchera. They make lovely garden focal points, and with such pretty foliage, you won't even miss the flowers.
Walkway Garden Photo by MichaelJohnButton/Flickr Creative Commons
Railings and walls provide a surprising amount of gardening space in the city.
For instance, this small garden grows vines along the stair railings, and hangs petunias and other flowers from baskets hung on trellises and wooden fences.
These plants soften all the brick and metal, providing beauty, fragrance and life to this urban space.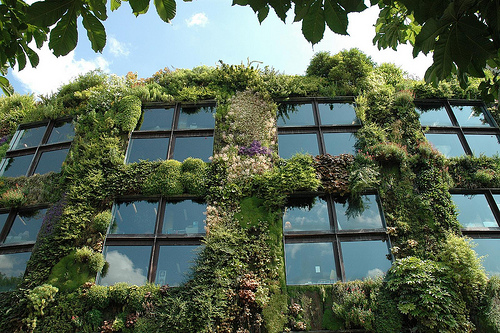 Living wall in France photo via Snoeziesterre/Flickr Creative Commons
Living walls
We aren't all lucky enough to live near a stunning living wall, such as this one created by Patrick Blanc at Musée du Quai Branly in Paris. These dramatic vertical garden systems are rapidly becoming a popular and stylish way to bring nature to urban areas.
For the rest of us, however, there are options.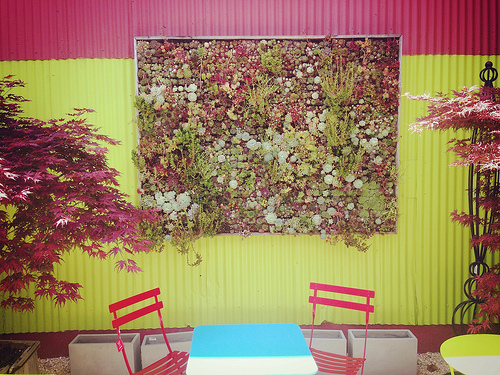 Flora Grubb Vertical Garden Photo by spieri_sf/Flickr Creative Commons
Hanging succulent gardens are a convenient way to leverage that wall space, and bring drama and beauty to your urban garden designs. You can buy these hanging kits pre-assembled, but they are also easy to make yourself.
Here are directions for DIY vertical succulent gardens by Sunset magazine.
Just add a couple of potted Japanese maples and a brightly painted cafe table for an urban garden design that is sure to keep you smiling.
Use the roof
In cities across the globe, enterprising gardeners are building rooftop gardens, which supply everything from homegrown foods to more basic sedum groundcovers. Needless to say, flat roofs tend to work best for these projects, and the structures need to be strong enough to hold this excess weight. Always follow relevant safety advice when working on these rooftop gardens.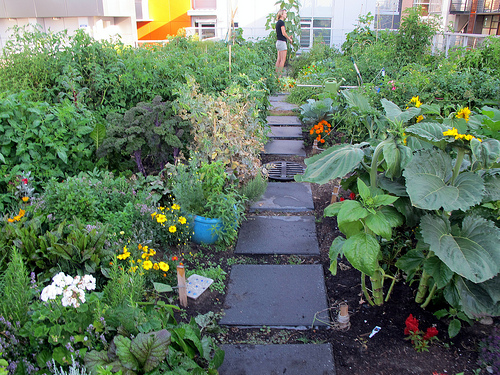 Large Rooftop Garden Photo by Canadian Veggie/Flickr Creative Commons
Gardens away from home
Interested in small space vegetable gardening, but don't have a rooftop space, sunny patio or any other outdoor room of your own?
Consider joining a community garden where you can rent a plot for a small fee. In Chicago, the Peterson Garden Project has more than 650 community garden plots around the nation's third largest metropolitan area. Literally, thousands of Chicago residents are growing their own food —often for the first time.
Looking to escape to an urban garden, where you don't need to do any work at all?
City dwellers around the globe are finding more public gardens and innovative greenscapes popping up. New York City's High Line is just one example. This innovative urban garden design features a lush garden with trees, flowering shrubs, native plants and grasses. A natural oasis in a cement jungle, the High Line extends nearly 1  1/2 miles over crowded city streets in Manhattan's West Side.
Spend an hour on the High Line, and you'll find plenty of inspiration for your urban garden designs.
Use imagination
Whether it's a public garden or your very own oasis, take the time to enjoy these green spaces in the city. It's easy to do with a little willingness to experiment and think outside of the box.
Hopefully, these urban garden designs have inspired you to reconsider your own small space and start planting right away.