Darts are an essential part of garment construction because they allow flat fabric to take on a shape that will fit the body well. A dart is a folded wedge of fabric that is tapered and stitched down to give shape to a garment.
There are two main components of a dart: the point, also known as the apex, and the legs, which start at the widest part of the dart. The dart legs are the two lines that are brought together to create the fold of fabric that is stitched. Darts need to be sewn in the correct direction, from the widest point of the legs to the apex, to ensure they lay flat and press well.
Darts are found primarily in women's clothing and are meant to fit the contours of the body in a flattering way. They serve a functional purpose first and foremost, but darts can also create style lines in a garment to accentuate and enhance a design.
8 types of darts you should know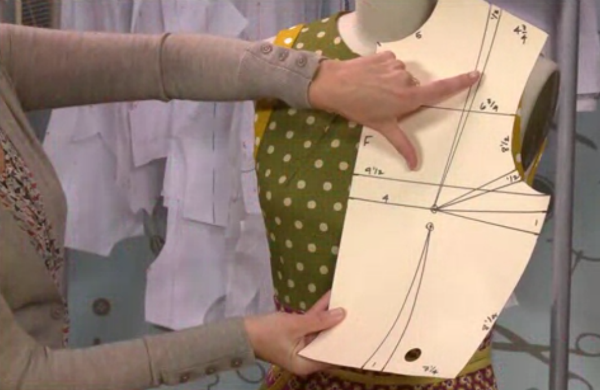 Suzy Furrer demonstrates the use of darts in a garment in her patternmaking class
Get instant access to 10 HD video lessons and learn to draft darts, gathers and ruching, as well as how to design with seam lines like princess lines, empire lines, A-lines and more.Enroll Now »
1. Plain darts
The plain dart is the most common type of dart that you will see in sewing and is usually found around the bust, waist and hips. This type of dart can be manipulated and altered to make different design elements that still function just like a dart such as princess seams and pleats.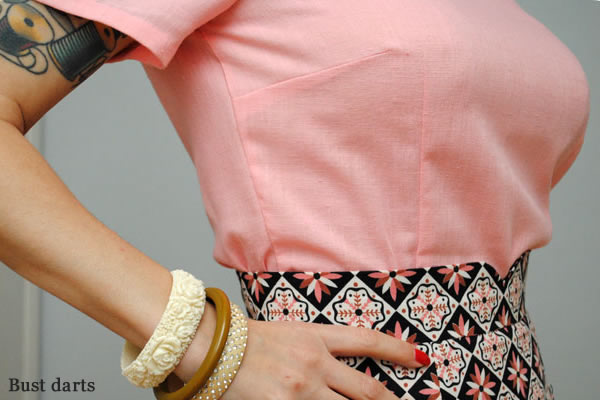 Photo via By Gum, By Golly!
2. Bust darts
Bust darts usually start the side seam of a garment and end near the apex of the bust in order to make the bodice of a garment more formfitting.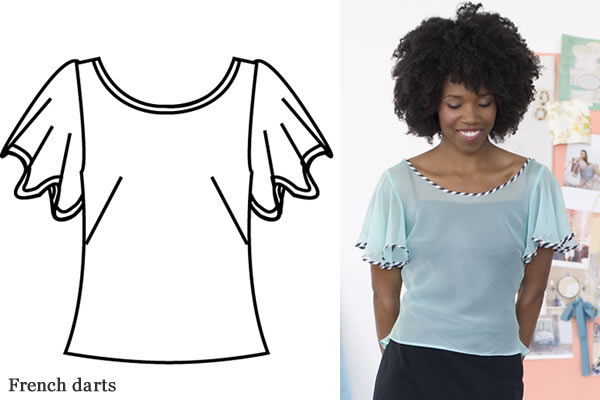 Photo via Colette Patterns
3. French darts
French darts are a type of elongated bust dart that start at the side seam, down near the waistline, and end up near the bust point.
4. Other types of plain darts include shoulder darts and neck darts
These are used to add a feminine shape to a garment that might look boxy without that shaping. Think of the difference between a man and woman's blazer. Waist darts are also simple darts that are found in pants and un-gathered skirts.
Photo via Colette Patterns
5. Dart tucks
Dart tucks are a variation of darts that are constructed much like a standard version but the points are left open. The open ends give a pleated appearance, which adds a softer look to billowy pants and blouses.
6. Elbow darts
Elbow darts are seen more in couture, tailored jackets and allow you to have a more fitted sleeve with room to move. When you hang your arms loosely at your sides, you usually keep a slight bend at the elbow, and the elbow dart accommodates that natural bend.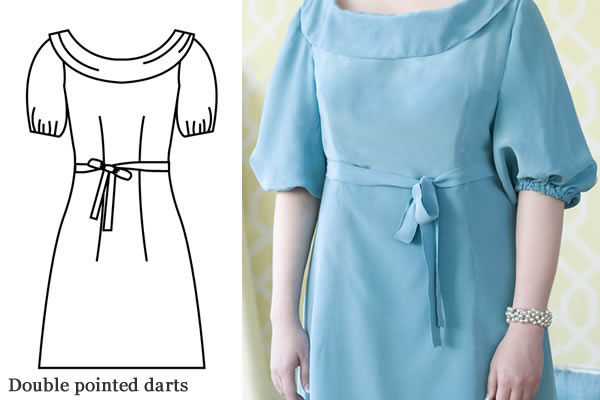 Photo via Colette Patterns
7. Double pointed darts
Double pointed darts are just like having two darts joined together at their widest ends, with one point toward the bust and one toward the waist. Double pointed darts are used to give shaping to the middle of a garment like in a dress or fitted jacket.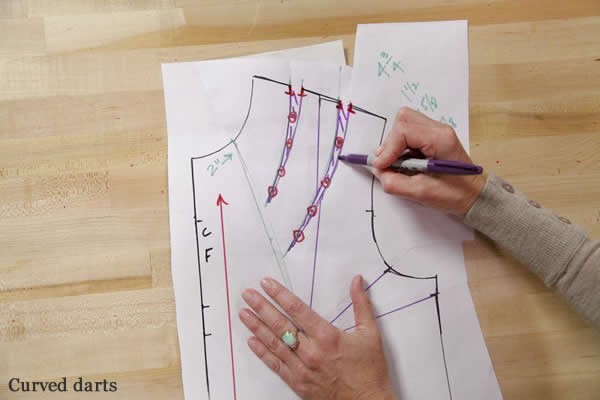 Photo via Suzy Furrer
8. Curved darts
Curved darts are used when the straight line of a basic dart does not provide enough contour to fit your shape. Curved darts can be stitched slightly concave or convex depending on the shape you need to fit.