Who doesn't adore muffins, the simplest of baked goods, and these Whole Grain Triple Berry Muffins should be at the very top of your list! With a mix of three berries — raspberries, blueberries and blackberries — these muffins will disappear almost as fast as you can make them.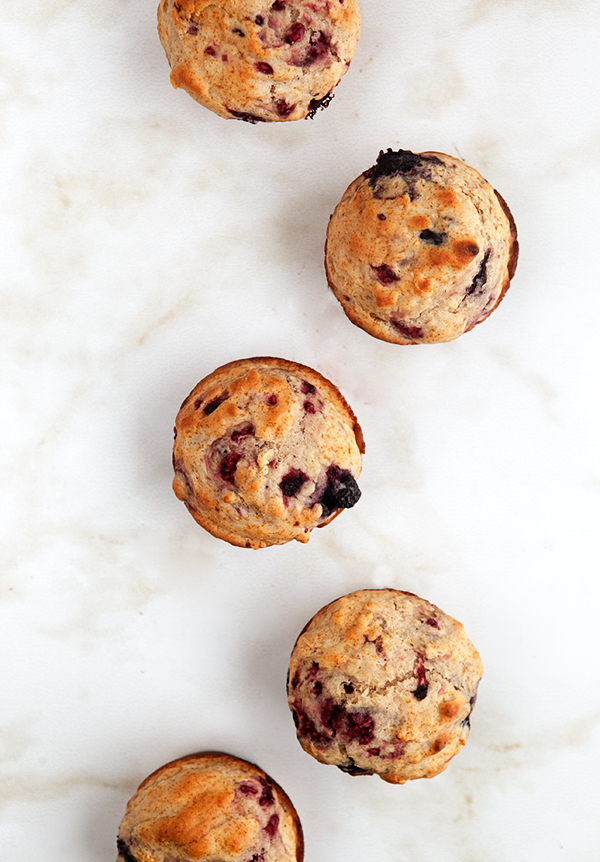 Photos via Some the Wiser
I am a muffin person. I've heard it said that bread is the staff of life, but I'm pretty sure they meant muffins. In fact, I make muffins so often I would venture to make claims like, "I can make a dozen muffins with my eyes closed and one hand tied behind my back," and feel mostly confident that I could follow through.
The virtue of muffins is that they are both simple and delicious. They take only minutes to whip up and a good basic muffin recipe allows for a lot of flexibility with grains and ingredients. From my favorite Banana Granola Muffins to delectable Sweet Potato Muffins, the flavor options are endless.
These Whole Grain Triple Berry Muffins, however, really take the cake (so to speak). These muffins are soft, lightly sweet, and full of berries. And the thing about berries in muffins is that after you pull them out of the oven, the berries have transformed into pockets of jammy sweetness in every muffin bite. If you aren't already a muffin person, these Triple Berry Muffins are probably just the thing to convert you.
This time of year, when the novelty of winter has long worn off and the cold days are beginning to seem like a cruel joke, I find myself, almost unconsciously, sliding muffin tins in and out of the oven. These berry muffins are a reminder of warmer days and summer flavors. It may not be berry season yet, and it may even be working on yet another snow storm outside as I write this, but muffins are perfect way to use up those berries in the freezer.
Because we are eating so many muffins these days, I've done my best to keep these healthy. Lightly sweetened with honey and fortified with whole grain flour, these muffins really do take the cake, and without any guilt! Enjoy.
Whole Grain Triple Berry Muffins
Ingredients
3 tablespoons coconut oil, in liquid form
1 egg
1 cup milk
1/3 cup honey
2 teaspoons lemon zest
2 cups whole wheat or spelt flour
3 teaspoons baking powder
1/2 teaspoon salt
1 teaspoon ground cinnamon
1 cup frozen mixed berries (raspberries, blueberries, blackberries)
Directions
1. Preheat oven to 400 degrees Fahrenheit. Grease a standard 12 cup muffin tin and set aside.
2. In a small bowl, combine all of the wet ingredients and lemon zest. In a separate bowl, whisk together the dry ingredients.
3. Make a well in the center of the flour mixture and stir in the milk mixture. Mix until just combined, being careful not to over stir. Gently fold in the berries.
4. Fill each muffin tin about 2/3 full (about 1/4 cup scoop). Bake for 15 to 17 minutes or until muffins are golden and spring back when touched. Cool slightly before removing from pan.
Cool completely on a wire rack.