Are you a tree lover? Whether you like to be one with nature or not, it's hard to deny the beauty of Mother Nature. When it comes to quilting, this beauty can be expressed via gorgeous fabrics and designs.
Here are 7 inspired tree patterns, all available here on Craftsy.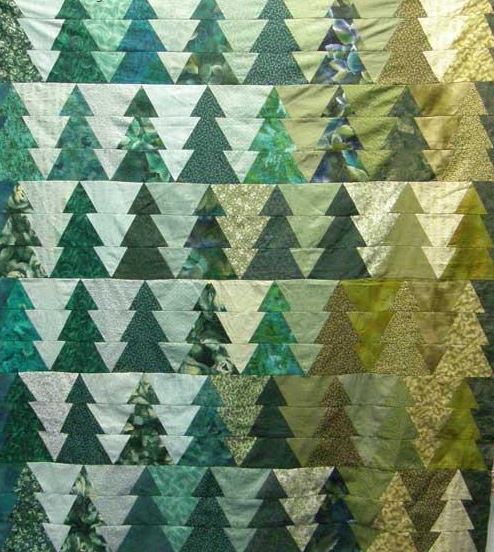 Photo via Craftsy member Kaye Wood
Trees With Ease pattern
Combine all your favorite green fabrics from your scraps or stashed fat quarters to create this stunning Trees With Ease quilt. Separate the dark, medium and lights for greater effect. The darker fabrics become the upright trees, the lighter fabric becomes the background or upside down trees. This is an easy-to-sew quilt that doesn't require matching seams.
Photo via Craftsy member Becky Botello
Mosaic Bargello Christmas Tree pattern
Are you familiar with Bargello quilts? Bargello quilts appear to be full of curved piecing, but they are actually made from strips of fabrics sewn together with straight seams. The Mosaic Bargello Christmas Tree pattern is created using the strip piece method and uses 24 different shades of fabric. To make this quilt, which measures approximately 58″ by 58″, you'll need 1/6 yards of each color.
Photo via Craftsy member SaraRoseQuilts
Whooo's There pattern
Can you guess Whooo's There? These little owls look terribly cute hiding in a forest of trees. This pattern included a mix of quilting techniques. Use machine appliqué to build your lovable owls and use your knowledge of traditional piecing techniques for the trees.
Photo via Craftsy member marylandquilter
Blue Evergreen Winter Quilt pattern
Try something different with the Blue Evergreen Winter Quilt. This lap quilt is a whole-cloth quilt, and the evergreen is applied using reverse appliqué. The shape is outlined in thread and the inside cut away to reveal the fabric underneath. The appliqué is designed to fray to the stitches, giving a textured, unaffected look to the quilt. There is no binding — the edges are finished by sewing all around and then clipping the edges to fray. <
Photo via Craftsy member Indygo Junction
Changing Seasons pattern
Spring, summer, autumn and winter — a pillow pattern for every season! Flowers, leaves and trees are appliquéd in felted wools. The largest design measures 13″ by 36″.
Photo via Craftsy member Darlee
Appliquéd Family Tree With Birdhouses pattern
Celebrate family with this tree quilt! A family tree adorned with bird houses is fused and appliquéd to create a charming heirloom piece. Personalize this quilt by labeling each birdhouse with the name of a family member! Pattern includes directions for printing the names directly on fabric, as well as the necessary supplies to do so.
See you tomorrow for Free Pattern Friday!
Are you a tree lover? What is your favorite tree quilt pattern?