A travel watercolor kit allows you to edit your supplies, so you can create paintings from the road while still traveling light.
Photos via CakeSpy
While traveling can provide wonderful inspiration for your watercolor painting, packing art supplies can prove tricky. The last thing you want to do is pack your entire watercolor kit: it can become heavy, and you don't want your supplies to get damaged.
Creating a travel watercolor kit is easy, and can be done using common household materials. This step by step guide will show you how to to pack everything you need to create watercolor works of art while traveling.
Paint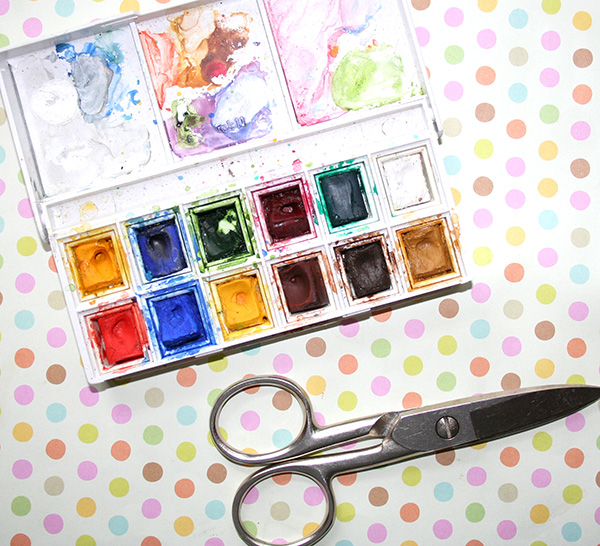 A petite travel watercolor kit, such as the one above (pictured with a pair of scissors to show scale), is fantastic for traveling. Typically, these are quite affordable, and come with common colors, each in tiny cake form. The top of the container, once opened, can serve as a mini palette. Some even have a mini brush which can be taken apart and stored right in the box.
However, purchasing a special travel kit is not necessary for success. If your kit includes paint from tubes, simply pare down your color palette. For a short trip, you can probably make due with the basics: the primary colors, plus black and white.
If this pared-down selection of colors doesn't suit you, it's also possible to pack a mini palette using all of the colors you think you'll need. Simply place a generous dab of your favorite colors on a small palette or plate. Let them dry overnight before you travel, so that they harden. Cover in plastic and go – all you need to do when you get to your destination is add water. Be sure to use a little more than you think you need, especially if you're not bringing paint tubes with you.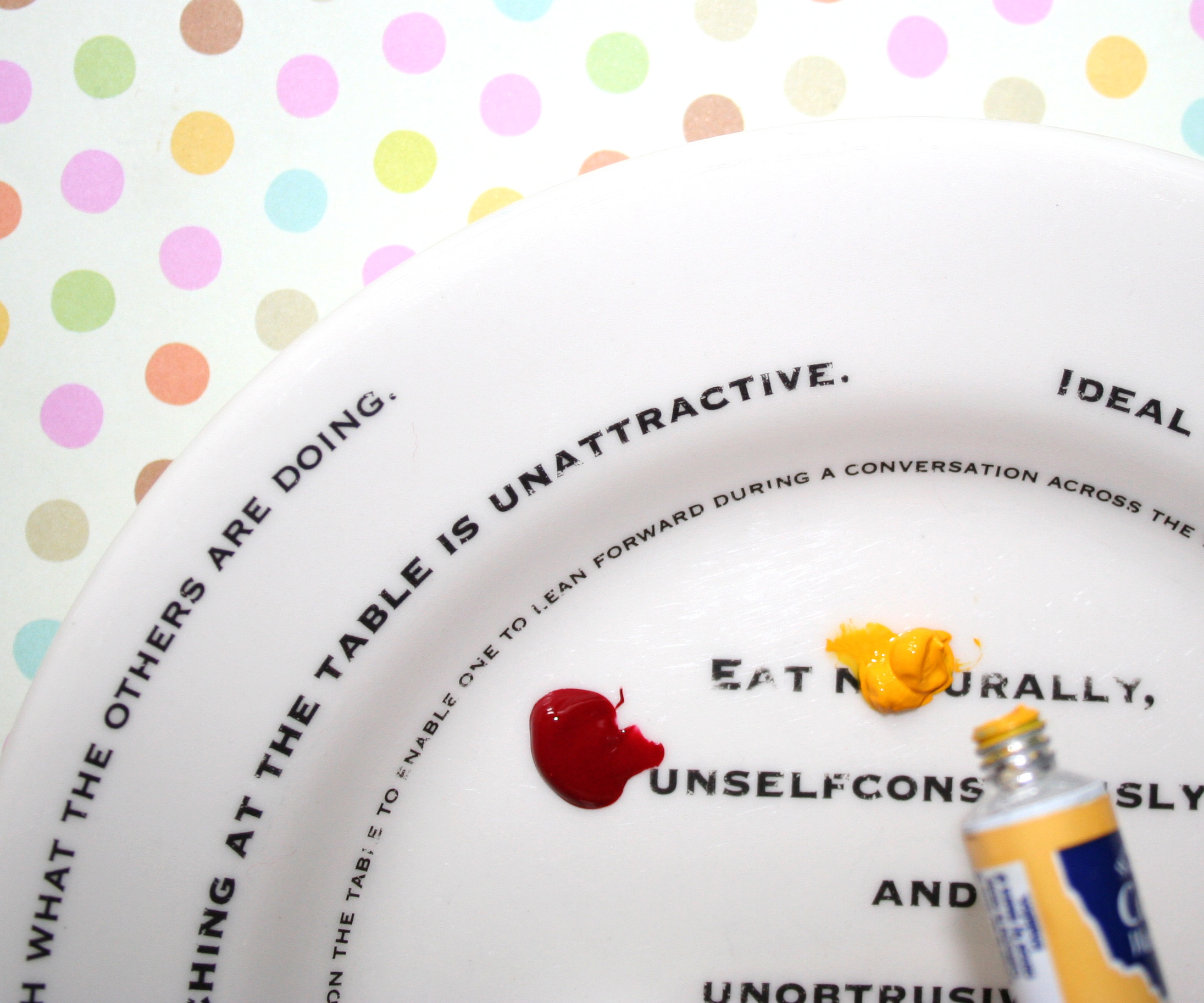 Brushes
While you want plenty of options for paintbrushes in your painting studio, when traveling, you want to keep it simple. One fine and one larger paint brush should do, and you can add any others that you think are necessary.
How to keep the delicate bristles from getting damaged? If you, like many people, threw out the little protective tubes that often come on brushes when you buy them, there's a simply solution to keep your brushes safe: drinking straws.

Simply cut a straw into several portions, then place the straw over the bristles of your brush, making sure it has about half an inch of clearance on top.
Tape the straw to the brush using masking tape (or removable tape). Place a dab of tape on top, too, to keep debris from getting into your brush.
Author's note: I like to tape my brushes to the back of a pad of paper for a little extra protection.
Palette
While travel palettes are available, you can also use something that is easily found at home or even at the dollar store: small ceramic plates. A teacup-sized plate is perfect, and is typically already coated so that you can use it for mixing colors while traveling.
Mixing
A small mason jar is perfect for holding your water to create watercolor art while on the road, and if you're bringing paint tubes, you can store them inside. If your space is at a premium, this is the easiest thing to forgo in your packing and find on the road: all you need is a plastic cup. Typically, a coffee shop will just give you one, and hotels are always happy to give you a few.
Paper
When you're traveling, be sure to bring an appropriately small watercolor pad for easy travel. If you prefer to use single sheets of watercolor, store them between sheets of cardboard so that they remain rigid. Do NOT put your pad or paper on the top of your suitcase, as they can become damaged in transit. Instead, pack them in a carry-on or cushioned between clothing so that they are protected.
General tip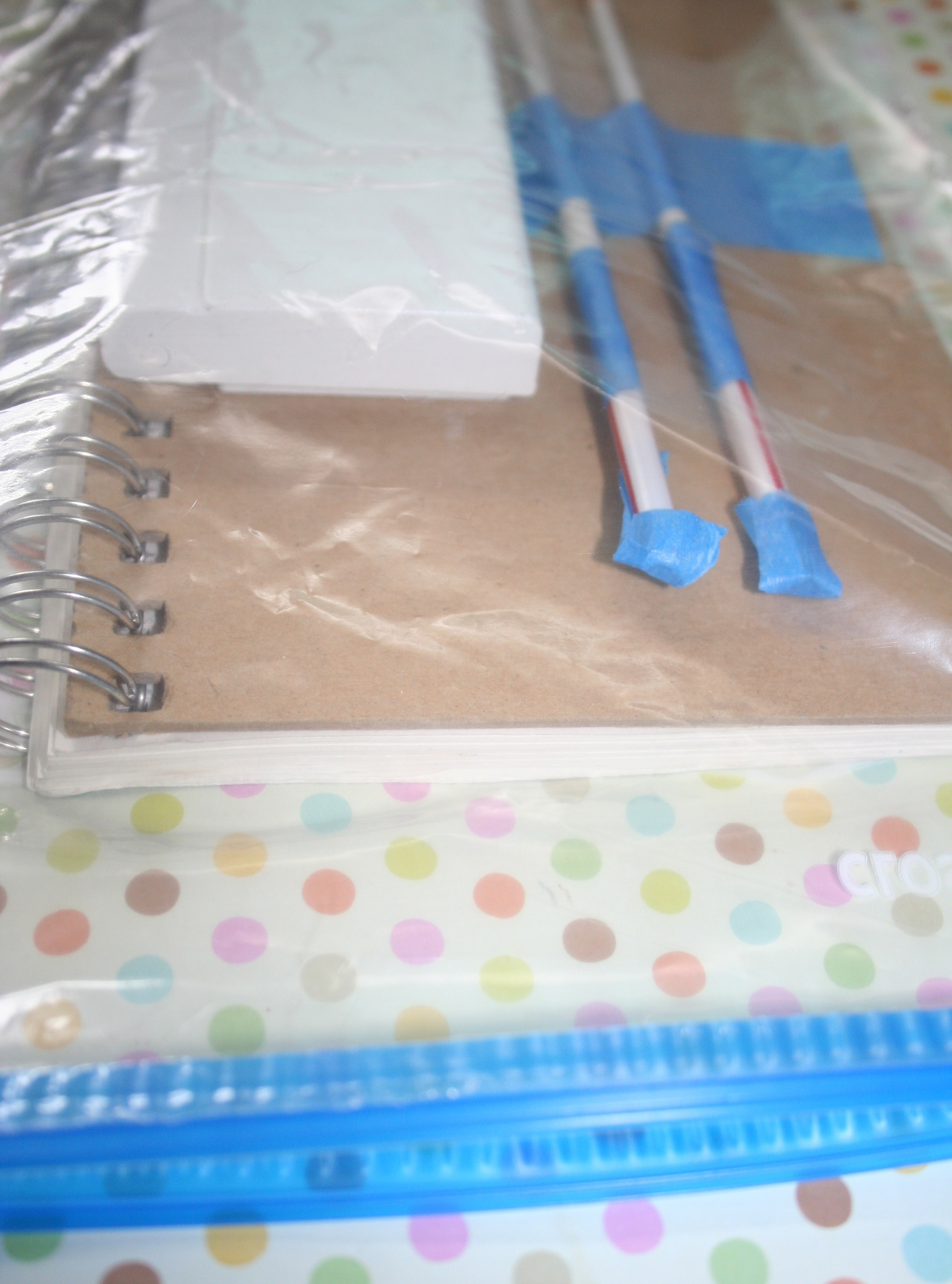 Pack all of your supplies in plastic freezer bags. This will protect your materials from humidity and moisture, and protect your clothing and travel supplies from being accidentally colored by your supplies.