This guest post is brought to you by Carol Feller, instructor of the popular Bluprint classes Sweater Surgery, Celtic Cables and Short Rows. Her new self-published book, Among Stones, has 10 patterns that range from sweaters right though to socks, scarfs and hats. It's available either in printed or electronic format.
One lucky reader will win a FREE copy of Carol's new book, Among Stones. To enter, just head here by Thursday, September 26, 2013. Then, comment on this blog post on what item you think you would wear most from this book. We'll select a winner at random on September 27, 2013.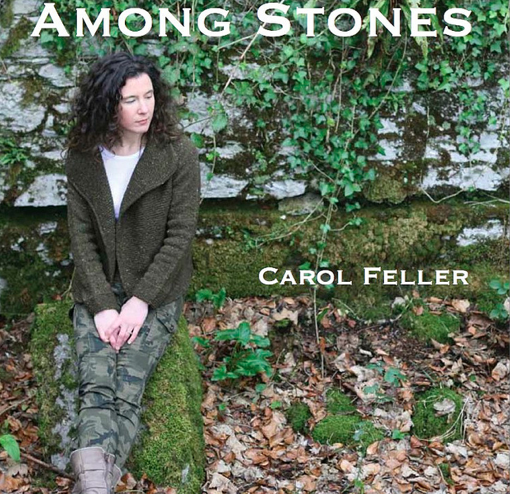 Photo via Joseph Feller
The patterns in Among Stones are all designed to be enjoyable to knit and great to wear. They are the kind of knits that I want to wear every day, a key focal point to add interest but otherwise not too fussy!
One of my favorite construction methods is top-down raglan. This type of shoulder construction is very forgiving and easy to modify. You can change the type of increases or change the rate of increases to modify the sweater easily to your body.
So what is top-down raglan shoulder shaping?
As the name implies, it is worked from the top starting at the neckline. You cast on enough stitches for the back of the neck and the top of the shoulders and perhaps also for the front of the garment. Sometimes the shaping for the front is worked after you start, increasing to form a gentle curve around the front of the neck.
After the cast on, you mark each raglan seam line, which is at each side of the sleeve left and right, giving you 4 raglan seam lines in total. Now, you will work an increase at each side of those seam lines every other row. If you are working flat, then you will have those increases every right side row and if you are working in the round, the increases will be every other round. You continue working those increases until you have the correct depth for your yoke (the upper body section of your garment) and enough stitches for your body and sleeve.
Do keep in mind that the final step of the raglan construction is to cast on stitches across the underarm area. Because of this, you will have a little less body and sleeve stitches at the bottom of the raglan then the total you need.
So what if you want to modify your raglan? The two main modifications you can make are to the increase type and to the yoke depth and width.
First, let's take a look at the increase type.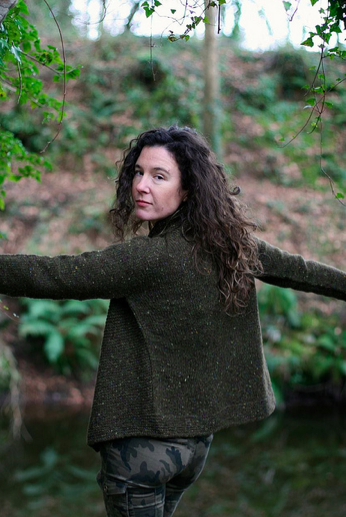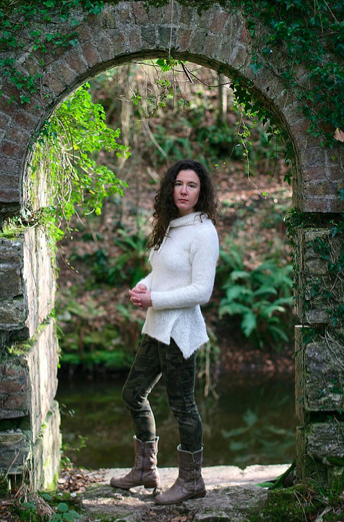 Dacite (left) and Dolomite (right); Photos via Joseph Feller
Dacite and Dolomite both use a simple increase type, kfb. With this method, you're just knitting into the front and back of the same stitch and it creates a series of "bars" that run down either side of your raglan shoulder seam.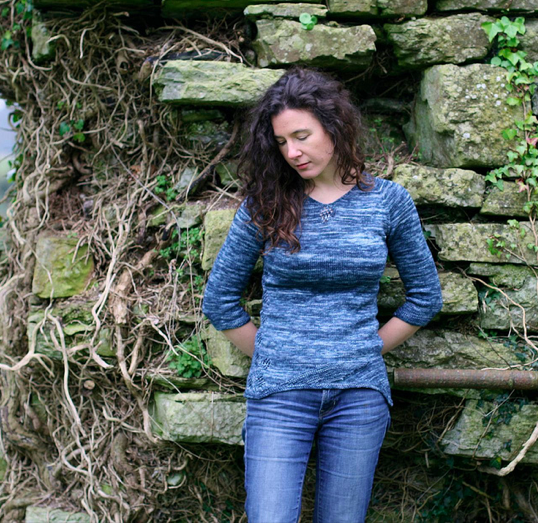 Gabbro; Photo via Joseph Feller
Liathite, Liathite Jr and Gabbro all use M1R and M1L increases. This type of increase is subtler. You are lifting the bar of yarn between the stitches from either the front or back and then twisting the stitch to prevent a hole. The directional slant of this increase is very slight, but by changing the number of stitches between the increases you can create different seam effects also.
Do you have an increase preference?
If you like one more than another, then just swap them out! Are you unsure of your preference? Then why don't you work a little swatch with the different increase types and with different number of stitches between them to see what you like? Take a look at the different pattern photos to see how they create different effects along the seam line.
The other change you can make is to the depth and width of the raglan.
Do you want to create a deeper raglan? The easiest way of doing this is to work a few rows after your increases without any shaping. This way, you don't add to the size of the garment, just to the length of the yoke. You can also add in the rows between the increase rows toward the end of the yoke. In other words, for the last few increases, instead of working them every RS row, you could work them every other RS row to space them further out.
Perhaps you want to create a larger sleeve and body? In this case, you can add more increase rows or even more underarm stitches. If you don't want to add any depth to the yoke, then maybe you can add an increase row within a row of the pattern that isn't being increased.
Do you want a wider back of neck? Then you can cast on more stitches at the neck and work less increase rows so that you don't also increase your body and sleeve size.
As you can see, there are lots of ways big and small to modify your raglan shoulder shaping. Just think them through and see if they will have any impact on the rest of the garment. Have fun working your raglan shaping!
If you want to see what other knitters are working on and how they are making the garments their own, check out the Stolen Stitches group.
Click here to enter the giveaway and then answer the question below in the comments for a chance to win!

What item do you think you would wear most from Carol's book Among Stones?

About Carol Feller
Carol Feller's patterns for men, women, and children are widely published in books and magazines, including Twist Collective, Interweave Knits, Knitting in the Sun (Wiley, 2009) and Knitty. Carol blogs on StolenStitches.com and can also be found on Twitter (@stolenstitches), and Facebook (carol.feller). She lives in Cork, Ireland, with her husband, four sons, and a large dog. Her first book, Contemporary Irish Knits, was published by Wiley in August 2011.
To learn more about this book, follow along for the rest of the blog tour:
4th of October Ann Kingstone http://annkingstone.com/blog/
17th of October Rachel Coopey http://www.coopknits.co.uk/
21st of October Woolly Wormhead http://www.woollywormhead.com/blog/
24th of October Ruth Garcia-Alcantud http://www.rockandpurl.com/blog/
28th of October Aplayfulday http://aplayfulday.blogspot.co.uk/