Are you still eating open faced sandwiches on bread? Get with the new trend: sweet potato toast! 
Photos via CakeSpy
This "toast" is actually made of lengthwise cuts of a sweet potato. Approximately ¼"-thick cuts are cooked briefly so that they attain a soft interior but crispy edges. Naturally vegan and gluten-free, it's well suited to a number of different dietary preferences. 
How you top your sweet potato toast is up to you: from mashed avocado and cheese to eggs and bacon to crunchy peanut butter and beyond, the only limit is your creativity and appetite! 
Here, we'll guide you through an easy method for making sweet potato toast, then offer some inspiring ideas for topping it. 
FREE Download: Our Best Breakfast Recipes
Cook your best breakfasts ever with these popular recipes, available exclusively on Bluprint.Get My FREE Guide »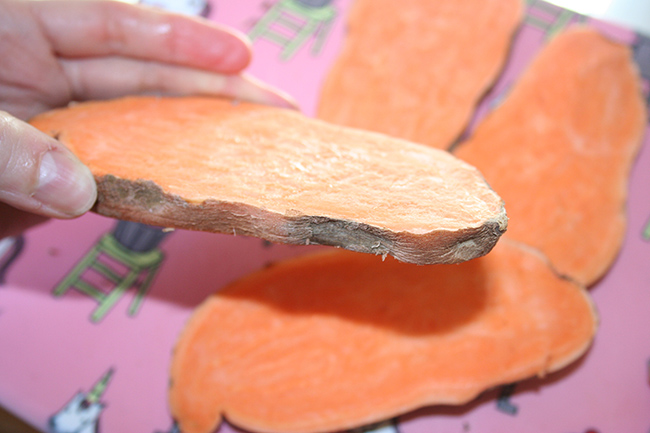 How to make sweet potato toast 3 ways
Step 1: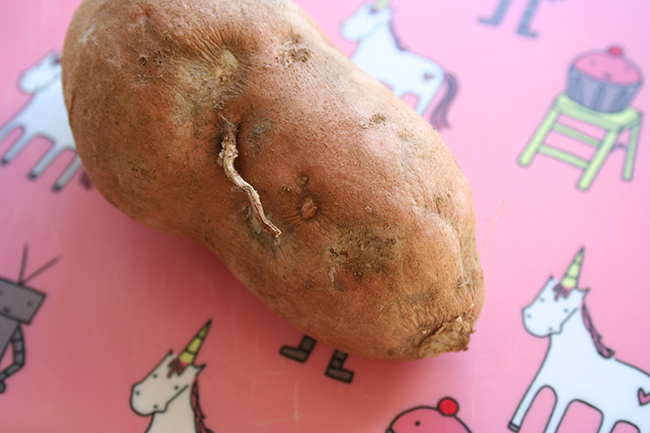 Choose a nice, long oval sweet potato. Clean your potato by washing it in water and drying it completely. Pick off any bits like the little root you see attached on mine. You can peel the skin if you prefer; I opt to leave it on. 
Step 2: 
Slice your sweet potato, lengthwise, into approximately ¼" thick slices. How many slices you get will depend on the size of your potato; if you have more than you need right now, you can put extra slices in an airtight bag and refrigerate for up to 3 days.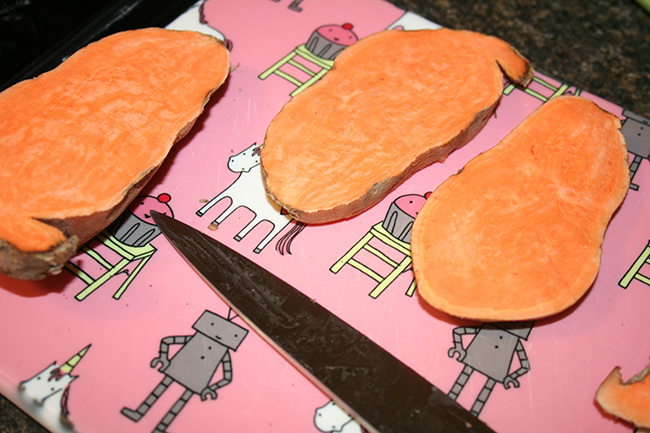 Step 3: 
Choose your adventure in terms of how to cook the potatoes: 
Toaster method
Place the sweet potato slices in your toaster and toast, on the highest possible setting. It may require 2-3 cycles in the toaster (rotate the sweet potato slices between rounds) to cook the slices fully, depending on your toaster. 
Toaster oven method
Place the sweet potato slices on the rack in your toaster oven and toast on the highest possible setting. Most toaster ovens allow you to set a time; I found that about 5 minutes was perfect. 
Oven method 
Preheat your oven to 450 F. Place the sweet potato slices on a baking sheet, and bake for 5-10 minutes, or until softened and toasted to your liking. You can flip at the 2-3 minute mark to ensure even baking. 
Note: To be perfectly honest, while I enjoy the novelty of making sweet potato toast in the toaster or toaster oven, I think it actually "works" better in the oven, as you can attain a perfectly crispy crust but also ensure thorough baking on the interior part of the slice.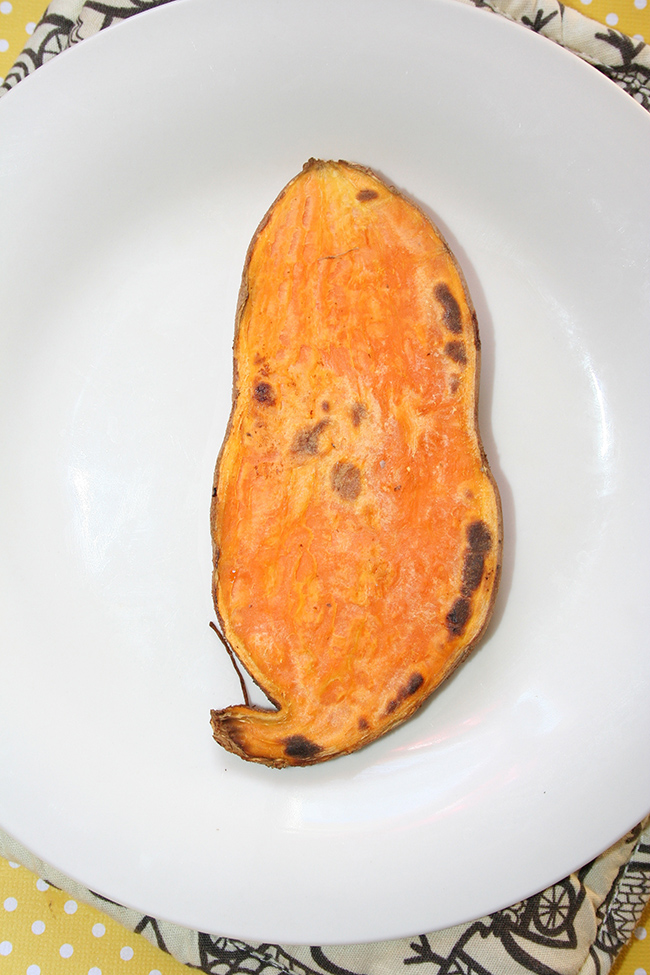 Step 4:
Once cooked, let the sweet potato slices cool briefly, then top with whatever you'd like. Enjoy warm! 
How to top your sweet potato toast: 5 awesome ideas 
Peanut butter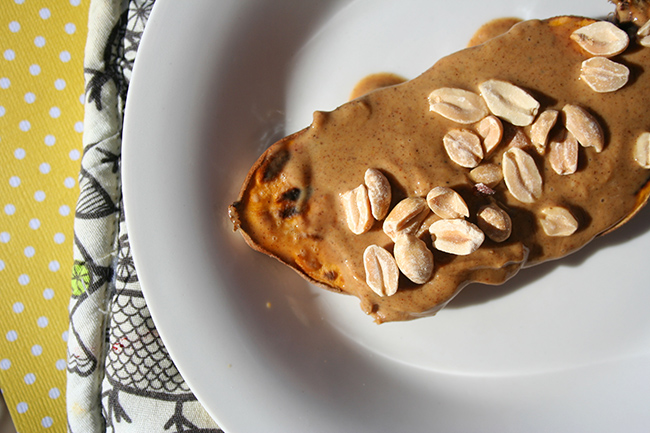 Peanut butter and sweet potato is a killer combo! For my slice, I used creamy peanut butter and then topped it with some roasted peanuts for a little crunch. But you could easily add bananas, jelly or whatever you like to pair with peanut butter. 
Eggs any way 
Eggs prepared just about any way are a great topping for your sweet potato toast. Whether it's cheesy scrambled eggs or an egg over easy paired with mashed avocado, your sweet potato toast is the perfect canvas for an eggy breakfast. 
Cheese and veggies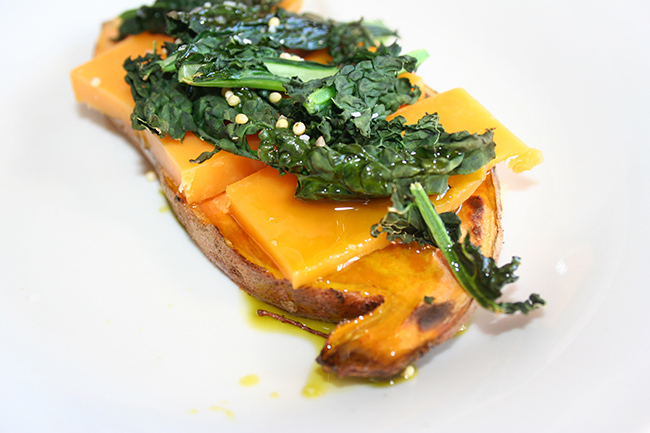 A combo of melty cheese and grilled or roasted vegetables is the perfect pairing for your sweet potato toast. Here, I topped mine with slivers of sharp cheddar and garnished it with oven-roasted kale. Nutritious and delicious! 
Butter and jam
Sweet potato toast is tasty on its own; serving it simply, with a little butter (and maybe some jam) on top is a perfect way to enjoy the sweet potato flavor. 
Breakfast meat
Bacon and sausage are a great savory complements to the natural sweetness of the sweet potato toast. Add an egg or cheese to make it an open faced breakfast sandwich! 
Have you ever tried sweet potato toast? 
FREE Download: Our Best Breakfast Recipes
Cook your best breakfasts ever with these popular recipes, available exclusively on Bluprint.Get My FREE Guide »