Do you have a "go to" pattern for a quick baby quilt? My Super-Sized Nine Patch quilt is well regarded by guilds. I know this because invariably when I lecture for them, I see Super-Sized Nine Patch community quilts during the Show and Tell portion of the meetings. Three different yards of fabric and a cool folding trick yields THREE baby quilt tops. Three additional backing yards and a slick closure result in a foolproof and pleasing finish.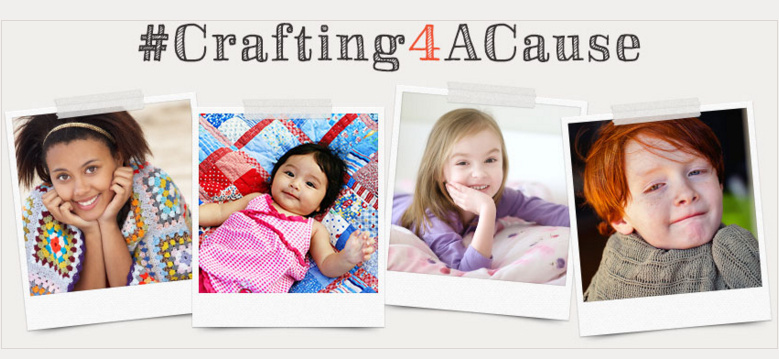 After learning of Bluprint's charitable endeavor #Crafting4ACause, I knew I'd be contributing Linus quilts and remarking here about my method. Use wonderful fabric. Make the quilt a size that you can manage.
With me there is always a backstory but I'll cut to the chase.
After all, the Super-Sized Nine Patch quilt is all about the cutting. I once developed a Linus type pattern. I can't explain it any better than I did in this video recorded in 2004. (I urge you to watch it, but with these caveats: A commercial precedes the video. The video may not be available for some computers located outside of the United States. The video could disappear into cyberspace. Had this been a Bluprint class there'd be no caveats 🙂 
June Dudley, a visionary once upon a time at Quiltmaker magazine, wrote this free Super-Sized Nine-Patch pattern up. It remains as one of the most downloaded patterns in Quiltmaker history.
(Get the free pattern here >>)
A group undertaking should be a success because the patches (the squares, the short rectangles, the long rectangles and the center) are automatically cut to correct size without measuring. My finishing option results in a tidy edging because the quilt is turned inside out from the body, not at an edge.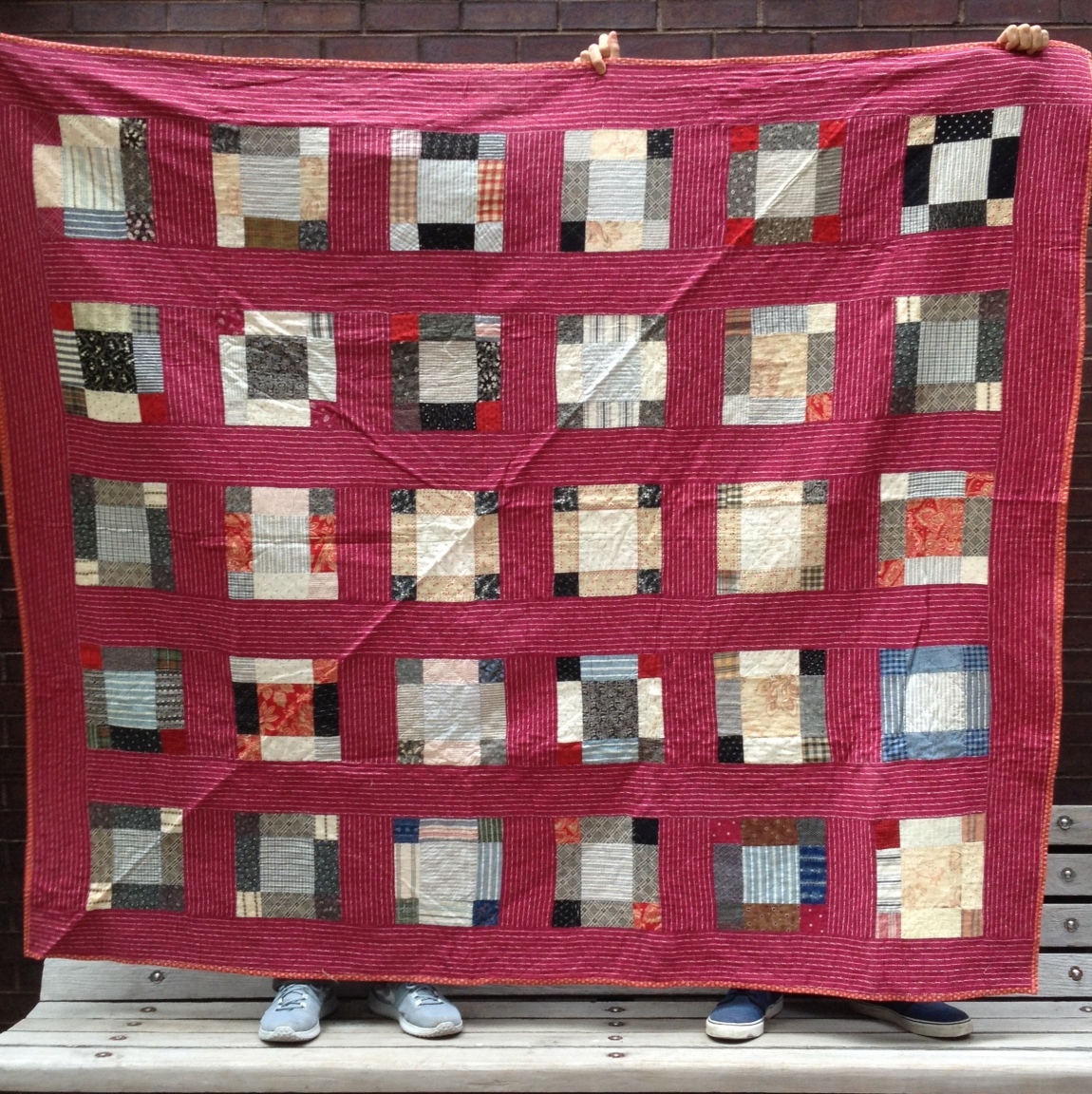 Yes, the above early 20th-century quilt from my collection was folded on the diagonal. It hadn't been aired it out in ages. Bad me. However, the creases will fall out sooner than if it had been folded on grain. The point is to show it as an example of the Uneven Nine-patch block, known also as A Plain Block. The perpendicular treatment of stripe fabric in the sashing is a quiet wow for me.
The Super-Sized Nine Patch quilt pattern was inspired by three reasons:
The Plain Block was and is a favorite for me
Because of the unusual way I rotary cut The Plain Block
Because I wanted to simplify the construction of guild baby quilts.
The fun in making was cutting up the fabric. I demonstrate the cutting method exactly four minutes into this video. The previous caveats apply.
You may be piqued by the 6" finished Old Italian Blocks appearing in the same video. If you are enrolled in my Bluprint class, Traditional Blocks Made Simple, you already have the project at hand. It's in the Rotary Cutting Revolution eBook, a bonus download included, in your class materials. No caveats.
I like 'orderly' Nine-Patches; I find them an oasis in chaotic New York.
This is how I made 9" finished (9½" unfinished) blocks of dot fabrics:
Stack 3 rough-cut starched fabric squares
Trim the stack down to 10½" square

Rotary cut 2¾" parallel to each edge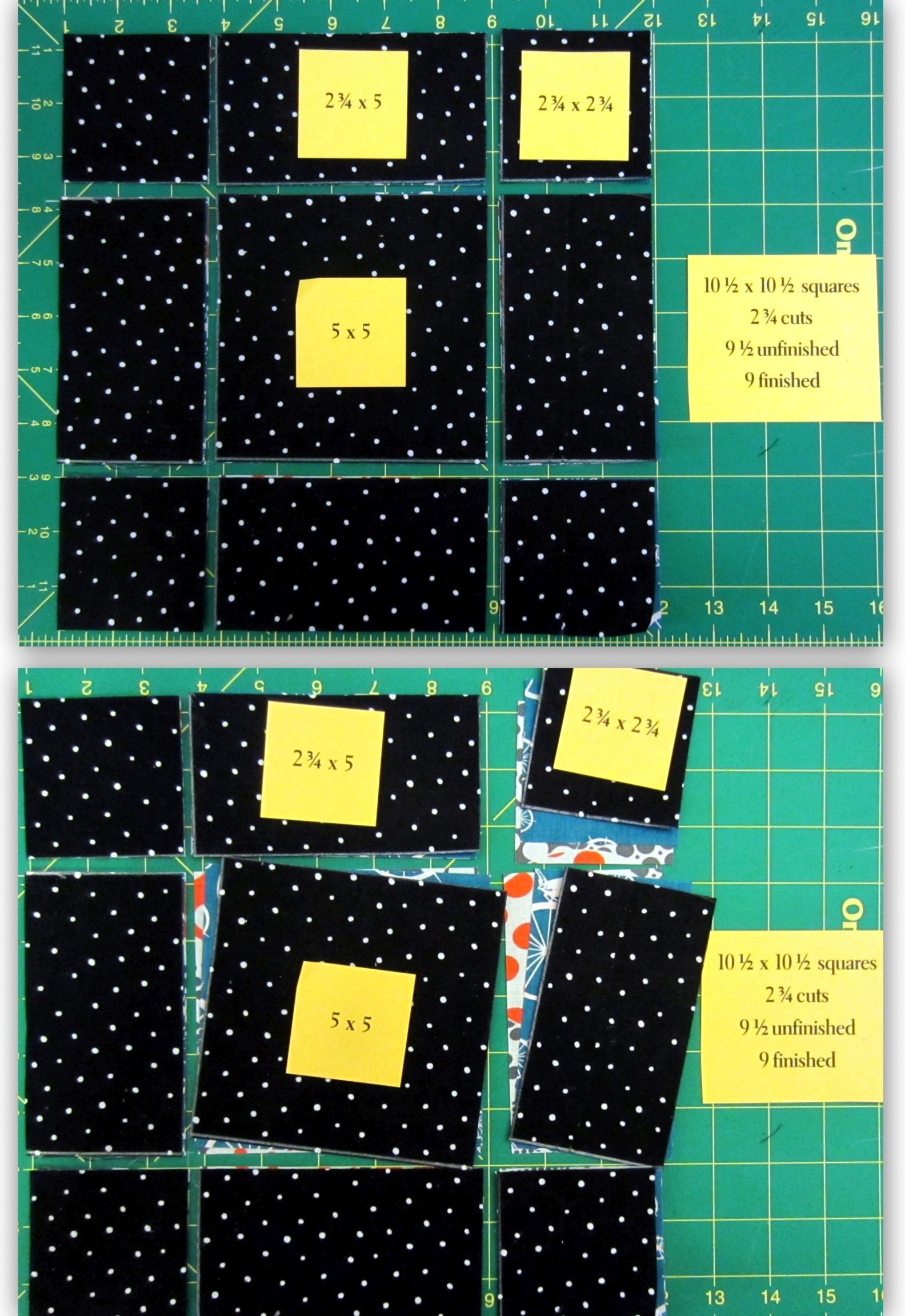 Sweet! 27 perfectly sized patches

Mix and match the patches – these are three of the six possible unique combinations.
*You might recall seeing these videos years ago. You might wonder where is Alex Anderson now Cutting again to the chase, this is the answer, I had the pleasure of recording their show #905.
You might also enjoy this collection of 8 FREE baby quilt patterns that are perfect for the #Crafting4ACause initiative to benefit Project Linus.