We've all been there. We're sewing along when suddenly, our fabric disappears into the abyss. The underbelly — or maybe the bobbin or throat plate — of our sewing machine is eating our fabric!
A hungry sewing machine is a common problem among sewers. But there are a few things you can do to starve that hungry sewing machine and never lose another inch of precious fabric. Keep reading to learn how to stop your sewing machine from eating fabric.
Check out these tips to starve that hungry sewing machine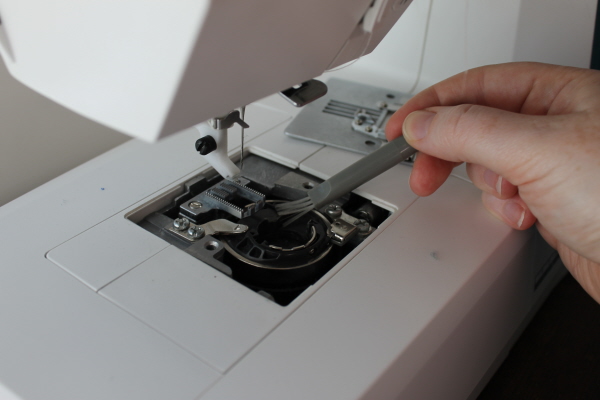 Cleaning the bobbin and underneath the needle plate
Tip #1: Test the stitch length.
Stitch length can contribute to that hungry sewing machine eating your yardage. Knits are notorious for having stitch length issues that cause the machine to eat the fabric because they are stretchy and can easily get sucked down into the machine. Depending on what weight of fabric you're using, the stitch length may need to be shorter or longer. The wrong stitch length will surely suck that fabric right into the machine.
If your knits are constantly disappearing into your machine, check out Sewing With Knits: 5 Wardrobe Essentials class with Meg McElwee to find out how to get the perfect stitch length.
Tip #2: Stabilize your fabric.
Stabilizers provide traction for your fabric so that it makes it harder for the machine to swallow it. There are a lot of options for stabilizing your fabric. Use tissue paper that you might already have on hand, or check out your local craft store for a spray stabilizer. Don't worry; none of these stabilizers are permanent. They can be easily ripped away or even washed away once you're finished.
Tip #3: Use a stitch starter.
A stitch starter gives your sewing machine a little run-and-go warm up before you start sewing. There are dozens of benefits to using a stitch starter, and one of them is to avoid the machine eating the fabric.
Tip #4: Use a scrap piece of fabric to get started.
In addition to using a stitch starter, you can also use a scrap piece of fabric as a starting place. Simply cut a little square of the fabric you're sewing with and butt it right up against the fabric you're getting ready to seam. Start the seam on the scrap fabric and let that seam sew right onto the working fabric. If the machine has any issues with the fabric, it will let you know on that scrap piece of fabric, meaning your precious pattern pieces are not affected.
Tip #5: Use the right needle.
You probably already know that your sewing needles should be in tip-top shape when you start a project, but a sharp needle isn't the only key. The fabric and needle need to work together to make sure everything goes smoothly. If the needle and fabric don't make a good pair, this can cause the machine to eat the fabric.
Tip #6: Buy a straight stitch needle plate.
Many machines are equipped with a needle plate that's designed for all kinds of stitches, from straight to zigzag. If you look, these plates have a wider opening in them. Straight stitch plates, however, have a very small opening that make it hard for the machine to eat the fabric. Just remember that if you switch out your plates, you can only use the straight stitch plates with straight stitches. Using a straight stitch plate with zigzag stitches will break your needle. Check your sewing machine manufacturer's web site to find the exact plate that fits your machine.
Tip #7: Rethread your machine.
Sometimes a problem that seems big has a simple solution. Remove the bobbin and thread from your machine and rethread everything once more. Sometimes a thread can get caught somewhere and cause all kinds of problems!
Tip #8: Clean the bobbin and needle plate.
When I first started sewing, I had no idea what kind of maintenance went into owning a sewing machine. After one particularly frustrating day of the machine eating the fabric, my mom showed me how to remove the needle plate and clean the bobbin area. When I removed the plate, there were all kinds of fuzzies down there and even scraps of other fabric that had been caught in the machine. I cleaned it all out, rethreaded the machine, and found that it solved the problem.