Stamping in paper crafts has really taken off these past few years, and there are more supplies than ever available to keep the stamper busy! One of the main necessary supplies needed for every stamper is ink, and not only can you find every color imaginable in the marketplace, the types of stamping inks out there is just as varied. It can get confusing to try and determine what type of ink does what, and do you really need a variety of stamping inks on hand or will just one type suit you?
Let's review types of stamping inks for paper crafters!
Dye inks
Dye inks are one of the most common stamping inks you'll find on the market. They come in every color imaginable and you can also find full size ink pads as well as smaller ones that enable you to try more colors for less money. They can come in a variety of pad surfaces — linen being the most common with dye inks, but there are also hard felt and sponge-type ink pads on the market as well. Within the dye ink category are several different "types" of dye inks that have different properties.
Water-based dye inks
These used to be the standard ink on the market for stampers, with transparent color and a water base meant that the ink would "bleed" if you tried to color over them with other water-based mediums. They're generally acid-free but not lightfast, so will fade over time (therefore not recommended for scrapbookers).
These inks are great for stamping techniques and can be used to watercolor by pressing the pads onto a nonporous surface then picking up the ink with a wet brush. These inks are great for stamping on card stock and will generally not stamp well on other surfaces. With their transparent colors, they work best on white and light color card stocks; most colors will not show up well on dark colors of card stock. They dry quickly so are not good for embossing.
Distress Inks
Distress Inks are water-based dye inks but deserve a category of their own because of their rather unique properties. Even though they are water-based they dry slower than other water-based dye inks, so you can emboss with them. They also react with water, enabling all sorts of techniques. They blend well together and blend well with water to produce different effects.
Learn fresh uses for Distress Inks in paper crafter Marjie Kemper's online class Inventive Ink: Colorful Mixed Media Effects. Sign up today to learn a rainbow of mixed media techniques and banish boring paper for good!
Waterproof dye inks
These types of ink have a different base so that when they're dry you can color and watercolor over them and they won't bleed or smear. These inks are great for line images that you want to color in, and these inks tend to be more colorfast than their regular dye ink counterparts. These inks tend to be more difficult to clean off of your stamps and may require a special cleaner to fully remove the ink.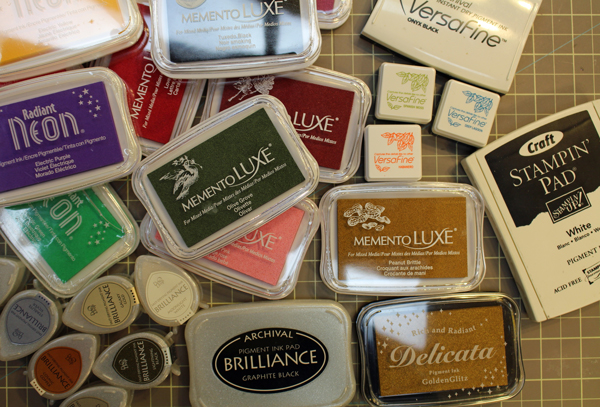 Pigment inks
Pigment inks are a lot thicker than dye inks and generally have a glycerin base. Whereas dye inks are more "liquid" and transparent, pigment inks are opaque and thick. Pigment inks almost always come with a spongy foam pad to enable the ink to be picked up easily by the stamp. Because it's a thicker ink these pads dry out faster than dye inks and need to be refilled more often.
These inks are great for stamping on card stock, and a great thing about them is you can stamp lighter colors on darker card stock and the ink color will show. Pigment ink tends to "sit" on top of the card stock and takes longer to dry, so it's great for embossing. Pigment inks are generally fade-resistant so are good for scrapbooking. They may require heat setting to dry fully, and don't work well on nonporous surfaces.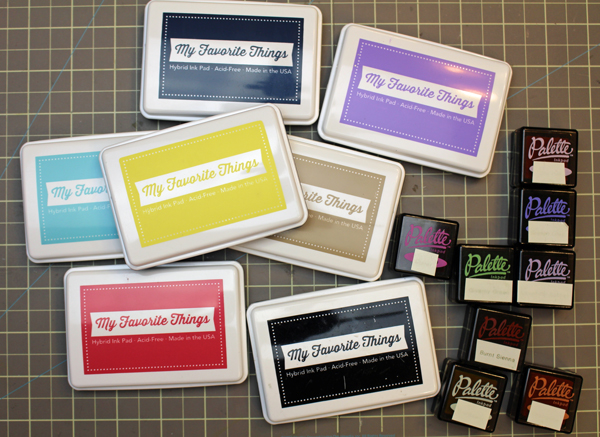 Hybrid inks
Hybrid Inks are basically a cross between pigment and dye inks and contain properties of both. Most tend to work on all surfaces (some surfaces may require heat setting to fully dry the ink), they clean up easier than solvent inks (more on those below) and are usually permanent when heat set.
Hybrid inks tend to dry as quickly as dye inks so are not good for embossing. Hybrid inks are more transparent than pigment inks, but slightly more opaque than dye ink.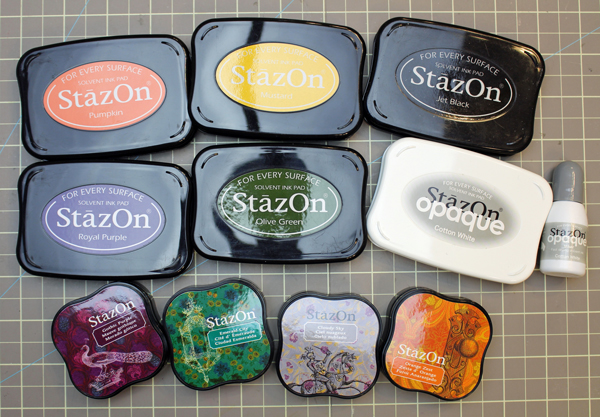 Solvent inks
Solvent-based inks can be used on almost any surface (other than fabrics that are meant to be washed regularly — they tend to not hold up as well with regular laundering), including plastic, glass, metal and more. Solvent inks are permanent and don't require heat setting to achieve permanency. Most solvent inks are acid-free and archival. Most solvent inks are transparent but there is a line of StazOn Opaque inks that come in a variety of opaque pastel colors including white.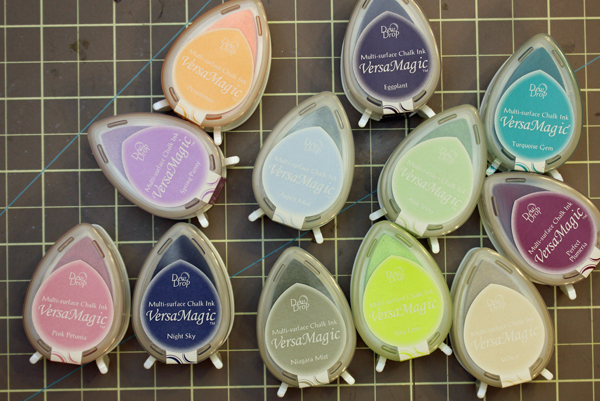 Chalk inks
Chalk inks are usually similar to pigment inks but with a more "chalky" finish. They used to be enormously popular several years ago on the stamping marketplace but in recent years have become harder and harder to find. They usually dry faster than pigment inks and are acid-free and archival so great for scrapbooking. They are also permanent when heat set so work great with coloring and watercoloring. Even without heat setting, they tend to resist smearing and fading. With their matte chalky finish, they look great on darker card stock.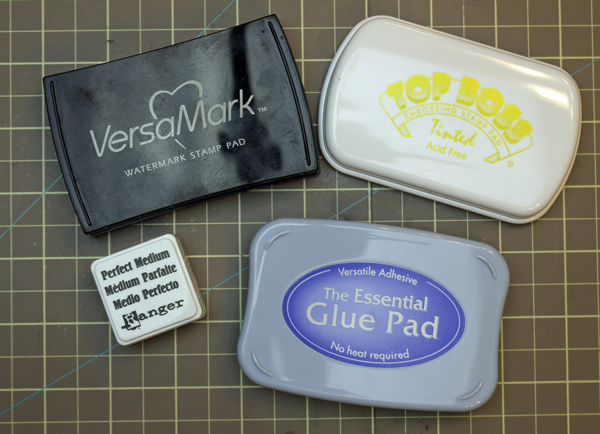 Specialty Inks
There are many different and unique specialty stamping inks on the market. Watermark and Resist inks are meant to create a watermark effect on card stock, and because they are slow drying and rather "sticky" inks, they work great with embossing powders and pigment powders. Embossing inks are specifically formulated to work with embossing powders, they're basically a pigment ink without the pigment. Some might be just slightly tinted so you can see where you've stamped. The Glue Pad isn't really a stamping ink at all but a stamp-able clear adhesive that you can use with glitter and pigment powders, flocking and more.