As you're using a spinning wheel, you might forget about the routine maintenance it requires. A spinning wheel is a big investment, and taking proper care of it will ensure that it spins smoothly for years to come.
Here are some tips and tricks for spinning wheel maintenance that will keep it from squeaking or getting gunked up with dust and fiber.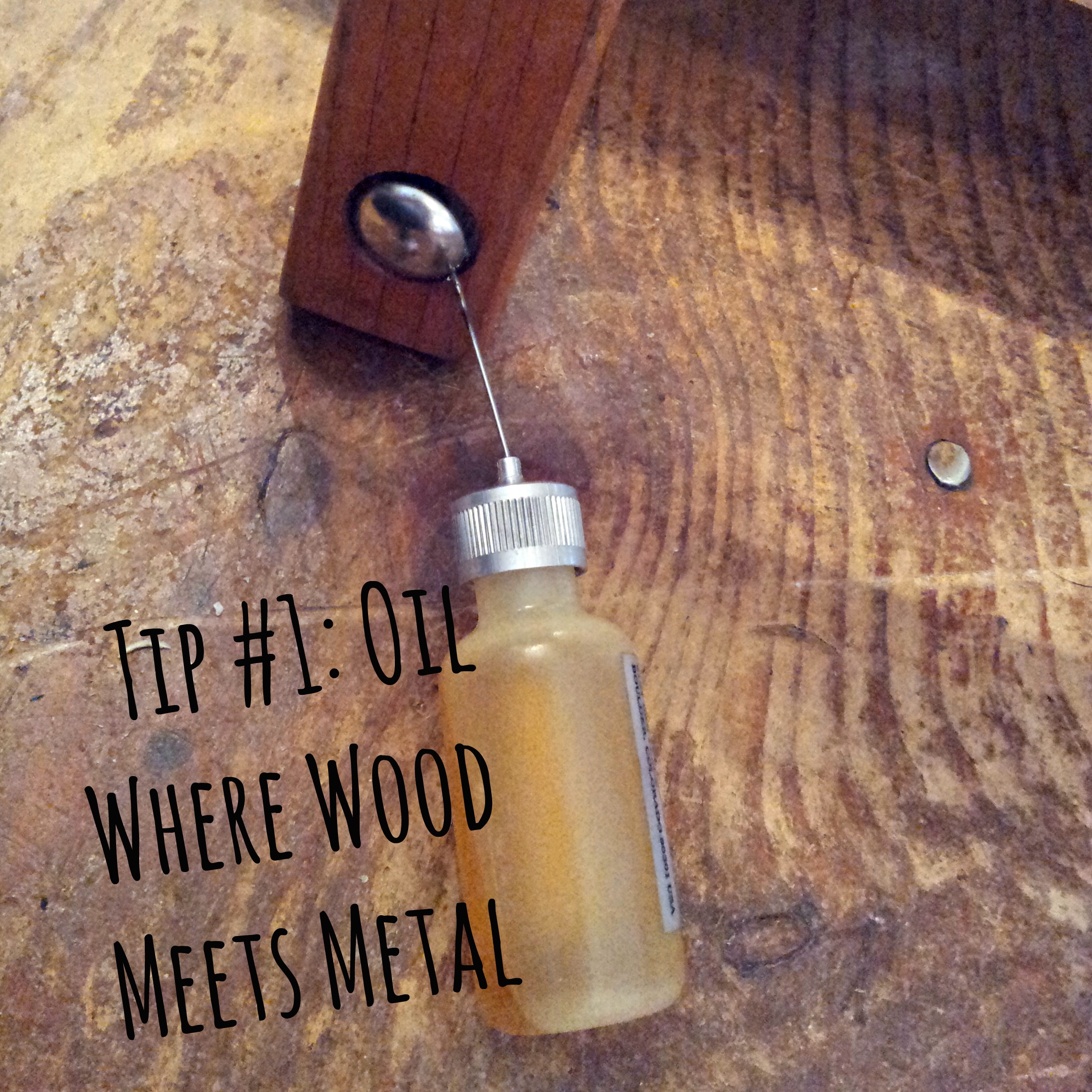 Tip #1: Oil wherever movement or friction happens.
I asked the Fiber Artists and Yarn Spinners community on Facebook what they used for oil, and most of them used a commercial oil provided by their wheel's manufacturer. For example, I spin on an Ashford spinning wheel and can purchase my Ashford spinning wheel oil here. You can also purchase spinning wheel oil on Etsy.
Some spinners prefer using natural products like olive oil or vegetable oil. To make your wheel smell good when you oil it, you can add a drop of essential oil to your spinning wheel oil (lavender, lemon or rose all smell wonderful, depending upon your preference). Vaseline is not recommended for spinning wheels, because it becomes gunky. In general, a liquid oil works best. One spinner told me she used her sewing machine oil on her wheel, and had heard that silicone fishing reel oil also works great.
How often should you oil your wheel?
This varies by wheel and by spinner. Some spinners recommend oiling your wheel about every 8 hours of use. Other spinners oil their wheels only when they begin to squeak. I prefer to oil my wheel once a month, if I've been spinning frequently, or once a season if I haven't been spinning often. I also oil it after every outdoor event, just to clean debris from the crevices.
Common places for oiling your wheel include:
1. Where movement happens around the bobbin (not where the yarn touches, you don't want oily yarn).
2. Where movement happens around the flyer (again, not where the yarn touches).
3. Where movement happens around the wheel (where the treadles attach to the wheel).
4. Where movement happens on the treadles (where the treadles attach to the wheel frame).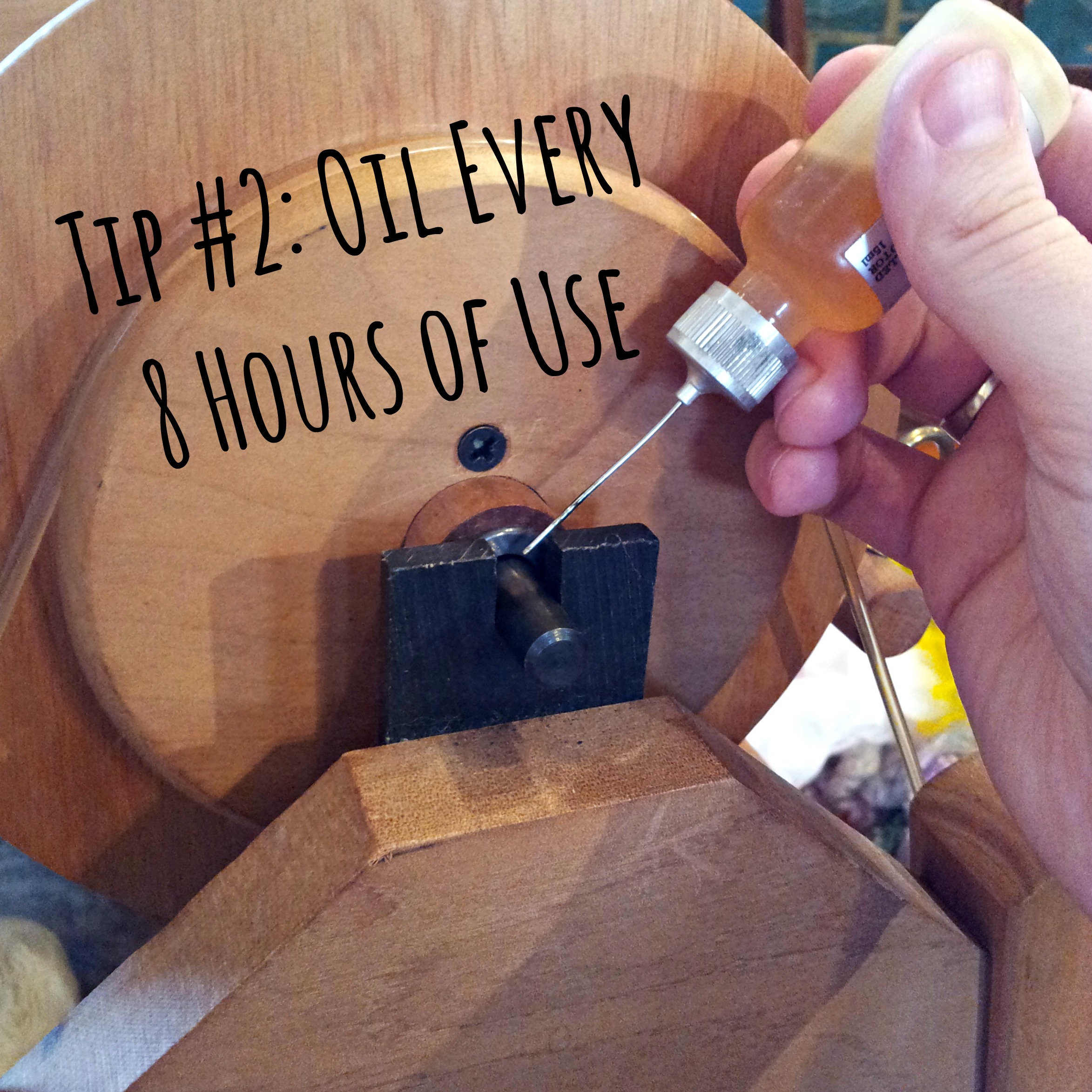 Tip #2: Clean the wood of your wheel
When I'm traveling around to different sheep and wool festivals and fairs, my wheel can get pretty dirty. Even spinning yarn outside will get the wood dirty. You can use lemon essential oil as an all natural cleaner. Simply dab a bit on a rag and wipe the wood gently.
If you don't have lemon essential oil, you can also use commercial products like Orange Glo (most spinners recommend not using anything silicone-based on the wood) or Old English Lemon Oil.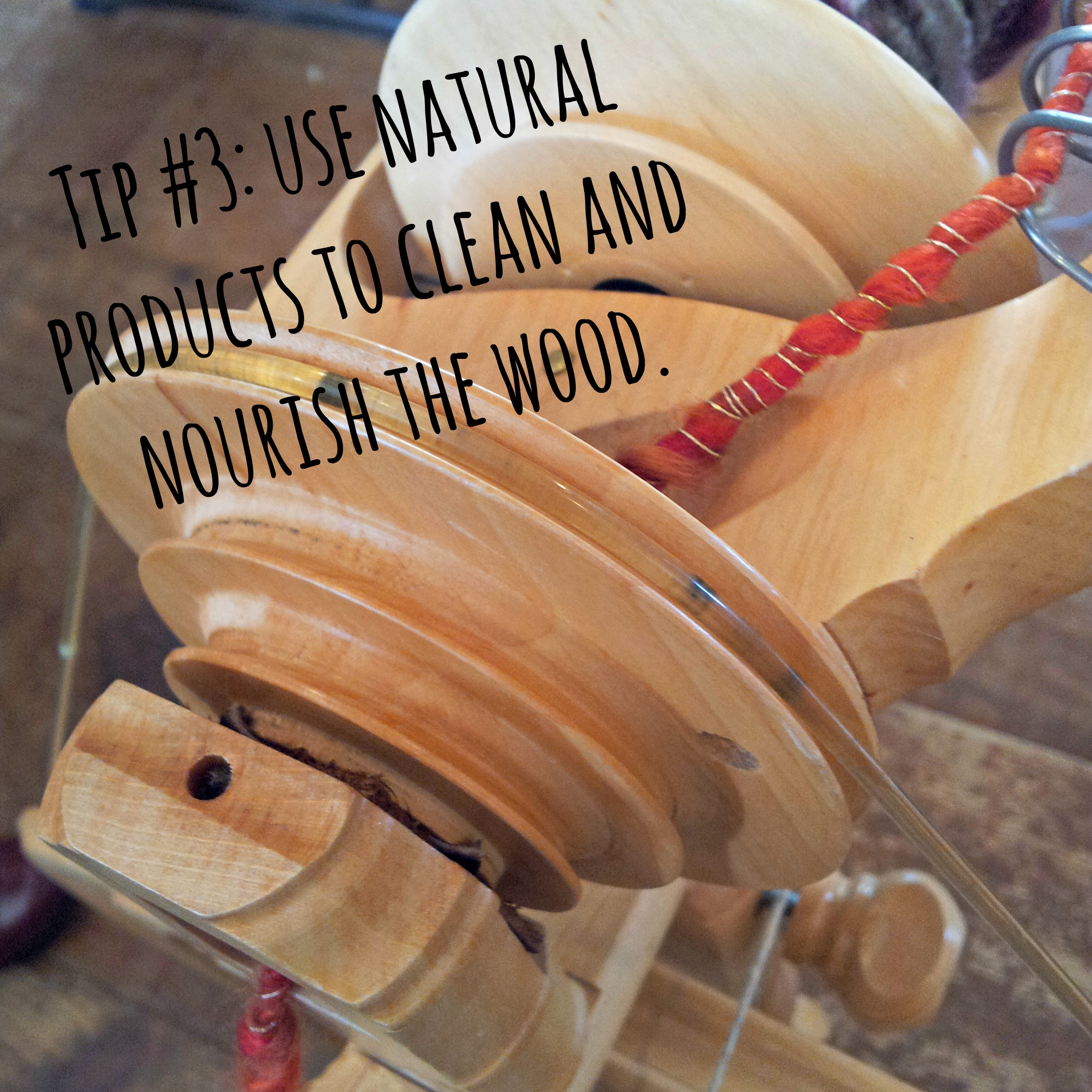 Tip #3: Nourish and seal the wood of your wheel
Different spinners prefer different finishes for their spinning wheel. Some spinners, like my friend Khristina Thayer of The Naked Ewe, paint their wheels to seal them to protect the wood. Other spinners prefer to keep the natural wooden look to their wheels, so here are some options for taking care of that natural finish: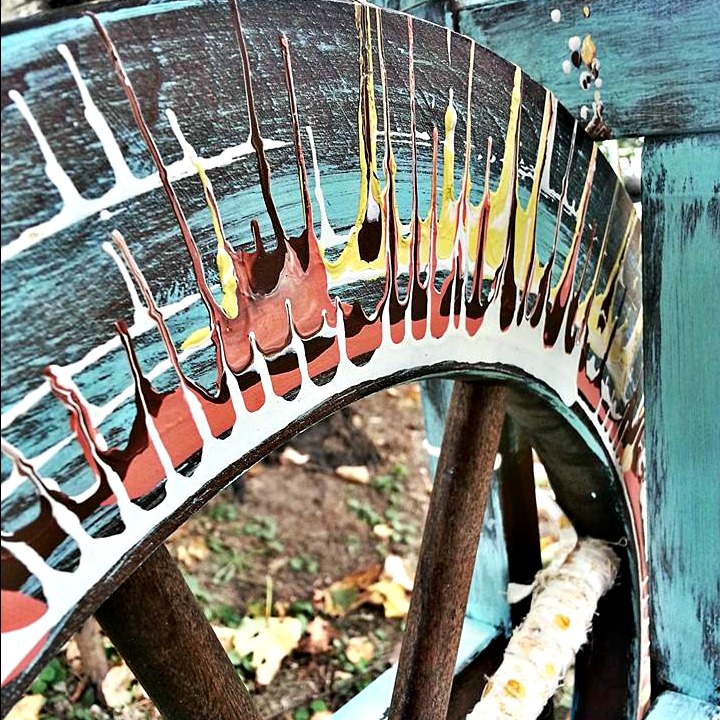 Painted Spinning Wheel by Khristina Thayer of The Naked Ewe
Use a wood wax or preserver to moisturize the wood of your wheel. These preservers are made from olive oil, beeswax and essential oil. This preserver will soak into the wood of the wheel and the wax will "seal" it temporarily. Reapply every 6 months, or as needed.
If you prefer a less greasy product with a matte finish, try Blue Mountain Handcrafts Wood Balm, which is made from all natural ingredients and is less greasy. Reapply every 6 months, or as needed.
Other spinners have told me they use commercial products, like Butchers Wax (for butcher block tables), Feed-n-Wax or Paste Wax Floor Polish.
Products that contain silicone (like Pledge) are not recommended because they make the wood too slippery and can cause the drive band to jump.
What are your favorite products for spinning wheel maintenance?