Every batt is one-of-a-kind, and the method you use to spin them will affect the look of your handspun yarn and completed knit or crochet project. In this post, we'll explore three different methods for spinning a carded batt.

Carded batts by Atomic Blue on ETSY
First, get to know the different types of batts
1. Blended batt
This is a batt that is very smooth and uniform in color. Usually, no matter which way you spin a blended batt, you'll end up with the same yarn.
2. Textured batt
This is a batt that is full of various textures and colors of fiber. Every inch of this batt may be unique, and going through the layers and textures will help you determine the final yarn you spin. Many artisans call these "art batts."
3. Colorblocked batt
This is a batt that has chunks or layers of color, and creates a very large variety of yarns when spun, depending on how you spin it!
Now, let's explore three different methods of spinning a carded batt
Note: For this tutorial I will be using an Art Batt from Atomic Blue on ETSY.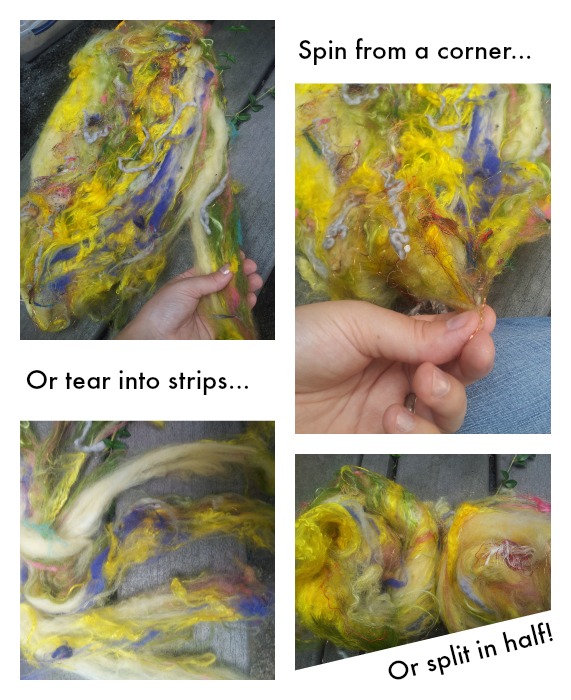 Method #1: Spin from the corner
This is my preferred way of spinning, because I love the organic look of knitting with a yarn that has clumps and bumps at random. The free-form randomness of the final yarn gives an effortless look in my knit project that I simply find aesthetically the prettiest.
This method works with blended batts as well as art batts. The downside of this method is if you're spinning a colorblocked batt, it can randomize and mess up the color striping. So if you want your colorblocked batt to turn into a colorblocked yarn, you will need to use the tearing method.
Method #2: Tearing into strips
This method I use for colorblocked batts, or batts that have color and texture that I want to separate and maintain in a yarn that has clean stripes or blocks of color to knit. It also works as a good way to pre-draft your batt fiber, and spin a more even, consistent yarn. Many spinners prefer tearing their blended batts into strips to achieve that even, consistent, traditional feel. This method gives you the most control over the yarn as you spin.
Method 3: Split in two
This method is how I work with very textured art batts. It's basically a combination of the two techniques above. You could also tear the batt into three or four big chunks. With batts that are full of texture, if you're spinning from the corner — sometimes the texture clumps together and you may end up spinning an even yarn with two yards of thick bulky texture right in the middle. So tearing the batt into 2 to 4 mini batts helps spread all that texture and color out so the final yarn has consistent fun bumps of texture from beginning to end.

From beginning to end – the spinning process
Every batt is different, and you may find that you prefer one method of spinning over another. There is no right or wrong way to spin a batt — and no matter what method you use, the yarn will still look beautiful.
Learn how to spin the stunning yarn you've always dreamed of with the Craftsy class Foundations of Spinning with Amy King. You'll how to use your wheel while also unlocking endless creative possibilities!
Sign me up!
What's your preferred method for spinning a carded batt?