You've just finished crafting a perfect bowl of soup, taking great care to build layers of flavor and getting the texture just right. Now it's time to eat, right? Not quite. Well, you could I guess, but why not go a step further and garnish your soup. It's like accessorizing your food: Maybe it's not necessary but it adds a final touch and turns something good into something great. With soup it's a chance for an even more flavorful soup.
Discover more than 10 garnishes to improve all types of soups.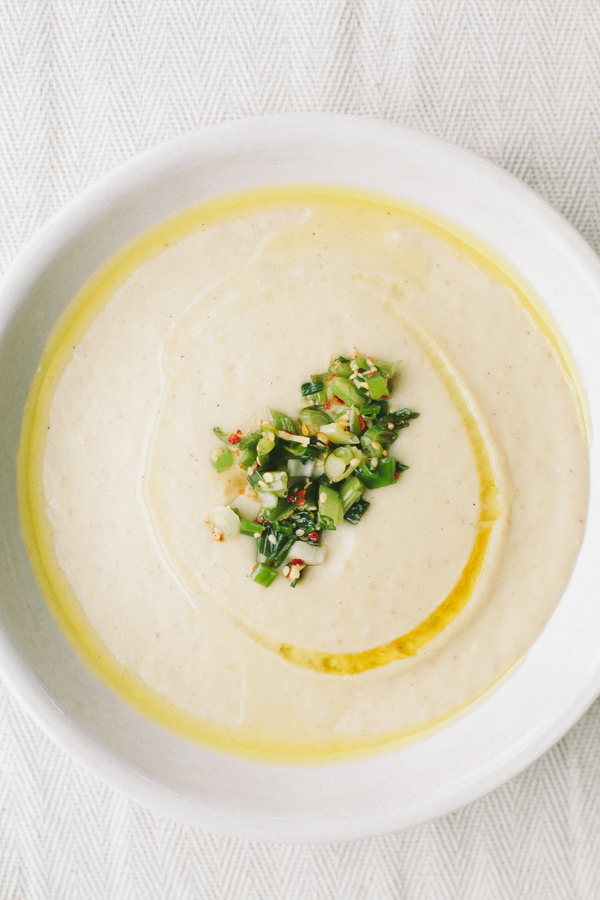 Garnishes for a velvet textured soup
When you've made a velvet textured soup a little texture by way of the garnish is vital. Here I've made a roasted cauliflower soup with celery and leeks. The texture is perfectly smooth and the flavor is deep and softly smoky due to the fact that the vegetables were roasted until bronze and even charred in parts.
To off-set the roasted flavor I've topped the soup with a crisp and brightly flavored scallion kimchee. Thinly sliced scallions would do nicely here as well but I love the heat that the kimchee brings. The garnish doesn't just break up the beige color it also adds more flavor, a fresh bite and more textural interest.
I also finished the soup with a generous drizzle of extra-virgin olive oil. This too adds another layer of flavor and a subtle textural difference.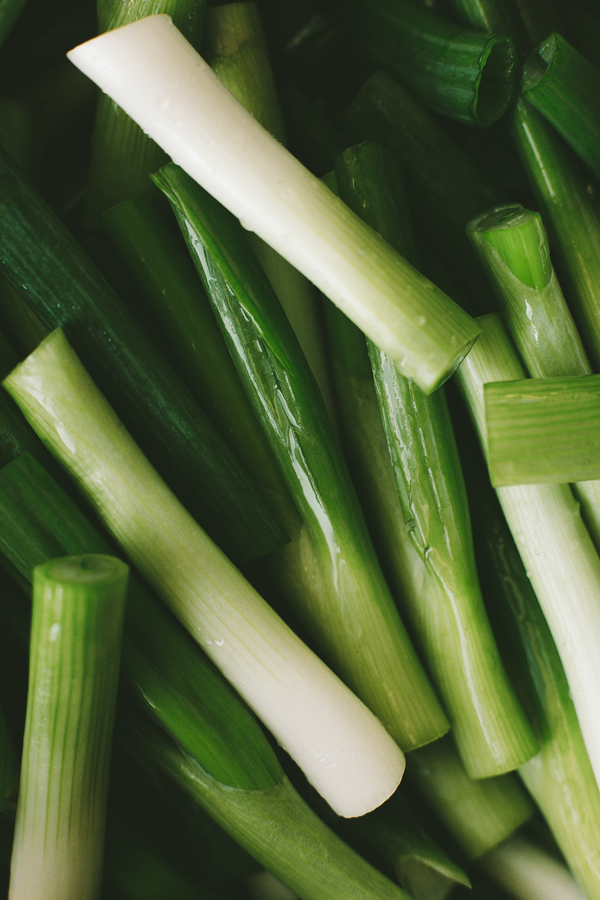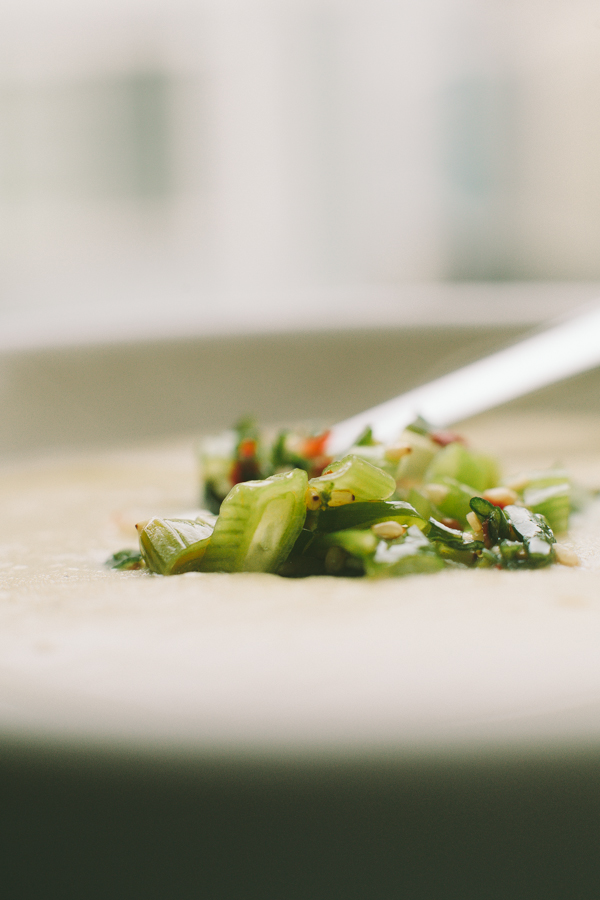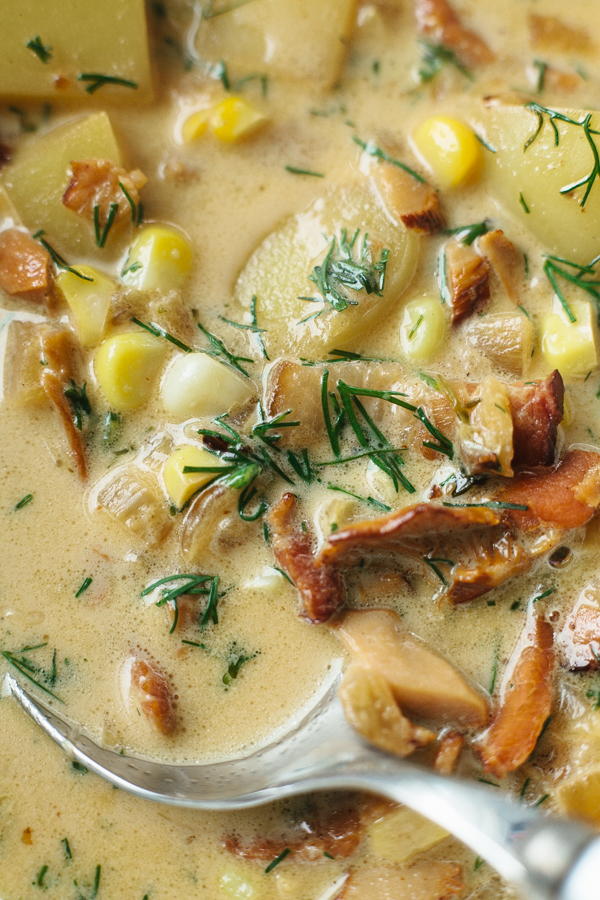 Garnishes for chowder
For my Chanterelle chowder there's already a lot of texture with chunks of potato, fresh corn and deeply roasted chanterelles. There's a lot of dark, roasted flavors but not a lot of freshness so I garnish simply, with some fresh dill. The green pops in the otherwise monotone soup and adds a grassy, floral flavor that doesn't fight the other, deeper flavors but accentuates them. That is the point of a garnish: not to overwhelm or to become the star of the bowl but to simply add to the soup in a subtle and enjoyable way.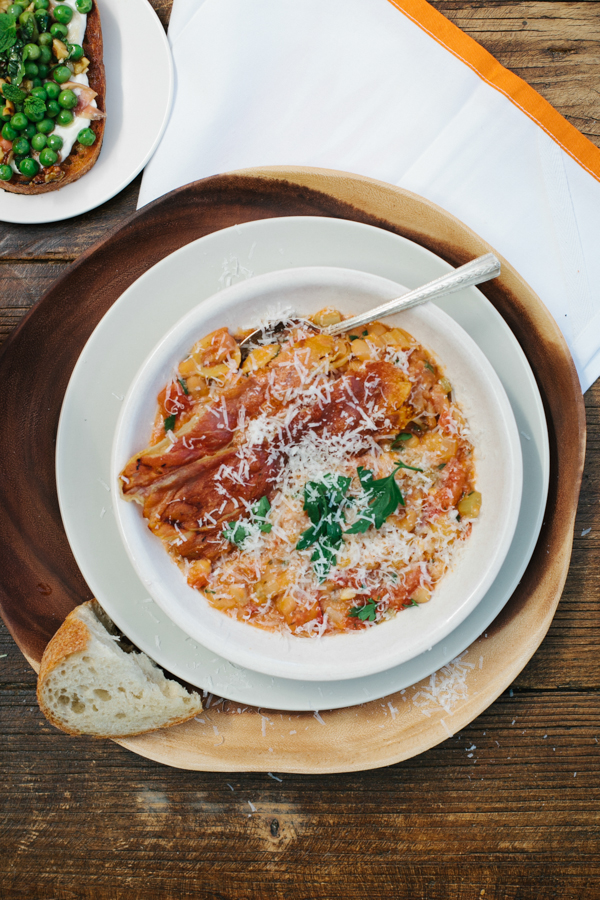 Garnishes for pasta and vegetable soups
Crispy prosciutto, grated Parmesan and fresh Italian parsley finish a vegetable and pasta soup. The wisps of cheese melt into the hot soup and adds a salty umami flavor while the prosciutto adds a welcomed crisp texture to an otherwise soft soup.
The point is this, don't overlook the garnish and don't miss an opportunity to add even more flavor and excitement to the bowl. There is no greater example of this than Pozole. It's a Mexican soup flavored with red or green chiles and quite often, chicken. Recently we went to a friend's house where this was served.  A big simmering pot on the stove held a vibrant green Pozole and on the counter nearby were bowls filled with cilantro, thinly sliced radishes, pepitas, crumbled cheese, diced onions, and sliced avocado. We were invited to ladle in our soup then garnish as we see fit. In my case I practically made a salad on top of my Pozole. I do the same with my chile- red onion, cilantro or parsley, cheese, crumbled up Fritos or tortilla chips, etc. In these cases the garnish becomes part of the process and makes your dinner parties that much easier. All you need to do is provide a big pot of soup and several toppings. We all love to play with our food and be invited into the process of preparing the meal (or maybe I shouldn't speak for everyone) and this is a perfect way to do that.
Other ideas for garnish:
Roasted, chopped nuts

Toasted sesame seeds

Scallions

Shallots

Crumbled crackers

Lemon/lime

Grated ginger

Chopped fresh vegetables (tomatoes, cucumber)

Meat (crab on gazpacho for example)

A dusting of spices

Yogurt or sour cream
For more great ideas check out the online Craftsy class Building Flavorful Soups taught by James-Beard Award-winner Peter Berley or Authentic Italian Soups: From Broth to Bowl with Domenica Marchetti.
What types of garnishes do you use for your soups?