As we approach the impending winter season, what could be more appropriate than quilting a snowball block? This is a classic that is rather easy to make! Quilters of all levels appreciate the ease of construction in this classic block as well as the playful finished project.
If you are a new quilter and ready to take your patchwork skills to the next level, this block is for you! More advanced quilters also find this to be an entertaining pattern as well.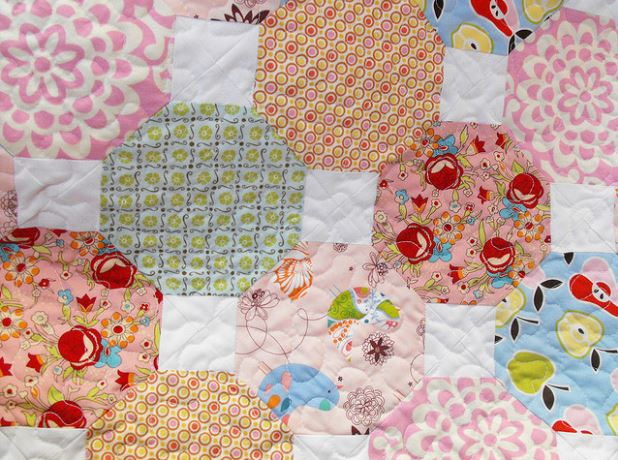 Photo via Fussy Cut
Would you like to make a snowball quilt? Learn how to make a 6" finished block (6.5" unfinished) with this easy tutorial.
Step 1:
Cut one main fabric square measuring 6.5" and four background squares measuring 2.5".
Step 2:
Use a pencil and ruler to draw a diagonal line on all four background squares.
Step 3:
Place the background squares on each of the four corners of the main fabric square. Pin in place as shown.
Step 4:
Sew across each of the four pencil lines, backstitching at the beginning and end of each seam.
Step 5:
Trim excess fabric ¼" away from seams if you'd like.
Note: Personally, I prefer to trim that fabric off, though some like the double layer for support.
Step 6:
Press background fabric away from main fabric, and voila! A snowball block that measures 6.5".
Do you enjoy paper piecing?
Penny of Sewtakeahike has a snowball quilt-along available on her blog. A free pattern and instructions are included. Her adorable quilt features paper-pieced snowball blocks that measure 4". If you are new to paper piecing and have been looking for a simple pattern to learn on, this one is right up your alley. This technique allows for very accurate piecing and a tidy quilt top.
Now that you know how to sew a snowball quilt block, what is next?
There are many options for layouts. The simplest way to create a quilt top is to make a bunch of quilt blocks and sew them all together. Carefully pin the blocks together before sewing into rows. Once those rows are neatly pressed, pin them together and sew to create a snowball quilt top.
There are other ways to layout snowball blocks, be sure to check out these eye-catching options!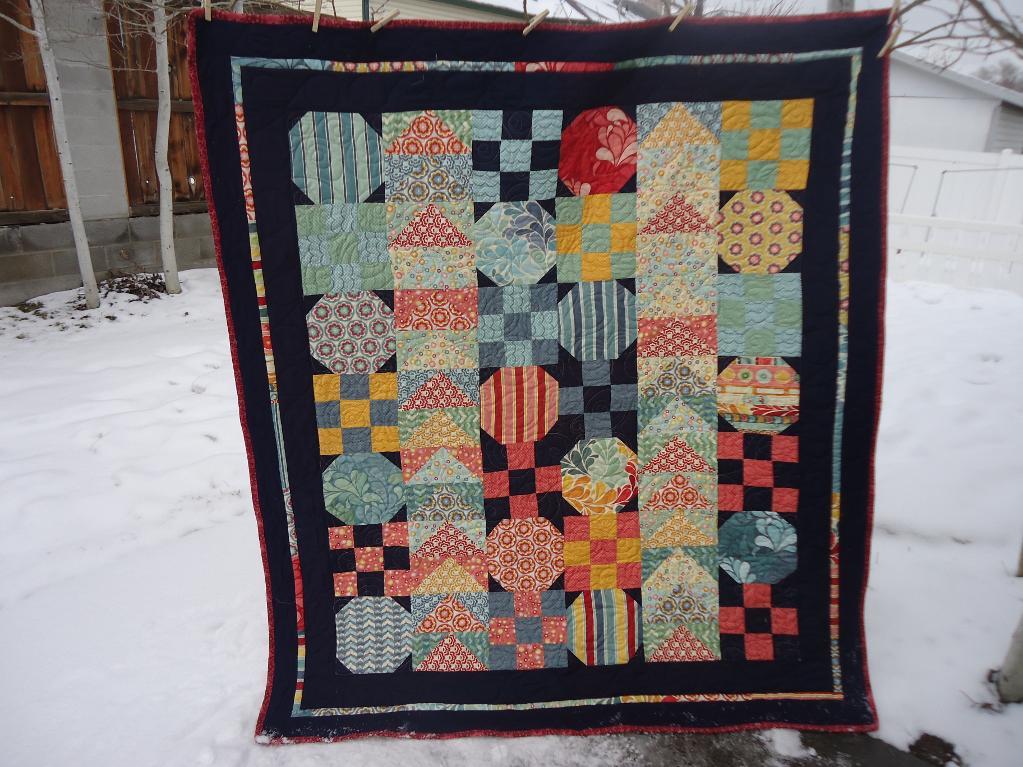 Stop 'N Go Layer Cake quilt:
Designer shanmodtraditio paired snowballs are paired with flying geese and 9-patches in this quilt conveniently made from a layer cake.
Get the Stop 'N Go Layer Cake pattern.
Snowballs and Beach Balls table runner:
Both pieced and classic snowballs of multiple sizes are used to create a playful table runner from pattern designer PamelaQuilter.
Get the Snowballs and Beachballs pattern.

Photo Corners quilt:
Rectangles rather than squares are used to create this snowball inspired quilt from designer dontcallmebetsy. It's the perfect pattern to use for those large print fabrics.
Get the Photo Corners quilt pattern.
What do you think of the snowball quilt block? Have you ever made a quilt out of this classic pattern?