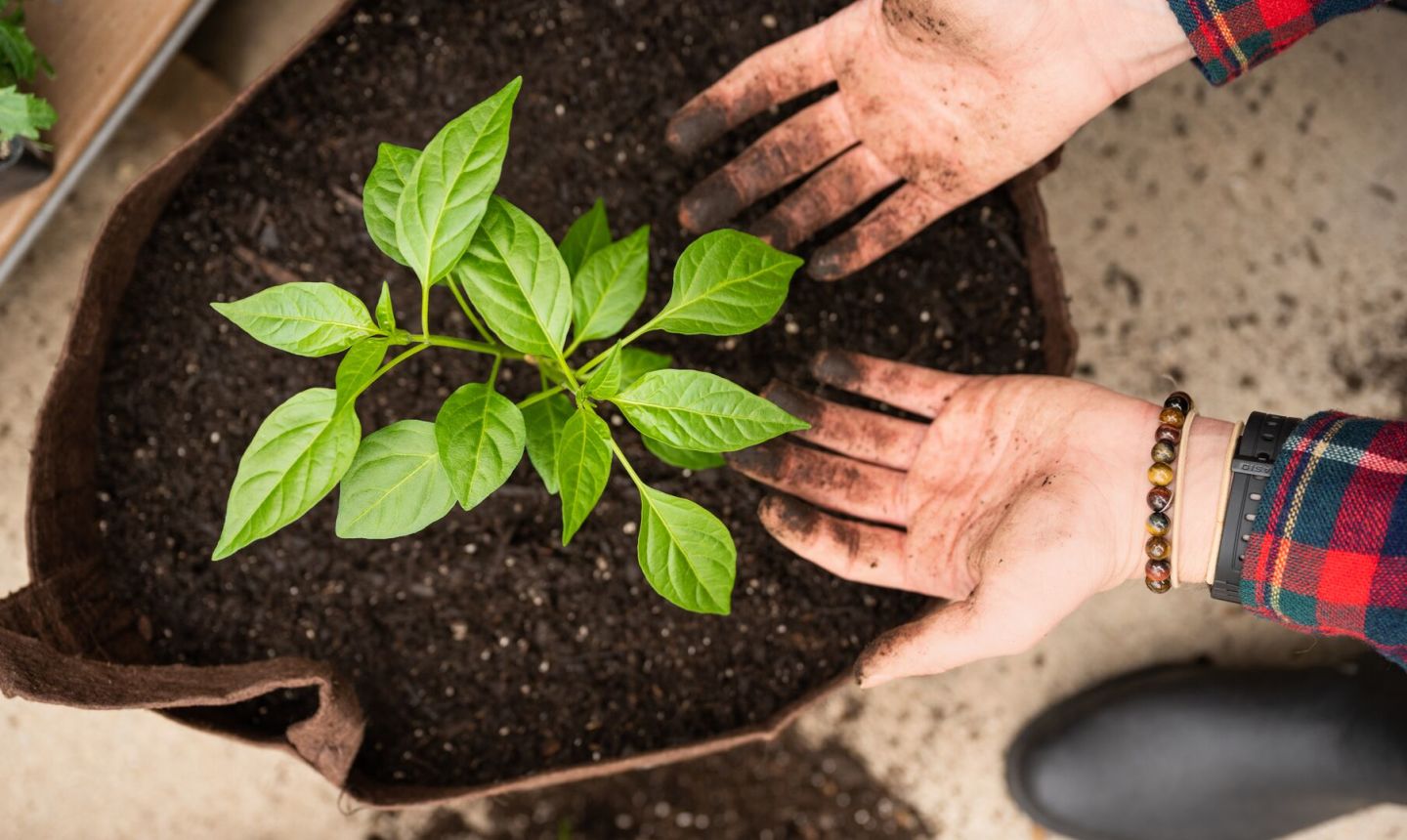 Spoiler: you don't need a big yard to grow your dream garden. With some strategic planning, you can create a green oasis no matter how small your space.
1. Arrange a Container Garden
Apartment dwellers may be limited to balconies or patios, but container gardens give so much freedom to explore: you can find (or DIY) pots in all different shapes, sizes and colors, for example, or take another creative approach and use recycled materials like fruit crates, paper shopping bags or mason jars.
Once you have your containers — and know how you want to arrange them — decide whether you want to grow flowers, herbs or veggies. Regardless, there are a few things to keep in mind: make sure your containers offer good drainage so your plants don't sit in water (you may have to drill drainage holes or line the bottom with small rocks), and if you're growing edible plants, don't use any materials that could leach toxic chemicals into the soil.
Container plants also need to be watered more frequently than plants in the ground; in hot weather, expect to water outdoor pots about once a day.
2. Build a Raised Garden Bed
If you're craving fresh, home-grown veggies, build a raised garden bed. You can design it to be as big (or small) as your space demands, and it's an easy way to grow anything from leafy greens to potatoes.
Along with being balcony-friendly, the soil warms faster in a raised bed so you can plant earlier in the season. You also have total control of the soil quality, and raised beds often have better soil aeration and drainage. Basically, raised bed gardens are a stress-free way to grow your greens.
3. Box 'Em
A simple way to add a little green to your home: window boxes. You can mount them on your windows or hang 'em over your balcony railing for some urban green thumb action. They can grow anything from beautiful flowers to strawberries, green onions and other edible plants.
4. Go Vertical
Vertical gardens are the ultimate space-saver, whether you make one from PVC pipe or from an old wooden pallet. You won't be able to grow every type of veggie in a garden like this, but lettuce, cabbage, kale and herbs can thrive. Vertical gardens are also great way to show off your succulents, so your balcony garden will look totally on trend.
5. Stick to Succulents
The best thing about succulents: they tend to be tiny. You can grow them in itty bitty containers — making them perfect for balconies and patios — or even craft some planters that you can use to decorate your space. Another perk of succulents? You can propagate them, sprouting a whole garden without dropping a whole lot of cash.