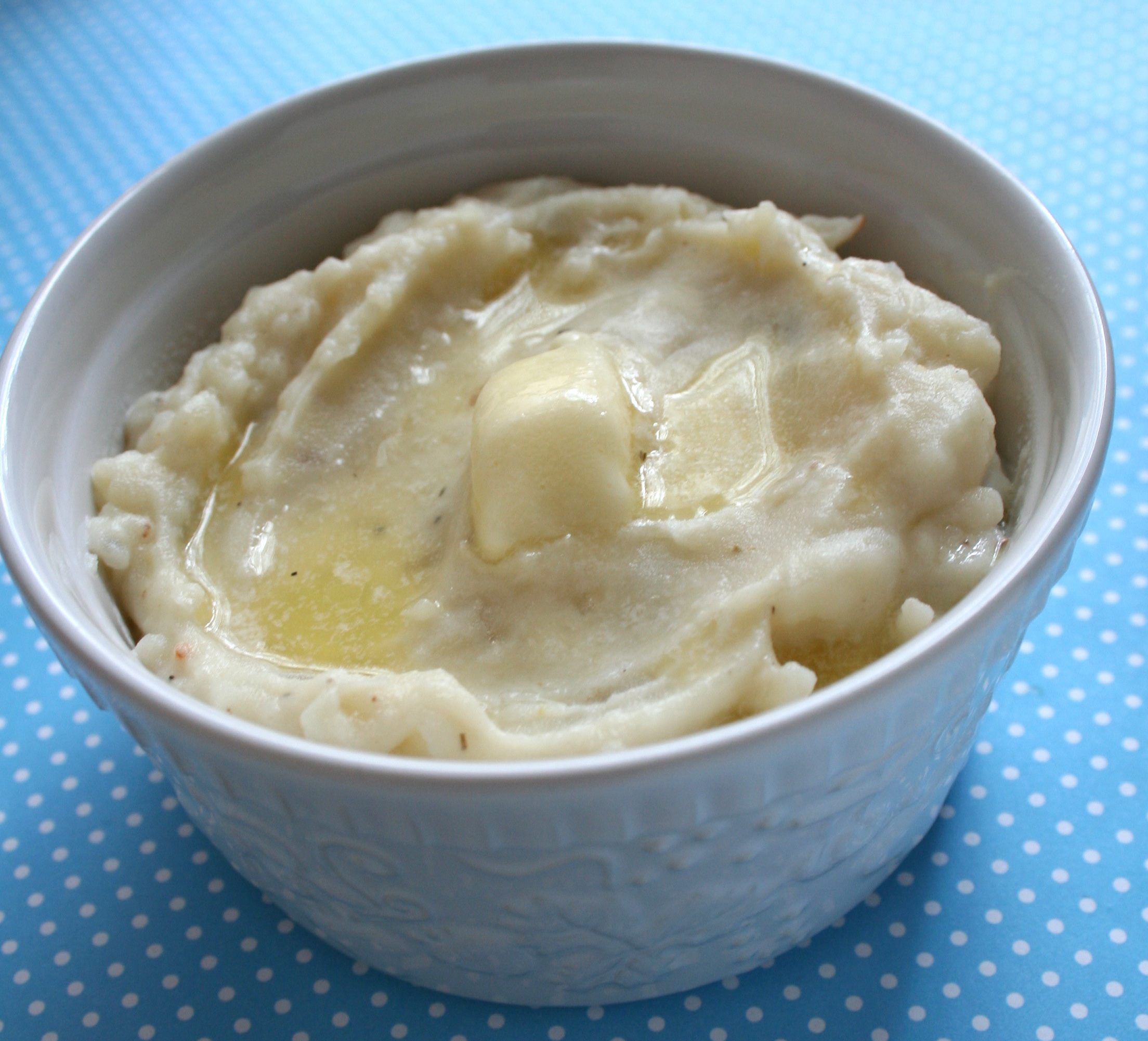 Take note: this isn't your typical "cook the mashed potatoes, then keep them warm in a slow cooker" method. Rather, it's the perfect one-bowl way to cook mashed potatoes from start to finish. Over the span of a few hours, cubes of seasoned potato are cooked until tender, mashed right in the same slow cooker bowl and mixed with creamy additives. It couldn't be more simple!
Slow Cooker Mashed Potatoes
Yield: 4-6 servings
What You Need
Ingredients
Butter or non-stick spray, for greasing the slow cooker
2.5 pounds russet potatoes, peeled
2 cloves garlic, smashed (optional)
Salt and pepper, to taste
2 teaspoons dried rosemary
¾ cup cream
¾ cup milk
¼ cup (half a stick) unsalted butter, cut into pieces
Tools
Sharp knife for cutting potatoes
Cutting board
Slow cooker
Potato masher or ricer
Spoon or spatula
Good to Know: This recipe uses both milk and cream. Cooking the potatoes in cream gave them a rich, full flavor, and adding milk later keeps them from becoming too heavy. You can use only milk or cream if you prefer, but results may vary.
Instructions
1. Grease the bottom of your slow cooker with butter or non-stick spray.
2. Chop the peeled potatoes into approximately 1″ cubes. Place them into the slow cooker.
3. Add the smashed garlic cloves on top of the potatoes. Add salt and pepper to taste and sprinkle the rosemary. Pour the cream on top of the mixture. Stir to combine the ingredients.
4. Seal the lid and cook the potatoes on high for 3 hours. When the potatoes are very tender, switch the slow cooker to the "warming" setting.
Pro Tip: To test the potatoes for tenderness, spear one with a fork. It should feel very soft, like you could easily mash it.
5. In a saucepan or a bowl in the microwave, warm the milk and butter together. Once the butter has melted, remove it from the heat.
6. Use your masher or ricer to mash the potatoes right in the slow cooker bowl.
7. When the potatoes are smooth, slowly add the milk and butter mixture, stirring as you add it. As you stir, the liquid will soak into the potatoes. Keep adding milk and cream to bring the potatoes to your desired consistency. Serve warm.