Imagine a world in which breakfast is hot, ready and waiting for you when you wake up. Well, guess what? That idyllic scene could be a reality as soon as tomorrow morning with this slow-cooker breakfast casserole recipe. 
Photos via CakeSpy
About this recipe
The process is incredibly simple: assemble all of your favorite breakfast foods, including eggs, cheese, potatoes, sausage and toast, place them in a slow cooker, and let them cook on low while you sleep. Conveniently timed to cook for about 8 hours, this recipe will be piping hot, fragrant, perfectly cooked, and ready to eat when you wake up. 
Once cooked, the ingredients bake up into a sort of frittata-like consistency, with tantalizingly crispy edges. Some of the sausage and potatoes will "float" up to the top during the slow cooking, giving it a delectably nubbly texture with a perfect, golden top. This easy casserole makes for a memorable breakfast indeed.
This recipe is perfect for when you want to wake up with breakfast already made, or it's a fantastic addition to an elaborate brunch when you want to get some of the cooking out of the way ahead of time.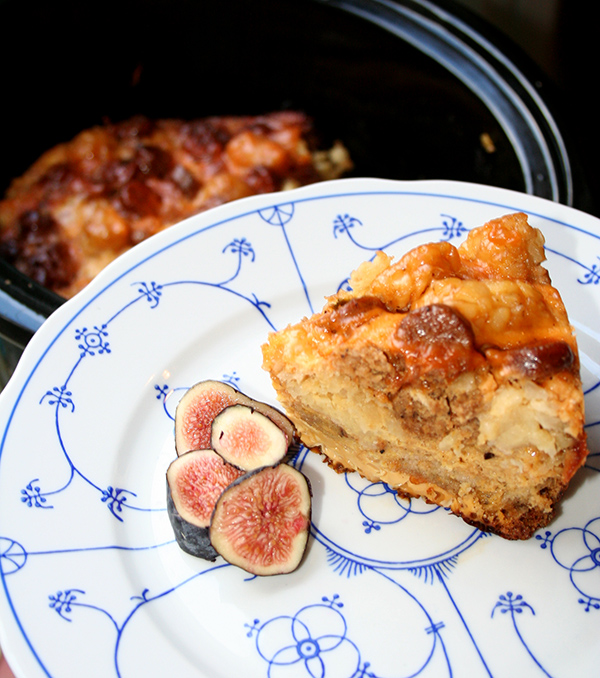 Slow-cooker breakfast casserole recipe
Makes 6 servings 
Ingredients:
2 tablespoons scallions, finely sliced
1 tablespoon butter
10 ounces sausage, cut into small pieces
4 slices toast, cut into 1-inch cubes 
8 ounces cheddar cheese, grated
10 eggs
1 cup milk
12 ounces homemade or frozen tater tots
Salt and pepper, to taste
Step 1:
In a skillet over medium heat, cook the scallions in butter until they begin to wilt. Add the sausage, and cook until browned to your liking. Remove from heat and let cool.
Step 2:
Generously grease the bottom of the pan. Assemble the remaining ingredients. Mix together the eggs and milk, and add salt and pepper, to taste.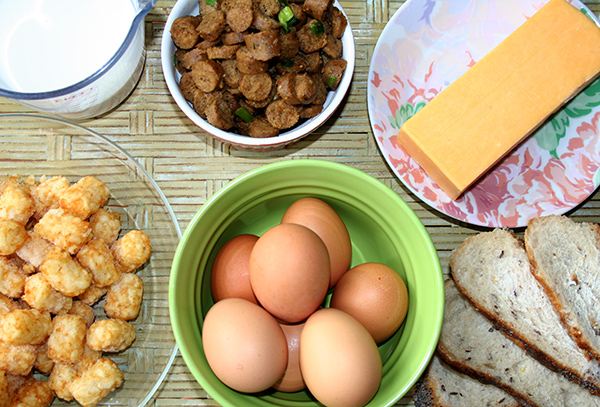 Step 3:
Press the toast pieces into the bottom of the greased slow cooker. Pour about 3/4 cup of the egg mixture on top, and sprinkle with a little bit of the cheese.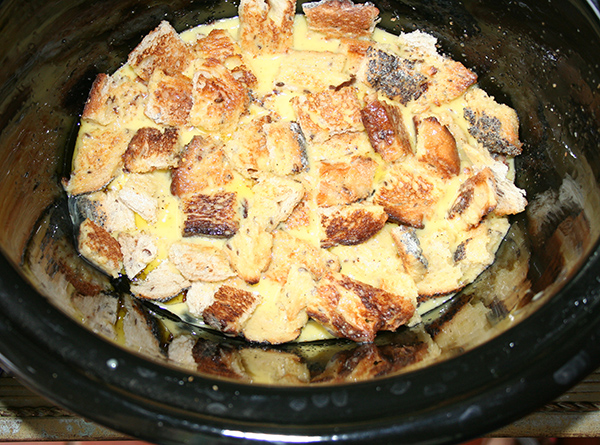 Step 4:
Create an even layer of tater tots and sausage pieces on top of the bread with cheese and egg mixture. Once in place, pour about 3/4 cup more of the egg mixture on top, and then sprinkle with more cheese.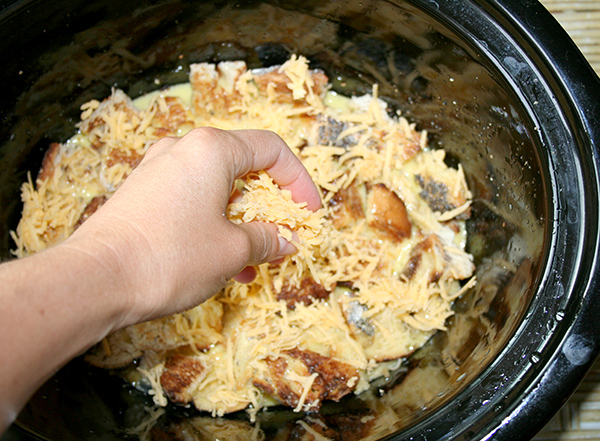 Step 5: 
Repeat the process, creating another layer of sausage and tater tots and covering with egg and cheese, until you've used all of the ingredients. Be sure to finish with a generous sprinkling of cheese on top.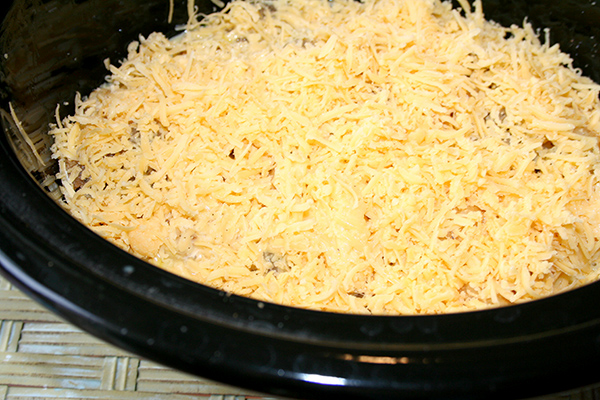 Step 6:
Seal your slow cooker, set on low, and let it cook for 7-8 hours. The top should be golden, and the sides should be crisp. You can let the casserole cook a little longer if you like very crisp edges.
Serve warm.
Recipe notes:
This recipe works beautifully with substitutions or adaptations. For instance: 
You can swap any good melting cheese for part or all of the cheddar specified in the recipe.
You can use whole, skim or 2 percent milk. 
Omitting the toast, or using gluten-free bread, will make this recipe gluten-free. Be sure to check the ingredients on your tater tots and cheese to make sure there are no gluten by-products included.
Feel free to substitute any other breakfast meat of your choice. You can also use vegetarian "meat" substitutes or omit the meat entirely.
Craving veggies? Feel free to add 1 1/2 cups cooked vegetables such as peppers, mushrooms, slow-cooked tomatoes, kale or spinach to the mixture. 
Love the idea of making breakfast in advance? Check out our overnight French toast recipe for something sweet to complement this savory casserole.