French toast is the perfect breakfast for a lazy weekend morning. But with all of your attention dedicated to lazing about and reading the paper, the mere thought of breaking out pans and mixing up a soaking mixture might seem exhausting.
The solution? Whip up a batch of overnight French toast.
It's easy to assemble the night before, so that while you're sleeping, all of the flavors meld in a most beautiful way. In the morning, all you have to do is preheat the oven and bake; in a short time, you'll have a delicious one-dish feast.
Here's a simple tutorial on how to make overnight French toast.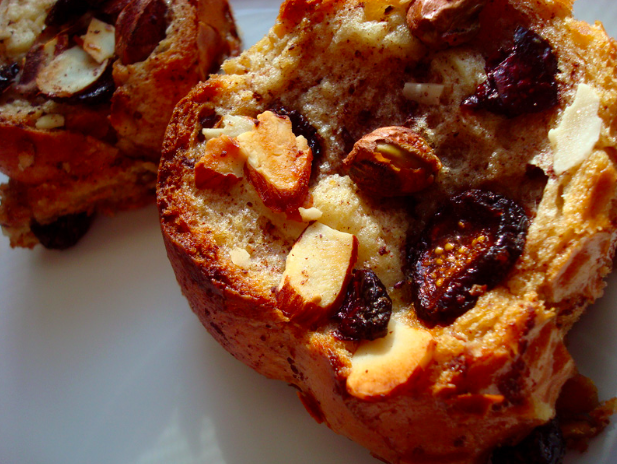 How is it different from regular ol' French toast?
Overnight French toast is like the casserole version of traditional French toast. Instead of dipping the bread in an egg mixture and then pan frying your slices, you simply place the sliced bread in a baking pan and pour the egg mixture on top. You let it soak overnight, allowing the mixture to really sink into the bread. Then, the next morning, you bake it right in the pan until golden, making for a warm and cozy breakfast.
If you've ever made regular French toast, then you are certainly equipped with all of the skills required to make the overnight version. But it's so easy that even beginners will find this recipe accessible.
Before you get started, here are some things to think about.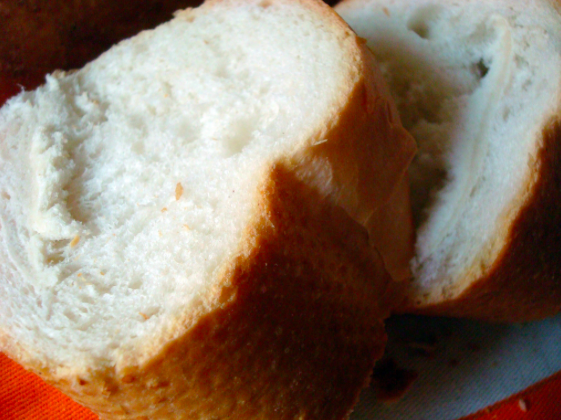 First, consider your carbs. Traditionally, French toast is made with day-old or slightly stale bread. The dry texture actually acts to your advantage, working like a sponge to soak up all of the tasty flavors of an egg mixture. While a slightly dry texture is important, you can take some license with what type of bread you use. For a traditional approach, use a crusty artisan-style bread or a French style bread. If you're feeling inventive, quick breads such as banana or zucchini would work, as would sweet breads such as babka (you can learn about making all of these delicious types of breads in Peter Reinhart's class Artisan Bread Making). Nontraditional items such as doughnuts or cinnamon rolls. Just make sure they're on the drier side (day old is great, in this case).
This recipe was made using an Italian style loaf of crusty bread, sliced into approximately 1-inch thick slices. There was enough bread to fill the pan…and to make croutons with the leftovers!
As a side note: The idea of using slightly stale carbohydrates actually has something to do with the name "French toast", which is derived from the French pain perdu, which roughly translated means "lost bread". This recipe was designed as a clever way of "saving" bread that would otherwise be a lost cause.
Eggs and dairy:
This recipe uses 5 eggs, which seems to give the finished dish a nice, custardy texture without tasting too "eggy". It is not suggested to use fewer eggs. However, if you prefer a more eggy French toast, you can use up to 7 eggs; otherwise, follow the same instructions. Also, this recipe calls for whole milk, but depending on your preference, you can swap this for low-fat or 2% milk for a more virtuous dish, or use half and half or cream for a sinful treat.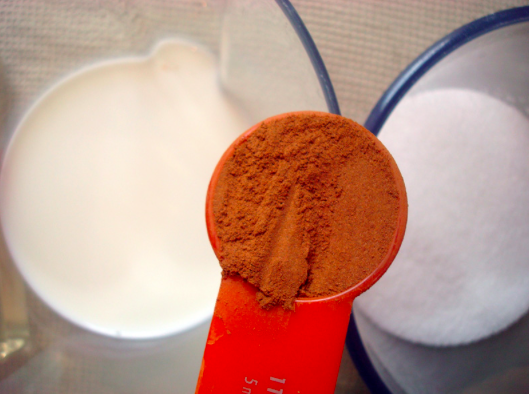 Sugar, spice, and flavoring:
This recipe calls for 3/4 cups of sugar, which may sound like a large amount, but interspersed between several servings, actually only yields a slightly sweet result. If you know that you're going to be topping the toast with whipped cream or syrup, you could consider bringing the sugar down to a mere half cup. As for the flavoring, the vanilla extract adds a nice little kiss of vanilla flavor, but this can easily be swapped for another extract of your choosing (almond, hazelnut, etc). As for the cinnamon, it is optional but it sure does taste nice with the sugar.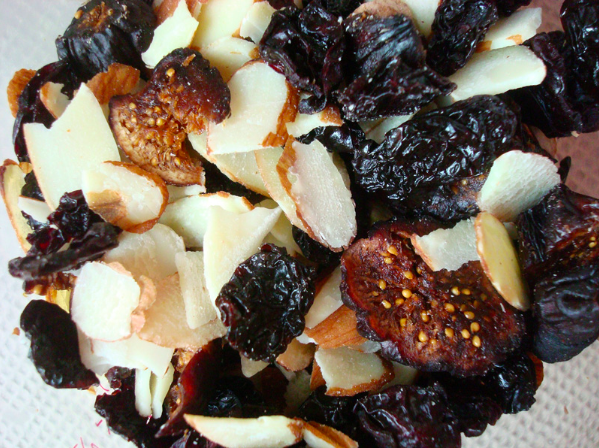 Add-ins:
It's not necessary to add in any other ingredients, but it can definitely be a fun way to tailor the toast to your taste. About two cups seems to be a good amount to add in without the toast becoming too bulky. On this version, the add-ins are two cups total of a combination of almonds, pistachios, cherries, and sliced dried figs. It was rather tasty. But really, the sky's the limit: some suggestions could include ripe banana, fresh or frozen berries, cherries, chocolate chips, or nuts.
Ready to get shaking for tomorrow morning's baking? Here's the recipe.
Overnight French toast
1 loaf bread (slightly dry or day-old is good), sliced into approximately 1-inch slices
5 large eggs, lightly beaten
¾ cup whole milk (about 177 ml)
1 tablespoon vanilla extract (can use almond extract or other flavored extract) (about 17 ml)
¾ cup granulated sugar (about 96 g)
2 teaspoons cinnamon (about 10g)
Optional: Up to 2 cups various add-ins of your choosing (nuts, fruit, chocolate chips, etc)
Step 1:
Generously butter a 9×13-inch baking pan. Place the bread (or other carbohydrate) in a single layer along the bottom of your pan.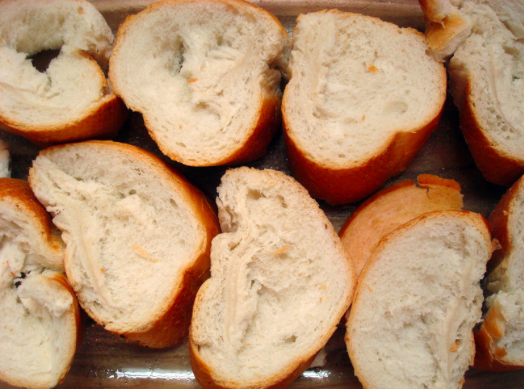 Step 2:
In a separate medium sized bowl, combine the eggs, whole milk, extract, sugar, and cinnamon until combined. Beat until you have light bubbles around the edges, but not frothy. Gently stir in any add-ins, only long enough to make sure they're evenly dispersed and coated.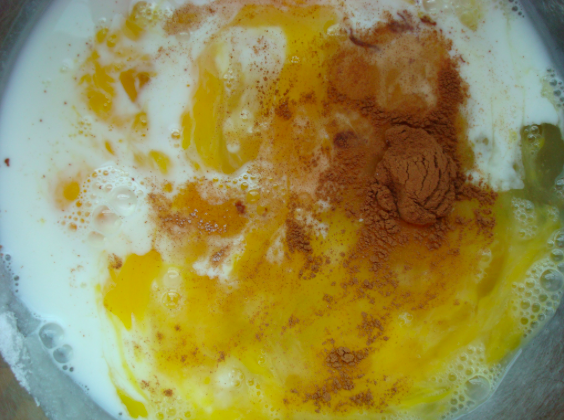 Step 3:
Pour this mixture over the arranged slices of bread, lifting slices to make sure it gets into all of the in-between spots. If you miss spots on the top of the slices, you can either flip them upside down (the bottoms will likely be well coated since the mixture has settled in the bottom of the pan).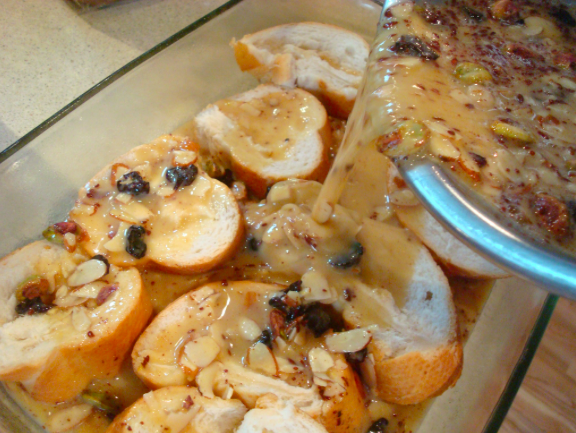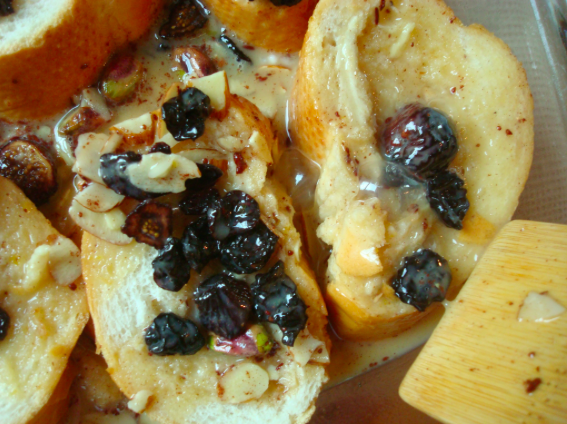 Step 4:
Cover well, and place in the refrigerator overnight. Go to sleep; have sweet dreams.
Step 5:
Wake up the next morning. Think of how you'd love to have some French toast, but lament the fact that it sounds like so much work. But before you despair, remember: you've already done the work! Do a happy dance on over to the kitchen to preheat your oven to 400 degrees F.
Step 6:
Once preheated, place the pan in the middle rack of the oven and bake for 30 minutes or until golden and bubbling.
Step 7:
Remove from the oven and transfer the pan to a heatproof surface to cool for about 15 minutes. Serve warm. While this dish is designed as a stand-alone item, you can feel free to top with maple syrup, whipped cream, yogurt, or roasted fruit jam.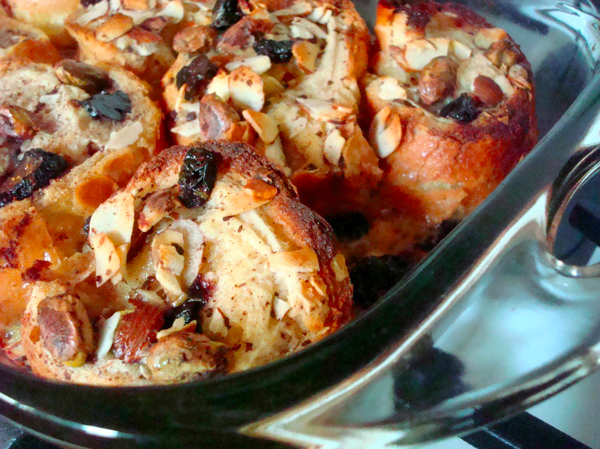 Store well-wrapped leftovers in the refrigerator for up to 2 days.
Breakfast is served! Why not make ice brewed coffee to go with your delectable breakfast? What delicious flavors will you add to your overnight French toast?